Scouts, coaches and other decision-makers from throughout the NFL will descend on Columbus on Thursday, when Ohio State holds its annual pro day, which – as is usually the case with the Buckeyes – will be loaded with players who have the talent to take their games to the next level.
At least 18 former Ohio State players, including 11 who were invited to this year's NFL Scouting Combine, are expected to participate in Thursday's opportunity to showcase their athleticism and skills. Every participant will have the potential to make a positive impression on the evaluators in attendance, and all of them could bear watching for various reasons.
We'll take a full look at the list of Buckeyes who are expected to participate in Thursday's event, and all the potential drills they could participate in, later this week. The following five parts of Thursday's pro day, however, could be the biggest draws that entice some of the NFL's most influential evaluators and decision-makers to make the trip.
Denzel Ward's positional workout

While Denzel Ward might have already cemented his status as an early first-round pick at the combine, where he tied for the fastest 40-yard dash and recorded the longest broad jump among all players, one thing he didn't do in his on-field workout at the combine was participate in any drills that simulate cornerback play. Ward told NFL Media's Kimberly Jones that he decided to only participate in a limited capacity at the combine because he tweaked his ankle one week earlier.
Although the dominant play on Ward's Ohio State film shows more about his ability to play cornerback that anything he does at his pro day will, decision-makers from teams who are considering investing a high first-round pick in him will still want to have the opportunity to watch him participate in a variety of positional drills up close – and potentially even suggest some drills of their own for him to complete. They will have that opportunity to put Ward to the test, in which he could potentially sell a team on the possibility of drafting him early, on Thursday.
While it's unlikely that Ward will choose to run another 40 or do another broad jump, as there is simply no need for him to do so, he could also choose to participate in the 3-cone drill, 20-yard shuttle and 60-yard shuttle, each of which he also did not do at the combine due to his ankle injury.
Ward isn't the only Buckeye who showed explosive athleticism in measurable tests at the combine, but who scouts will want to see participate in more position-specific days at pro day – linebacker Jerome Baker, who ran a 4.53-second 40-yard dash at the combine, is also among the scouts who will want to see translate that athleticism to position drills after choosing to only participate in select measurable tests at the combine.
Sam Hubbard's 40-yard dash

How fast is Sam Hubbard? The answer to that question could play a part in whether the Ohio State defensive end winds up being a first-round draft pick.
While Hubbard also already had a strong showing at the combine, running the fastest 3-cone drill time among defensive linemen and drawing rave reviews for his performance in both defensive end and linebacker drills, the one drill he opted not to participate in is that the one that tends to get the most attention: the 40-yard dash.
Although Hubbard was known for his athleticism when he came to Ohio State, having actually played safety in high school, he has fought a pre-draft perception among some that he is an average athlete by NFL standards. So while he might never need to run 40 yards in a straight line in an actual football game, scouts will want to see how fast he can run it to compare his athleticism to the other top defensive ends in the draft class – and Hubbard will certainly want to prove that he has more speed than his critics think.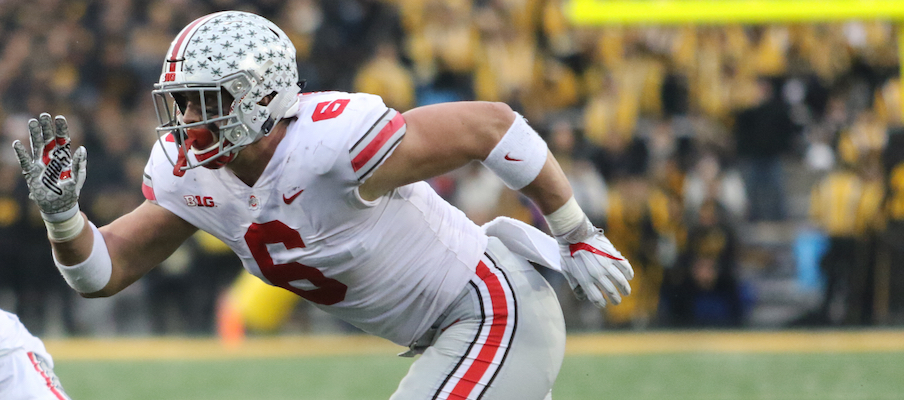 Tyquan Lewis' opportunity to impress

While Hubbard participated in everything but the 40-yard dash and bench press (which he is also expected to participate in Thursday) at the combine, Tyquan Lewis was only able to participate in the broad jump and vertical jump at the combine after coming down with a case of the flu just days before he was scheduled to work out.
Lewis performed well in the drills he participated in despite his illness, finishing fifth among all defensive linemen at the combine in both jumps, but the ailment did deprive him of the opportunity to demonstrate his overall athleticism – and therefore, for scouts to evaluate his overall athleticism – in Indianapolis.
So Lewis will certainly want to take advantage of that opportunity by participating in the 40, positional drills and other measurable tests at pro day, and scouts for teams who might be interested in drafting him will be watching those drills closely to see how stacks up athletically with other defensive ends in this year's draft class.
J.T. Barrett's throwing workout

The headlining event of Thursday's pro day, and perhaps the part of the day that will have the single biggest influence on whether or not a Buckeye is drafted, will be J.T. Barrett's throwing session. While Barrett already threw at the combine, where his passing received mixed reviews, the pro day setting is generally where a quarterback's ability to complete passes is expected to shine, as it gives him an opportunity to script his own throwing session while working with familiar receivers.
In Barrett's case, the pro day throwing session will be particularly important because of the questions that continue to linger over his ability to pass the ball downfield with accuracy. Barrett will need to demonstrate that he can complete an array of intermediate and deep passes, and do so with precise ball placement, in order to convince scouts that he has the skill to be an NFL passer.
Scouts will also pay close attention to Barrett's footwork and how cleanly he takes snaps from under center, given that he took snaps almost exclusively from the shotgun in Ohio State's offense.
Considering that Barrett appears to be on the fringe of being a late-round draft selection or not, his performance on Thursday really could be a determining factor in whether he hears his name called come April.
Potential hidden gems

Outside of Barrett looking to prove he can be an NFL-caliber passer, the other Buckeyes who will most need to take advantage of Thursday's pro day will be those who didn't get invited to the NFL Scouting Combine, as each of them will need a good showing just to show that they should be drafted at all.
From the scouts' perspective, though, watching those players perform could be just as valuable if not more than watching the more highly touted prospects work out, because it just might open their eyes to a hidden gem who wasn't previously on their radar.
Defensive tackles Tracy Sprinkle and Michael Hill and safety Erick Smith all played enough at Ohio State that scouts should at least be aware of who they are, but they'll need to turn heads to improve their odds of being drafted. Former walk-ons Zach Turnure, Elijaah Goins, Trevon Forte and Nick Seme face even longer odds to be drafted, but a strong showing at pro day could put any of them on NFL teams' radars as potential undrafted free-agent signings.
While the scouts have already seen enough from most of Ohio State's more heralded prospects to be close to a final evaluation on each of them, pro days often serve as a chance for scouts to recognize potentially untapped talent from less heralded prospects, and the scouts in Columbus on Thursday will certainly be keeping an eye out to see if there are any Buckeyes they need to take a closer look at that they haven't already.