Patience is a plus along the Buckeye offensive line.
Ohio State's offensive line took a few hits following the 2017 season. Jamarco Jones and Billy Price are off to the National Football League and now Greg Studrawa and Urban Meyer will have to do some re-shuffling in the trenches. 
Last February, the Buckeyes' signing day haul featured three linemen in Josh Myers, Wyatt Davis, and Thayer Munford. Davis—five-star—was the country's No. 1 guard prospect while Myers was No. 2 at the position and was one of the class's early enrollees.
At 6-foot-6 and 320 pounds, Munford received a late offer from the Ohio State staff and ended up as the third-lowest-rated player in the class; ahead of wide receiver Elijah Gardiner and kicker Blake Haubeil. Despite being the least-heralded of the offensive line trio – and due to lack of depth at tackle – the Massillon Washington product would go on to log 148 snaps; the forth-most among all 2017 newcomers. 
Now, with a few openings along the line and some recent transfers, what can we expect from Wyatt Davis and Josh Myers?
Projecting the offensive line depth chart is tricky right now for a number of reasons. Some seem to think that Isaiah Prince makes the move to left tackle, while others have him slated to stay on the right side of the line following his much-improved junior campaign. 
Branden Bowen's versatility may end up telling the tale on the line. With the need for bodies at tackle, it would hardly be a surprise for the junior to settle in on the outside, whether it be at the left or right spot opposite Prince. Where Bowen ultimately ends will also factor into the roles available for other players, including Davis and Myers. 
As a recruit at Miamisburg High School, Myers was actually the country's top tackle prospect early on in the recruiting process. However, because he played in such a run-heavy scheme, he was later re-classified as a guard by most recruiting outlets. The ability to pick up on pass protection was always the question mark for Myers, but he now has the redshirt season under his belt.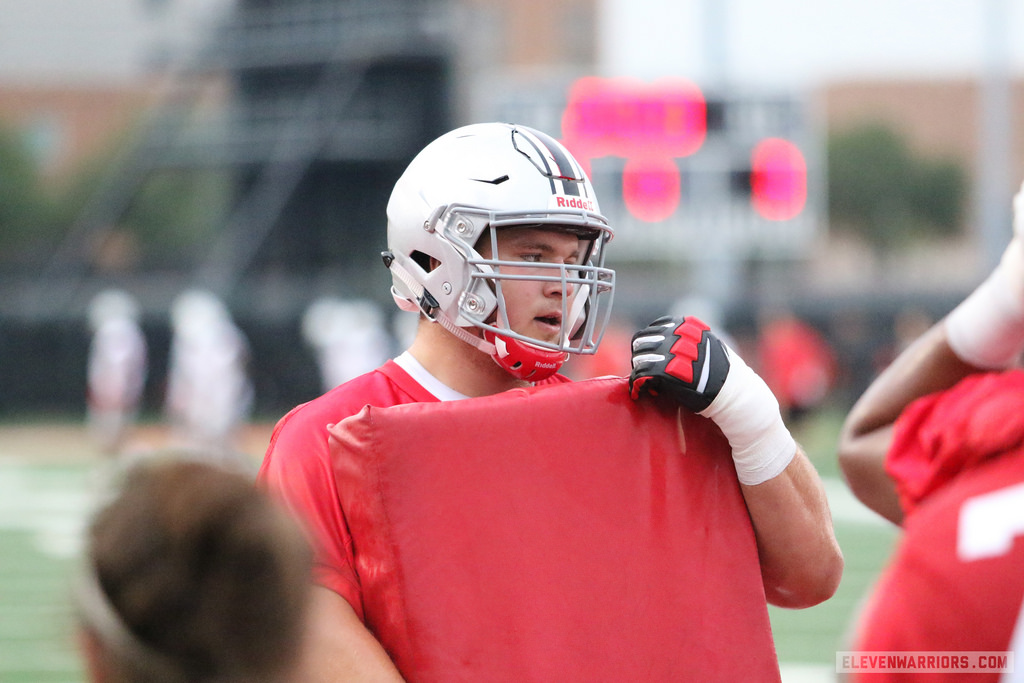 Davis also played some tackle in high school, but he too was recruited as a guard. Despite the need at tackle, both settled in nicely as guards on the scout team, but playing time will be tough to come by given the depth at the position.
The departures of Jones and Price — plus Kevin Feder and Jack Wohlabaugh's decisions to transfer — means that the Buckeyes will have 15 scholarship linemen on the roster for 2018. Only about five of those players are pure tackles with two of them being incoming true freshmen in Nicholas Petit-Frere and Max Wray.
Needless to say, the interior line is a crowded group right now. Michael Jordan certainly has the left guard spot on lockdown while Demetrius Knox emerged on the right side after battling it out with Matthew Burrell and Malcolm Pridgeon. The latter saw playing time at both guard spots last year and is a bit of a utility player, somewhat similar to the aforementioned Bowen.
The race for the starting center gig is going to come down to Brady Taylor and perhaps Matt Burrell. If Burrell does get the starting nod, then that could slide Davis or Myers into the two deep at one of the guard spots. 
Moving from tackle to guard is a heck of a lot easier than making a move from the inside to the outside, so it's not likely that a position switch is in the cards for many – if any – of Ohio State's guards. Still, if the Buckeyes do elect to shuffle things up a bit, Myers and Davis are two players who could potentially add some depth at tackle in a pinch. It's unlikely that Petit-Frere redshirts, so it may depend on what the staff has in mind for Max Wray.
There are all kinds of moving pieces at play along Ohio State's offensive line, and we also have to wait and see about any kind of attrition that may take place in the coming months. The depth is making it tricky to crack the two deep right now, but in 2017 Knox was a prime example of how that patience can pay off.
As it pertains to Myers and Davis, the best is certainly yet to come for Ohio State's touted 2017 signees, but a featured role will likely have to wait at least another year.