Jerome Baker had his most productive game of the season in the Big Ten Championship Game, recording a career-high 16 total tackles, including two tackles for loss (one sack).
The Ohio State linebacker, who said before the Big Ten Championship Game that he would grade his play in coverage this season as a "D," still believes he can play much better.
"I guess you could say I moved forward. I got better. But even then I still messed up a few times," Baker said Friday. "I would say I'm a C-minus now. There's always room for improvement on my end."
As the most prominent player in an Ohio State linebacker unit that has been panned for its struggles this season, particularly in the Buckeyes' two losses to Oklahoma and Iowa, Baker's play has often drawn less-than-stellar reviews from critics outside the program this season.
In Baker's mind, however, no one is a tougher critic of his play than Baker himself.
"A lot of it was me being hard on myself," Baker said of giving himself a C-minus grade. "I set my expectations so high. You just really just try to strive for better every game, and sometimes, it just doesn't go your way. There's just some plays I look back on and I know I could have done better. Some games I know I could have played better. But that's the season. You just try to get better every game.
"I know what I can do," Baker added. "I know personally what I'm capable of. So anybody else can say what they want, but I know that I could have gotten better."
"I would say I'm a C-minus now. There's always room for improvement on my end."– Jerome Baker
Baker said he grades himself the way his former linebackers coach at Ohio State, Luke Fickell, graded him. He said he only gives himself a positive grade for making what he considers to be great plays, because good plays are just what he is supposed to do, while he downgrades himself for bad plays.
"I always use three categories: the first is bad plays; the second is a good play, which you're supposed to do; and third is a great play," Baker said. "Bad plays are bad plays. Bad eye discipline. Good plays are what you're supposed to do, that's not necessarily a great play, that's what you're supposed to do. Great plays are plays like the one-handed catch I had in the (2016) spring game. That's great plays to me. So that's how I grade myself. If I'm doing good, that's what I'm supposed to do. So that's not really excelling."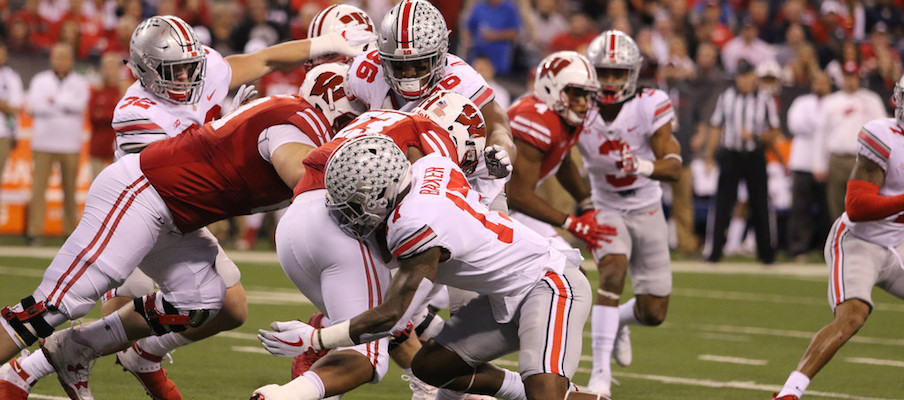 While Baker was regarded as a potential first-round NFL draft pick entering the season, he hasn't made as many great plays as expected – his performance in Ohio State's 27-21 win over Wisconsin was his first game this season with double-digit tackles and multiple tackles for loss. More problematically, Baker has had plenty of bad plays in pass coverage, an area in which the junior linebacker acknowledges a need to get better going into the Cotton Bowl later this month and into 2018.
"Next year, I've definitely got to work on covering guys," Baker said. "The best way to get better is to actually do it. So going up against our receivers, they're just blazing fast, can stop on a dime."
But while Baker is looking for improvement next year, he says he hasn't yet decided whether he will be working toward that improvement next season as a senior at Ohio State or as a rookie in the NFL. While he will have to make that decision before the NFL draft declaration deadline of Jan. 15, he says he's keeping his focus for now on playing USC on Dec. 29.
"After this game, I'm hoping I can celebrate in Dallas," Baker said. "But I don't worry about stuff like that (deciding whether to go to the NFL after this season). It comes with the sport. You make decisions, but right now I'm worried about beating USC. You always play USC in the video games, and to actually play them in real life is kind of cool. So that's pretty much my main focus."
While the concept of potential NFL draft prospects skipping non-playoff bowl games has been a topic of discussion this year and in recent years, Baker said he gave no thought to skipping the Cotton Bowl, knowing he wants to play at least one more game for the Buckeyes.
"I can't not play with guys in their last year like (Damon) Webb, Tracy (Sprinkle), guys like that, you just have to go out. We came in together, we'll go out together," Baker said. "Even if I decide to leave or anything like that, I'm playing regardless. I can't leave my brothers behind."
Amid a disappointing season, at least by his own standards, Baker still leads the Buckeyes with 67 total tackles and has played the second-most snaps of any Ohio State defender (behind Webb). Should he choose to return to Ohio State in 2018, he would be in line to start at weakside linebacker for a third season in a row.