Ohio State coach Urban Meyer and his two player representatives who met with the media on Sunday didn't attempt to sugar-coat their emotions about missing the College Football Playoff: They were devastated.
After earning a 27-21 win over Wisconsin in the Big Ten Championship Game on Saturday night, the Buckeyes believed that they had done what they needed to do to make the playoff. But when the fourth and final team in this year's playoff was unveiled shortly after 12:30 p.m. on Sunday afternoon, it was Alabama, not Ohio State, who was announced as the No. 4 seed.
"I sunk in my chair at home, because I really thought we were in," Meyer said of his reaction to the announcement. "I kind of looked at it and stared at it for a minute."
Ohio State linebacker Chris Worley chose not to watch the announcement, turning his phone off during the announcement as well in hopes of getting away from it all. But after hearing the news from his dad in an adjacent room that the Buckeyes had not made the playoff, Worley had to come to grips with the disappointment, too.
"You're definitely devastated," Worley said. "Whenever you have so many guys internally, as a man, that you know that you put so much work in, you're so invested. If you're not devastated, then you probably didn't put the work in. For anyone that put in the type of work that we do throughout the whole year and not get that call, you definitely are devastated."
Worley had his sights set on competing for a national championship as much as anyone on his team, telling Eleven Warriors in the locker room after Saturday night's game that he thought the Buckeyes were "going to make some magic happen" if they were selected to participate in the playoff. Yet even amid his devastation on Sunday, however, Worley said he looked for the positives, as the Buckeyes now get set to begin preparations for playing USC in the Cotton Bowl.
"My dad comes in the room, he's all mad and you would think that he played for Ohio State," Worley said. "I was just telling him like 'Relax, we're going to be in a good position, we're going to be in a good game.' And we're going to go against a great team.
"The biggest thing, situations like this, a lot of people, they harp on the negatives, but they don't realize the blessings that God has put in front of them," Worley added. "I was trying to get him to realize that he's blessed, his son is blessed to be in this position, and whatever comes out the other side of it, the only thing we can do is fight."
Ohio State quarterback J.T. Barrett acknowledged that being left out of the playoff is "going to sting for a minute." But he was also proud of what the Buckeyes accomplished on Saturday night, winning their first conference title since 2014, and he didn't want his teammates to lose sight of that.
"At the end of the day you do what you're supposed to do; we was supposed to go beat Wisconsin in the Big Ten Championship, and we were able to do that. And it was up to the committee to make the decision," Barrett said. "But what we experienced (Saturday) night in the locker room, knowing what we've been through in the season and then go out there and accomplish one of our goals, and that's to be the Big Ten champs, that's something that can't be taken away from us. We'll definitely cherish that forever."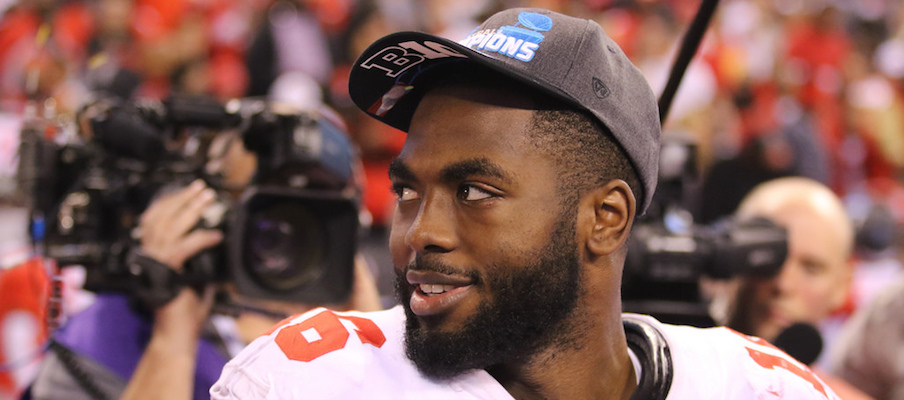 Meyer said he hadn't yet addressed his team about being left out of the playoff because Sunday was an off day for his players. He did tell them after the game, though, that he wanted them to enjoy the moment of being conference champions. And while he acknowledged that his players would be devastated, he felt confident that they would respond to their disappointment the right way.
"We're going to have some fun in this bowl practice," Meyer said. "We're going to have to do our very best to win it. And our players know we're not going to change the way we do our business; we're going to try to go win a game."
While Ohio State's hopes of winning a national championship this season are now dead, the Buckeyes' season as a whole is not over. They still have the chance to finish their season with a win against another one of college football's storied programs if they can beat the No. 8-ranked Trojans in what will be the first of this year's New Year's Six bowl games. So while Worley said he isn't going to try to tell any of his teammates not to be devastated, he also wants them to work hard toward achieving that goal which still remains.
"We still are so fortunate to be playing for so much," Worley said. "The one thing we can do is next time we put on those pads we can get to work. And that's the only way it's going to feel better is going out there and practicing and looking at our next objective. We can't continue to look at the past, can't continue to look at what happened throughout the season and why this is happening and things like that. But one thing we can do is get back to work."
Perhaps thinking back on 2015, when the Buckeyes finished their season with a 42-13 win over Michigan and a 44-28 Fiesta Bowl win over Notre Dame after being knocked out of that year's College Football Playoff by a loss to Michigan State, Worley expects the Buckeyes to channel their devastation into practicing and playing at their best over the next four weeks.
"I think we've all seen that through this program throughout the years," Worley said. "No matter what happens, we put our head down and we work right through to come out the other side of it, usually winning. So the only thing to do now, like I said, is to go to work with my brothers and this coaching staff."
"The one thing we can do is next time we put on those pads we can get to work. And that's the only way it's going to feel better is going out there and practicing and looking at our next objective."– Chris Worley
Worley says he doesn't think the Buckeyes will view the Cotton Bowl through the prism of trying to prove a point to the College Football Playoff selection committee, because impressing that committee would be fruitless for the Buckeyes now.
"I don't really think that that would help much now," Worley said with a laugh. "No matter how much, if we do win, no matter how much one of the teams will win by, it's not going to matter about the national championship game. So our season is going to be over after this."
Worley did say, though, that the Buckeyes will be motivated to want to win one more game together as a team this season.
"The biggest thing we can do is try to go out there and play for each other and get a ring for each other," Worley said. "We can't go out there trying to please the committee and show them why or why not. The biggest thing we can do is go out there play hard, play how we know we can play."