J.T. Barrett is Ohio State's all-time leader in passing yards, total offense and total touchdowns, among many other school records.
Billy Price has started 51 consecutive games for the Buckeyes – every game dating back to 2014 – setting a school record of his own.
Fellow seniors Marcus Baugh, Jamarco Jones, Tyquan Lewis, Jalyn Holmes, Chris Worley and Damon Webb have all been starters or otherwise key players for the Buckeyes for at least the past two seasons.
All of them will play their final home game inside Ohio Stadium on Saturday, when the Buckeyes play their last of seven home games this season against Illinois.

ILLINOIS FIGHTING ILLINI
2-8, 0-7 B1G
ROSTER / SCHEDULE
---
3:30 P.M. – SATURDAY, NOV. 18
OHIO STADIUM
COLUMBUS, OHIO
---
ABC
WatchESPN
Saturday's pregame Senior Day ceremony could prove to be the most memorable part of Saturday's game between the No. 9-ranked Buckeyes (8-2, 6-1 Big Ten) and the Illini (2-8, 0-7 Big Ten), a game that appears to have blowout written all over it.
Ohio State's seniors themselves, though, insist that while Saturday will be a bittersweet day, their focus this week has remained on playing their best football.
"We still got a task ahead," Price said. "So the reflection aspect of senior week is kind of secondary to making sure we are prepared for what's coming up."
Ohio State's coaches are quick to remind that while Senior Day is a special moment for the honorees and the fans, it's only the Buckeyes' final home game of the season – not their final game of the entire season – which means the time for reflecting back on careers is later, and the time to focus on winning football games is now.
"There's so much football to be played left," said Ohio State coach Urban Meyer. "I think this is what it is: It's a tribute to our fans, the greatest fans in the land, and an opportunity for players to salute our fans. It's not goodbye for us. We've got so much to play for, we've got so much going on. There will be that time. But that's not the time now."
Ohio State does indeed have a lot to play for. If Ohio State can win its next two games against Illinois and Michigan, it will get to play in the Big Ten Championship Game. If Ohio State can win that game too, the Buckeyes could end up making the College Football Playoff.
Meyer, though, doesn't want his team to be thinking about any of that yet either. While the Buckeyes are heavy favorites to win Saturday's game, Meyer remembers what happened the last time they didn't prepare the way they needed to for an opponent – they lost, 55-24, at Iowa two weeks ago – so he wants his team focus solely on taking care of business this week.
"There will be zero conversation about what happened before and what's going to happen in the future," Meyer said of his team's preparation this week for Saturday's game. "There's going to be zero conversation about that, other than play really hard ... and get ready for a game on Saturday."
ILLINOIS BREAKDOWN

While Meyer doesn't want his team to take Illinois lightly as an opponent, that might be easier said than done considering the Fighting Illini's record this season.
It's been a rough year for Lovie Smith's squad, which has lost its last eight consecutive games, including all seven of its conference games this year. The Illini's only wins this year have come against Ball State and Western Kentucky in their first two games of the season.
The Illini's struggles have been particularly profound on the offensive side of the ball, where the Illini rank 124th nationally in both total offense (302.1 yards per game) and scoring offense (16.4).
Illinois has had three different starting quarterbacks since the beginning of the season, and none of them have had much success passing the ball, combining to complete just 51 percent of their passes for only eight touchdowns, with 17 interceptions. That said, it remains uncertain who the Illini's starting quarterback will be on Saturday because Cam Thomas, who replaced Jeff George Jr. as the starter two games ago against Purdue, missed last week's game against Indiana due to a concussion.
Thomas is more of a running threat than George Jr., who will start if Thomas is unable to play – Chayce Crouch, who began the year as Illinois' starting quarterback, has since moved to tight end – so Ohio State defensive coordinator Greg Schiano said the uncertainty of who will play at quarterback creates some challenges in game planning for Illinois' offense.
"They have two (quarterbacks) that are uniquely different: (George) is a dropback passer, and (Thomas) is a very mobile, athletic quarterback who can also pass," Schiano said. "Don't know who's going to play, they've played them both because of injury, so we'll see. We got to prepare for both."
Injuries have affected Illinois at the other offensive skill positions as well. Mike Epstein, who remains Illinois' leading rusher despite playing in only five games, is out for the season with a foot injury. Fellow freshman running back Ra'Von Bonner, who remains the Illini's leader in rushing touchdowns despite playing in only six games, has been sidelined by a concussion. Mike Dudek and Malik Turner, who were expected to be Illinois' top two wide receivers entering the season, have also been sidelined by injuries.
The Illini have had two breakout playmakers among their freshman pass-catchers in wide receiver Ricky Smalling, who leads the Illini with 28 receptions for 488 yards this season, and tight end Louis Dorsey, who has 18 receptions for 332 yards and a team-leading three touchdown catches, including one in each of the last two games.
Meyer described Smalling as a "very good player," and Smith said the Illini have "leaned on Ricky quite a bit" this season.
"We feel like if we get him in a one-on-one situation, it's a good thing for us most of the time," Smith said. "He's met our expectations and has risen to the occasion time after time."

Yet while Thomas, Epstein, Bonner, Smalling and Dorsey – all true freshmen – and a trio of freshman starters on the offensive line give Illinois a promising core to build on for the future, the Illini's lack of veteran playmakers has prevented their offense from being successful, as Illinois has not scored more than 24 points in any game this season.
"In an ideal world, you don't want to rely on as many young players as we have and put them in those positions as soon as we have, but that's how it's gone," Smith said.
Illinois' defense isn't great, either, but it's played well enough to keep most of the Illini's games competitive – the Illini have held three of their last four opponents, including No. 5-ranked Wisconsin, to only 24 points – despite the almost complete lack of help it's received from the offense.
The Illini's strength as a team, in the eyes of Meyer, is its defensive line – led by defensive tackles Jamal Milan and Tymir Oliver – which has drawn repeated praise from Ohio State's coach this week.
"Their defensive line is really good," Meyer said. "Their interior two guys can play anywhere in the Big Ten Conference."
At the linebacker level, Illinois is led by Del'Shawn Phillips, a junior college transfer whose 72 total tackles are the most on the team. In the secondary, hard-hitting safety Stanley Green ranks second on the team with 62 total tackles while safety Bennett Williams, another true freshman, is tied for the third on the team with 52 total tackles and leads the team with two interceptions.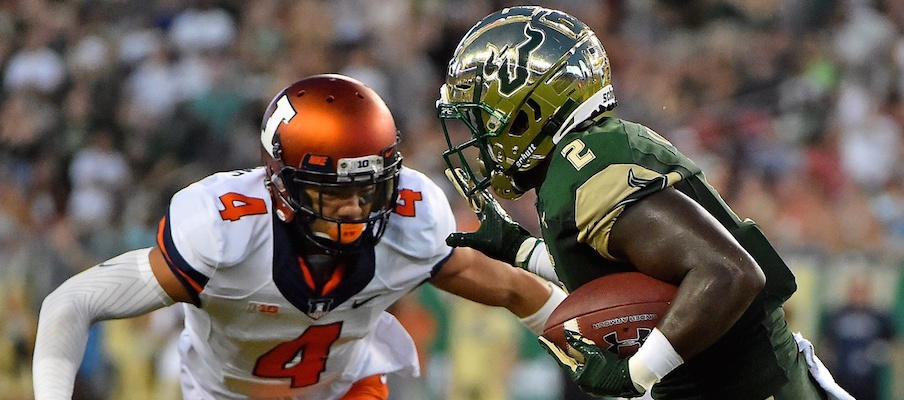 Despite the promising young players that the Illini have on both sides of the ball, which give them a chance to become a competitive team going forward if they can develop into consistent playmakers, they haven't been enough to keep Illinois from being the worst team in the Big Ten this year.
"The record says where you are as a program. In the end that's what everyone is looking at. If you look at that, that's where we are," Smith said. "But if you look a little deeper, our program is in a lot better shape than what it was. I think you have to look at which way you're trending. I think it's safe to say we're trending up. We've played a lot of young players that have gotten valuable time, but have improved as football players. We've taken steps and eventually we're going to get over the hump. Our program is a program that's on the rise."
While all of that might be true, the problem for Smith's squad as of now is that it only has two games left in its season, which means time is running out for the Illini to add a conference game to the win column. And a road game in Columbus, against what might be the most talented team in the conference, certainly shouldn't be their first of the year.
"You can tell (Smith)'s building for the future, and we hope that future's going to be fine," Meyer said of Illinois. "Just not Saturday."
BUCKEYE BREAKDOWN

Ohio State is coming off what might be its most impressive game of the season, in which its offense ran all over Michigan State's defense and its defense stifled Michigan State's offense to turn a usually competitive game into a 48-3 blowout.
2017 Statistical Comparison

 
OFFENSE
44.2
5th
POINTS FOR
16.4
123rd
245.3
17th
RUSHING OFFENSE
107.8
121st
301.2
17th
PASSING OFFENSE
194.3
91st
546.5
3rd
TOTAL OFFENSE
302.1
123rd
.488
4th
3rd DOWNS
.366
92nd
.873
46th
RED ZONE
.885
31st
DEFENSE
20.4
25th
POINTS ALLOWED
28.4
76th
116.5
14th
RUSH DEFENSE
199.1
104th
193.7
31st
PASS DEFENSE
204.1
44th
118.5
38th
PASS EFFICIENCY DEFENSE
131.6
75th
310.2
14th
TOTAL DEFENSE
403.2
74th
.318
19th
3rd DOWNS
.434
103rd
.759
22nd
RED ZONE
.804
43rd
SPECIAL TEAMS
3.8
116th
PUNT RETURN
8.1
57th
25.0
18th
KICKOFF RETURN
20.3
84th
42.4
7th
NET PUNTING
38.4
57th
MISCELLANEOUS
+ 0.2
48th
TURNOVER MARGIN
-0.5
101st
7.3
106th
PENALTIES
7.2
102nd
15
EDGE
3
Hosting the only team in the Big Ten that ranks among the conference's bottom three in all four major categories – total offense, scoring offense, total defense and scoring defense – should be an opportunity for the Buckeyes to earn another convincing win and keep their momentum going.
Ohio State's offense has shown the ability to slice opponents through both the air and the ground when it is clicking – ranking in the top 17 nationally in both passing yards per game and rushing yards per game – but committed to the power run game against Michigan State and ran for a season-high 335 yards as a result.
Coming off a shockingly bad performance at Iowa, when it allowed a Hawkeyes offense that has otherwise struggled to score 55 points, Ohio State's defense also showed its ability to be dominant against the Spartans, limiting them to only a field goal and 195 total yards.
Smith acknowledges that his Illini will be in for a "big challenge."
"We're playing an outstanding football team in Ohio State this week," Smith said. "They're an outstanding football team on both sides of the football. Well-coached, excellent talent. So that in itself will be a challenge."
If Ohio State's offense and defense can both play at a similar level to which they did last week – not the much lower level at which they played at Iowa – and Ohio State's special teams units can do their job effectively, the Buckeyes should be able to make quick work of the Illini.
If they can do that, Saturday could be another opportunity for Ohio State's backups to see extended playing time, and probably the final opportunity for them to see extended playing time this season, considering that each of the Buckeyes' remaining games will come against currently ranked teams that should provide tough competition.
Most importantly, though, the Buckeyes just want to win on Saturday – not only to keep their bigger dreams alive, but also to give their seniors a positive memory of their final home game.
That should be all the motivation the Buckeyes need – especially their seniors, like Jones, who says the moments he remembers most from his career have been the games he has lost – to give the effort they need to play at their best on Saturday.
"I hate losing," Jones said. "Most people probably wouldn't say that, when they say what think about the most looking back on their career, but I really hate losing. So it definitely motivates me, you don't want to get that feeling ever again. Any time it happens, you just want to do whatever it takes to not feel that same feeling again."
HOW IT PLAYS OUT

Ohio State began the week as a 38-point favorite to beat Illinois, and even that apparently wasn't enough to entice many bettors to put their money on the Illini; as of Friday morning, the spread for Saturday's game had increased to 41 points, according to OddsShark.com, indicating confidence that the Buckeyes can defeat the Illini by six touchdowns or more.
Ohio State vs. Illinois in Urban Meyer era


| Year | Location | Result |
| --- | --- | --- |
| 2015 | Champaign, Ill. | Ohio State 28, Illinois 3 |
| 2014 | Columbus, Ohio | Ohio State 55, Illinois 14 |
| 2013 | Champaign, Ill. | Ohio State 60, Illinois 35 |
| 2012 | Columbus, Ohio | Ohio State 52, Illinois 22 |
There are some factors that could work against those betting on the Buckeyes to put up big points. Illinois' defense has only allowed more than 35 points in two games this season, and not in any of its last five games. Additionally, the scoring output in Saturday's game could be dampened by the weather, with Saturday's forecast calling for rain and wind.
With that being said, Illinois hasn't faced many offenses like Ohio State's, which makes a habit of pouring on points against inferior opponents (see the Buckeyes' four-game stretch against UNLV, Rutgers, Maryland and Nebraska, in which they scored at least 54 points in every game). And while the weather could present some challenges for Barrett throwing the ball, it shouldn't stop the Buckeyes from continuing to commit to their running game, which showed how effective it could be against a much stronger rushing defense last week.
On the other side of the ball, Illinois' offense – which has been held to 17 points or less in six of its seven Big Ten games – isn't likely to get much going against Ohio State's defense, as the Buckeyes' defensive line should be able to control the line of scrimmage in both its pass-rush and run defense once again.
The Buckeyes have a clear upper hand over the Illini is just about every phase of the game entering Saturday's contest, so as long as they can avoid penalties, turnovers and other undisciplined plays that could give Illinois a chance, Ohio State should roll to a convincing victory in its final home game of the year.
---
ELEVEN WARRIORS STAFF PREDICTION: Ohio State 59, Illinois 7