There's little question that the Illinois is likely to be overmatched when it plays Ohio State in Columbus on Saturday.
Illinois has lost its last eight straight games, including its most recent game against Indiana last Saturday, and is winless in conference play this season. 

ILLINOIS FIGHTING ILLINI
2-8, 0-7 B1G
ROSTER / SCHEDULE
---
3:30 P.M. – SATURDAY, NOV. 18
OHIO STADIUM
COLUMBUS, OHIO
---
ABC
WatchESPN
So there's no sense in asking whether Illinois has a chance to win Saturday's game, because even though the Buckeyes have proven to be far from invincible this season – as evidenced by their 55-24 loss at Iowa – it's hard to see them having any trouble dispatching the Fighting Illini in their final home game of the year.
In the bigger picture, though, there are real questions to answer: How did Illinois end up at this point, and can the Illini turn it around any time soon to become competitive in the Big Ten?
For answers to those questions and more, we reached out to Bob Asmussen, the Illinois football beat writer for The News-Gazette (Champaign, Ill.), in this week's edition of Across the Field.
Q: Bob, Illinois has lost its last eight straight games, including all seven of its games against conference opponents this season. Are the Illini as bad as the record indicates?
Asmussen: I would use "bad" for the offense, but the defense has played well enough to win more games. The offense has clearly struggled in all phases. The quarterbacks aren't getting good enough protection. The running lanes aren't there. Some of it has to be blamed on the youth of the offensive line. Four freshman starters is not the way to win in the Big Ten. But you have to give some of that to the coaches, who chose to go with youth over more experienced older players. The quarterbacking has been poor. Three starters and none of them consistently effective. For every good moment by Jeff George Jr., he has a turnover or other mistakes. The receivers have been hit hard by injuries. Two freshmen have played well: Ricky Smalling and Louis Dorsey, who is called a tight end but is really a wideout. The running backs have been clubbed by injuries, with two good freshmen out for extended stretches. Mike Epstein is out for the season and Cincinnati native Ra'Von Bonner has missed a bunch of time.
Q: Lovie Smith has won only five games so far in his first two seasons as Illinois' coach. Do you think he will be able to get the program turned around, or is he proving to not be the right fit for the job?
Asmussen: I think it is too early to make the call. He inherited a team that wasn't very good. Anybody with a reasonable amount of knowledge understood this was at least a three- or four-year fix. He was given a six-year deal, with most of the money at the back end, for a reason. The question I have always had is can he make the transition from the NFL to college football? So far, I would say no. But I reserve the right to change my mind. If it goes the way Smith hopes, the turn will start next season. The schedule is friendly, with no Ohio State, Michigan or Michigan State. If they win two games next season, I will say it is definitely the wrong fit.
Q: Illinois' recent struggles certainly predate Smith's arrival, as the Illini have not finished a season with a winning record (excluding bowl games) since 2007. What do you think have been the biggest factors in the program's decline, and do you think its fortunes will turn around any time soon?
Asmussen: That one is easy: the constant change at the top. Illinois had a good thing going with Ron Zook, who beat Ohio State in 2007 and coached teams that won consecutive bowl games his final two seasons. But the president at the time decided he wanted Zook gone, so the coach was not given the support needed. Big mistake. Then-AD Mike Thomas had a difficult time landing Zook's replacement, striking out with several big names. He ended up with Tim Beckman, who I really like, but he was not ready for the job. The program started to slide and Beckman was fired for some off-the-field issues. The program had three head coaches in a three-year stretch. That doesn't work.
The problem at Illinois has always been the inability to win year after year. The goal should be to follow the pattern set by Iowa and Wisconsin. Right now, it is not even close. I'm weird. I think the right person can win at Illinois. I don't think we know yet if Lovie Smith is the right person.
Q: Are there any areas in which the Illini can legitimately give Ohio State trouble in this game?
Asmussen: A guy I mentioned earlier, tight end Louis Dorsey, is a matchup nightmare for every opponent. A great athlete who will catch anything. He had a 77-yard touchdown catch and run against Indiana and later had a spectacular one-handed catch. He is a difference-maker. The other area where Illinois is solid is the defensive front. It rotates four or five guys at tackle and they are all capable of getting into the backfield and being disruptive. Jamal Milan is the best of the bunch, but Tymir Oliver, Kenyon Jackson and Tito Odenigbo (who is from Centerville, Ohio) are all very good.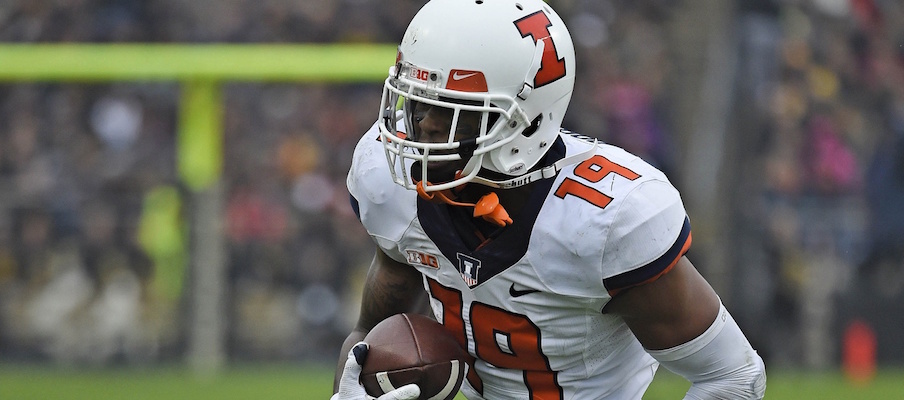 Q: Who are some other Illinois players that Ohio State and its fans should be aware of?
Asmussen: Running back Kendrick Foster is back in the lineup after being benched earlier in the season. He has played well since getting back on the field. Ricky Smalling is the best freshman receiver at Illinois since Mikey Dudek. Good speed and usually great hands. If it is a jump ball, he will win.
On defense, freshman safety Bennett Williams has been very good, but missed the Indiana game for violating team rules. I think he will return to the field. And linebackers Tre Watson and Del'Shawn Phillips are playing well. Watson returned for the Indiana game after missing time because of minor knee surgery.
Q: Considering that Illinois enters this game as a 38-point underdog, what do you think Lovie and his team are looking to get out of this game? Would keeping the game close constitute a "moral victory," considering the way this season has gone?
Asmussen: Lovie Smith is not a fan of "moral victories." I don't think any coach is. I think they are looking for some measure of progress. The team hasn't scored more than 24 points in a game this season, so maybe hitting 25 should be a goal. Sustaining drives has been an issue all season. If the team can move the ball against Ohio State, it will feel like it can move it against anyone.
The experience is going to be a good thing for all of the young Illinois players. Guys from the 2007 Illinois team talked about getting wiped out 40-2 in the 2005 game at Ohio Stadium. That motivated the players on that team to get better in a hurry. The next year, Ohio State won by seven and two years later, Illinois pulled the shocker. The current team needs to view this game as a chance to learn from the best.