When Ohio State backup quarterback Joe Burrow broke a bone in his right hand during a practice on Aug. 21, he told his teammates and coaches that he wouldn't be sidelined for long.
Burrow fulfilled that prophecy when he returned to practice last week, less than four weeks after suffering the injury.
"I talked to him to see how he was doing (after he suffered the injury), he said he was going to come back within two or three weeks and sure enough, he's back two or three weeks after a broken hand," Ohio State wide receiver Terry McLaurin said Tuesday.
Despite the broken bone being in his throwing hand, Burrow began throwing the ball again less than three weeks after suffering the injury, as he participated in warmups with Ohio State's other quarterbacks prior to the Buckeyes' game against Oklahoma on Sept. 9.
Burrow began participating fully in practice last week, but Ohio State decided not to play him in last Saturday's game against Army, as the coaching staff wasn't comfortable with him being hit quite yet. This week, however, Burrow is back to being listed on the Buckeyes' depth chart and is expected to be available to play on Saturday against UNLV.
It's not typical for a quarterback to return to action less than a month after breaking a bone in his throwing hand, but Burrow showed no ill effects of his injury while throwing the ball in warmups this past weekend.
Ohio State quarterbacks and centers warming up pic.twitter.com/93hg1RYvzb

— Dan Hope (@Dan_Hope) September 16, 2017
Joe Burrow throws a deep ball to J.T. Barrett in warmups. Barrett unable to make the catch. pic.twitter.com/miSvV1E6RL

— Dan Hope (@Dan_Hope) September 16, 2017
"If you were to see practice, it's almost like he didn't skip a beat," McLaurin said of Burrow. "You ask the training staff, he came back from a broken hand in like record time."
Burrow's teammates are impressed by how quickly the quarterback got back on the practice field, but they say that's a testament to his hard work and toughness.
"It was two weeks and he's throwing the ball again, which I thought was crazy. My man had a whole broken hand, and then two weeks later, after surgery, he was throwing the ball," said starting quarterback J.T. Barrett. "So he was really working hard with (Adam Stewart, the team's head physical therapist) and our athletic training staff."
"If you were to see practice, it's almost like he didn't skip a beat."– Terry McLaurin on Joe Burrow
It was tough on Burrow, Barrett said, to suffer the injury after competing with Dwayne Haskins throughout fall camp to be the Buckeyes' No. 2 quarterback. But Barrett has been impressed with how Burrow has dealt with the setback.
"(The injury) was like right after camp, he was having a really good camp, that was kind of hard for him to process," Barrett said. "But I think he attacked it the best way he could and now he's back, just trying to get back in the feel of things, adjusting to having a plate in his hand, so I think he's doing well."
As a result, Burrow has an ongoing chance to compete for the No. 2 quarterback job. While Haskins slid into that role with Burrow sidelined, he has only had the opportunity to play one series in Burrow's absence. Haskins made a good first impression in that series, completing all four of his passing attempts for 46 yards on Saturday against Army, but Burrow made a good impression for himself last season, when he completed 22 of 28 passing attempts for 226 yards and two touchdowns in limited action.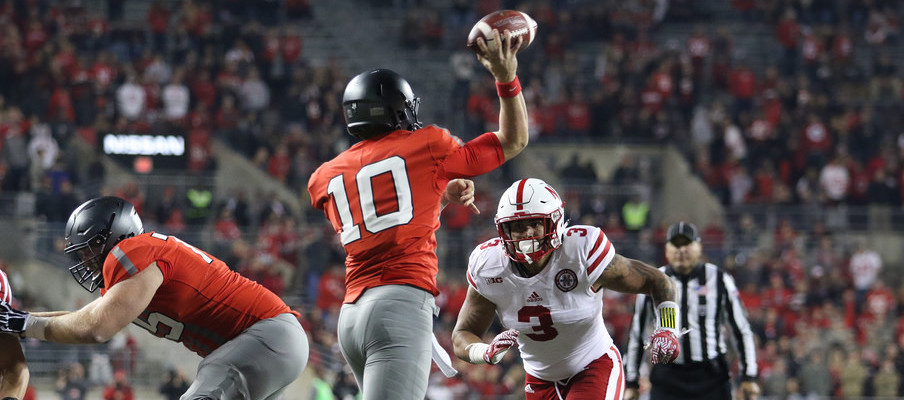 Ohio State coach Urban Meyer and offensive coordinator Kevin Wilson have both declined to give any indication as to who they believe will be the No. 2 quarterback this Saturday, other than to say they are confident in both quarterbacks' abilities to play if needed.
"It's still very close," Meyer said Tuesday of the competition, "and I think both quarterbacks can give us an opportunity to move the ball."
While it might not truly matter who's ahead of who on the depth chart as long as Barrett remains healthy as the starter, there's a good chance that one or both of Haskins and Burrow will have the opportunity to play on Saturday after the outcome of the game is decided, as Ohio State is considered a 40.5-point favorite over UNLV, according to Vegas Insider.
McLaurin is glad he doesn't have to make the decision of which quarterback would come off the bench first, but he is confident that either one of them can get the job done if called upon to play.
"I feel like you can't really go wrong with either one of them. People don't really get to see what we see in practice with Joe. I feel like the coaches are going to make the best decision, whoever the 2 is," McLaurin said. "I feel like, whether Dwayne or Joe is in the game, they're going to put us in a good opportunity to show what we can do."