The excitement and anticipation surrounding Dwayne Haskins as Ohio State's potential quarterback of the future – and assertions by some Buckeye fans that Haskins should be Ohio State's quarterback of the present – have only increased since Haskins completed all four of his passing attempts on Ohio State's final drive of Saturday's 38-7 win against Army.
In his first game action as a Buckeye, the redshirt freshman quarterback from Potomac, Md., put his arm talent on display as he completed those four passes for 46 yards. Haskins appeared well on his way to leading the Buckeyes to a touchdown until they decided to take a knee at the 10-yard line and let the game clock expire.
Ohio State coach Urban Meyer was impressed with what he saw from Haskins in his Buckeye debut.
"I thought he played very well," Meyer said Monday. "I wanted to let him keep going but that was my call – I don't want to score at the end there in that game."
One impressive drive at the end of a lopsided game, however, isn't going to put fourth-year starting quarterback J.T. Barrett in jeopardy of losing his job.
It wasn't even enough for Haskins to secure the No. 2 quarterback spot on the depth chart.
Haskins has been Barrett's primary backup at quarterback since redshirt sophomore Joe Burrow – who was Ohio State's No. 2 quarterback last year – broke a bone in his throwing hand in August. Burrow hasn't been ready to return to game action yet, but he is close, as he has been healthy enough to throw with the other quarterbacks in warmups before each of the Buckeyes' last two games.
Joe Burrow throws a deep ball to J.T. Barrett in warmups. Barrett unable to make the catch. pic.twitter.com/miSvV1E6RL

— Dan Hope (@Dan_Hope) September 16, 2017
While Haskins was the first quarterback off the bench on Saturday, it remains to be determined whether he will be continue to be in that position once Burrow is ready to return to playing in games.
"We've got to make some decisions who is the first one in there," Meyer said.
Neither Haskins nor Burrow nor any quarterback on the roster other than Barrett has played for the Buckeyes with a game on the line, as Barrett has taken every meaningful quarterback snap for Ohio State since the start of the 2016 season. Burrow performed well in mop-up duty last season, however, when he completed 22 of 28 passing attempts for 226 yards and two touchdowns with no interceptions.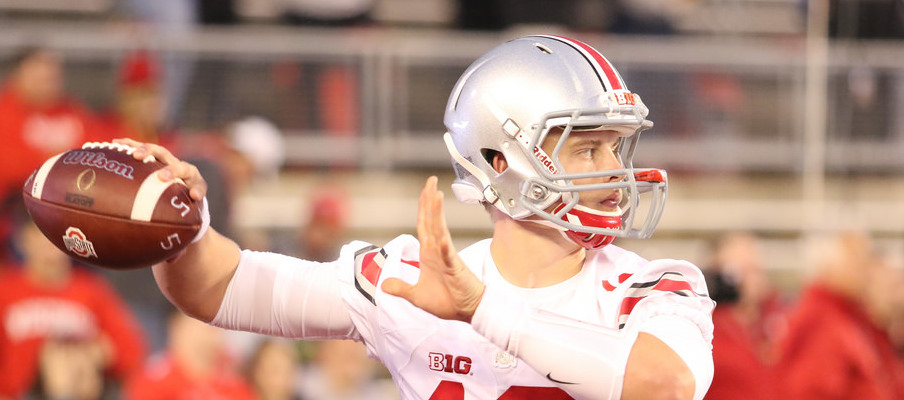 Even if it was for only one series, Meyer felt it was valuable for Haskins to finally see live action on Saturday.
"Last year was very important to get Joe in the game and he did pretty well when he was in there as well," Meyer said. "So that is so important for the backup quarterback spot."
While there have been calls for Haskins or Burrow to see more substantial playing time after Barrett played poorly in Ohio State's loss to Oklahoma two weeks ago, all indications are that they will be relegated to backup duty for now.
Meyer said he thought Barrett "played much better" on Saturday against Army, when he completed 25 of 33 passing attempts for 270 yards and two touchdowns with no interceptions, ran for 32 yards and a touchdown on seven carries and broke the Big Ten's all-time record for career touchdowns.
"Obviously Oklahoma is one of the top couple teams in America," Meyer said. "We didn't play as well. He didn't play as well, but all of us did not play as well or coach as well."