This isn't your typical Ohio State football season opener.
With the exception of its Labor Day 2015 season opener at Virginia Tech, Ohio State has started its season with a game against a non-Power 5 opponent in 12 of the last 13 years.
Not this year. The Buckeyes open their season tonight – the first time they have played a regular-season game on a Thursday since their 2010 season opener against Marshall – at Indiana, marking the first time Ohio State has opened the season against a Big Ten team since 1976. It's Ohio State's first season opener against a Big Ten team on the road since 1975.
Sixth-year Ohio State coach Urban Meyer acknowledges that the Buckeyes have been able to treat some of their previous season openers against inferior opponents as "preseason" games. But the Buckeyes don't get that luxury this year, as they come right out of the gates with a game that will count in the conference standings at the end of the season.
To offset that, Meyer says the Buckeyes treated their scrimmages during fall camp as their preseason games for this year.
"This is a whole different set of circumstances because it's on the road in a Big Ten game," Meyer said. "But we've practiced as such."
While the college football season technically began on Saturday, Thursday night's game between the Buckeyes and Hoosiers is being promoted as the first big game of the year. The game will be nationally televised on ESPN, which is pulling out all the stops for its first prime time game of the year, broadcasting College GameDay from Bloomington before the game and airing six alternative "Megacast" presentations of the game on ESPNU, ESPNews and ESPN3.

INDIANA HOOSIERS
0-0
ROSTER / SCHEDULE
---
8:09 P.M. – THURSDAY, AUG. 31 
MEMORIAL STADIUM
BLOOMINGTON, INDIANA
---
ESPN/ESPNU/ESPNews/ESPN3
WatchESPN
There are plenty of storylines going into this game, the biggest being Kevin Wilson, who returns to Bloomington in his first game as Ohio State's offensive coordinator after his tenure as Indiana's coach came to an end in December. Tonight will be the first opportunity for Buckeyes fans to see Wilson at work with an offense that has plenty of talent but failed to play up to its potential last season. On the other side, Tom Allen will be entering his first full season as Indiana's coach after replacing Wilson before the Foster Farms Bowl last year.
Allen has stated on multiple occasions that this game is "the biggest home opener in the history of Indiana University football," so there's no question the Hoosiers and their fans will be jazzed up for tonight's contest.
"When you put everything together, with the GameDay experience, Ohio State, first game of the year, Thursday, 8:00, night game under the lights – it's kind of what you dream of, when you're a little kid, you're watching it on TV and you're like, 'I want to play in those games,'" said Indiana quarterback Richard Lagow.
This game carries more weight than the average season opener to Ohio State, too, but the Buckeyes say they would have prepared just as hard for this game regardless of who they were playing. The Buckeyes' primary source of excitement for this game is just finally getting to play football against another team for the first time since their Fiesta Bowl loss to Clemson eight months ago.
"We've had a long camp and a long offseason, and we're really excited to get back out there and go against somebody other than ourselves," said Ohio State defensive end Sam Hubbard. "We've had an intense camp, and we've been getting after each other. It's time to get after somebody else. So we're really ready."
Indiana Breakdown
The Hoosiers return 16 starters from last season – seven on offense and nine on defense – which means they have plenty of experience on both sides of the ball, but also many players who the Buckeyes should be familiar with from having played against them last year.
Lagow returns for his second season as the Hoosiers' starting quarterback. Lagow completed only 57.8 percent of his passes last year, with nearly as many interceptions thrown (17) as touchdowns (19), but he did rank 23rd in the Football Bowl Subdivision with 3,362 passing yards. Ohio State's defenders say they have been impressed by what they have seen on film from Lagow as a passer.
"He can make just about any throw on the football field," said Buckeyes linebacker Chris Worley. "That really is one of the things that you don't see out of a lot of college teams, they don't have a quarterback that can really sit in there and throw the ball the way he can."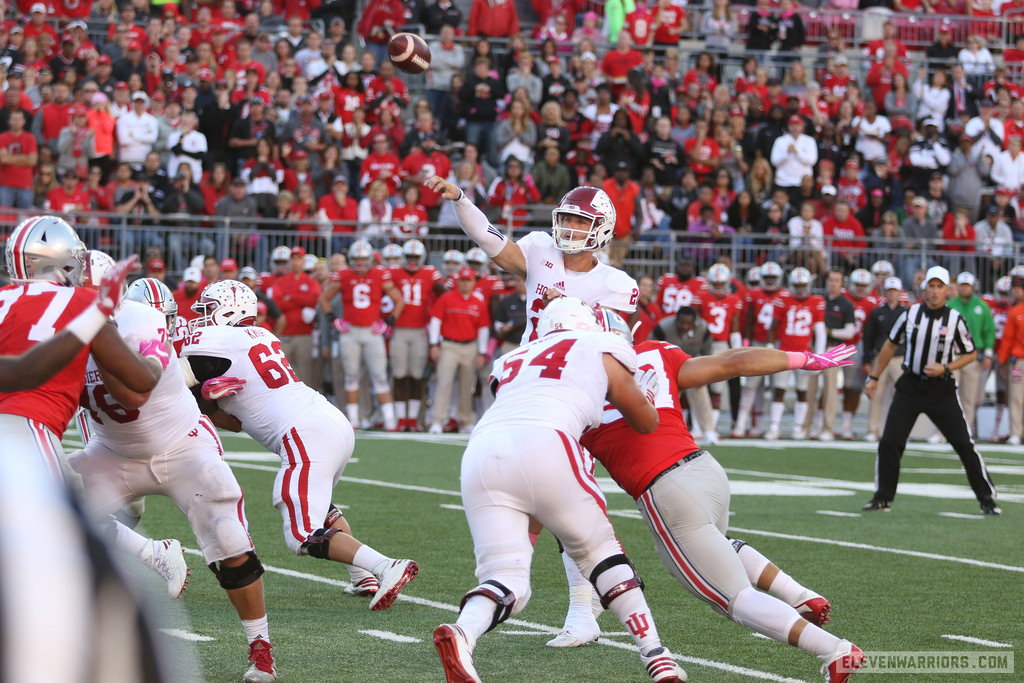 Lagow's ability to throw the ball is well complemented by Indiana's wide receivers, which could very well be the best group of receivers in the Big Ten this year. Nick Westbrook (54 receptions for 995 yards and six touchdowns in 2016) is the conference's leading returning receiver, yet he isn't even listed as a starter on the Hoosiers' Week 1 depth chart, as Donavan Hale outperformed him in preseason practices.
"Donavan had a tremendous fall camp and it's all about competition here at Indiana," Allen said. "Nick's worked hard, done a lot of good things, but highly competitive at several positions. And obviously they're both going to play a tremendous amount."
The Hoosiers' most dynamic receiver is Simmie Cobbs, who had 60 receptions for 1,035 yards and four touchdowns in 2015. That said, he missed all of last season with an ankle injury, and Allen has declined to confirm whether Cobbs will play tonight after he was arrested for refusal to identify and resisting law enforcement over the summer.
Indiana doesn't have an established star at running back, but as many as four or five Hoosiers could see playing time at the position in tonight's game. Mike Majette is listed as the starter, but Devonte Williams, St. Edward product Cole Gest and Pickerington product Morgan Ellison are also candidates to see carries. 260-pound running back Tyler Natee should also continue to see situational carries as a between-the-tackles battering ram.
2016 Statistical Comparison
 
OFFENSE
39.4
13th
POINTS FOR
25.8
88th
245.2
11th
RUSHING OFFENSE
152.2
92nd
213.9
81st
PASSING OFFENSE
273.8
28th
459.2
31st
TOTAL OFFENSE
426.0
56th
.467
17th
3rd DOWNS
.399
69th
.871
40th
RED ZONE
.714
126th
DEFENSE
15.5
3rd
POINTS ALLOWED
27.2
57th
124.5
19th
RUSH DEFENSE
160.4
53rd
172.2
7th
PASS DEFENSE
219.7
53rd
94.4
3rd
PASS EFFICIENCY DEFENSE
117.3
24th
296.8
6th
TOTAL DEFENSE
380.1
45th
.322
11th
3rd DOWNS
.329
15th
.725
5th
RED ZONE
.907
113th
SPECIAL TEAMS
5.2
105th
PUNT RETURN
7.5
75th
24.4
13th
KICKOFF RETURN
19.4
94th
43.1
2nd
NET PUNTING
35.6
102nd
MISCELLANEOUS
+ 1.2
3rd
TURNOVER MARGIN
- 0.5
104th
6.3
70th
PENALTIES
6.1
62nd
33:10
13th
TIME OF POSSESSION
28:07
95th
16
EDGE
3
Up front, the Hoosiers have three returning starters in left tackle Coy Cronk, left guard Wes Martin and right tackle Brandon Knight, though Knight's status for the opener is uncertain due to injury. Powell product Hunter Littlejohn, at center, is among the new starters on the offensive line.
On the defensive side of the ball, Indiana returns eight of its top nine tacklers from last season, including linebacker Tegray Scales, who led the entire Big Ten with 126 total tackles and the entire Football Bowl Subdivision with 23.5 total tackles for loss.
The Hoosiers have three returning starters on the defensive line, including another Ohio product in Nate Hoff (Solon), who had the Hoosiers' only sack against the Buckeyes last season.
Indiana returns all five starters on the back end of its 4-2-5 defense. The star of the Hoosiers' secondary is cornerback Rashard Fant, who joined Scales in earning second-team All-Big Ten honors last year. Arguably the Big Ten's best returning cornerback, Fant leads all active FBS defenders with 48 career passes defensed.
Another Hoosier defender to watch is Marcelino Ball, who plays as a hybrid defensive back/linebacker at the HUSKY position. As a true freshman last season, Ball was already one of the Hoosiers' top defensive playmakers, recording 75 total tackles (third-most on the team) and two interceptions.
Indiana wasn't known for its defensive prowess during Wilson's tenure as coach, but continuity among personnel and coaching – with a few players who truly could rank among the Big Ten's best defenders – should lead to improvement this season.
"I think that they put themselves in positions to win," Ohio State center Billy Price said of the Hoosiers defense. "I know their linebackers are good. Their front seven's always solid. They got playmakers over there …  so we just got to put a man on a man and go block a guy."
Buckeye Breakdown
Expectations are high for Ohio State entering this game and the 2017 season. The Buckeyes are ranked No. 2 in both major polls and are expected to contend for a national championship.
Those expectations hinge on the Buckeyes offense improving significantly from last season, but the Buckeyes are confident they will, with Wilson and co-offensive coordinator Ryan Day – also a new addition to the coaching staff – leading the way.
After months of anticipation, the world will finally get to see Wilson's Ohio State offense at work tonight. Indiana fans have been used to watching Wilson-led offenses for the past six years, but he has more explosive talent to work with at Ohio State – the most talent he's had since he was the offensive coordinator at Oklahoma.
While the coaches who choreograph the offense are new, the engine that makes the offense go remains the same. Fifth-year senior quarterback J.T. Barrett had one of the worst passing performances of his career last season against the Hoosiers, completing only 9 of 21 passing attempts for 93 yards, but he did run for a season-high 137 yards on 26 carries in the Buckeyes' 38-17 win.
Barrett, who struggled as a passer throughout last season, will look to get back on track this season with Wilson and Day (his quarterbacks coach) helping him along the way.
Allen doesn't expect Barrett to make things easy for his defense tonight.
"You watch him and he just appears to have so much toughness and grit to him, and a kid you just have to have so much respect for," Allen said of Barrett. "He just makes plays when they need him to with both his arm and his feet, and just has that leadership that finds a way to make things happen when his team needs him to. So he's what you want in a quarterback."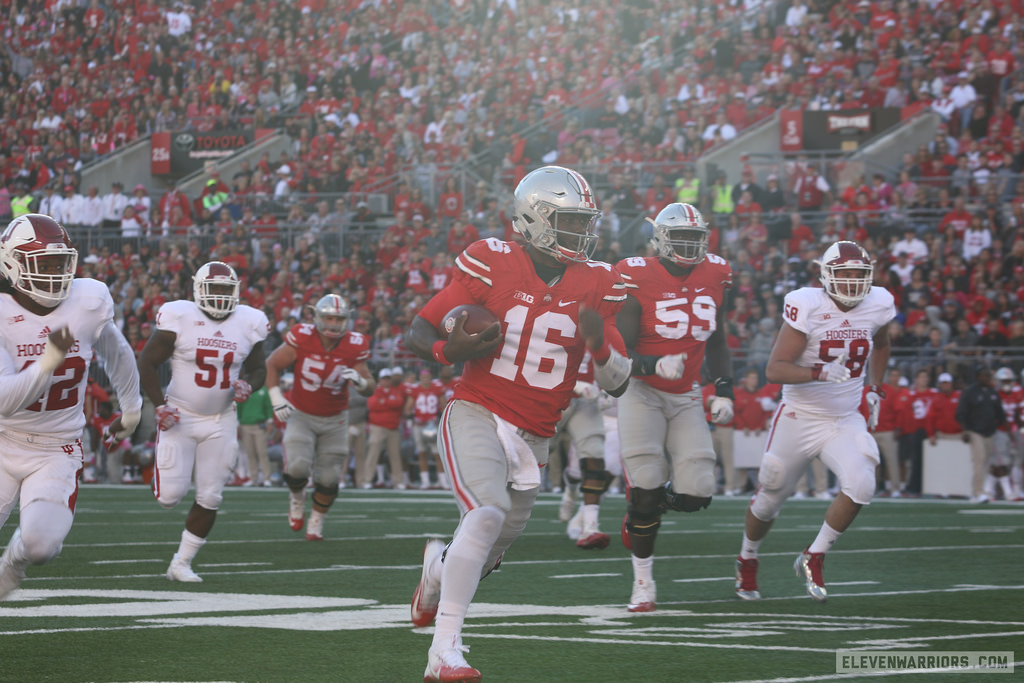 While Barrett's play could be the story of the season, the Buckeyes have questions to answer on their entire offense – and will need answers to all of them in order to play up to expectations – entering game one.
Mike Weber is a solid returning starter at running back, but it's uncertain whether he will be fully healthy – or even play at all – in tonight's game after missing most of fall camp with a hamstring injury and suffering a setback earlier this week. Should Weber be limited or sidelined, true freshman running back J.K. Dobbins could play a huge role in his first game as a Buckeye.
The Buckeyes need someone to step up at wide receiver, where at least six players are expected to see playing time but none of them are proven. Austin Mack, Binjimen Victor, Johnnie Dixon, Terry McLaurin, Parris Campbell and K.J. Hill – the six receivers who are expected to play – have combined for only 55 catches for 631 yards in their Ohio State careers.
Meyer admitted on this week's Big Ten teleconference that the wide receivers are one of his biggest concerns entering the season opener.
"Although I really love where they're at, they're unproven," Meyer said of his receiving corps.
Marcus Baugh has the most career production entering the season among Ohio State pass-catchers (27 catches for 303 yards and three touchdowns), but he's the only tight end playing this season who has caught a pass for the Buckeyes. Ohio State has four returning starters on the offensive line, but that unit needs to be better in pass protection than it was a season ago.
Playing against an experienced Big Ten defense should be a good first litmus test of whether the Buckeyes can answer those questions.
Meyer's biggest concern with his defense is the secondary, where Ohio State is replacing three first-round NFL draft picks from last season. Denzel Ward is expected to be a strong starter at cornerback, while Damon Webb should be the same at safety, but uncertainty lingers at the other spots, with Damon Arnette and Kendall Sheffield listed as co-starters at cornerback and Erick Smith and Jordan Fuller listed as co-starting safeties. Those six defensive backs should all see regular playing time tonight, and they'll be put to the test by Lagow and Indiana's talented receivers.
The strongest area of the Buckeyes' team appears to be the defensive front seven. Five of the front seven starters are returning starters, and the other two – strongside linebacker Dante Booker and defensive tackle Tracy Sprinkle – would have been starters had they not gone down with injuries in last year's season opener. The Buckeyes are also deep with talent that can come off the bench in the front seven, especially on the defensive line.
"We've had a long camp and a long offseason, and we're really excited to get back out there and go against somebody other than ourselves."– Ohio State defensive end Sam Hubbard
Allen knows it will be vital for his offensive line to hold its own against that defensive line for the Hoosiers to have a chance to win.
"It's going to be a tremendous challenge for our group to be able to have success against this defensive line with their depth and talent, and it's an area that's for sure going to be a big key to the success of our team in this game," Allen said. "The game's won up front on both sides of the ball, and that won't be any different on Thursday."
How It Plays Out
Ohio State enters this game as a three-touchdown favorite, according to Vegas Insider. The consensus expectation going into this game, certainly among Ohio State supporters, seems to be that the Buckeyes will win big – potentially leaving that 21-point spread in the dust.
The already-high expectations for Wilson's offense are raised by the fact that he has firsthand insight into the opposing defense, having coached every Hoosiers defender who is expected to see regular playing time in this game. Expectations will be high entering every game this season for the Buckeyes defense, given how much returning talent they have on that side of the ball, and Indiana needs to prove it can still have one of the Big Ten's top offenses without Wilson's influence.
Should Wilson's offense come out guns blazing and the Buckeye defense put pressure on the quarterback while playing stout against the run, it's more than possible Ohio State could win this game by a large margin.
That said, expectations always tend to be inflated entering a season opener, so it's likely tonight's game will provide a dose of reality in some form.
It would be a shock if the Buckeyes lost the game, but it shouldn't come as a shock if the Hoosiers keep it competitive. After all, the Buckeyes aren't opening their season against Bowling Green, Marshall or another opponent from a lesser conference; they're opening their season against a Big Ten team, and Indiana isn't Rutgers.
Ohio State vs. Indiana in Urban Meyer Era

| Year | location | result |
| --- | --- | --- |
| 2016 | Columbus | Ohio State 38, Indiana 17 |
| 2015 | Bloomington | Ohio State 34, Indiana 27 |
| 2014 | Columbus | Ohio State 42, Indiana 27 |
| 2013 | Columbus | Ohio State 42, Indiana 14 |
| 2012 | Bloomington | Ohio State 52, Indiana 49 |
The Hoosiers have a passing offense that can challenge an unproven secondary. They have experience and some legitimate stars on defense, and Wilson's offense isn't likely to hit its peak in its first game. The Hoosiers are a talent disadvantage overall, but they have enough quality players to challenge the Buckeyes if they execute at a high level. The Hoosiers know they're about to face a tough opponent, but they plan to battle with the Buckeyes as hard as they can.
"You always want to go against the best, and (Ohio State)'s truly one of the best," Fant said. "So I'm looking forward to the challenge. I know my teammates are as well, and we're excited for this opportunity. We're just going to go out there and leave everything we got and go compete with them, and let whatever happens at the end of the game happen."
Ohio State got a serious challenge from Indiana in its last trip to Bloomington, beating the Hoosiers by only seven points in 2015, and that's a fact that's not forgotten by the Buckeyes who played in that game.
"Last time I was there, it was a dogfight," Price said. "I don't underlook these guys going into games. A lot of these kids, people like to say that they're under-recruited or whatever, they're this, that and the other, but they're still going to go out hard. They're still going to show up the first play, last play, play all four quarters."
Ohio State would probably love to make a big statement in its first game of the season, but the Buckeyes' ultimate goal for this game is just to get out of Bloomington with a win.
The Buckeyes' game against the Hoosiers is the Big Ten's only intraconference game of opening weekend, so the Buckeyes only need a win – whether that be by one point or 41 points – to start the season with an outright lead in the conference standings.
---
ELEVEN WARRIORS STAFF PREDICTION: Ohio State 45, Indiana 17