We thought Ohio State had a lot of talent to replace in the defensive backfield last year.
We didn't know then that the Buckeyes would have to replace an even more talented trio of defensive backs in 2017.
Ohio State's secondary looked primed for a decline in performance last season following the departures of first-round draft pick Eli Apple, second-round draft pick Vonn Bell and NFL free-agent signee Tyvis Powell from its 2015 starting lineup. Instead, the Buckeyes secondary ended up being even better.
First-year starters Malik Hooker and Marshon Lattimore both earned first-team All-Big Ten honors, while returning starter Gareon Conley earned second-team All-Big Ten honors.
The only downside to their success, as it pertains to Ohio State's upcoming season, is that it enabled Lattimore, Hooker and Conley to all be first-round picks in the 2017 NFL draft, which means the Buckeyes must replace three starters in their secondary again.
It's hard to imagine there not being some drop-off in Ohio State's secondary after losing six NFL defensive backs, including four first-round picks, in a two-year span. Ohio State's current defensive backs and their coaches, though, remain confident that the machine will keep on churning.
"There should be no drop-off," Ohio State cornerback Damon Arnette, one of the unit's projected new starters for the 2017 season, said Wednesday. "(Cornerbacks coach Kerry) Coombs believes and I know that he's a better coach from last year to this year, so him being a better coach, he should coach better, and the players should be better from what he says, and I trust him 100 percent."
While the Buckeyes secondary lacks experience, it remains loaded with highly recruited talent. There's certainly potential for Ohio State to once again have one of the nation's best defensive backfields. The question is whether this year's new starters can step up as well as last year's did.
DEFENSIVE BACKS IN 2016

Ohio State's passing defense ranked seventh nationally in yards allowed per game (172.2), third nationally in passer rating against (94.4) and tied for fourth nationally in interceptions (21) last season. The Buckeyes led all Football Bowl Subdivision teams with seven interceptions returned for touchdowns.
While a strong pass-rush up front played a significant role in that success, those numbers are indicative of how well Ohio State's 2016 secondary played.
The keys to the secondary's success were the remarkable rises of Lattimore and Hooker, who went from unproven commodities to top-15 NFL draft picks in just one year.
Hooker was the best safety in college football last season, earning unanimous All-American honors as he showed spectacular playmaking range on the back end of the Buckeyes defense. Hooker led the Buckeyes with seven interceptions and was one of only two players in the FBS to return three interceptions for touchdowns.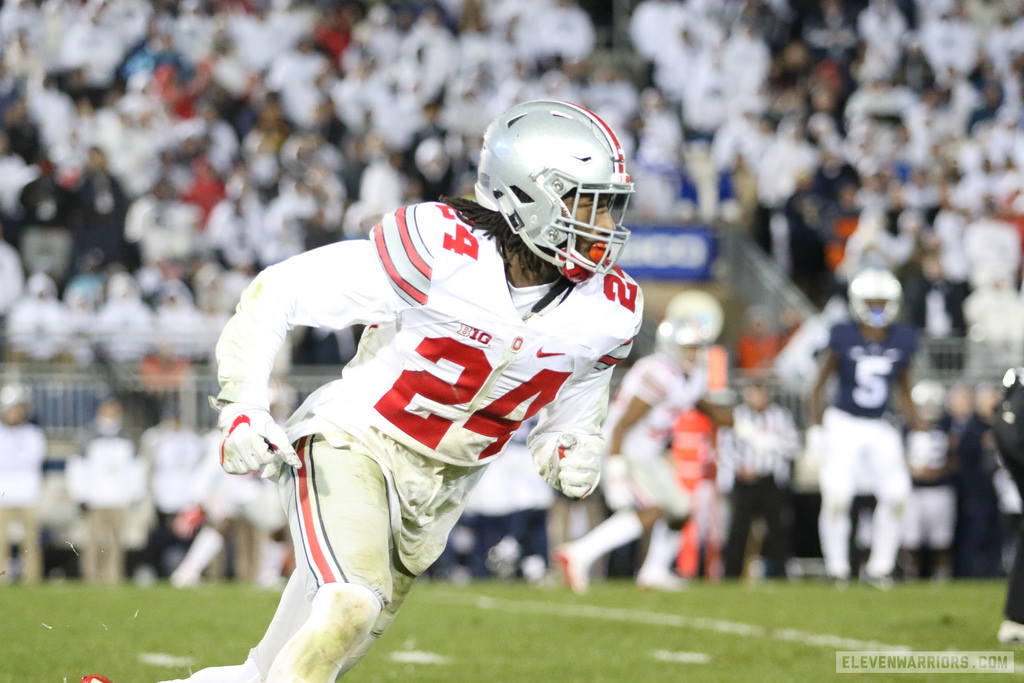 Lattimore and Conley were arguably college football's best cornerback tandem last season. Both players recorded four interceptions, with Lattimore returning one for a touchdown, while providing consistently solid coverage opposite one another. Conley allowed an NFL passer rating of just 14.0, the best mark in the nation, on throws into his coverage last season, while Lattimore allowed an NFL passer rating of just 30.2, according to Pro Football Focus.
Damon Webb was regarded as the weak link among the starting defensive backs last year, but that's all relative to the elite talent he had around him. The junior safety from Detroit had a solid season, earning honorable mention All-Big Ten honors while 57 tackles and an interception, which he returned for a touchdown.
Ohio State coaches considered Denzel Ward to be their third starter at the cornerback position last year. While Ward never actually started a game, he played 468 snaps in the cornerback rotation. He finished the year with 23 tackles and nine pass breakups.
Arnette played 181 snaps last season, primarily at the nickel back position, though his playing time decreased after some early-season struggles. He recorded 21 tackles and one interception.
No other Ohio State defensive backs saw regular playing time, though Erick Smith and Jordan Fuller both saw the field occasionally as backup safeties. Smith finished the season with 16 total tackles while Fuller had 11, though both of their production came primarily on special teams.
2017 OUTLOOK

As the lone returning starter in the secondary, Webb knows he must step up as a leader if the Buckeyes are to turn their high expectations into reality.
"It's definitely up to me to be a leader, show them what it means to call ourselves B.I.A. (Best in America), with no drop-off or no lagging off," Webb said Aug. 5. "So it's definitely up to me to set the standard and keep the tradition going."
Defensive coordinator and safeties coach Greg Schiano says Webb has stepped up and will be a "mainstay" in the Buckeyes' secondary this year.
"The one guy that you want out there is D-Webb," Schiano said Aug. 5. "He runs things."
The next NFL first-round pick to emerge from Ohio State's secondary could be Ward, who has the fastest 40-yard dash time on the team and has demonstrated the skill to be an elite player at the position. He is slated to the Buckeyes' No. 1 cornerback this year.
Arnette and junior college transfer Kendall Sheffield, who each have their own potential to be future early-round NFL draft picks, have competed in fall camp for the starting spot opposite Ward. Arnette's experience at Ohio State might give him the inside track to start the season opener, but both cornerbacks should see regular playing time, as Coombs plans to rotate at least three cornerbacks again this season.
Smith and Fuller have competed in fall camp for the open starting spot alongside Webb at safety. Smith has the experience advantage in that position battle, with three seasons at Ohio State under his belt compared to one for Fuller, but it's likely both of them will see playing time too, though Schiano has been noncommittal about who will start and whether they will rotate.
Those six defensive backs are likely to be the first on the field for the Buckeyes this year, but there are also five true freshmen competing for playing time.
Jeffrey Okudah, Shaun Wade, Marcus Williamson and Amir Riep are all competing to be the fourth cornerback, with Okudah – the No. 8 overall recruit in the class of 2017, per 247Sports – looking like the strongest candidate to see the field. It's possible the fourth cornerback could also play the nickel back role, though Arnette says he has been playing the slot in nickel packages.
True freshman Isaiah Pryor appears likely to be the fourth safety on the depth chart but could also push for immediate playing time after being just the second freshman to lose his black stripe this year.
FINAL WORD

Ohio State's Defensive Backs


| NAME | No. | POS. | HT. | WT. | YEAR | HOMETOWN (PREVIOUS sCHOOL) |
| --- | --- | --- | --- | --- | --- | --- |
| Damon Arnette | 3 | CB | 6-0 | 195 | R-SO | Fort Lauderdale, Fla. (St. Thomas Aquinas) |
| Wayne Davis | 15 | CB | 5-10 | 193 | R-FR | Norfolk, Va. (Lake Taylor) |
| Kevin Dever | 29 | S | 6-0 | 186 | FR | Cleveland, Ohio (St. Edward) |
| Jordan Fuller | 4 | S | 6-2 | 207 | SO | Old Tappan, N.J. (Old Tappan) |
| Jack Hamilton | 28 | DB | 5-10 | 181 | FR | Dublin, Ohio (Coffman) |
| CinQuan Haney | 46 | CB | 6-1 | 200 | SR | Dayton, Ohio (Chaminade-Julienne) |
| Logan Kelleher | 38 | DB | 5-8 | 192 | SR | Cincinnati, Ohio (Archbishop Moeller) |
| Jeffrey Okudah | 1 | CB | 6-1 | 193 | FR | Grand Prairie, Texas (South Grand Prairie) |
| Isaiah Pryor | 14 | S | 6-2 | 195 | FR | Lawrenceville, Ga. (IMG Academy) |
| Clay Raterman | 48 | S | 6-0 | 185 | JR | Dublin, Ohio (Coffman) |
| Amir Riep | 10 | CB | 5-11 | 183 | FR | Cincinnati, Ohio (Colerain) |
| Kendall Sheffield | 8 | CB | 6-0 | 183 | R-SO | Missouri City, Texas (Blinn College) |
| Erick Smith | 34 | S | 6-0 | 203 | SR | Cleveland, Ohio (Glenville) |
| Shaun Wade | 24 | CB | 6-1 | 185 | FR | Jacksonville, Fla. (Trinity Christian) |
| Denzel Ward | 12 | CB | 5-10 | 191 | JR | Macedonia, Ohio (Nordonia) |
| Damon Webb | 7 | S | 5-11 | 195 | SR | Detroit, Mich. (Cass Tech) |
| Brendon White | 25 | S | 6-2 | 210 | FR | Powell, Ohio (Olentangy Liberty) |
| Marcus Williamson | 21 | CB | 5-10 | 180 | FR | Westerville, Ohio (IMG Academy) |
| Jahsen Wint | 23 | S | 5-10 | 196 | R-FR | Brooklyn, N.Y. (Erasmus Hall) |
Ohio State's new starting defensive backs will have huge shoes to fill, so it's necessary to keep expectations for the group realistic.
It's unlikely any safety on the roster will offer the same playmaking range as Hooker, who offered truly rare ability in that area. It's likely that the new starting cornerbacks, as talented as they might be, won't be as consistent in coverage as Lattimore and Conley were, especially early in the season. It's a lot to expect Ohio State to replace three NFL-caliber starters without a hitch for a second year in a row.
All of that said, it's certainly possible Ohio State could have one of the nation's best secondaries once again. Coombs and Schiano proved they could build such a unit last year, and they'll have plenty of talent to work with again this year.
Ward, Arnette, Sheffield, Okudah and Wade all have the potential to be star cornerbacks and continue Ohio State's recent trend of first-round picks at the position. Smith and Fuller have the potential to be breakout stars at safety, while Webb should be improved in his second year as a starter.