During Ohio State's last two seasons, the Buckeyes have had two separate corners play the nickel spot on third and long situations. In each of the following seasons, that same player became a full-time starter. 
In 2015, it was Damon Webb, who eventually became a starter in 2016 as a safety. One year later, Damon Arnette got the nod as the fourth corner and nickelback, and is in line to be one of Ohio State's starting corners come Aug. 31 against Indiana. 
On Aug. 16, Ohio State cornerbacks coach Kerry Coombs said that Denzel Ward, Arnette and Kendall Sheffield were the top three corners in his room and are likely to rotate in with the starting defense. The battle for the fourth spot and a possible role as the nickelback however, is coming down to four true freshmen.
"Jeff Okudah is making a huge push, playing really well. Shaun Wade's last two days have been his best as a Buckeye. Marcus Williamson started off ahead of both of those guys, but he got a little bit of a ding and has missed three practices," Coombs said.
"Amir (Riep) since he came in in June is a little behind, but that is just the nature of things. The other thing is, the young guys have to learn the culture of the unit and the culture of the program. When they get that and becomes part of who they are, it will be a really cool thing."
Okudah was the highest rated recruit of the group coming out of high school, as 247sports.com placed him last the No. 8 overall prospect in the country and the top cornerback prospect in the 2017 class. The Grand Prairie, Texas native was also the first rookie cornerback to shed his black stripe during fall camp. 
An early enrollee in the spring, Okudah said upon his arrival on campus that he expected to contend for a starting corner spot, opposite Ward. 
"That's my intention. I know a spot is open so it's just all about competition," Okudah said in February. "I know the best two corners will get on that field and so it's just whatever I make of it and I'm just going to try to take the opportunity and run with it."
Like Okudah, Wade was a five-star prospect coming out of Jacksonville Trinity Christian High School, enrolled early in the spring and was a U.S. Army All-American. He also lost his black stripe just two days after Okudah in fall camp.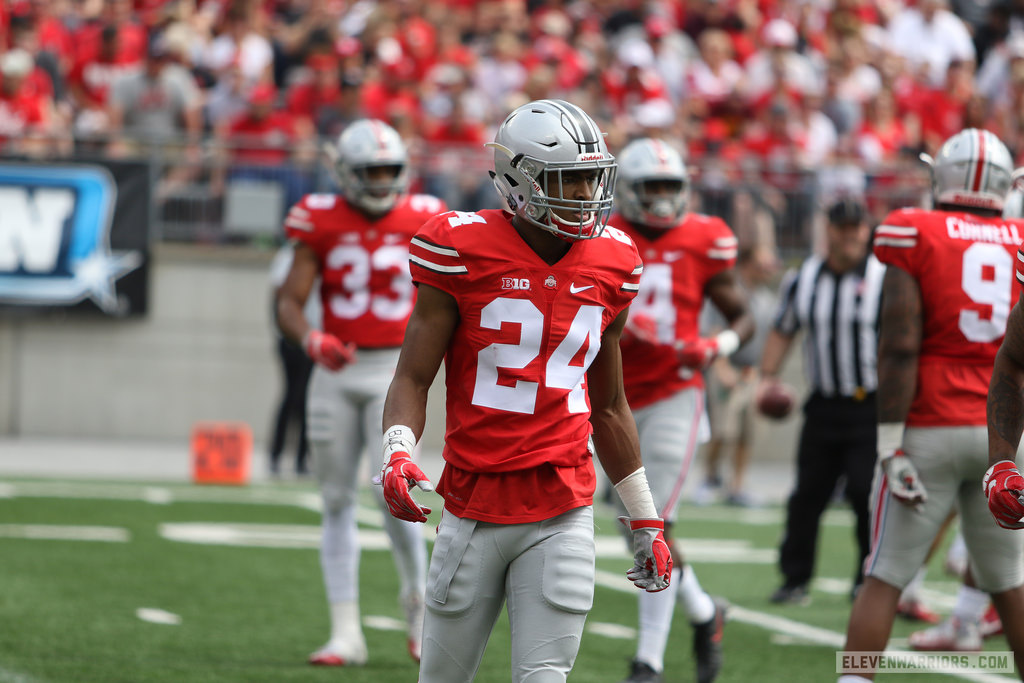 While Okudah was not shy in his comments about wanting to compete for a starting job, Wade said in the spring that he will have to work his way up the depth chart with talented veterans in front of him. 
"Coach Coombs, he's always been real with me, I knew I wasn't that good. That five-star stuff didn't mean nothing to me, it never blew my head up," Wade said. "I know I'm just a regular guy trying to work hard and make it to the league. 
"(Starting cornerback spots), they're gone. We have corners now, Denzel and Damon, there's a lot of corners here right now," Wade continued. "So just have to work hard with them. They're going to push me and I'm going to push them, we're just going to all work hard."
A former Westerville South Wildcat, Williamson spent his senior season as a corner for IMG Academy in Bradenton, Fla. A four-star prospect, Williamson also enrolled in the spring and entered Columbus with a similar mindset to that of Wade. 
"I committed almost two years ago," Williamson said in February. "I didn't know what the situation would be here. For me it was coming in and working with my position coach. Regardless you're going to start at the bottom of the totem pole and whatever works out, works out."
Riep rounds out the group of freshman competing for the fourth corner/nickel position. Despite being the lowest rated cornerback recruit in Ohio State's 2017 haul, Riep was still a four-star prospect out of Cincinnati Colerain, where Coombs used to be the head coach from 1991-2006.