There is no quarterback controversy in Columbus this offseason. The Buckeyes return fifth-year senior and three-year starter J.T. Barrett who holds 21 different Ohio State records at the position and is 26-4 as a starter.
Barrett is the clear-cut starter, and has been since he announced his return to Ohio State last January; that's beneficial for everybody involved, including the three talented quarterbacks behind Barrett on the depth chart.
The obvious benefit to having a veteran at the quarterback position is the leadership he brings to the quarterbacks room. It gives the younger quarterbacks an opportunity to watch and observe what it takes to be successful at the position before they have to do it themselves.
But there's also a hidden benefit to having a guy with as much experience as Barrett: extra practice reps for the younger players.
"It'll be how you separate yourself statistically and [if] you can lead a team to go score touchdowns, and score points. And they're going to get plenty of reps."– Urban Meyer
As a fifth-year senior entering his third year preparing as a starter, Barrett does not need nearly as many practice reps as a younger starter. This frees up some first-team reps for the younger quarterbacks 
"With every rep, it's sometimes harder to get that second or third quarterback a rep when the first guy's a new quarterback because he's going to take them all," Urban Meyer said.
Meyer gave the example of the quarterback situation when he first arrived. Braxton Miller was a young starter – a true sophomore – and needed many reps to learn the position and get comfortable with the new offense. This left very few for backup Kenny Guiton, making his success all the more amazing.
"Kenny Guiton is legendary around here because we won games for us without getting the one-on-one reps," Meyer said. "But when you have an established guy, it's easier to stick the other guy in there."
With Barrett as the established guy, Joe Burrow, Dwayne Haskins and Tate Martell will each get each get plenty of first-team reps, giving each the opportunity to showcase their abilities and make their case in the backup quarterback race – a race Meyer said is too close to call at this point.
"It's very close," Meyer said on BTN during Big Ten media days. "Right now it's between Joe Burrow and Dwayne Haskins. Tate Martell – he's shown flashes too, so we're anxious to give Tate a little more reps too and see what he can do."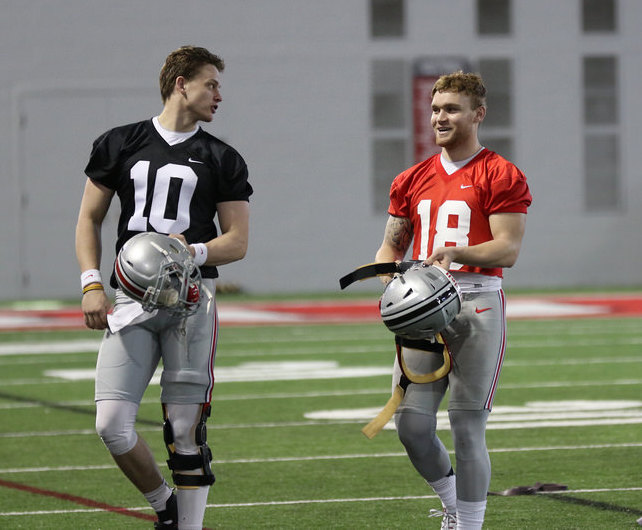 Meyer said he's not prepared to name a backup quarterback yet, or even a frontrunner between Burrow and Haskins. That decision will likely come shortly before the season, and it's one Buckeye fans are anxiously awaiting.
Though it's only a backup quarterback job, there's a good chance that player will see meaningful minutes in 2017, if history is any indicator. The second-string quarterback has been called upon to play meaningful game minutes almost every season since Meyer's arrival with 2016 being the lone exception.
But even if the backup doesn't see the field in any meaningful capacity this season, it's still a huge position battle because of what's set to happen next offseason. With Barrett graduating, the starting spot will be open. Whoever wins the backup spot this year is likely the frontrunner for the starting job next season.
For now though, it's too close to call, and Meyer is using those extra practice reps to find a bit of separation between the quarterbacks.
"It'll be how you separate yourself statistically and [if] you can lead a team to go score touchdowns, and score points," Meyer said. "And they're going to get plenty of reps."