You released the genie from the lamp and now you've got one very specific wish at your disposal.
You can take an Ohio State setback from any era - but only one - and change the outcome. All of those tears would be washed away in an instant. A crushing loss would be transformed into victory. History would be altered forever.
It's your call, but this kind of mystic reversal is not without consequences.
Let's say you're old enough to remember the 1902 Ohio State-Michigan game, which would make you either Emma Morano or a giant tortoise. The Buckeyes came up short in an 86-0 squeaker as the Wolverines marched through a sport still in its infancy en route to another triumphant national title that only reptiles and one elderly Italian widow can truly cherish.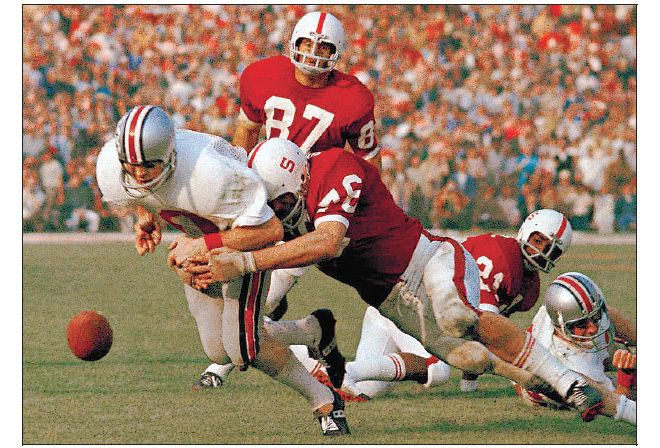 You would have the power to give the 1902 Buckeyes their first-ever win against their rival while relieving the Wolverines of a natty they still proudly celebrate today. Michigan would be forced to retroactively share the Big 9 crown with Chicago, whom they also shut out that season. Ohio State played in the Ohio Athletic back then so their conference standing would be unchanged by your hand.
But the most visceral outcome of reversing an 86-0 loss to Michigan would be the extinction of Carmen Ohio, which was passionately written on the ride home from Ann Arbor by a miserable and defeated Ohio State freshman named Fred Cornell. Those lyrics you've sung and shouted your whole life would disappear faster than a photograph of Marty McFly.
If the Buckeyes pull that 1902 upset, eight year-old Chic Harley is robbed of one of his future heroic feats: Slaying the dragon for the first time 17 seasons later. As a result, perhaps Ohio Field is upgraded a little too soon, and instead of being designed as an architectural marvel the university hastily makes the Buckeyes' future home a giant, charmless hole in the ground. It's happened on other campuses.
All because you reversed one historically shitty loss. See, it's not that simple. The genie is waiting patiently.
Perhaps you're old enough to remember the 1969 Buckeyes, the defending national champions and arguably a better version of their 1968 selves. They lost to first-year Michigan coach Bo Schembechler in the upset of the century, which spawned the animus and energy that forged the Ten Year War. Maybe you would like that one back.
Winning in Ann Arbor in 1969 sends Ohio State to Pasadena to play Southern Cal for the second year in a row Purdue to Pasadena due to the Big Ten's no-repeat rule, while Michigan stays at home. Bo Schembechler is spared one of his eventual eight Rose Bowl defeats. The Big Two does not materialize as abruptly or majestically, and Woody Hayes' obsession and eventual decline may not accelerate the way it did. He coached too long, but had he started off the now-cancelled Ten Year War with a 5-1-1 record, he may have ended up coaching too long. Like, Paterno-long.
Maybe you'd like the 1971 Rose Bowl back. That would give the Buckeyes two legitimate national titles in three seasons while expunging a colossal choke to Stanford from history. Would that change the way the 1968 season is remembered? The 2014 Buckeyes were compared to the Super Sophs specifically because of the contributions of those second-year players. The historiography of that entire era would get twisted up with a single game, as would the years that followed.
Woody's losses in the 1970s are prominent sores, and changing any of them would produce unpredictable repercussions. Ohio State football, despite Earle Bruce being the winningest Big Ten coach during his tenure, regressed over the following decade. Changing the outcome of one pivotal game could change the trajectory for better - or for worse.
Which leads us to the John Cooper era. 
Reversing Ohio State's 86-0 loss to Michigan in 1902 would ERASE CARMEN OHIO FROM EXISTENCE.
Go ahead, reverse the catastrophic Michigan loss of your choosing. Maybe the 1988 heartbreaker, altering how his legacy was defined from the start. Or perhaps 1995, making Biakabutuka just another long name, erasing everything you've ever known about Tennessee's illegal cleats in Orlando and giving Ohio State a 2-1-1 over a four-year stretch. The entire Cooper narrative changes immediately, especially if you choose 1997. Michigan would get a taste of its own 1990s medicine.
Your wish might end up resulting in Coop coaching well into the following decade - that's Jim Tressel's decade. The genie smirks. That's probably not what you had in mind.
You can count all of Tressel's losses on your fingers, toes and ears which makes it the easiest exercise. Reversing his solitary loss to Michigan in 2003 allows Ohio State to defend its BCS title against Oklahoma - but with Lydell Ross, Maurice Hall and Branden Joe running the ball instead of Maurice Clarett. One of Tressel's Tresseliest feats in Columbus was leading that team with that offense to a top-5 finish nationally.
This is the most obvious choice. It was Ohio State's golden decade, which is the only cause for pause here: Do you really want to change how those 10 years materialized? The ripples go far beyond the WHAC. Maybe Lloyd Carr retires sooner than 2008. The worst athletic director in collegiate history sticks to destroying shareholder value in the pizza business. The Wolverines' course takes a more positive direction.
Michigan then hires differently under those circumstances. For example, Urban Meyer would have been available. And he would have listened.
Speaking of Urban, that 2006 BCS title game where Ohio State was trying to win its third 1 vs. 2 showdown of the season is arguably the most damaging loss in program history. But you have the power to restore the destiny of that team, allowing it to go wire-to-wire. You could give the 2006 Buckeyes a flawless 13-0 championship season at Florida's expense.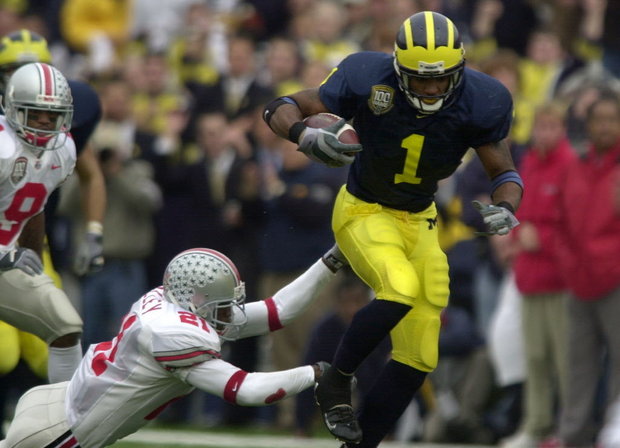 Urban would lose his first shot at immortality in his second year there. That changes his career arc and allows him to ascend in a healthier manner (though still much faster than Nick Saban did). The Gators win the 2008 title and when Florida loses the SEC championship game to Alabama in 2009, he's a little better prepared for the devastation.
There are no chest pains. His deteriorating health is more manageable. He's still coaching in Gainesville right now. Ohio State hires, like, Kevin Sumlin or Mark Dantonio instead.
Which leads us to last season's self-inflicted gunshot against Michigan State. It might be too soon to realize what reversing that game would do to the future, but the Buckeye team that awkwardly made its way into that season-defining loss was not the same death machine that arrived in Ann Arbor the following Saturday.
Jim Harbaugh lost his diluted version of Bo's 1969 showdown by 29 points in large part because Ohio State's offensive brain trust required the previous Saturday's implosion to realize what it was supposed to be all along.
The genie sighs. Your choice is now clear.
Disrupting the continuum of history by applying a retroactive analgesic to a crippling loss could have catastrophic repercussions. It's too dangerous. Ohio State's identity was forged for decades by both its wins and losses. They all need to stay intact for this reason.
So let's go ahead and have the genie reverse Ohio State's next loss. And let us never find out which game it was.