Ohio State football was completely transformed in less than three years following Jim Tressel's hiring.
During his honeymoon season the Buckeyes won in Ann Arbor for the first time in 14 years. The following season they won the BCS title and in his third year they played the balance of the season without a serviceable tailback - yet still had a shot at defending their title entering the final game. 
Tress was asked by Ohio State to resign three years ago this Friday. He's now been gone for the same amount of time as it took him to get the foundering Buckeye football program to the doorstep of back-to-back national title games (which he eventually did four years later).
His forced resignation was not met with tempered, reasonable views from salaried media people who were clearly not teeming with impotent outrage:
Jim Tressel...what a coward! Steps down on Memorial Day. All media is off and he takes the attention away from the vets. What a tool!!!

— Bernie Smilovitz (@berniesmilovitz) May 30, 2011
Nor was it greeted by restrained, judicious OSU stakeholders embracing the fact that Tressel's undoing was all his own:
I swear to God @TPeezy2 if Tressel is forced to resign the blood is on YOUR HANDS. Just declare for the supplemental draft already.

— Mike (@MikeAmmo) April 26, 2011
...all while professional contrarians failed to grasp that the mis-named Tatgate was really a scandal of consequences stemming from a serial coverup, rather than the petty non-crimes of violating amateurism:
What game has the media been watching? F---ing clueless. Tatts for memorabilia is quite possibly one of the more honorable things in CFB.

— Jason Whitlock (@WhitlockJason) May 31, 2011
It's been three years since we scraped the bottom. That summer of 2011 was without a doubt the stupidest era in sports media history and we're all dumber for having survived it. 
That said, since then we've evolved in the way we view and tolerate NCAA violations in addition to how we see the NCAA as a clumsy, ham-fisted cartel governing body. That progression has been conspicuous, but there has been another transformation in that span that hasn't been nearly as loud.
Ohio State football. You know - the big, punchable catalyst for that big, dumb summer.
Yeah, the Buckeyes run out of the spread now - but they ran spread elements for years under Tressel. Yes, they still win most if not all of their games, but that's a tradition that predates both Urban Meyer and JT by several coaches. And obviously, the offense has never been this good and the defense has never been this bad - but that's not program culture. That's all Saturday stuff.
Meyer doesn't appear to care for headaches.
Let's start with an example: Was there any Tressel defense at Ohio State where Jamal Marcus wouldn't contribute? Marcus and the Buckeyes are now "mutually parting ways" which - coincidence or not - brings the Buckeye roster down to its probation-compliant 82-man limit.
Prior to the most recent Ohio State game, Meyer said this about him:
Jamal Marcus is going to be a disruptive guy. He's one of our more talented guys on defense.
[obligatory GIF of Marcus destroying Zach Zwinak] [rules are rules]
And now they're parting ways. Regardless of the real reasons why, this never would have happened under Tressel. Not like this - and definitely not this soon.
First, the oversigning thing, which has significantly contributed to programs like Alabama and LSU (and now Tennessee and Texas A&M) by building depth and writing off recruiting mistakes: Marcus isn't dead weight by any measure, but going from one of our more talented guys on defense to nope no longer on the team over the course of a single game reeks of surrender. Ohio State is going to quit a guy this good this quickly?
Troubled, apathetic or otherwise - contrast Marcus' abrupt departure to, say, Ray Small's. Tressel clinged to the failed idea that he could rehabilitate him for years. Marcus was going to be a disruptive guy as recently as January. Wait, maybe it was the wrong kind of disruptive.
Even when Small was still in high school, Tress wrote a lengthy letter to OSU admissions pleading if not begging for some latitude. Small arrived, impressed no one of consequence, poisoned way too many teammates most notably Duron Carter and finished his career spending more time suspended by his coach than playing in games.
Hindsight being flawless, Small was not worth a fraction of the trouble Tressel put himself through to land and keep him. Neither were Redgie Arden, Angelo Chattams, Louis Irrizary, Ira Guilford, Albert Dukes, Jonathan Skeete, Marcel Frost, Eugene Clifford...we'll stop there. Those are all Tressel pet projects whose headaches outweighed their contributions.
Tressel clINGED to the failed idea that he could rehabilitate Ray Small.
Meyer doesn't appear to care for headaches. The urgency to get-your-shit-together-or-leave on his watch compared to Tressel's is as glaring as [Glendale nightmare simile goes here]. All of those guys listed were forced to fail in multiples before finally finding their exits. We're not exactly sure what Marcus did, but it absolutely wasn't being lousy at football or repeated brushes with law enforcement.
Remember Taylor Graham, Dom Clarke, DerJuan Gambrell, Jaamal Berry, Jordan Whiting, Brian Bobek, Jeremy Cash, David Durham, Chad Hagan, Scott McVey, Melvin Fellows, T.Y. Williams and Jamie Wood - all Tressel recruits? They didn't last a summer after Meyer's hiring. He didn't coach a single game before those guys were gone, be it for scheme fit, legitimate, medical or other reasons.
The point isn't that they were exited; it's that they were exited post haste.
This is where you point and scream-laugh at everyone who believed Tatgate happened because Tressel would do anything to win. No, those headaches Tressel consistently gave himself with way too many football players - including the final headache that cost him his job as well as $21MM in guaranteed income - had far less to do with winning games than with his radical if not twisted obsession with saving troubled players.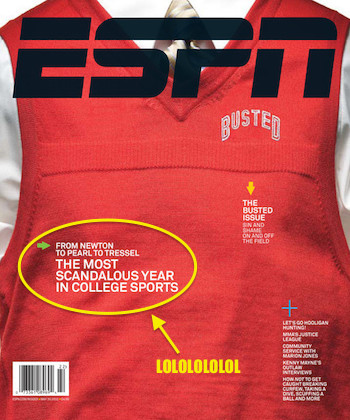 Urban does not seem to be interested in maintaining a hobby like that. It just happens to be Tressel's passion.
Urb's predecessor also showed excessive loyalty to crony coaches, some of whom could not recruit or just didn't care to. Position battles? What position battles? You could predict the entire two-deep after signing day with a margin of error of no more than two players. The second-string offensive line was the first string with the same five guys at different positions.
Ohio State had the best offensive line in the country last year and did not win the Big Ten. That unit underperformed every single year under Tressel - right before it was fitted for conference championship rings. If an assistant cannot recruit or coach well under Meyer, he will not stay at Ohio State. This was not uniformly the case prior to his arrival.
Tressel preferred to handle discipline in-house and shade his players from shaming throughout his tenure. Meyer stripped scholarships from two starters for peeing outside at 1am during his first summer. He suspended his starting corner for a game last year for a bar incident that turned out to be an assault on him, and he suspended the best tailback in the country for three games after he aggressively reached in the vicinity of a female bar patron who had struck him in the face, on film.
There were no charges to be found, but it did not matter. Under Tressel Arden got a DUI and missed some practices. Santonio Holmes was arrested the week of the Michigan game and ended up scoring two touchdowns in it. Alex Boone caused a car accident while drunk and missed no games. We'll stop there.
There's zero tolerance, no shade and compliance über alles under Meyer, which is to say it isn't Tressel's program anymore. The Buckeyes still sing Carmen Ohio after games. The view from the blimp above Ohio Stadium on Saturdays is mostly the same. Michigan still loses the game that matters most. 
And everyone still hates Ohio State's coach.
From @BianchiWrites: From Urban Meyer to Urban Liar: Now Gators know how Utah fans felt http://t.co/TO6R78JA

— Tim Stephens (@tstephensCBS) November 29, 2011
Yep, Urb and Utah are on lousy terms. So much hate.
I came up with a great chant today. Urban liar ( insert lets go Rangers chant ) ...

— RichardBlais (@RichardBlais) November 25, 2011
This guy was on Top Chef. He knows how to create.
Great day for America! Sad day 4 Big 10, Hate OSU but tressel was a great coach! Would rather beat them when he's the coach than some1 else

— Mike Hart (@MHart2032) May 30, 2011
Beggars can't be choosers, sir.
It's been three years since Ohio State football came crashing down, and it's been almost 11 since that 2003 loss to Michigan; the most recent one suffered by any Ohio State team with a permanent head coach. Some elements of program culture are best left alone.
Others are going to change dramatically, which has undoubtedly been the case since Meyer took over. Ironically, it took Tressel - whom outsiders falsely believed was a win-at-all-costs coach - to leave in order for Ohio State to get a guy who values winning above everything else.
And personally - I would happily take either of them without blinking.