Pickerington, Ohio, is set up for quite a future with, but not limited to, a duo of players that rank within the top-100 of the 2021 class and another that is climbing his way up the ranks in the 2020 class, and it's not completely out of the realm of possibility that all three could be Buckeyes in the future.
That's actually exactly what would happen if five-star defensive end Jack Sawyer had it his way.
Every day, Chris Scott, Ohio's No. 12 2020 recruit and receiver for Pickerington North, walks past Sawyer, in the hallways or during basketball practice, and the No. 2 overall 2021 recruit calls out "O-H," and Scott replies "I-O." Or Sawyer will tell Scott that he's been talking to Ohio State coaches about his teammate and that they "really like" him.
Sawyer does the same for Lorenzo Styles, who plays at Pickerington Central, texting him every week and asking if the No. 4 Ohio 2021 prospect is trying to get to Columbus that weekend. It's not an annoyance to either of the wideouts, but it is indicative of the type of teammate Sawyer is and the goals he made with the friends he's grown up playing with.
"(Styles and I) used to have these types of conversations back in fourth grade about going to the same school to play football and then playing for the same NFL team," Sawyer said. "We've always talked about how much fun it would be to play with each other in college since we've been like best friends in fourth grade."
The 2018 season was the launching point of both receivers' high school careers, as Scott led his team with 52 catches for 793 yards and 10 touchdowns as a junior and Styles found his role in Pickerington Central's offense, defense and special teams squads as a sophomore. Scott worked his way up to the No. 482 overall prospect in his class and earned a Michigan offer from then-linebackers coach Al Washington, while Styles was named the No. 17 wideout in his class by 247Sports.
Ohio State is in close contact with both receivers and has offered Styles. Landing Styles' pledge would be a big victory for the Buckeyes, as he's a four-star weapon that can be used in many ways in any offense. Just because Sawyer has already committed, though, doesn't mean Styles will be following the same template.
"We've been talking about it since we were little kids, just playing somewhere big, so I'm happy to see that it's his best fit," Styles said. "We'll see if it's the best fit for me as well. I just need more time for myself, and I don't think there's any rush to it. I'm just going to take my time."
That doesn't mean Ohio State is out of the question for the Pickerington Central playmaker. He said Ohio State, Notre Dame and Penn State are the schools that he's in contact with on a weekly basis, and his next unofficial visit is to Michigan.
In addition to his good friend being committed to the program and Ohio State's wide receivers coach Brian Hartline, Styles said much of what he's looking for in a school is a good business program, which Ohio State has, and whether he can have an eventual defined role within an offense.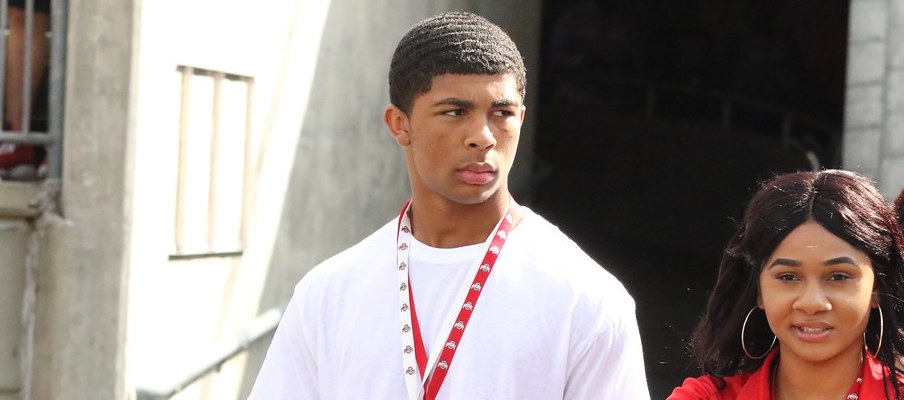 "I just look at the kind of players they produce and how they utilize them in their offense," Styles said. "Like at Ohio State, they have (Binjimen) Victor, who is a longer guy and plays outside. They have Garrett Wilson and K.J. (Hill), and they utilize them all differently. I want to make sure I go to a place where they can utilize me in their offense like that."
For Scott, there might be fewer decisions that are in his control. He doesn't have an Ohio State offer yet, but he did receive his Michigan offer from head coach Jim Harbaugh and current Ohio State linebackers coach Al Washington, which bodes well for his chances in Columbus.
The three-star wideout also said he considers himself a "raw athlete" and that he needs to continue to work on his technique at the position, which he did every weekend during basketball season and now continues to do throughout the spring.
"Even with (Washington) leaving Michigan and coming to Ohio State, our relationship has stayed the same," Scott said. "I'm just trying to build my relationship up with Coach Day and Coach Hartline."
When it comes to Scott, the consensus is that he's one of the best athletes in Pickerington. Styles said "if you throw the ball up, (Scott) is going to get it," and Scott said what he's heard from coaches is that his ball skills are "good."
In basketball, where he plays next to Sawyer, he's a high-flying, 6-foot-2 hybrid wing player who could have been recruited as a three-star basketball player as well.
For Sawyer, Scott said, it's not just about his friends and teammates going to Ohio State with him. It's about his friends and teammates getting what's theirs, just like he plans to at Ohio State.
"I stay hungry because now that I'm here, I'm looking at college and NFL defensive ends, and I'm working to be like them," Sawyer said. "I'm not okay with being a decent college football player. I want to be the best that's ever played, and that's the mindset I always bring. So when I come in first day, I want to turn heads and get on the field and make an impact as a freshman."
So when Scott and Styles feel the Ohio State encouragement from their friend and teammate, it's because they know he wants what's best for them.
"He's always speaking highly of Ohio State, and even though I don't have the offer yet, he's still pushing for Ohio State every single day," Scott said. "And it's not just Ohio State. He's pushing me to go wherever I go."