Recruiting is all about comfort and relationships. Sometimes you're gaining momentum on the trail, sometimes you're losing it. How are some of Ohio State's key prospects trending? Let's take a look.
Things are heating up on the recruiting trail and April is likely to bring some pretty big news for Ryan Day and the Buckeyes. After hosting plenty of top targets in March – and landing a pledge from in-state tackle Trey Leroux – Ohio State is in the midst of spring practice and preparing for the April 13th spring game. 
This month is expected to see at least a commitment or two with one top target slated to announce his decision just one day before the annual spring scrimmage. Seven commits are in the fold (all on offense) and the Buckeyes are finally on the verge of landing a defensive pledge. Oddly enough, the looming commitment will come from a player who already became the first defender in the class before backing off his pledge a few months back. 
There have been a few bits of bad news on the trail as well. The most notable instance was when four-star tackle Turner Corcoran removed the Buckeyes from consideration. The Kansas native has elected to stay closer to home which should spell good news for Scott Frost or Lincoln Riley. Corcoran was previously No. 10 on our board. 
Wide receiver recruiting continues to evolve a bit as well with one five-star fading away, but is anyone questioning Brian Hartline's recruiting prowess at this point?  We've also got some changes in the secondary with a big commitment about to go down. All of this has led to some spring-time updates to our 2020 board.
One final reminder for the cycle:
This isn't based on any one particular factor. We consider it a combination of positional needs, reciprocated interest, player caliber, and how hard the staff may be pushing. It's absolutely not an exact science.
It's only April, and this is going to change a lot over the coming months. Prospects are going to commit to various schools and we've seen before how a single pledge can impact numerous programs across the country. Narrowing things down gets a little easier as we progress through the cycle.
*Last month's edition can be found HERE. 
---
Mekhail Sherman is still No. 1 on our board, and while Ohio State and Georgia are the frontrunners, this one is far from over. The Buckeyes need to get the five-star back on campus as it's certainly looking like the Bulldogs have the momentum for the time being. We've mentioned it before, but Urban Meyer was a big part of Ohio State's early push. Now it's up to Ryan Day, Larry Johnson, and Al Washington to pull this one off.
Cincinnati's Darrion Henry (Princeton) has been all over the place lately. He checked out Tennessee, LSU, Georgia, and Alabama before making it back to Columbus last weekend. The Buckeyes are still very much the team to beat and securing the state's No. 2 prospect could really add some momentum on the trail.
Henry is close with five-star tackle commit Paris Johnson Jr. and four-star teammate Jaheim Thomas. The trio have discussed playing together and Thomas just landed his Buckeye offer this past weekend. It would hardly be a surprise if both Henry and Thomas put an end to their recruitments sometime within the next couple months; but for now they seem fine with waiting things out.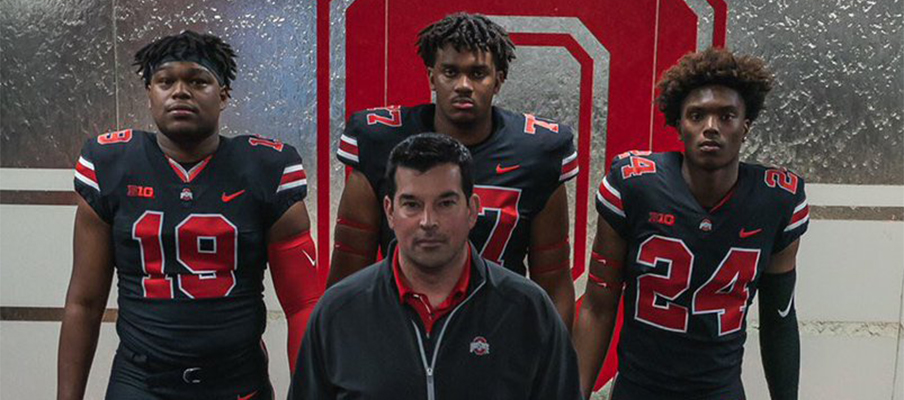 Arizona five-star Bijan Robinson moves up a spot to No. 3 on the board. The Buckeyes are after guys like DeaMonte Trayanum and Dublin's Michael Drennen II, and while both are talented, they're more in the "athlete" mold as opposed to pure tailbacks. Robinson is going to play running back in college, and right now it's looking like UCLA and Ohio State are out in front. He'll make his first trip to Columbus in late April.
The biggest changes this month are coming at some of the more important positions for 2020, so let's take a deeper dive into the adjustments in the trenches as well as the wide receiver and cornerback portion of our big board. 
Lejond Cavazos jumps all the way up to No. 4 as the one-time Buckeye pledge is set to announce his decision on the 12th. A four-star at IMG Academy, he can likely play anywhere in the secondary, but Ohio State seems to like him at cornerback. Cavazos was in town just over a week ago and has been doing some recruiting of his own for the good guys lately.
With Jacksonville's Fred Davis II likely heading to Clemson, Miami cornerback Henry Gray becomes even more important to Jeff Hafley and the secondary. The country's No. 6 player at the position, Gray took an extended trip to Columbus last week and the Buckeye appear to be in the driver's seat. A decision isn't expected anytime soon, however, so Ohio State will have to continue fighting off Clemson and a few others. 
Arizona's Kelee Ringo is the most touted of the cornerback trio, but he's slid down to No. 10 on our board. It certainly has nothing to do with talent and the Buckeyes will need to get him on campus this spring/summer to have a legitimate shot. Right now it's looking like Texas and Georgia are on top for the five-star. 
It's a little tricky to get a solid read at safety, but Lathan Ransom is holding steady at No. 11 with the Buckeyes and Irish likely leading the way. Georgia's Brian Branch is right at the top of the safety board as well and he may make an appearance down the road a bit. Landing the Tucson (Salpointe Catholic) duo of Ransom and Bijan Robinson would be a major win for the Ohio State staff. 
At wide receiver, five-star Washington D.C. product Rakim Jarrett takes a fall down to No. 9. He's been visiting with virtually every school south of the Mason-Dixon Line and right now Tennessee appears to be out in front. Does that mean the Buckeyes are out of it? Hardly. And Jarrett seems to be enjoying the process so really anything could happen with this one.
Julian Fleming and Marcus Rosemy continue to be the more likely additions for Brian Hartline. Fleming was in town in late March and many believe this is an Ohio State vs. Clemson battle at the moment. It wouldn't be wise to rule out the Nittany Lions, but Hartline has the Buckeyes positioned quite nicely. Rosemy continues to list Ohio State as his leader with the usual Florida and SEC programs looking to make up ground.
Buckeyes show some love!!! pic.twitter.com/NTj007ABKX

— 0J4 (@julian_040) March 24, 2019
For Greg Studrawa and the offensive line, the removal of Turner Corcoran means that four-star tackle Michael Carmody is right up at the top of the list. This will be another battle with Penn State, but by all accounts his recent visit to Columbus couldn't have gone any better. The Nittany Lions are the overwhelming crystal ball favorite with Notre Dame and Michigan also in the hunt. 
---
April is shaping up to be one of those fun-filled months that could potentially rival October for the best on the calendar. We've got the Final Four this weekend, baseball in full swing (with the Reds obviously en route to the World Series), the Spring game on the 13th, Game of Thrones the following day (with a Joey Bosa cameo), and then "Avengers: Endgame" on the 26th. 
With the quarterback and other position battles still going strong, we are approaching a crossroads for the 2019 Ohio State football season as well as the pop culture world.