Ohio State commit Garrett Wilson, a five-star wide receiver from Austin, Texas, has agreed to give Eleven Warriors exclusive access into his senior season with the Cavaliers.
He'll join us every week to assess his own play, as well as his team's, while giving Ohio State fans continuous updates as his senior prep season rolls along.
Wilson's seventh entry comes after Lake Travis handed Del Valle a 44-28 loss. The win puts the Cavaliers at 8-1 overall before their last regular season game, as they host Anderson.
---
Garrett Wilson was at home this past weekend. Not his current home but his future one.
Wilson, Ohio State's top 2019 commit, returned to Columbus to see the Buckeyes edge Nebraska, 36-31. The five-star wide receiver had the chance to shake many hands, talk with multiple recruits about their futures, and see some ever-important familiar faces. 
"My visit went well. It was good to be back on campus," Wilson said. "The family we have up there is one of the main reasons why I love Columbus."
When Wilson got back on a plane headed towards Texas, he received word of another Texan's commitment to the Buckeyes in 2020 Rockwall receiver Jaxon Smith-Njigba. Just hours before Smith-Njigba's commitment, the two Texas wideouts had a conversation.
But Smith-Njigba's commitment wasn't the only one Ohio State received. The program also landed Trinity Christian (Jacksonville, Fla.) running back Marcus Crowley. As you might imagine, Wilson also had the chance to talk with Crowley.
"I got to talk to Jaxon and he was really high character and loved it," Wilson said. I'm glad to add him to the class. I got to talk to both of the new commits this weekend and they both were impressed by the coaching. I know they both tear it up on their high school teams."
During the Buckeyes' warm-ups before taking on the Cornhuskers, Wilson could be spotted standing alongside 2020 commit Paris Johnson Jr. on the sidelines. Johnson Jr., at 6-foot-7, 285 pounds, is hard to miss. Combined, the duo has played a huge role in Ohio State's recruiting efforts, therefore playing a huge role in the program's future as a whole.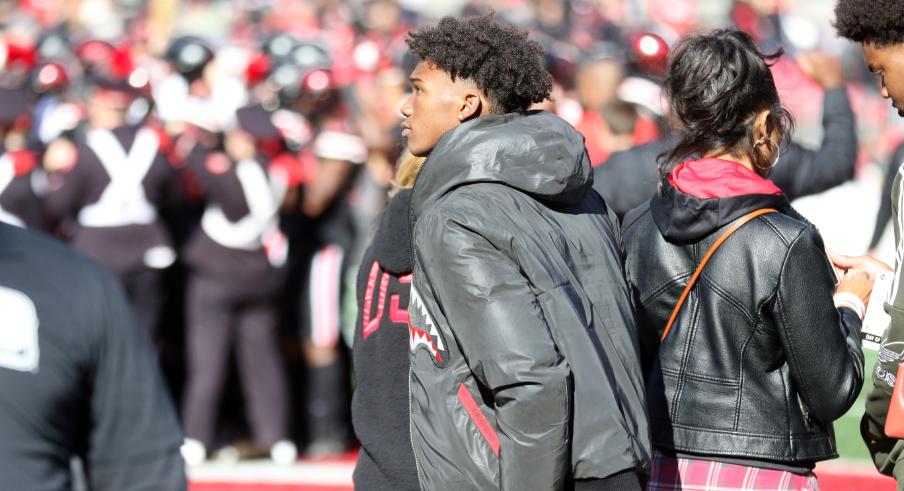 "Paris is a player I can't wait to have as a teammate," Wilson said. "He loves what's going on at OSU and seems already bought in."
That's a fair statement and, once both do arrive in Columbus, having No. 5 and No. 77 working towards the same goals will be a fearsome sight for opponents. But until then, Wilson will focus on the last bit of high school football he has left.
At 8-1, his Cavaliers take on Anderson this week, a team that's currently 5-4. The Trojans are Lake Travis' last regular season opponent, meaning a last chance to fine tune things before the postseason begins. Then, it's win or go home.
Wilson's status is still up in the air but no matter what, as he's said all season, the Cavaliers just need to play "Lake Travis football" to earn their ninth win.
That contest takes place Friday night. Saturday morning, Wilson will be glued to a television set watching Ohio State take on Michigan State in East Lansing.