For the Buckeyes, the 2017 running back board is a bit trickier to decipher than some of the other position groups. Akron's Todd Sibley has been committed since April, but Urban Meyer and Tony Alford are hoping to add another talented tailback to the class. 
---
1. TREY SERMON • MARIETTA, GA (SPAYBERRY) • COMPOSITE RANKING: NO. 89

A few months back, it appeared that the Buckeyes were in a great spot for top-100 running back Trey Sermon. Some even speculated that a commitment could be on the horizon. After the four-star took in Friday Night Lights in July while subsequently earning an offer, Ohio State seemed to jump up to the top of his list. Since that time, other schools – most notably Georgia and Florida – have made a big push to keep one of the nation's top backs in SEC territory. 
The 6-foot-1, 206-pounder isn't big on interviews, so it wasn't too surprising that his injury-plagued junior campaign went by without a lot of news on the recruiting front. While the SEC schools appeared to catch up to the Buckeyes and their presumed lead, Ohio State got a bit of good news this week when news broke that Sermon will be in Columbus this weekend for an unofficial visit. He will then make trips to Auburn, Georgia, and Tennessee over the next month. 
Notre Dame extended an offer earlier this month, but this one is shaping up to be another Urban Meyer vs. the SEC battle. 
2. CAM AKERS • CLINTON, MS (CLINTON) • COMPOSITE RANKING: NO. 40

The Crimson Tide are already loaded with 2017 tailback commits, one of whom checked out the Buckeyes over this past summer. It's not often that Urban Meyer and Co. look toward Mississippi for one of their top targets, but that is precisely what's happening with the recruitment of Cam Akers.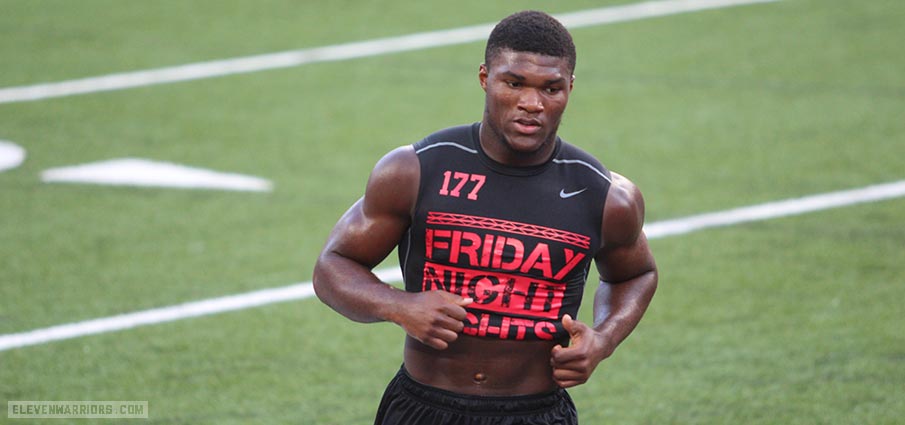 At 5-foot-11.5, 210 pounds, Akers is another big back who certainly looks the part of what we've grown accustomed to in Tuscaloosa. He committed to Alabama just about a week after his trip up north for Friday Night Lights. At that point, the Buckeyes had yet to extend an offer. That changed in late September when they threw their hat in the ring for the nation's No. 3 tailback. 
Akers received a visit from Meyer last month and is planning a return trip to Columbus this spring or summer.
3. NAJEE HARRIS • ANTIOCH, CA (ANTIOCH) • COMPOSITE RANKING: NO. 2

The other member of Nick Saban's absurd running back class just so happens to be the nation's top-rated back and the second-best player in America. Antioch, California's Najee Harris has been committed to the Tide since last April and currently has offers from every powerhouse program in the country. 
Harris is planning some offseason visits to several schools, including the Buckeyes, and it probably goes without saying but his recruitment is going to be an all-out battle. It will be difficult for Alabama to keep two of the nation's top backs in the fold, and a few crystal ball picks to West Coast schools have started to come in since his commitment to the Tide. 
4. ADARIUS LEMONS • CLEARWATER, FL (CLEARWATER) • COMPOSITE RANKING: NO. 300

At 6-foot-2 and 185 pounds, Adarius Lemons is one of the hotter running back prospects in America right now. In the last few weeks, the four-star from Clearwater, FL has added offers from Auburn, LSU, and Miami. He's seen his recruitment take off a bit since rushing for over 1000 yards and 11 touchdowns as a junior.
The Buckeyes extended an offer this past September and, in speaking with Eleven Warriors, Lemons made it clear that the offer meant a lot to him.
"I actually have been talking to Coach (Tony) Alford for a while," Lemons told 11W. "I had an idea the offer was coming, but now that I have that offer it's one of my biggest moments."
He indicated that he would also like to check out Kentucky and Michigan. The Florida native seems open to leaving the state for college. Lemons' 247sports.com crystal ball is currently split between Ohio State and Kentucky.
5. WESTON BRIDGES • AKRON, OH (COPLEY) • COMPOSITE RANKING: NO. 688

If the Buckeyes elect to stay within the state, Akron's Weston Bridges could be a player they turn to. Though he doesn't come from a typical feeder program, Bridges put on quite a showing during his junior season. He may lack the star power of some of the other names, but the 5-foot-11, 190-pounder has been to Columbus twice in the last three months in hopes of earning an offer. 
He spoke with Eleven Warriors in November and indicated that his recruitment was starting to heat up. 
"I've been hearing from Alabama, Penn State, Illinois, Duke, UCLA and Ohio State," Bridges said. "I've been talking to Tony Alford and Ed Warinner, both of them told me happy birthday last week, which kind of made my day (laughs)."
Indiana and Boston College are the most recent schools to extend offers to the three-star who grew up rooting for the Buckeyes.
---
Even though it's expected to be a bit of a smaller class, it's reasonable to assume that the coaching staff is looking to add another tailback to the fold. Bri'onte Dunn will be gone after this season as will H-back Dontre Wilson, which means guys like Mike Weber and Antonio Williams will be expected to shoulder the load in 2017; perhaps with a little bit of Curtis Samuel and Demario McCall sprinkled in as well. 
Other 2017 targets include Virginia Beach's Khalan Laborn and Fort Lauderdale's Kyshaun Bryan. Laborn appears to be leaning toward Florida State while news broke on Friday that Bryan will transfer to St. Thomas Aquinas for his senior season. 
Inside the Buckeye State, Toledo's Michael Warren, the state's top tailback according to some outlets, is currently committed to Kentucky. Two Cincinnati products – Ra'Von Bonner and Jarell White – are still looking to earn an offer. Bonner hasn't been shy about his love for all things Ohio State and it could very well be a commit-on-the-spot situation if an offer were to come his way.