What head coach Chris Holtmann called an "interesting summer" is just about over.
Some injuries hampered Ohio State's ability to go through a full summer of team workouts, and the uncertainty of what E.J. Liddell and Duane Washington Jr. would do made it hard to get a great gauge on what exactly this team will look like when the 2021-22 season tips off. Still, the players in town – everybody but transfer guard Cedric Russell, who's finishing his classwork at Louisiana – got a lot of individual skill work and spent part of July doing full team activities.
So, what are Holtmann's impressions of some of his players? Let's take a look at five of them.
Meechie Johnson
There have been plenty of rumblings that Johnson has looked impressive in summer workouts, and Holtmann confirmed that as the case last week.
"I think last year really helped Meechie. Really helped him," Holtmann said. "He's had a good summer. I'm excited about what this year could be for him. I'm excited about our young guards. I think they're going to be young, they're going to go through growing pains for sure, but I'm excited about our young guards that we have, including Malaki. There'll certainly be times where we play a lot of three-guard lineups this year."
Johnson, who enrolled in December, played sparingly given his mid-season addition to the roster. He saw action in 17 games, playing 98 minutes while recording 21 points, seven rebounds, three assists and five turnovers.
Next season? Don't be surprised to look up and see him in the starting five of the Nov. 9 opener against Akron.
Malaki Branham
You don't have to wonder too much about how Ohio State views Branham. The coaches being willing to help him wear Jim Jackson's No. 22 jersey is a lens into their feelings.
Recently, he has caught some more attention by dropping 40 points in back-to-back Kingdom Summer League games.
"Really excited about Malaki and really excited about his growth and his future moving forward," Holtmann said. 
Branham will figure into Holtmann's lineup right away. Even accounting for the addition of Russell through the portal, Duane Washington Jr. leaving for the NBA opened up more minutes for the true freshman. He's a gifted scorer who should be able to impact winning immediately.
That said, Holtmann stressed he's not a finished product by any means.
"He's young for his class, and he's still got a young frame. You can tell. He's got to get stronger. He's got to get more physical. I think his leg strength, his upper-body strength, all that has to take steps forward. But he's such a tremendous kid, and he's got really good size and length. His wingspan's about 6-9 at 6-4. His ball skills have continued to grow and improve. 
"In high school, he kind of played all over, really, for their team. He'll play more of either guard or wing spot here primarily. But really excited about what he can be. I think he'll look like a freshman at times, and then he'll look like a guy who has a tremendous future at times. That's the natural development for young players."
Jamari Wheeler
Twice, Holtmann went to the transfer portal in search of help for his backcourt. More recently, it was to pluck Russell from Louisiana as a ball-handler and scorer who could help offset the loss of Washington. Previously, he went out and landed Wheeler, a transfer from Penn State.
The fifth-year veteran was brought to Columbus primarily because of his defensive prowess and grittiness, which has been on display early.
"Jamari's been really good," Holtmann said. "He's been an every-day guy in these workouts. He has brought a competitiveness and a defensive approach that I think we need. He's got to improve some things defensively, but we all know his ball-hawking is tremendous. And he competes. He really competes on that end. He was important for us, and he's just brought a really every-day approach to his work, which has been I think important when you have some young perimeters."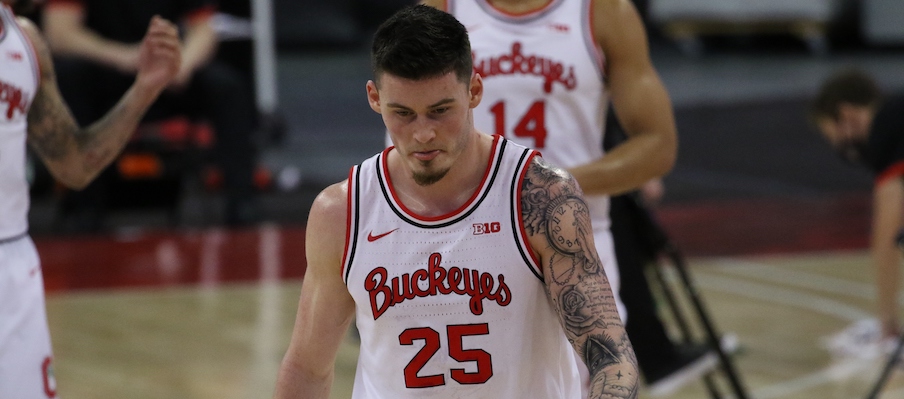 Kyle Young
Holtmann has one wish for Young.
"Boy, I hope he can avoid elbows," Holtmann said. "That would be tremendous if he could see some of those coming. 
Slowly, Young has grown into a more potent offensive weapon while retaining all of the toughness, rebounding ability, hustle and relentlessness that makes him stand out on the court.
But, because of his injury history, much of the conversation around him has centered on his health. So, will there be any load management for him as a fifth-year senior in 2021-22?
"We did it last year with him in practice. We had a whole plan in place for him because of his legs. His legs actually are feeling the best they've felt really in a couple years," Holtmann said. "You know, he's never played more than 25 minutes. So I do think we could, to make sure he is ready at the end of the year, I do think we could utilize the idea of just watching his minutes throughout the year. Whether that's load management or looking at his practice habits, he's going to do everything you ask him to. So we've really tried to manage that. We'll continue to do that."
Kalen Etzler
The newsiest item from Holtmann's press conference was the fact that Ohio State would use a redshirt on Etzler, a freshman from Convoy.
"We're going to redshirt Kalen Etzler this year," Holtmann said. "The young man, I had a great conversation. I think it's something he's looking forward to, as is his family. We're looking forward to his development moving forward."
Holtmann clarified that it isn't a situation where he's injured. Rather, they talked about this possibility during the recruiting process.
A scan of the roster should explain why this redshirt is happening. Not only is it an opportunity for the 6-foot-8, 180-pound forward to put on muscle and get his body to a point where it'll hold up well in the Big Ten, but he simply wouldn't have seen the court much anyway. He'd likely play power forward for the Buckeyes, who have E.J. Liddell, Young and Seth Towns all at the position. Zed Key, Joey Brunk, Justice Sueing, Justin Ahrens and Gene Brown will get minutes at center and small forward, too.
By the time Etzler debuts in 2022-23, most of them will have graduated or gone pro, opening up a massive opportunity. This is an important developmental year for the Ohioan.