It didn't take long for Jamari Wheeler to have a number with a 614 area code pop up on his phone.
On the other end was Jake Diebler, one of Ohio State's three assistant coaches.
Diebler and head coach Chris Holtmann had seen Wheeler's name appear in the transfer portal and wasted no time making sure they were one of the first teams to contact him. As Diebler told the 6-foot-1 guard who spent the past four years at Penn State, they had been watching him from afar for a while. They knew CJ Walker wouldn't return for a sixth year of college basketball and had been "keeping their eyes on certain guards" the entirety of the 2020-21 season.
Wheeler, a tough-as-nails point guard who has already played four years in the Big Ten, fit the bill. Diebler talked with him about how his energy, his defensive prowess, his improving offensive profile and his vocal leadership could benefit the Buckeyes.
"They're like, oh, that's the missing puzzle (piece) right there that we needed," Wheeler told Eleven Warriors.
Last season, a lackluster defense dragged down an Ohio State team buoyed by an offense ranked among the five best in efficiency. Holtmann made a point on several occasions throughout the year that, while the Buckeyes had to somehow get better to have the kind of success they sought, the roster simply wasn't constructed in a way that would make it elite defensively. Part of that had something to do with the lack of length around the rim, but perimeter defense wasn't a strength either. And while the Buckeyes should have a quality backcourt with Malaki Branham joining Duane Washington Jr., Meechie Johnson and Jimmy Sotos next season, none of those four are plus defenders. 
They zeroed in on adding somebody who could guard lead ball-handlers with a tenacity missing from last season's team. Thus, Wheeler – a two-time all-Big Ten Defensive Team selection – immediately entered their sights once he entered the transfer portal on March 16.
Diebler was far from the only coach to get in touch with him.
Basically every school in Wheeler's native state of Florida – outside of Florida State – contacted him. So did TCU, UNLV, St. John's and a bunch more. By the time he whittled it down to a top-five, he was dialed in on Florida, Texas A&M, South Carolina, Penn State and Ohio State. 
Since Wheeler had already gone through the recruiting process a half-decade ago and spent four years playing for the Nittany Lions, he knew generally what he was looking for in a school. He had a three-item checklist for each potential team:
Go to the NCAA tournament for the first time
Compete for a national championship
Take his game up a notch
He couldn't take a visit to Columbus. Couldn't meet the coaches – who he didn't know much about outside of Holtmann's public mid-season compliments of him – in person. 
But Ohio State, as a consensus top-10 team per early 2021-22 projections in the market for a defensive-minded lead guard, made too much sense for Wheeler to pass up. He committed two weeks after the entering the portal on March 30.
"Getting recruited by them and just seeing what they had to offer me, and for me seeing my fit, everything was perfect," Wheeler said.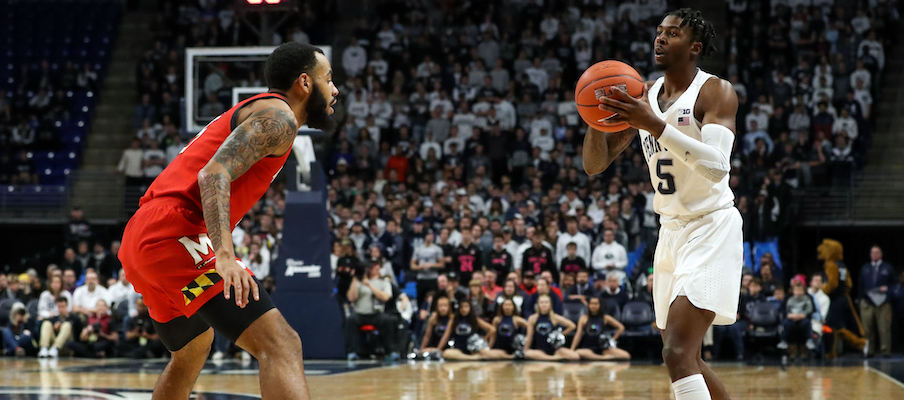 Wheeler, who averaged 6.8 points, 4.2 rebounds and 3.5 assists in 31 minutes per game as a starter last season, liked the way Diebler talked about helping to take his offensive game to "another level." He intends to play professionally after next season, so he's as focused on developing his entire game as ever before.
Still, he knows the reason the Buckeyes and all the other high-major teams really wanted him: His defense. 
Wheeler described himself as a gnat on defense. Somebody who won't leave ball-handlers alone, bothering them as they try and fail to rid themselves of him. He has no problem defending all 94 feet. After all, his mindset when he takes the court is to out-work everybody else: "Go kill the opposite team. That's my No. 1 thing. Just go out there and compete and win."
That has helped him to earn back-to-back all-conference defensive team selections, though the honors don't satisfy him.
"I feel like I had got robbed back to back of Defensive Player of the Year in the Big Ten," Wheeler said. "So I feel like going into this year, that's my No. 1 goal: Be that Defensive Player of the Year."
JAMARI WHEELER AT PENN STATE (PER GAME)

| SEASON | G | GS | MIN | FG% | 3P% | FT% | REB | AST | STL | BLK | TOV | PF | PTS |
| --- | --- | --- | --- | --- | --- | --- | --- | --- | --- | --- | --- | --- | --- |
| 2017-18 | 39 | 3 | 14.4 | 34.8 | 14.3 | 44.4 | 1.8 | 1.4 | 1.3 | 0.1 | 0.9 | 1.7 | 2.0 |
| 2018-19 | 32 | 25 | 23.3 | 41.3 | 18.2 | 51.4 | 3.3 | 2.8 | 1.5 | 0.1 | 1.3 | 2.8 | 3.6 |
| 2019-20 | 31 | 31 | 25.9 | 46.9 | 38.9 | 58.3 | 2.9 | 3.2 | 1.5 | 0.2 | 1.7 | 2.6 | 3.8 |
| 2020-21 | 25 | 25 | 31.2 | 39.9 | 35.7 | 62.9 | 3.4 | 3.5 | 1.8 | 0.0 | 1.8 | 2.3 | 6.8 |
Whether he achieves that or not in his lone season in Columbus, he thinks this Ohio State team can do something special.
"I just feel like all the talent they've got, they play hard, they compete. That's just somewhere I want to go," Wheeler said. "Everybody competing, everybody playing, everybody on the same page. Also, I wanted to go somewhere that had a good culture. I didn't want to go nowhere where I had to start building a new culture or I felt like I didn't fit in with the coaching staff. I wanted to go somewhere where they had a good culture, everybody's happy for everybody's success. 
"There's no jealousy or nothing on the team. Just playing against them, I could get that feel. They're all happy. They're all on the same page. They don't care who's successful or stuff like that. They just want to win. I feel like with me going there, I could take that winning to that next level."
The past several years, he got a first-hand look at the guys he now joins. He learned about them from afar.
And Wheeler has handed them losses, which he darn sure doesn't want anybody to forget. His four seasons at Penn State entirely overlap with Holtmann's four seasons at Ohio State. During that time, the Buckeyes and Nittany Lions split the eight games they played to go 4-4 with Penn State winning all three they played his freshman year.
"It's not like, oh, I want to go there because we can't beat them or because they've beaten us," Wheeler said. "It's just everything I was looking for for my next home, it was there. Like, everything. From top to bottom, bottom to top."