The DJ Carton experience in Columbus has officially concluded.
He began a leave of absence on Jan. 30, citing mental health struggles that dated back to high school, and stayed away from the team for the remainder of the season. Though he initially left town and returned to his home city of Bettendorf, Iowa, he again began taking classes on campus in mid-February.
On Thursday afternoon, any hope that he'd be back vanished. Ohio State announced Carton entered the transfer portal.
"After some careful thought and consideration, I have decided to make a fresh start and enter the transfer portal," Carton said in a message posted on Twitter. "I wish Coach (Chris) Holtmann and my teammates the best of luck next year."
To some, Carton's decision to leave the program entirely might not have come at as a complete shock, considering he stepped away from the team a month-and-a-half ago. Either way, it has major implications on the future of Ohio State basketball.
It's CJ Walker's Team Now
In the immediate aftermath of Carton's choice to step away from the team, questions of whether or not CJ Walker was ready surfaced. 
Walker, suddenly the only true point guard on a depleted roster, responded by playing his best all-around basketball of the season. Just take a look at his splits in the first 20 games with Carton on the team compared to the final 11 games of the season when he played without the freshman point guard.
The 20 games before Carton's leave: 7.5 points, 3.1 assists, 1.8 turnovers in 26.8 minutes per game
The 11 games after Carton's leave: 11.1 points, 4.2 assists, 1.7 turnovers in 33.1 minutes per game
Walker got even hotter as the season wrapped up, scoring at least 11 points in each of the final six games while maintaining an average of 4.3 assists per contest. Before then, he hadn't ever scored in double figures in back-to-back games.
"He's been really consistent on the offensive end," Holtmann said on March 11. "His efficiency's improved overall, in terms of a shooting percentage. I still am on him about I think he can give us even more defensively. He's just done a tremendous job for us in terms of leadership, really settled into his role in the past month and a half."
Without Carton, Walker will have to take on an even bigger role next season.
To take the Buckeyes to the heights they aspire to reach, Walker will need to build upon his late-season performance in his redshirt senior year. He's got a lot on his shoulders.
First Crack in A Stellar 2019 Recruiting Class
In Holtmann's career as a head coach, he'd never signed a recruiting class quite as heralded as the one he brought to Ohio State in 2019. 
It included three top-50 prospects, headlined by Iowa's Carton (No. 34 overall). Illinois' E.J. Liddell (No. 44 overall) and Cleveland's Alonzo Gaffney (No. 50 overall) also garnered plenty of hype. Ibrahima Diallo, the final piece of the class, was the only three-star prospect. Together, they were ranked as the 14th-best class in the nation and the top class in the Big Ten.
The contributions from those four haven't been nearly as impactful so far as what some expected, though.
A light switch flipped for Liddell late in the season, making him the clear jewel of the 2019 class going into next season. Beyond him, the 2019 class hasn't lived up to the hype yet.
Carton is gone. Gaffney wasn't with the team for the final four games of the season, and there's uncertainty about his future, too. Diallo played in only eight games off the bench as a freshman, averaging 1.3 points and 1.9 rebounds in five minutes per game. What was once an exciting quartet began to fracture on Thursday.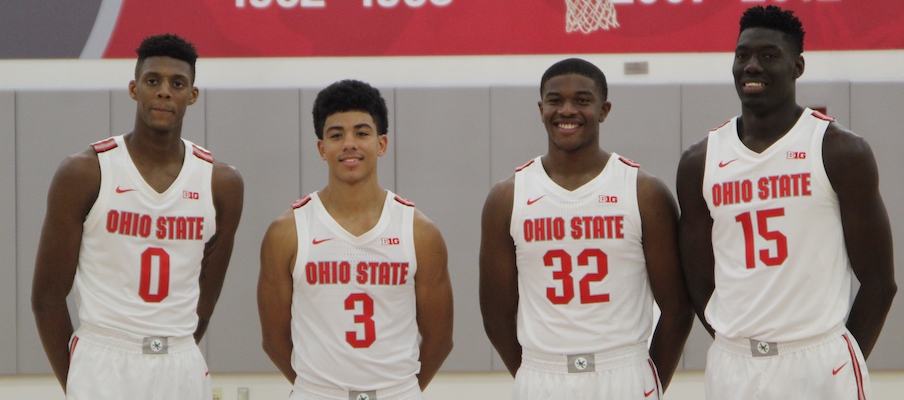 Need to Add Another Guard?
Not having Carton means the Buckeyes' roster, as currently constructed, features a suddenly thin backcourt.
Walker's the only true point guard currently on the roster. Duane Washington Jr. showed he can run the offense as a combo guard late in the 2019-20 season, and Ohio State will consider putting the ball in Justice Sueing's hands at times. Luther Muhammad, Musa Jallow and incoming freshman Eugene Brown can play as off-the-ball guards, but none of them are point guards, even in spot duty.
Behind Walker, an opening for another guard exists, should the Buckeyes opt to pursue a transfer. Right now, they've evaluating their options. This, a source emphasized to Eleven Warriors, will be a fluid situation.
If they target any backcourt additions, they're expected to either go the route of a graduate transfer guard who can play 20-25 minutes off the bench or a guard who has multiple years of eligibility remaining but must sit out the 2020-21 season. 
Quinnipiac's Rich Kelly could be a graduate transfer possibility, and Wichita State's Jamarius Burton might be someone to watch if they look for someone who has to sit out next season. More than likely, they won't add someone else to their two-man 2020 recruiting class, but the reclassification of someone such as four-star guard Carter Whitt can't be completely ruled out either. Ohio State has also recently been in contact with some big men – including Columbia's Patrick Tapé and Loyola Marymount's Mattias Markusson – if it decides to go that route.
The other potentially complicating factor here? The 13-scholarship limit. 
Right now, the Buckeyes are maxed out at 13 players on next year's roster, but they're also the frontrunner to land a commitment from Harvard transfer Seth Towns. Kaleb Wesson could leave school for the NBA, and uncertainty about Alonzo Gaffney's future remains. But however all of that shakes out, the 13-scholarship maximum could limit Ohio State's flexibility to make moves.
How Does Carton's Departure Affect the Team's Ceiling?
It's way, way too early to make any steadfast predictions about what next season will look like. 
Heck, the roster isn't even close to set. Ohio State's the favorite right now to land a commitment from Towns, and it might add another player to its roster. Kaleb Wesson will likely take a look at the NBA, and another player or two could end up transferring. In modern college basketball, player movement has become commonplace.
But even just in a vacuum, not knowing who else will join or leave, it's not hard to think that Carton could affect Ohio State's ceiling in the 2020-21 season.
Yes, Holtmann has made it known that he prefers veteran teams, and yes, Walker turned a corner late in the season. But Carton, who arguably would've been the Buckeyes' top NBA prospect next season, seemed like a possible second-year breakout candidate. Instead, Holtmann will have to see what he and the Buckeyes can do without him.
Greatness Unfulfilled in Columbus
This part hurts the most for Ohio State.
Carton might have been great in Columbus. Now he'll have a chance to be great elsewhere. Rated as a near-five-star prospect, he's likely NBA-bound at some point in the next couple seasons – potentially as soon as next year. But that development won't take place under the tutelage of Holtmann and his staff.
Early on in his career, he showed flashes of what was to come, finishing alley-oops and hammering home dunks that electrified the Schottenstein Center. Throughout the year, he endured some issues with turnovers, but as January progressed, Carton seemed to begin to put some things together in the same way that Liddell turned a corner late in the season. He averaged 11.8 points, 3.8 assists and only 1.8 turnovers in his final four games as a Buckeye.
Would he have broken out as a sophomore, taking him into the NBA as a Buckeye after next season? It sure seemed like a legitimate possibility. Now Ohio State will have to watch him develop from afar.