Chris Holtmann felt a bit nervous about his team's health, should it have to play a game amid concerns about COVID-19. He felt uncertain whether he'd want to have his Ohio State players on a court in a packed arena. Yet until he got the final word on Thursday from Gene Smith that the conference tournament wouldn't take place, he also felt ready to lead his team into its second-round matchup with Purdue.
What was a little bit more adversity for the Buckeyes?
Late in the season, they somehow managed to get past unforeseen obstacles. Yet the coronavirus doesn't take toughness, togetherness and a closing of ranks within the team to overcome. Neither Holtmann nor anybody on his team could do anything to prevent what increasingly became unavoidable decisions to cancel both the Big Ten tournament and NCAA tournament.
Yet, as inevitable as those choices became, they happened with equal suddenness.
On Thursday afternoon, even before Ohio State was scheduled to play its first game in the conference tournament, it learned the entirety of its season had come to a halt. Andre Wesson and Danny Hummer had already played their final game. Whatever momentum the team had gained in the final month and a half of the regular season? Poof. Gone. 
It was over.
A parabolic, four-part season during which the Buckeyes rose, cratered, then rose again ended before the fourth and final part had even begun. 
---
Around 80 minutes before Ohio State tipped off its exhibition with Cedarville on Oct. 30, Kyle Young jogged onto the Schottenstein Center court, beelined down the baseline and met Harrison Hookfin in the corner. 
"I can't even tell you how hyped I am right now," Young told Hookfin.
Those words set the stage for a remarkable season-opening stretch that lasted nearly two months.
Ohio State: Nov. 6 - Dec. 21

| Date | Opponent | Result | Record |
| --- | --- | --- | --- |
| NOV. 6 | CINCINNATI | W, 64-56 | 1-0 |
| NOV. 10 | UMASS LOWELL | W, 76-56 | 2-0 |
| NOV. 13 | VILLANOVA | W, 76-51 | 3-0 |
| NOV. 18 | STETSON | W, 86-51 | 4-0 |
| NOV. 22 | PURDUE FORT WAYNE | W, 85-46 | 5-0 |
| NOV. 25 | KENT STATE | W, 71-52 | 6-0 |
| NOV. 29 | MORGAN STATE | W, 90-57 | 7-0 |
| DEC. 4 | AT NORTH CAROLINA | W, 74-49 | 8-0 |
| DEC. 7 | PENN STATE | W, 106-74 | 9-0, 1-0 |
| DEC. 15 | AT MINNESOTA | L, 84-71 | 9-1, 1-1 |
| DEC. 17 | SOUTHEAST MISSOURI ST. | W, 80-48 | 10-1, 1-1 |
| DEC. 21 | KENTUCKY | W, 71-65 | 11-1, 1-1 |
Ranked 18th top to begin the season, it began with Cincinnati on Nov. 6 in what Holtmann described as "most challenging opener" he had ever been a part of. By the end of what he called a "good old fashioned rock fight," the two teams combined for 29 turnovers and 52 free-throw attempts, and the Buckeyes pulled off a 64-56 win. Kyle Young scored a game-high 14 points.
"Proud of this first win," Holtmann said afterward. "Got to find a way, obviously, to grow and be a lot better. I'm sure it wasn't aesthetically pleasing to people, but I don't really care."
A 76-56 win against UMass Lowell followed, with five players scoring in double figures and Kaleb Wesson recording his first double-double of the season. 
Three days later, Jay Wright's Villanova Wildcats came to town as part of the Gavitt Games. They were the second high-major opponent in what Holtmann had called his most challenging non-conference schedule ever, and they got rocked.
Against the nation's 10th-ranked team, the Buckeyes rolled to a 76-51 victory. This was no rock fight. It was a one-sided, buzzer-to-buzzer beatdown. Seven players scored between eight and 14 points, and Kaleb Wesson had another double-double. Ohio State's shooting percentage (60) nearly doubled Villanova's (30.6).
"My college coach said, 'You really learn about a team when you lose,'" Holtmann said. "We've got a lot of learning to do about this group here as we move forward.
At the time, that comment felt a bit like a cliche for a team that Holtmann often called the youngest he had ever coached, though it eventually proved prescient.
Five days after beating Villanova, Ohio State rose into the top-10 of the Associated Press top-25 poll. That night, it began a four-game stretch of blowouts against overmatched mid-major opponents.
Stetson? 86-51. Purdue Fort Wayne? 85-46. Kent State? 71-52. Morgan State? 90-57. Easy work.
On Dec. 2, the Buckeyes rose to No. 6 in the AP poll, setting up a top-10 matchup with North Carolina in what was their first road game of the season.
Not only did Ohio State beat the Tar Heels, but it did so in convincing fashion. The 74-49 statement win came behind 18 points from Duane Washington Jr. Within the final minute, assistant coach Ryan Pedon leaned over and told Holtmann, "Hey, you might want to take a moment to take a look at the score." In winning by the second-largest margin of any North Carolina opponent in Dean E. Smith Center history, it also held the Tar Heels to the worst shooting percentage ever inside the building. 
"We like to say we're built for this moment," Duane Washington Jr. said after the game.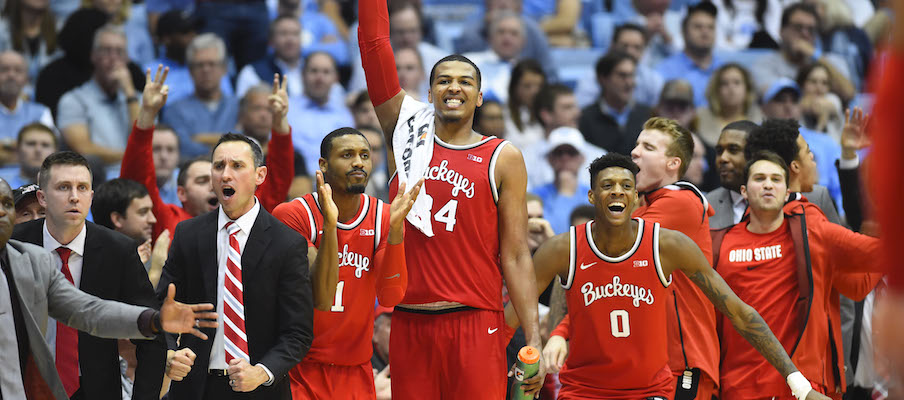 The hype train left the station three days later when Ohio State returned home to pound Penn State, 106-74, crossing the 100-point threshold for the first time since 1991. It moved up to No. 3 in the country, and after losses by No. 1 Louisville and No. Kansas, it stood one day – and one game – away from earning a No. 1 ranking.
Minnesota, though, ended that dream.
On Dec. 15, less than 24 hours before the next AP poll was scheduled to drop, the Golden Gophers beat the Buckeyes, 84-71, in Minneapolis. The defeat kept Ohio State – which was without Washington due to a rib injury – from a No. 1 ranking and was the first loss on what had been an unblemished 9-0 record. 
Two days later, Holtmann's team secured its 10th win of the season, rolling Southeast Missouri State, 80-48. And on Dec. 21, it captured another high-profile victory, topping Kentucky, 71-65, in Las Vegas. DJ Carton put together one of his best games as a Buckeye, scoring a team-high 15 points. 
"I feel like it just shows we started out good," Kaleb Wesson said, trying to contextualize the victory. "There is still a lot of season left, but I thought we started out pretty well. And our coach prepared us at the beginning of the season and we continue, we're going to continue to do that going forward."
In the immediate aftermath. John Calipari said Ohio State's a "top 1, 2, 3 team" in the country.
---
Good teams sometimes lose to good teams.
That's what seemed to happen when West Virginia – which had only lost once at that point – defeated the second-ranked Buckeyes, 67-59, on Dec. 29 in Cleveland. Yet after recording two points and 11 rebounds in 22 minutes, Kyle Young got his appendix removed that night, forcing him to sit out two games.
Five days later, Ohio State dropped an eminently winnable game at home, falling 61-57 to Wisconsin for its first home loss and first consecutive losses of the season. Two games in a row, the Buckeyes had opportunities to win late, so Holtmann didn't view what had happened in a similar light to their January collapse a year prior – at least, not yet.
"I don't really, right now, look at it in that sense," Holtmann said. "We played two good teams. We have to play better down the stretch, and that's how we're looking at it."
Ohio State: Dec. 29 - Jan. 23

| DATE | OPPONENT | RESULT | RECORD |
| --- | --- | --- | --- |
| DEC. 29 | WEST VIRGINIA | L, 67-59 | 11-1, 1-1 |
| JAN. 3 | WISCONSIN | L, 61-57 | 11-3, 1-2 |
| JAN. 7 | AT MARYLAND | L, 67-55 | 11-4, 1-3 |
| JAN. 11 | AT INDIANA | L, 66-54 | 11-5, 1-4 |
| JAN. 14 | NEBRASKA | W, 80-68 | 12-5, 2-4 |
| JAN. 18 | AT PENN STATE | L, 90-76 | 12-6, 2-5 |
| JAN. 23 | MINNESOTA | L, 62-59 | 12-7, 2-6 |
Four days later, they lost again, this time 67-55 to Maryland on the road. On Jan. 11, they made it four in a row, losing 66-54 to Indiana. Washington got benched for the majority of the game, with Holtmann saying he needed to "embrace some hard lessons."
Suddenly, Ohio State was riding a four-game losing streak without a victory for three weeks. It offense went cold during all four defeats, shooting between 31 and 40 percent from the field and between 18 and 34 percent from 3-point range in each game.
The Buckeyes finally picked up a victory at home against Nebraska on Jan. 14, though even that didn't come without trouble. Before the game, Holtmann announced suspensions for Luther Muhammad and Washington for a "failure to meet program standards and expectations." To beat the Cornhuskers, Ohio State evidently didn't need them, though, instead relying on its upperclassmen – each of whom scored in double figures – to pick up the win.
"We'll go, really, as those guys lead us," Holtmann said.
The post-win feeling only lasted four days. Ohio State left for State College, Pennsylvania, and got pounded, 90-76, by the Nittany Lions. Two days after the loss, the Buckeyes dropped out of the AP top-25 poll for the first time. Holtmann openly wondered about his team's toughness.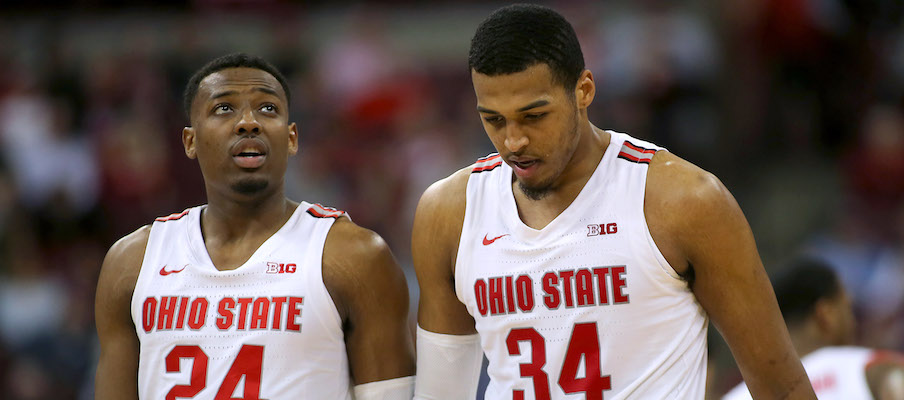 The response? Another excruciating loss at home. Behind Marcus Carr's 21 points and 3-pointer with four seconds left, Minnesota completed a second-half comeback to beat Ohio State, 62-59. Holtmann said his team "took it really hard."
"Right now, we're just not good enough in enough areas to win in this league," Holtmann said. "But I thought our guys competed, battled, played hard, were locked in, had a few errors that happened that kind of get you in this league. We've got to find a way to answer the bell late in situations."
The sixth loss in the past seven games dropped the Buckeyes' record to 12-7 in the season and 2-6 in the Big Ten. After rising as high as No. 2 in the AP poll, they suddenly had legitimate reason to wonder whether they'd be in danger of missing the NCAA tournament.
---
Things had gotten so bad for Ohio State that had it lost to Northwestern on the road on Jan. 26, it would've dropped to the bottom of the Big Ten standings, tying the Cornhuskers and Wildcats for last place.
Such a worst-case scenario was avoided. Buoyed by 17 points from Carton, the Buckeyes won, 71-59, in Evanston, Illinois. 
Four days later, though, Carton unexpectedly announced he planned to take an indefinite leave of absence to take care of mental health issues. Inarguably, it was the right decision for him. Yet for a team that had struggled throughout January, it seemed to come at a tough time for the Buckeyes.
They responded two day later, though, by beating Indiana, 68-59, at home. Then on Feb. 4, they traveled north to Ann Arbor, Michigan, and pulled out a 61-58 win against the Wolverines. Kaleb Wesson had 23 points and 12 rebounds.
Ohio State: Jan. 26 - March 8

| DATE | OPPONENT | RESULT | RECORD |
| --- | --- | --- | --- |
| JAN. 26 | AT NORTHWESTERN | W, 71-59 | 13-7, 3-6 |
| FEB. 1 | INDIANA | W, 68-59 | 14-7, 4-6 |
| FEB. 4 | AT MICHIGAN | W, 61-58 | 15-7, 5-6 |
| FEB. 9 | AT WISCONSIN | L, 70-57 | 15-8, 5-7 |
| FEB. 12 | RUTGERS | W, 72-66 | 16-8, 6-7 |
| FEB. 15 | PURDUE | W, 68-52 | 17-8, 7-7 |
| FEB. 20 | AT IOWA | L, 85-76 | 17-9, 7-8 |
| FEB. 23 | MARYLAND | W, 79-72 | 18-9, 8-8 |
| FEB. 27 | AT NEBRASKA | W, 75-54 | 19-9, 9-8 |
| MARCH 1 | MICHIGAN | W, 77-63 | 20-9, 10-8 |
| MARCH 5 | ILLINOIS | W, 71-63 | 21-9, 11-8 |
| MARCH 8 | AT MICHIGAN STATE | L, 80-69 | 21-10, 11-9 |
"I don't think the tough times are over. Not in this league," Holtmann said. "It's just about how we're playing. I think we're executing and playing steps better in certain areas. I do."
Holtmann correctly called that "tough times" weren't over. Wisconsin completed the season sweep of the Buckeyes, beating them, 70-57, in Madison on Feb. 9 to keep them from getting back to .500 in the Big Ten. 
Ohio State responded three days later, though, by topping Rutgers, 72-66, at home.
"A win's a win in the Ten," Kaleb Wesson said. 
Finally, the Buckeyes returned to .500 in the conference on Feb. 15. In arguably their best defensive performance of the season, they routed Purdue, 68-52, with Young scoring a career-high 16 points. It was the fifth win in the past six games, which returned the Buckeyes to the rankings at No. 25.
An 85-76 road loss at Iowa followed.
But Ohio State got back whatever momentum diminished in Iowa City when it beat Maryland, 79-72, at home on Feb. 23 in a game that showcased the progress Holtmann's team had made over the past month. It made 3-pointers, minimized turnovers, defended the arc, played well late in the game, got contributions from its sophomore guards, got to the free-throw line…and Kaleb Wesson "was allowed to be the bully" against Jalen Smith.
"I don't know if we was listening to what the world was saying about us," Kaleb Wesson said after the win. "It's always here or there with us. There's always people saying we're that good, we're that bad."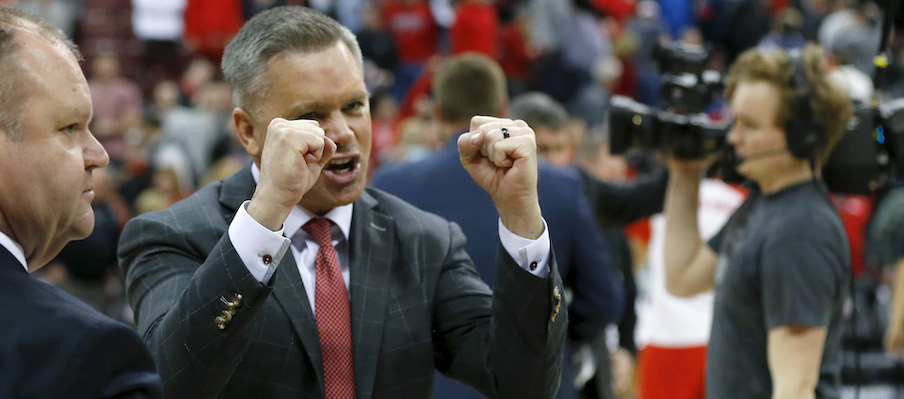 The one negative in the victory versus the Terrapins? Young suffered a nasty high ankle sprain. 
The injury forced Holtmann to turn to a three-guard starting five. And with Alonzo Gaffney suddenly not traveling with the team, the Buckeyes had only eight healthy, eligible players the remainder of the regular season.
Ohio State kept on rolling, though, blowing out Nebraska, 75-54, on the road, then returning home to clinch the season sweep of Michigan with a 77-63 victory. Conversations a month prior about whether the Buckeyes would make the NCAA tournament had been replaced by discussions of whether they could clinch a top-four seed.
A 71-63 home win against Illinois on March 5 ensured Ohio State would finish above .500 in the Big Ten. E.J. Liddell, a two-time Illinois Mr. Basketball honoree, continued his steep upward trajectory, recording 17 points and 11 rebounds.
The Buckeyes ended the season with an 80-69 loss at Michigan State on Cassius Winston's Senior Day.
Though they surely would've loved a different result in the finale, Holtmann kept it in perspective. He knew Ohio State had lost six of seven games only a couple months ago, and since then it had won nine of 12 games in a turnaround from January he had already admitted he hadn't even seen before.
"When we were 12-7 and 2-6 (in the Big Ten), it was obviously some dark days and we were struggling," Holtmann said after the loss. "I think every team in this league went through something like that, but I think ours and maybe a couple other teams was most extreme. We tried to own how we could get better. We've seen great progress, and now it's kind of win or go home, and we've got to see if we can just continue to grow and play better and learn from this opportunity today against a good team."
---
This is where we were supposed to find out whether the late-season turnaround could translate into postseason success. Whether the Buckeyes could live up to expectations. Whether Holtmann could make his first runs in the Big Ten and NCAA tournaments as their head coach.
Ohio State: March 12 - March 12

| DATE | OPPONENT | RESULT | RECORD |
| --- | --- | --- | --- |
| MARCH 12 | PURDUE | CANCELED | 21-10, 11-9 |
But Ohio State never got a chance to win or go home. It simply went home, along with the rest of college basketball.
"It's an unwritten story for all of us, who this is our job and this is what we do," Holtmann said on 97.1 on Friday. "We don't know what Team 121's finish would've been, and that's hard. I think that's hard for everybody, but we understand it."
To no fault of their own, the fourth part of the Buckeyes' four-part season didn't materialize. Instead, it abruptly concluded with a trajectory pointed upward.
We'll never know for sure what would have happened.