EAST LANSING, Mich. – Posted up directly to the left of CJ Walker, Duane Washington Jr. slowly bounced his back off the graffitied wall in a tunnel, standing one closed door away from the rest of his teammates. Every so often, in between answering questions posed to him about what happened in Ohio State's 80-69 loss to Michigan State, he leaned forward toward his team's locker room as if he wished he were back in there. 
Nobody enjoys discussing how it feels to lose, and Washington is no different. Especially right now. Not since the Buckeyes got it rolling about a month and a half ago. 
After what has happened since the calendar flipped to February, Washington and the rest of his teammates got plenty used to talking about wins. But in that cramped hallway, as the Spartans went through Senior Day festivities, he diagnosed what had gone wrong in the second half.
"They were missing some shots in the second half early," Washington said. "So we got a chance to cut the lead down and tie it up and maybe take the lead for a minute or two. But they were getting a lot of calls, and we were doing what we could, controlling the controllables and just trying to play hard."
Michigan State played better defense than Ohio State, out-rebounded the Buckeyes, negated Kaleb Wesson's impact and held Chris Holtmann's team to 31.3 percent shooting from behind the 3-point arc.
"They beat us fair and square today, and give them credit for that," Holtmann said.
Yet in their collective comments after the game, it became clear that Holtmann and his players never felt out of it. Never lost confidence in their abilities or the game plan. Never thought they couldn't come back.
The ultimate result of a loss, to the Buckeyes, was an outlier compared to their recent winning ways, which signified the progress they've made over the course of the past couple months.
Not too long ago, thoughts of whether they'd even make the NCAA tournament began to percolate with the fan base. Uncertainty about the program's direction in the third year of the Holtmann era slowly began to increase. During a slog of a stretch lasting from late December to late January, Ohio State lost six of seven games, twice dropping home games by fewer than five points. 
Yet beginning with a win against Indiana to open February, the Buckeyes have won nine of 12 games, a feat that once damn near seemed to border on impossible to anyone who watched them work their way through January. Since beating the Hoosiers, they've topped six teams currently ranked in the top-30 by KenPom, including Michigan twice and Maryland at home. 
Michigan State would have been the seventh, and it would've been the most impressive road win of the season. Alas, Ohio State came up well short of the upset.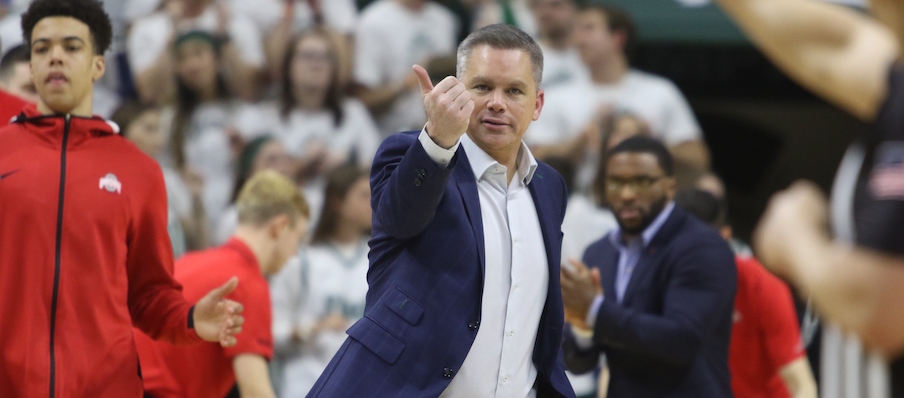 Still, considering the doldrums of January followed by a turnaround that Holtmann recently said was something he's never seen before, Sunday's loss didn't negate the momentum the Buckeyes picked up in recent weeks as they begin to gear up for the Big Ten tournament.
"It's hard not to be pleased with this last five or six weeks or whatever it's been, since we started February on," Holtmann said. "I think you look at today and say, 'Could we have just been a little bit more consistent with our defensive effort and on the glass.' I think you always feel like that. When we were 12-7 and 2-6 (in the Big Ten), it was obviously some dark days and we were struggling."
Those dark days came at essentially the bottom of the roller coaster track in the midst of taking Ohio State on a topsy turvy ride.
Before the rough spot, the Buckeyes held an 11-1 record, rising as high as No. 2 in the Associated Press top-25 poll, and since February hit, they've gone 9-3. A loss to Michigan State in January would've felt like any other game, but since they've gotten hot, it's now back to being a bit of an outlier.
"I think every team in this league went through something like that, but I think ours and maybe a couple other teams was most extreme," Holtmann said. "We tried to own how we could get better. We've seen great progress, and now it's kind of win or go home, and we've got to see if we can just continue to grow and play better and learn from this opportunity today against a good team. Take it, see what we can coach better and play better and hopefully get a little healthier."
Next comes Purdue on Thursday, and if Ohio State gets through Matt Painter's team then it'll take on Michigan State in the quarterfinals. What would be an anticipated rematch with Maryland potentially awaits in the semifinals, should both teams reach that point.
"It's the postseason. Everybody's 0-0," Walker said. "It's kind of like life or death at this point. You've just got to give everything that you have. Everybody's 0-0. It's the postseason. You never know what can happen."
Minutes before Sunday's game tipped off, Holtmann turned his eyes to the rafters of the Breslin Center as he listened to the national anthem.
Maybe he was just taking in the crowd. Or he could've been trying to experience the calm before the chaos. Or possibly he noticed the Big Ten tournament championship banners up there, reminding him of what comes next. Michigan State won it just last year.
Not since 2013, during which Holtmann was coaching Gardner-Webb, have the Buckeyes claimed a conference tournament title. By this point next week, they'll know whether or not they've put a stop to that streak.