At 5:42 p.m., Kyle Young could feel it. Only 78 minutes left until tip-off.
Basketball had nearly returned. Ohio State's season opener, of course, was still seven days away. But for somebody who hasn't played a game in six months, an exhibition on Wednesday against Cedarville was real enough.
Young sprung out of the locker room and made his way down the baseline and across to the other side of the court.
"I can't even tell you how hyped I am right now," he told Harrison Hookfin while the walk-on forward shot corner 3-pointers.
With a smile that wouldn't go away, Young walked back across the court to speak with his mother for a few minutes before getting back to work. 
Between 7 and 9 p.m., the Buckeyes took care of business as expected against a Division II opponent. Behind a 54-25 second-half advantage, they beat Cedarville, 95-52, in their only open-to-the-public exhibition before they open the season versus Cincinnati next Wednesday.
"I think it was good in a lot of way because we were, as we expected we might, we got exposed in some areas," Holtmann said. "But a lot of good moments from our group. We obviously need to get better at a rapid pace here before Wednesday (against Cincinnati), and we'll dive into that as a staff probably tonight."
Our takeaways from Wednesday's exhibition game:
The electricity of DJ Carton
E.J. Liddell learned not to underestimate DJ Carton's athleticism well before Wednesday.
When playing together in an open gym in the offseason before tipping off their first season at Ohio State, Liddell made the mistake of not throwing an alley-oop to Carton, who stands 6-foot-2 and weighs 190 pounds. Carton told him he could have thrown it up for the dunk. 
"'All right, I've got you next time," Liddell remembers saying.
Get your first look at @OhioStateHoops newcomer D.J. Carton. pic.twitter.com/fcIKSnr9km

— Ohio State on BTN (@OhioStateOnBTN) October 30, 2019
The next time probably came later in their open gym run, but it happened again in the second half of Wednesday's game. Amid a 25-1 run the Buckeyes used to bury the Yellow Jackets, Liddell hit Carton for the alley-oop.
"That was a perfect situation," Liddell said. "He tipped a pass, I got it, dribbled. I saw him out the corner of my eye just put a little finger up, so I just threw it, and I knew he was going to get it because DJ can jump kind of well, I guess."
Just a bit.
Carton, the top-ranked recruit Holtmann has ever signed, offered a hint of what he might produce this season on Wednesday. Sure, he'll have to improve his command of the half-court offense and become a more consistent shooter. But as those areas of his game come along, he's already adept enough at leading the fast break and creating offense in the half court in different ways to make a significant impact at point guard.
Eleven of his points came in a four-minute stretch in the middle of the second half. Two dunks, an alley-oop, a jumper and a 3-pointer.
In 19 minutes, Carton hit 7-of-10 shots for 15 points. He had five assists and zero turnovers. Ohio State's coaches can't ask for much more in a debut.
No shortage of lineups
Holtmann played it safe with his starting lineup, relying on five veterans: CJ Walker, Luther Muhammad, Andre Wesson, Kyle Young and Kaleb Wesson. It's a good bet that those will be the five players who take the court first next week in the season opener against Cincinnati.
Beyond the starters, though, Holtmann had no reservations on his lineups. All 11 healthy scholarship players got at least nine minutes of action, and they played in a variety of personnel groupings. 
Walker and Carton played together. As many as three freshmen were on the court at once. The frontcourt consisted of plenty of different combinations, including a pairing of Liddell and Gaffney at the two forward spots.
"I think they're a little bit different in how they play in that Zo's length is kind of a good balance to E.J.'s size," Holtmann said. 
Holtmann also said, though, that Liddell and Gaffney not at the point where the two freshmen can play "heavy minutes" together, though they "got to get them there" during the season.
With what Holtmann has described as a deeper team than the one he coached a year ago, it might take him longer to settle on a specific few groupings to rely most heavily on, but he doesn't have a shortage of options.
The Kaleb and DJ connection
During Ohio State's 25-1 second-half run, Carton and Wesson were "instrumental," Holtmann said. He was certainly right. They combined to score 17 of those points, playing off each other with Wesson setting ball screens and Carton finding him.
Holtmann partially attributed their success together to Cedarville going under ball screens, but he acknowledged their two-man game as something the team "kept going to."
"DJ, I thought, made really good reads off of some of that stuff," Holtmann said. "So I think that'll continue to be a theme. We have to be a group that is more diverse in a lot of ways offensively, and I think you'll see that throughout the season that we're going to need contributions from a lot of guys in various games, but that was something that was really good for us in this game."
It certainly won't be the last time we see Wesson and Carton working off each other.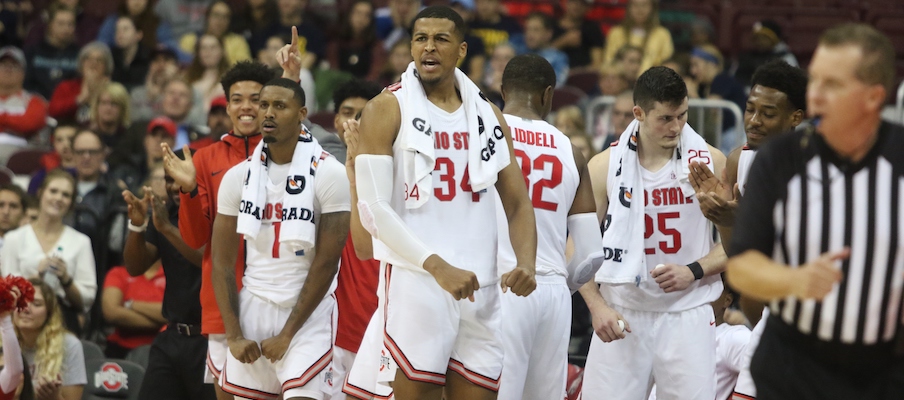 Points in transition
Whenever the Buckeyes got out on transition a year ago, it always felt like an adventure. Nobody quite knew how it would end, but too often it led to turnovers or missed shots.
The Buckeyes, with a pair of new point guards leading the break, had 17 points in transition. Carton, in particular, showed off all the explosiveness in transition that gained him notoriety as a recruit in Iowa.
"Every time I get the ball, I'm going to push it just because I know that that's one of my strengths, and I know tonight sometimes defense wasn't set and stuff like that, and I know we can get easy buckets like that," Carton said. "Every time I do get the ball in the position to push it, I'm going to do that, and hopefully I can clean things up in the halfcourt and be able to control the offense a little better."
Holtmann saw visceral improvement in transition early in the second half when he watched Luther Muhammad push the ball and dish it to Andre Wesson who passed it back to him for a 3-pointer.
"That was just a good, simple transition play that we've been working on the entire offseason," Holtmann said. "Just make the simple, easy play. Like, that's a step forward for us. All of our fans are going to love those plays around the rim, and I get that, but that's maybe equally important for us is just those kind of plays."
Far from finished products
Gaffney and Ibrahima Diallo were as advertised. Long, lanky and raw.
If you watch Gaffney dunk the ball before the game in layup lines, he looks like an NBA prospect. Diallo, with a 7-foot-7 wingspan, has the physical makeup of a rim-protecting center.
But they're not finished products right now, or anything close.
Gaffney had five points and one rebound in 14 minutes. He made his only shot and went 3-for-4 from the free-throw line, also fouling three times.
Diallo didn't enter the game until the second half, then scored seven points and grabbed four rebounds in nine minutes. After missing a dunk, he went 2-for-3 from the field and 3-for-5 from the free-throw line.
"I'm going to do everything like my team needed me to do," Diallo said. "I was just on the bench watching the game, learning behind Kaleb. So whenever my team needs me, I'm going to step up and do whatever they need me to do."
Leaning on Kaleb less and differently
Looking at the stat line, Kaleb Wesson's numbers don't look much different from what he put up a year ago. 
A 23-point, seven-rebound performance while making 9-of-11 shots in 23 minutes. Efficient, huh?
Some of his points came in similar ways to how he accumulated them the past two years. Against an undersized, less athletic frontcourt, he bullied his way for a few buckets. But he also stepped out beyond the arc and hit 3-of-4 3-pointers.
Last year, Wesson improved his shooting stroke, hitting 34.7 percent of his triples. But he only hit a trio of 3-pointers in two games as a sophomore. His makes on Wednesday likely portend an uptick in his shots from the perimeter.
"He's become such a good shooter and he's got just terrific touch," Holtmann said.
Wesson losing more than 30 pounds in the offseason certainly helps his versatility on both ends of the court. At 255 pounds, he's still big enough to fight around the rim, which remains a major part of his game, but he's light enough to move around the court differently.
Plus, on a team with improved secondary scorers, his game has the potential to expand.
"As long as he can continue to move at the level that he wants to move at, we want to move him around," Holtmann said. "We've got to play through him outside and inside at times. I thought he made a lot of good decisions. Made a couple sloppy passes on turnovers, but he was terrific in a lot of ways. He's worked on his body to the point where he can really move and create difficult situations for the defense."
The same old Kyle Young
All eyes in an exhibition naturally gravitate to newcomers.
Some of the focus should have been on Young, though. He didn't contribute in many different ways on Wednesday than he did last year, but he came one rebound away from a double-double, which he has yet to get in his two years at Ohio State. 
In 18 minutes, Young had 10 points and nine rebounds, making 3-of-6 shots and going 4-for-6 from the free throw line. He had a couple quintessential plays, including when he skied for an offensive rebound to give Ohio State an extra possession at the end of the first half. Young's easily overlooked, but he'll once again have a significant role as the likely starting power forward to open the season.
"When he's at his best, he's changing the game with his energy and playing off other guys," Holtmann said. "That's the way Kyle has always been."
To turn Ohio State into a sustained winning program, as Holtmann has said in the past, he wants to develop a team that has upperclassmen on which it can rely. Young, a junior on a team with seven underclassmen, will be counted on to make the hustle plays.
"When he's at his best, he's doing that at a really high level, and I don't think that's going to change," Holtmann said. "He's shot it well in the preseason, but he's special when he's doing those things."