Kyle Young tried to walk it off, because of course Kyle Young tried to walk it off. 
As he took a few gimpy steps toward the baseline, he realized his right ankle couldn't hold himself up any longer, so he slowly plopped himself onto the ground. He laid back-first on the court, clasped his hands together above his head and grimaced.
Kaleb Wesson jogged over to Young and leaned down to help him back to his feet.
"C'mon on I got you big guy," Wesson told him.
"Nah, I rolled the f--- out of it again," Young shot back.
On the other end of the court late in the first half of Ohio State's 79-72 win against Maryland on Sunday, Chris Holtmann didn't know exactly what had happened.
"Is it the leg? That was my immediate reaction," Holtmann said after the game. "Is it the stress reaction?"
A stress fracture in Young's leg last January forced him to miss five games, and Holtmann had worried recently about that injury again becoming an issue. Because of the leg concern, along with an already hampered ankle and an appendix removal in late December, Young hadn't practiced consistently in about a month and a half.
Holtmann soon learned that Young hadn't reaggravated his leg, but the news wasn't much better than what he feared. His starting power forward had suffered a high ankle sprain that kept him in the locker room for most of the game before returning in the second half with a boot on his foot.
"It was a pretty significant ankle sprain – gruesome, actually, when you look at it," Holtmann said on his 97.1 radio show on Monday. "There was actually a picture circulating among our players and staff, actually I think by Kyle, showing his ankle basically touching the floor it's such an angle, such a significant turn. He's got a really high pain threshold, but I just feel awful for the kid because it's just been one thing after another."
At the time, E.J. Liddell was sitting not too far from Holtmann, all the way across the court on Ohio State's bench. 
Sometimes freshmen play themselves into the spotlight. Other times, bright lights find them. Liddell's situation was a little bit of both.
He had just recorded career highs in both points (17) and rebounds (8) against Iowa three days beforehand, signaling the latest progression in a promising collegiate career. But Young's injury also left Holtmann with no choice. Even though his decision to largely roll with a three-guard lineup meant he didn't need to ride Liddell for heavy minutes, the lack of options gave him few options other than the freshman.
Liddell responded with seven productive second-half minutes. He scored two points, grabbed four rebounds and had a steal.
"He's so active," Maryland head coach Mark Turgeon said.
"His offensive rebounding, I thought, stemmed some momentum in this game," Holtmann said.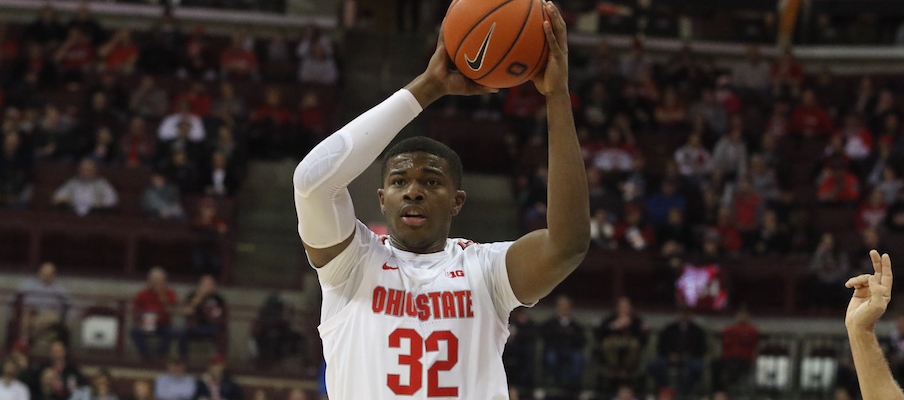 Liddell had better get used to an increased role, because as long as Young misses time, he'll see an uptick in his minutes. For the freshman, the next few games – beginning against Nebraska on the road on Thursday – could represent a breakout opportunity. 
Liddell has averaged 6.2 points and 3.4 rebounds in 15.6 minutes per game, the eighth-most on his team, and has eclipsed 20 minutes in only five games. Playing behind Young at power forward and alongside Kaleb Wesson in the frontcourt, he's had his chances to shine, but he's only played supporting roles. The output in those moments has been a bit up and down, too.
To some, considering Liddell garnered some preseason Big Ten Freshman of the Year buzz, it might have even been a bit of a surprise that he hasn't yet earned a larger spot in the rotation. One way or another, it has always seemed destined to happen at some point for the Illinois native who entered the program last summer as the 44th-ranked prospect in his recruiting cycle. But Holtmann spent the first couple months looking for more out of him.
"He just had to play harder, more consistently harder and tougher," Holtmann said. "He had to play with more motor than he was playing. And he had really good moments earlier in the year and then kind of a tough stretch. But he just had to play with more motor. He had to push himself harder. And a lot of that came, he had to practice consistently harder. And I think he's done that for a good month, month and a half."
Liddell doesn't have a choice anymore.
With Young – the team's energy source – banged up, it's an absolute necessity that he brings it every game. That's not a particularly easy job. When Young missed two games in January after his appendix removal, his absence was notable. But even if Young, whom Holtmann has noted has a remarkably high pain tolerance, quickly gets back onto the court, his body could limit his activity the same way it did down the stretch a year ago. 
Liddell might be about to find himself in the spotlight.
He can't possibly know how long he'll be in this position, and he certainly wishes he didn't end up there with an injury. But Liddell's here now, and as the regular season creeps toward completion and the postseason nears, Ohio State needs everything it can get from him.