After a year that Chris Holtmann called "difficult and yet rewarding" in his performance review during the offseason, Gene Smith evaluated that the head coach "exceeded expectations" for the second year in a row.
The Buckeyes, who had lost Keita Bates-Diop and Jae'Sean Tate in the offseason, began the season with a 12-1 record, ascending to No. 13 in the Associated Press top-25 rankings. They went 1-6 in January and rebounded with a 5-3 record in February before ending the regular season with three straight losses. Ohio State won a game in the Big Ten tournament and upset fifth-seeded Iowa State in the NCAA tournament, then lost to Houston in the second round, ending its season with a 20-15 record.
In an annual performance review completed during the offseason that Eleven Warriors obtained on Tuesday, athletic director Smith called Holtmann's performance with the 2018-19 basketball team "exceptional." 
"The academic performance of the team was outstanding," Smith wrote in his review of Holtmann. "He continues to develop a culture of character, compliance, and focus of on the total development of his student athletes. His staff continues to be aligned and stronger despite losing a talented assistant (Mike Schrage) to a Head Coach position. The competitive performance of the team exceeded expectations especially considering the adversity with player absences."
In his own review, Holtmann touted the players – and specifically the upperclassmen – for their ability to "work thru some things and finish in a very positive way due to the quality of people they are." 
Holtmann called the Big Ten season "difficult" due to "injuries, not playing well and the suspension at the end," referring to Kaleb Wesson missing three games at the end of the regular season. He also noted his disappointment that no players earned All-Big Ten nods.
"Hopefully in the future we can have the kind of success that will lead to our players earning all-conference selections," Holtmann wrote. "Overall this was a very rewarding group to coach."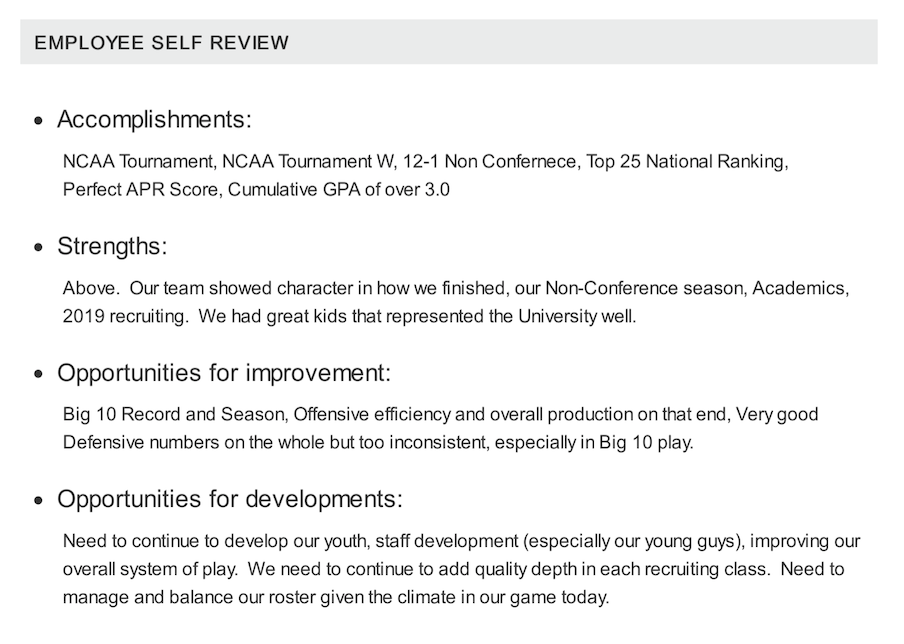 He described the Big Ten tournament win against Indiana and beating Iowa State in the NCAA tournament as "a highlight." 
In 12 of 13 competencies, Holtmann evaluated himself as meeting expectations. He rated himself as exceeding expectations in the category of academic success. In a list of accomplishments, Holtmann referenced that the team had a collective GPA of better than a 3.0. To put that into perspective, the men's basketball team had an average GPA of 2.57 between 2009 and 2015, per The Lantern.
Holtmann noted both the team's Big Ten record and overall record as an area for improvement.
"Offensive efficiency and overall production on that end," Holtmann wrote when describing opportunities for improvement. "Very good defensive numbers on the whole but too inconsistent, especially in Big 10 play."
In performance reviews submitted by Holtmann, five key Ohio State basketball staffers – assistant coach Ryan Pedon, assistant coach Terry Johnson, special assistant to the head coach Mike Netti, director of basketball operations David Egelhoff and video coordinator Kyle Davis – all exceeded expectations.
Pedon exceeded expectations in all 13 competencies, per Holtmann's evaluation of him. In evaluating himself, Pedon wrote that he met expectations in each category.
"Ryan continues to do an outstanding job in his role," Holtmann wrote. "He is a tireless worker, committed to our players, loves Ohio State and is passionate about the continued overall development and growth of our program. His recruiting and relationships continue to be a strong part of our program. He is a vital member of our staff."
Pedon, who was once on Holtmann's staff as an assistant at Butler, noted that he played a role in recruiting a top-15 class and helping Ohio State to a second consecutive year with an NCAA tournament win, noting his work ethic and versatility as strengths.

In his review, Pedon noted his furthering of relationships on campus and in the community, continuation of offensive evolution and time spent developing himself as areas for improvement.
"We have done a lot of very positive things in our first two years at Ohio State," Pedon wrote. "Undoubtedly, there is another level that we want to get to moving forward. I feel good about the foundation we have laid and optimistic for what lies ahead."
Johnson, also back for his third year as an assistant on Holtmann's Ohio State staff, also graded out as exceeding expectations, per Holtmann.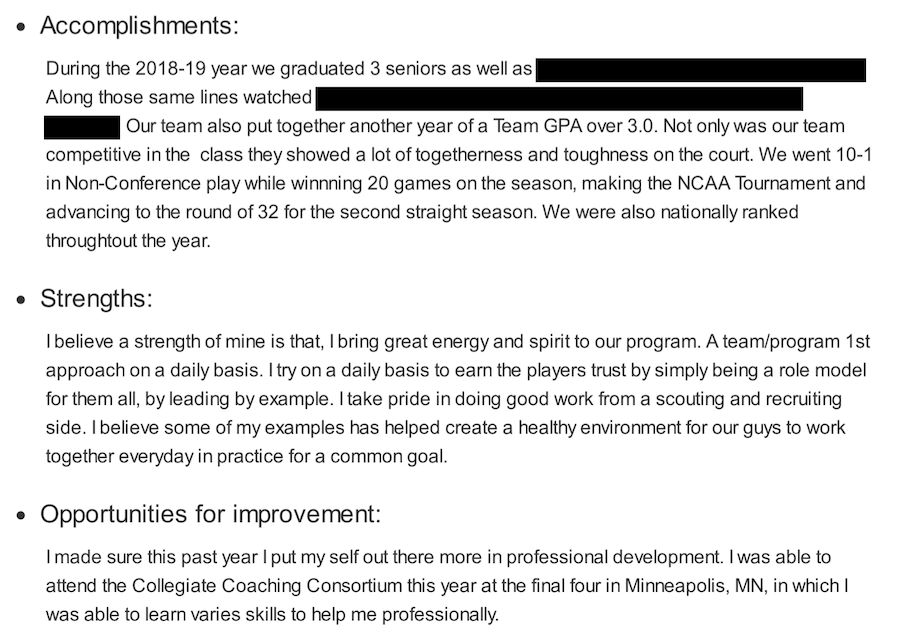 "Terry had a good year in 2018-19," Holtmann wrote. "He is a really important member of our staff and his knowledge of our defensive system and his commitment to what he believes in based on his outstanding success as a coach is really valued. Terry builds strong relationships with our players and his passion and experience as a coach is vital for our staff."
Johnson noted his "great energy and spirit" as strengths, also mentioning his program-first approach and style of leading by example. As an opportunity for development, he referenced his need to "use the resources and opportunities at Ohio State to improve and grow as a coach as well as understanding the administration side of the athletic department."
Netti, now in his third season as special assistant to the head coach, previously worked with Holtmann at Gardner-Webb in the early 2000s.
"Mike had a good year in his role," Holtmann wrote. "He continues to really add value due to his experience and coaching/teaching thoughts and ideas. He has also played an instrumental role in the outstanding academic work of our players. Mike is an outstanding and important member of our staff."
Netti noted that that he has used "contacts and coaches from other sports to create new ideas and learn," calling it a "great tool." He made a "major emphasis" to visit coaches outside of Ohio State to learn from them. Those visits, he wrote, has allowed him to "bring ideas and concepts to our current program and staff."
"Implementing new creative ways to teach has brought us great value on the court, in scouting, and in making the correct adjustments when needed," Netti wrote.
Egelhoff, who has been the program's director of basketball operations for 14 years, remains on staff as one of the Buckeyes' longest-tenured employees.
"Dave has done an excellent job managing our office and staff as well as my schedule," Holtmann wrote. "He continues to perform at an outstanding level in most all of his job descriptions."
Egelhoff called last year "exciting and challenging," mentioning that the program had "very positive momentum." He wrote that he's "enjoying the new and fresh insights our staff has introduced." Though he didn't specify policies, Egelhoff referenced changes by the NCAA in the past few years that have allowed the program to find ways to "support our student-athletes that were never possible."

The "knowledge and understanding of the operational aspects of the Men's Basketball program," operation with a "fiscally responsible mindset" and relationships with those inside and outside the program were listed by Egelhoff as strengths. His mentioned continuing to "gain a greater understanding of our budget and impact it has on our Department" as an opportunity for development.
Davis also preceded Holtmann, who kept him on the staff. He's now in his fourth year as Ohio State's video coordinator.
"Kyle had a good year for us and I think he became more comfortable with our expectations for the position in year 2," Holtmann wrote. "Kyle is very bright and his ideas and thorough work in the areas of video, recruiting presentations, and facility management has been excellent."
Davis noted that he "began to better understand" how to maximize his usefulness in the second year working under Holtmann. He wrote that he "felt pulled into many different directions" more than ever before, forcing him to "build competency in new areas and become a better resource for our staff."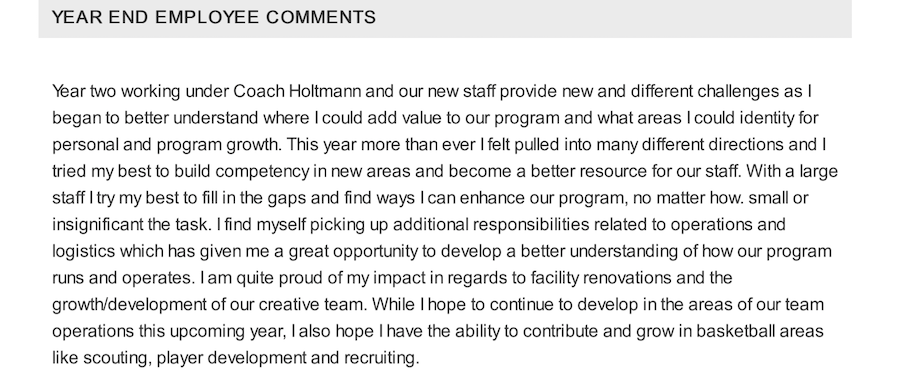 Quadrian Banks, the men's basketball team's third-year strength and conditioning coach who also works with the cheerleading team, was evaluated as meeting expectations from assistant athletic director for football sports performance Mickey Marotti and senior director of sports performance Heather Mason.
"Coach Banks does a good job training his teams (men's basketball / cheer program) and is a good fit for both," Marrotti and Mason wrote. "He meets the needs of the individual athlete. His coaching style is favorable to our culture playbook and strives to improve the program for the student-athletes. We asked him to improve upon communication within the Strength & Conditioning department & entire athletic community; have a greater emotional intelligence when communicating and respect others; and continue to improve on departmental policy adherence."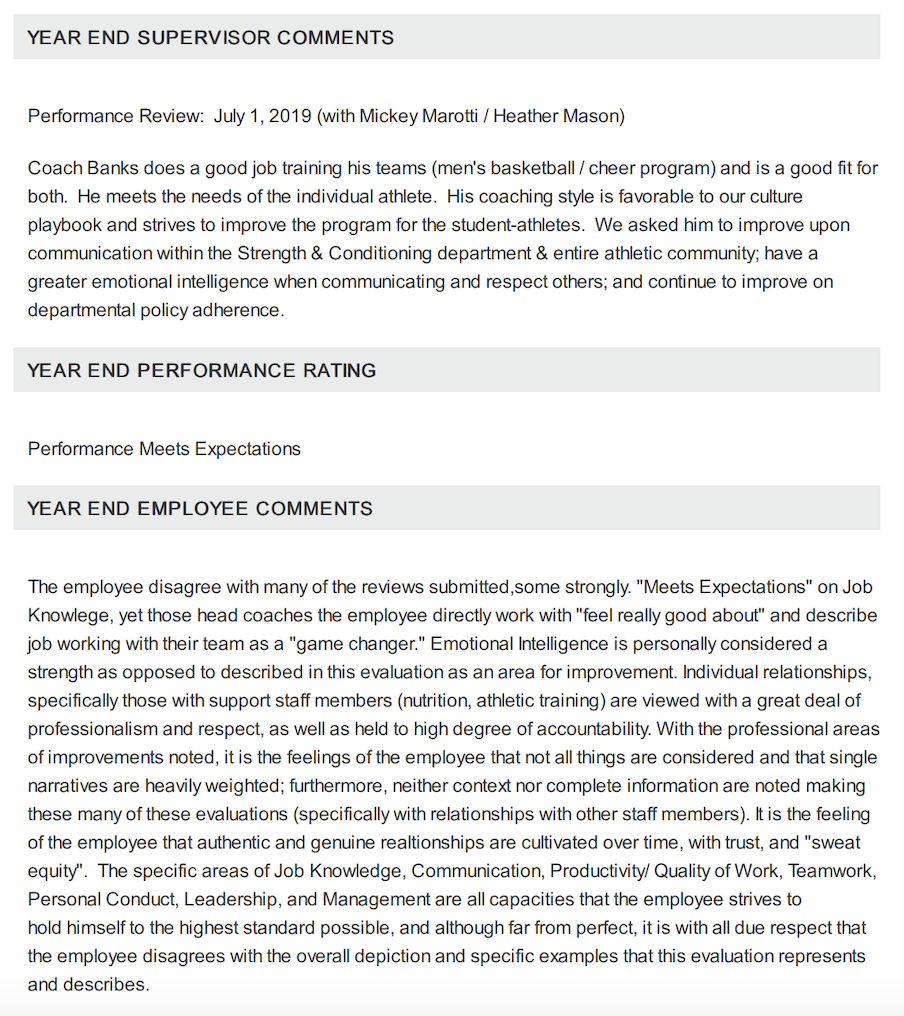 Banks, however, disputed much of what was written about him in an extensive response to meeting expectations rather than exceeding them. He referenced Holtmann saying he "feels really good about him" and head cheerleading coach Ben Schreiber calling him a "game changer."
"The employee disagree with many of the reviews submitted, some strongly. 'Meets Expectations' on Job Knowledge, yet those head coaches the employee directly work with 'feel really good about' and describe job working with their team as a 'game changer,'" Banks wrote. "Emotional Intelligence is personally considered a strength as opposed to described in this evaluation as an area for improvement."
Banks self-evaluated that he exceeded expectations in five of six core competencies – production and quality of work, personal conduct and accountability, teamwork, job knowledge and leadership – and met expectations as a communicator. 
Marotti and Mason disagreed with all six evaluations. They did not evaluate that he exceeded expectations in any of the categories, grading him as meeting expectations in four of the six competencies – job knowledge, productivity and quality of work, teamwork, personal conduct and accountability – with an opportunity for improvement in two competencies: communication and leadership.
"The specific areas of Job Knowledge, Communication, Productivity/Quality of Work, Teamwork, Personal Conduct, Leadership, and Management are all capacities that the employee strives to hold himself to the highest standard possible, and although far from perfect, it is with all due respect that the employee disagrees with the overall depiction and specific examples that this evaluation represents and describes," Banks wrote.