Ohio State entered the 2017-18 season without many expectations. The program had just missed the NCAA Tournament for the second year in a row, and Gene Smith decided to move on from Thad Matta.
In came Chris Holtmann, who was fresh off his third straight NCAA tournament appearance. Led by the first-year coach, the Buckeyes blew their preseason critics away. They went 25-9, finished second in the Big Ten and made it to the second round of the NCAA tournament.
Unsurprisingly, performance reviews of Holtmann and his three assistant coaches – Ryan Pedon, Terry Johnson and Mike Schrage – were overwhelmingly positive. Eleven Warriors obtained the evaluations on Friday through a public records request.
"Chris made the most amazing transition into OSU on all levels," Ohio State athletic director Gene Smith wrote in Holtmann's review. "Integrations into the Buckeye culture of the department. Interacting with fans and supporters of the program was excellent! Embracing former players and building the trust of the players he had to lead represented exemplar performance. Creating a culture of competing at the highest level in the classroom and on the court!"
Holtmann was given an overall rating of "exceeds expectations" by Smith in the undated review that was completed before June 29.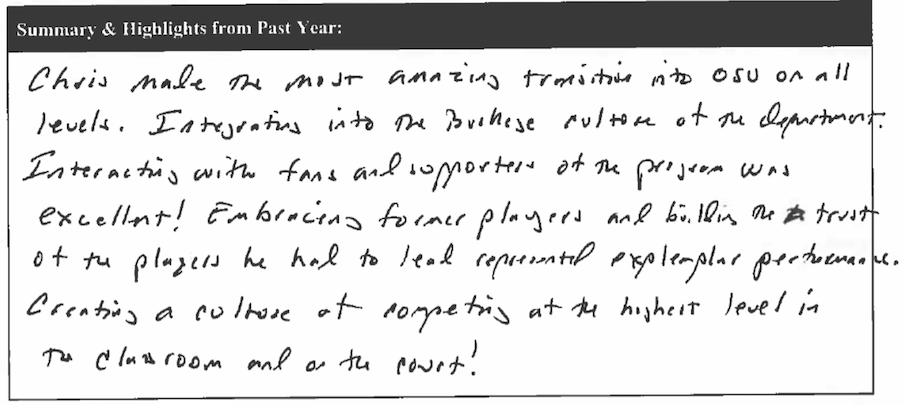 In the self-evaluation portion of the review, Holtmann checked off both "exceeds expectations" and "meets expectations" for his day-to-day organization and leadership of the program, a part of his job that he wrote took up 50 percent of his time. He evaluated himself as meeting expectations of recruiting three classes at one time, which he wrote took took up 30 percent of his time. Holtmann wrote that he has an opportunity for improvement in the management and leadership of the staff, which he wrote takes up 20 percent of his time.
Holtmann listed four goals for the 2018-19 season: Add a top-25 recruiting class to the 2018 class, win half of the signature non-conference games (Cincinnati, Creighton, Syracuse and UCLA), finish in the top half of the Big Ten and play in the postseason. He has already completed two of his four goals, having landed a top-25 2018 recruiting class and earning wins against Cincinnati and Creighton earlier this season.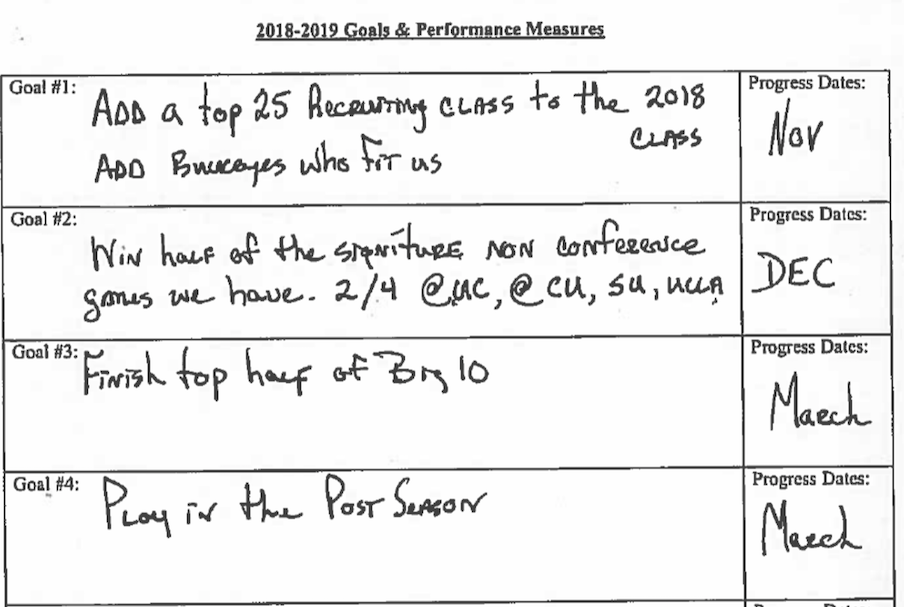 Pedon, Schrage and Johnson earned similarly complimentary performance reviews to Holtmann. Following his first year as head coach, Holtmann wrote that he needed to manage his staff better and implement the team's system and culture better "with such a new team."
Holtmann wrote that all three of them exceeded expectations in every available category: academic success of the program, competitive success of the program, commitment to compliance, student-athlete welfare, leadership, communication, budget management and public relations/donor relations.
About Schrage, Holtmann wrote: "Mike had a very good year! He had an exceptional year recruiting and continues to carry a major role on that front. His role in our scouting of opponents was instrumental to our success."
Holtmann listed "continue to spearhead important recruiting classes in the 2020 and 2021" and "continue to develop his position group of young players" as areas of growth, improvement and focus for Schrage in 2018-19.
Schrage wrote his highlights of the past year, noting a 2018 recruiting class that ranked "as high as 20th in the country" and a coaching performance that helped the team exceed pre-season expectations.
He couldn't forget about Ohio State's nemesis last year, though.
"Helped develop game plans that beat every team in our conference except 1 (Darn Penn State)," Schrage wrote.

Schrage noted preparing to recruit an "even stronger 2019 recruiting class" as one of his areas of improvement. He listed five goals, which included recruiting a top-10 2019 class with at least three scholarships available, which he has already been accomplished.
About Pedon, Holtmann wrote: "Ryan had a very good year. He was exceptional in helping to build an important recruiting class. Ryan helped coordinate a top-25 offense. In addition, he does an outstanding job connecting with Buckeye players of the past."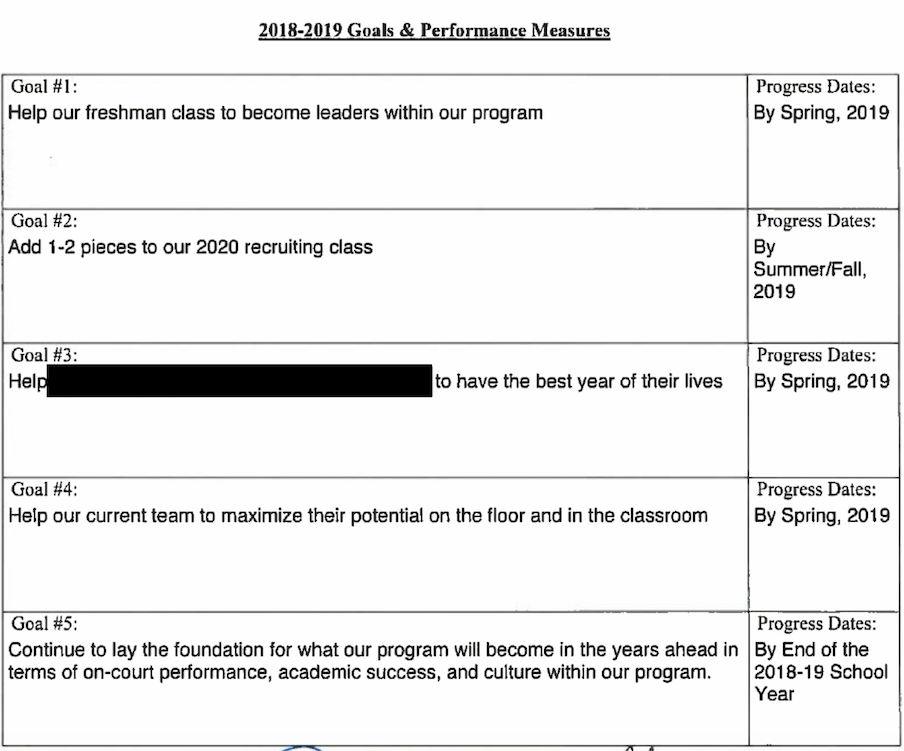 Pedon listed adding one or two pieces to the 2020 class and helping the freshmen become leaders in the program as two of his five goals in 2018-19. Holtmann listed "continue to lay the groundwork for outstanding and important recruiting classes that fit our program" as an area of growth, improvement and focus for Pedon in 2018-19.
About Johnson, Holtmann wrote: "Terry had a very good year! He developed good relationships with our players, helped recruit an important class, and had a very important role in coordinating a top-20 defense."
Holtmann listed "continue to develop recruiting relationships in the 2020 and 2021 class" and "continue to develop our core of young bigs" as areas of growth, improvement and focus for Johnson in 2018-19.
Johnson wrote that making the NCAA tournament and advancing, as well as leading the recruitment of at least one major contributor in the class of 2020 of 2021, were two of his four goals in 2018-19.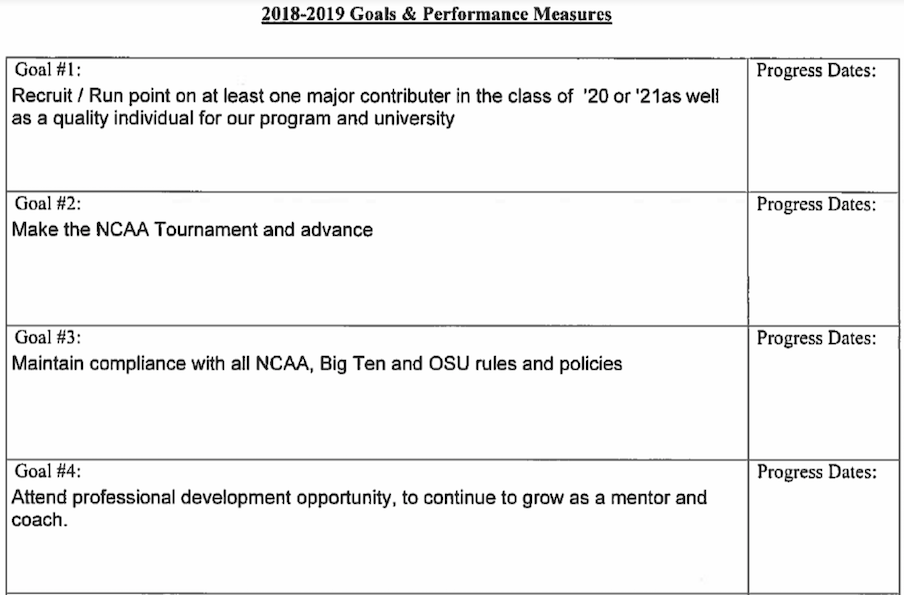 Though Holtmann, Schrage, Pedon and Johnson earned almost exclusively positive reviews, strength and conditioning coach Quadrian Banks had areas to improve upon.
In an evaluation completed by assistant athletic director for football sports performance Mickey Marotti and senior director for sports performance Heather Mason, Banks didn't earn "exceeds expectations" in any category. He met expectations in three categories (job knowledge, productivity and quality of work, and personal conduct and accountability) and had opportunity for improvement in four categories (communication, teamwork, leadership and management), per Marotti and Mason. 
They evaluated Banks with the following overall rating: "Meets expectations for S-A/Opportunity for improvement-culture playbook." Banks changed the basketball culture and incorporated out-of-the-box training and recovery, Marotti and Mason wrote.
Holtmann evaluated Banks positively with an outlook toward improvement in 2018-19.
"Quadrian has done an outstanding job this year in the area of strength and conditioning and overall sports performance for our men's basketball program," Holtmann wrote. "He is passionate, tireless in his work and connects very well with our student-athletes. I think he will continue to grow in specific areas he and I have discussed in the coming year. We look forward to Coach Q building upon last year."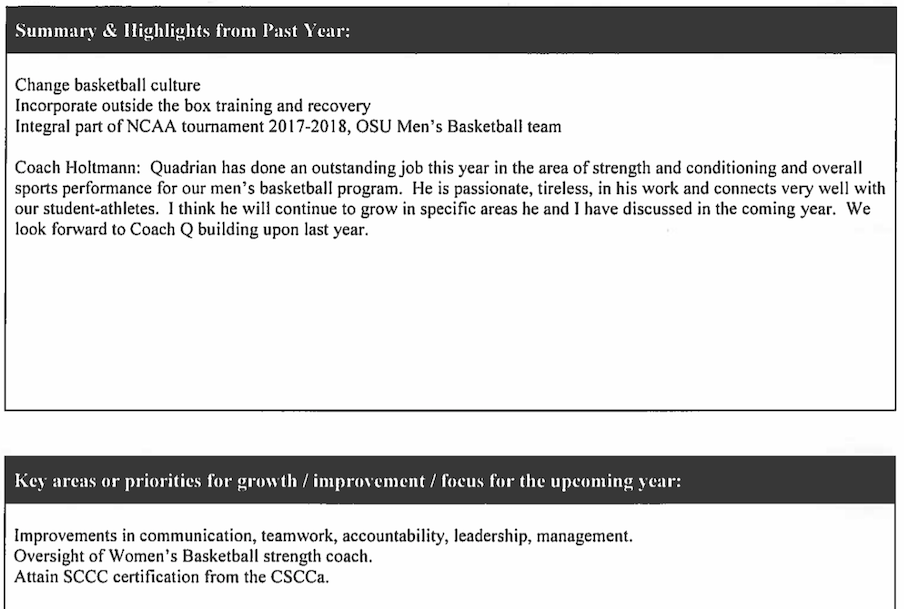 Banks, who was in his first year with the program last season, evaluated himself as exceeding expectations last year.
Banks listed five goals for 2018-19, including getting the entire men's basketball team to at or under 10 percent body fat.