Ohio State as an 11-seed went from ominous to miraculous in exactly one Terry McLaurin.
The receiver and future captain verbally committed to Ohio State shortly after Thad Matta's Buckeyes fell short of their second-consecutive Final Four, getting tripped up by Wichita State in the Elite Eight (we have to use a football player for this timeline exercise because a basketball one isn't available).
An 11-seed would have been unthinkable. One season later, they lost to an 11-seed.
Twelve months passed, and Ohio State sneaked into the tournament as a 10-seed. A year after that they were NIT bound. Then, Matta's final season produced no postseason tournament at all. McLaurin grabbed 11 balls for 114 yards as that team was warming up the hardwood en route to a 17-15 record.
The crime scene is just as clear in the postscript than as it was then. Senior Night a couple of weeks ago honored more ghosts than scholarship players, with the entire graduating class of 2019 abandoning ship long before it reached port. JaQuan Lyle, Daniel Giddens, A.J. Harris, Austin Grandstaff and Mickey Mitchell weren't around to receive their framed jerseys. They flamed out at a 100% clip.
ALL three players coming in this fall rank among Ohio State's top 17 highest-rated Basketball recruits. Ever.
The Fled Five signed up back when McLaurin was buried behind Michael Thomas, Jalin Marshall and Braxton Miller on the depth chart. Four years later Greg Oden, now 59 years old, walk-on Joey Lane, transfer Keyshawn Woods, who is at Ohio State after stints at Wake Forest and Charlotte and JuCo transfer C.J. Jackson were applauded for showing up and sticking around.
Along the way Thad Matta went from Ohio State's best coach since Fred Taylor to a guy who had to literally tell recruits he wasn't dying. Thad was still alive, but the program was in free-fall and no one could believe it, especially after what Matta had done previously. Buckeye fans went from double-double-championships in the Big Ten regular season and tournament to six consecutive campaigns of Amir Williams and/or Marc Loving racking up minutes in the absence of options who weren't quite as sleepy.
Jackson and Andre Wesson showed up in 2016, along with Micah Potter, who later decided to lean into his central casting destiny and transferred to Wisconsin. Derek Funderburk was dismissed and is now at NC State with Braxton Beverly, the true point guard the Buckeyes desperately could have used this season. Both will be watching the NCAA Tournament from Raleigh instead of playing in it in Tulsa.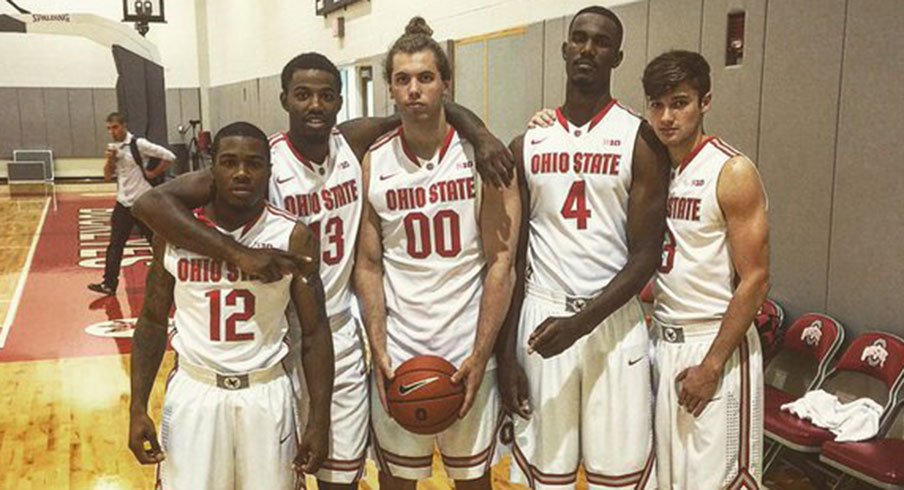 The Kaleb Wesson, Kyle Young and Musa Jallow threesome from 2017 is still intact, as is 2018's foursome. And Chris Holtmann has not missed a March Madness, having found the precise amount of pluckiness from Michigan grad transfer Andrew Dakich and manufacturing a Jim Tressel-Type Senior Year™ out of Keita Bates-Diop, who went from not-even-honorable-mention to B1G POTY last season.
This season Holtmann had to find a way to win without Bates-Diop, Jae'Sean Tate, Kam Williams or Dakich. From a contextual standpoint the degree of difficulty could not have been higher, and the miraculous nature of this year's tepid ascendance beyond the bubble - while suspending its best player down the stretch - is now ominous for the rest of the conference starting this fall - when McLaurin will be playing on Sundays.
The three players coming in this fall all rank among Ohio State's top 17 highest-rated recruits, ever. The Buckeyes lose one C.J. but pick up another. That team should be really fun again. Sam Thompson-style dunks; shooters that rain on scoring droughts and a fast team that's flying up and down the court. The current one was tough to watch for stretches. But it's still here, in late March.
In a few months Holtmann will be playing with the closest thing he's had to a full deck since his 2017 Butler squad, carrying depth, veterans, flashy players and guys with range who create matchup problems. His rebuild and transition from Matta's decline has produced two tournament teams and a conference MVP. It's difficult to imagine the current trajectory occurring on the program's previous path. It wouldn't have happened.
But in a few days, the Buckeyes will be dancing again. As an 11-seed. And it's miraculous.