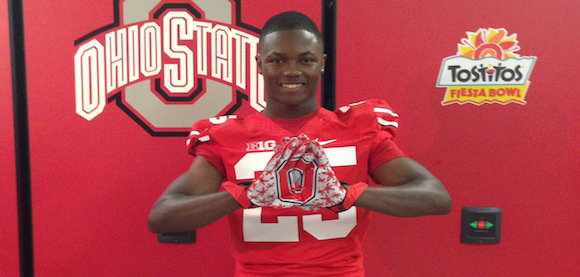 Here's your gray box, Buckeye fans. 
Indianapolis (Cathedral HS) wide receiver Terry McLaurin has committed to Ohio State. McLaurin, a 6-foot, 190-pounder, was working hard to receive an Ohio State offer, which he picked up on Friday, and today he becomes the 13th member of the Buckeyes' 2014 recruiting class. He is the second player from Indiana to pledge for the Buckeyes, joining Gary wideout Lonnie Johnson. 
"Honestly, it feels great because I know I earned this," McLaurin told Eleven Warriors. "I feel a great sense of accomplishment and satisfaction that I went out and earned the scholarship, it feels great."
While every player who gets a chance to don the Scarlet and Gray "earns it," McLaurin's journey has been a bit more circuitous. He camped at Ohio State on June 9th and he was very impressive, almost earning an offer from the Buckeyes on the spot, but Ohio State had a few concerns that they needed to see improvement on. One source told Eleven Warriors that if McLaurin were to handle those things, there was "no way the Buckeyes couldn't take him," because of his electric speed – Ohio State's staff hand-timed a 4.36 40 — he was too fast to pass up.
"They had told me on the 9th to work on coming in and out of my routes quicker, because they teach a different technique than I'm used too," he said. "They also wanted me to catch the ball a little bit smoother and locate it more quickly. I worked on those two things a lot the last two weeks."
"Coach Meyer told me I kind of snuck up on him," McLaurin said of his future coach. "He normally knows a lot about kids before he offers so he wanted to get to know me a bit more before they offered. He said they take things slow and do it the right way because when they offer, guys usually say yes."
When the offer came, McLaurin considered saying yes and committing on the scene, but wanted to make sure he was not just making a sudden emotional decision. He had been strongly considering Purdue and Missouri, and said that the hardest part of the decision was how to let other schools know that he was choosing the Buckeyes.
"I appreciated the offer and opportunity so much, but I want to talk this over with my family because they've been a big component in this process since day one," he said. "It's hard telling the schools that have offered me I'm not interested anymore. I'm so appreciative to those schools for recruiting me, who had faith in my ability, so telling them no was hard. But at the end of the day, I had to choose the school that was the best for me."
That school is Ohio State, and the speedy wide receiver is being told to expect his role in the offense to be — wait for it — similar to how Meyer used Percy Harvin at Florida.
"They told me that I will be in the Percy Harvin role, a  slot wide receiver, jet sweep-type of guy and I love that," McLaurin said. "Harvin is a receiver that I look up to and I would like to think our games are similar. Plus, knowing the success he had in Coach Meyer's offense is exciting."
"It was really the challenge and to chance to achieve greatness academically and on the field," he continued. "I feel like the football staff and the administration at the Ohio State University will help me reach my full potential. I want to play for a team that will win championships and compete at a high level and also play for a staff that will make me the best player possible. The competition is great and Urban Meyer's offense will fits me perfectly. After my second visit to Ohio State that became pretty clear to me. It's a great fit for me and my family."
The Terry McLaurin File
Size: 6-0/190
Pos: WR
School: Cathedral (Indianapolis)
Composite Rating: ★★★
Composite Rank: 49 (WR)
McLaurin is anxious to get started working as a Buckeye commitment. He realizes it will add pressure to everything he does, but he'll be one of the now nine man contingent of Buckeye recruits at The Opening in Eugene (Ore.) next week and he's looking forward to being there with his new family.
"It's kind of amazing, isn't it? It feels great and a sign that we are doing something very special," he said of his future teammates. "I'm not sure but that has to be up there for the most commits going to an all-star event. I'm excited to get out there am compete with and against everyone, but more so because it's a chance to get to know my future teammates."
While McLaurin is not going to be as vocal in his recruitment of other players to Ohio State's class as others have been, he says he'll do his part to help keep Ohio State on the minds of people around him.
"I had my own thoughts and plans in mind (with his recruitment), so I know other guys will be looking for certain stuff that's important to them," he said about recruiting for the Buckeyes. "I want to help where I can with that but I know what the pressure is like with all of this as a recruit. I don't want to add anymore pressure on another recruit, they will know what's best for them at the end of the day."