Wisconsin began its season with a home loss to Western Illinois.
That gave the Badgers a two-game losing streak extending back to when they lost to Duke for the 2015 national championship. Those two opponents weren't exactly similar in talent or circumstance; that November night was the highlight of the Leathernecks' (I looked it up) season, as they went on to finish a dismal 10-17, thanks in large part to a midseason 11-game losing streak.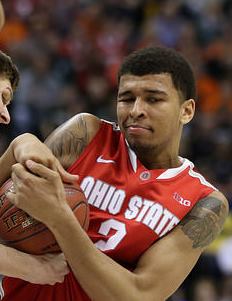 Regardless, WIU topped the Badgers, who two months later on January 9 were sitting on a 9-9 record; 1-4 in Big Ten play. And they were playing #4 Michigan State that night.
That same evening Ohio State was 11-5, 3-0 in Big Ten play and riding a seven-game win streak that included #4 Kentucky's scalp. The Buckeyes were on a bus to Bloomington to face the Hoosiers that Sunday.
They would lose by 25. It wasn't even that close.
Meanwhile, Wisconsin was at a crossroads. A couple weeks earlier its head coach Bo Ryan abruptly retired. This was a team that had seen its two best players - Frank Kaminsky and Sam Dekker - go No. 9 and No. 18 in the NBA draft, leaving two craters on its lineup card. The roster carried just one senior and he has clocked nine minutes of playing time this season. Leadership would have to grow out of the underclass while guidance would be required from a shuffled staff.
And so the Badgers' record ended up looking almost exactly like the similarly seniorless Buckeyes' did. They had one more B1G victory to go with impressive non-con scheduling - and wins - over Notre Dame, Syracuse, VCU and Temple that made them tourney shoe-ins while Ohio State was relegated to the NIT. The youthful Badgers, with renewed urgency and purpose, defeated Michigan State that evening in January and changed their season trajectory. They're now in the Sweet Sixteen.
Ohio State's program trajectory is another story. There's the historical context, the eyeball test and the numbers that validate it all: We are coming off the weakest three-year stretch since Thad Matta rescued the basketball program from oblivion. It's no longer a blip, so we have to talk about it.
Ohio State Basketball Under Thad Matta

| Year | Wins | B1G REG | B1G Tourney | Postseason |
| --- | --- | --- | --- | --- |
| 2005 | 20 | 6th | Quarterfinals | Probation (O'Brien) |
| 2006 | 26 | 1st | Finals | 2nd Round |
| 2007 | 34 | 1st | Champions | National Runner-Up |
| 2008 | 24 | 5th | Quarterfinals | NIT Champions |
| 2009 | 22 | 5th | Finals | 1st Round |
| 2010 | 29 | 1st | Champions | Sweet Sixteen |
| 2011 | 34 | 1st | Champions | Sweet Sixteen |
| 2012 | 31 | T-1st | Finals | Final Four |
| 2013 | 29 | 2nd | Champions | Elite Eight |
| 2014 | 25 | 5th | Semifinals | 1st Round |
| 2015 | 24 | 6th | Quarterfinals | 2nd Round |
| 2016 | 21 | 7th | Quarterfinals | NIT 2nd Round |
The Buckeyes' orbit of late is that of a middling Big Ten squad; the mildly interesting basketball team at a football school. It has the look of a perpetual bubble program which is not what Matta came to Ohio State to do - and worse, it discredits what he has been able to accomplish.
They have not been a fast-twitch basketball team for several seasons now and that's only not a problem if you possess and celebrate a basketball identity like Wisconsin's, which let's be clear - is an abominable, atrocious brand of flop-happy wankball James Naismith would have despised.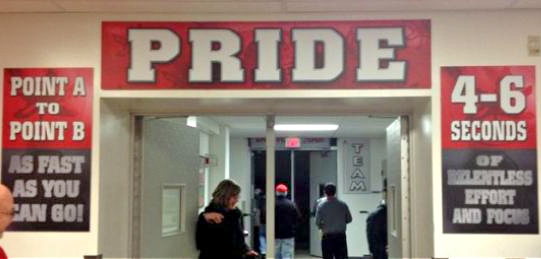 But it has a culture. Wisconsin owns that identity. It's also demonstrated noticeable player development. Tresselball won championships, sent dozens to the NFL and drove millions of people crazy in the process. Matta's title teams had an identity for years and produced lottery picks, but these last three have barely resembled them.
This Ohio State team - youthful as it was - started its season slowly (four straight November losses to teams you cannot remember) started many of its games slowly, started most of their road games s l o w l y and consistently had fans wondering where the effort was.
They even have former teammates wondering the same thing on the record. It's the elephant in the room for at least one current player as well. Ohio State basketball is routinely outhustled. Sluggish is the default setting. Its opponents appear to care more and try harder. We used to wonder if Amir Williams even enjoyed playing basketball. Now we're asking if the entire team craves winning or hates losing enough to be great.
Only two things currently separate the basketball programs at Wisconsin and Ohio State, and neither of them are talent. Urgency and identity. The Buckeyes have slowly become a basketball team that goes through the motions, from the bench to the court. Assistants like John Groce, Archie Miller, Brandon Miller and Chris Jent were justifiable promotion-flight risks, which like Urban Meyer assistants is a problem your program wants to have. 
We wonderED if Amir Williams EVEN enjoyed playing basketball. Now we ask if the entire team craves winning enough to be great.
The Buckeyes have had the same assistants during this three-year stretch, and this is a dangerous word to describe the state of the program: Stale. Catastrophic seasons aren't all that bad in the long run; hitting rock bottom creates the urgency for a quick rebound. You become your own cautionary tale.
Lengthy, slow declines are far more devastating. A fifth-place finish followed by a sixth-place finish, followed by a seventh-place finish - hey, it's still the top half! This was a young team! Next year will be better! Mediocrity is allowed to reprogram the culture when it's installed in safe, non-catastrophic doses, like the last three seasons.
Speaking of Urban, there is a stark contrast to how Ohio State football intends to operate vis a vis effort and what Ohio State basketball has produced as of late: 
"Our whole focus is on 4-6, A-B, which is relentless effort, I don't care if you make mistakes," Meyer said. "The whole culture around here is effort overcomes mistakes anyway. We have to teach you how to go hard and then gotta move on and if you're at Ohio State if you make mistakes, that's our job to coach you."
Urgency and identity. Matta and Meyer have different approaches that have both been proven to work. Perhaps Matta could also benefit from what's been happening at the WHAC, where football players have no shortage of pride not only in how they and their team produces, but how physically dominating they are individually.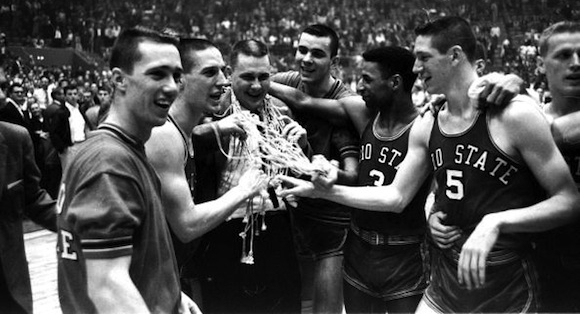 Ohio State basketball has slowly gotten softer both on and off the court. Players like Deshaun Thomas, LaQuinton Ross and every single player the Buckeyes have started at the 4 or 5 have no reason to be as squishy as they were, mentally or physically. This is entirely fixable. Matta is well within his providence to do what's required.
We knew in January Ohio State probably wasn't going to be selected for the NCAA Tournament, and that is not okay. While 9-9 Wisconsin, youthful as it was, showed some promise as it learned to live into its own heinous identity, the Buckeyes took the court game after game and week after week looking exactly the same. Youth is supposed to mature before our eyes. That requires parenting. Ohio State's basketball players have recently grown older without growing up.
Next season is critical in breaking this trend, as four years is a generation in college athletics. The best season anyone on this roster has experienced was a No. 22 finish with a 1st round NCAA exit to Dayton. The turnaround needs to begin right now. There are no more years remaining to wait and see what develops.
This is a program capable of winning national championships. It was Matta who brought that possibility back to Columbus. He can certainly bring back the sense of urgency and pride that's been missing to the program he once saved from itself.