CHICAGO – Kyle Young smiled and chuckled at the question. He knew he didn't even need to answer.
Reporter: "How much did Kaleb Wesson's return mean to this team?"

Young: "I think you guys can see."
He's right. We all can see. It's not exactly a secret how much he means to Ohio State this season.
The 6-foot-9, 270-pound center scored 17 points and grabbed 13 rebounds in his team's 79-75 win against Indiana. He had missed the past three games due to a suspension for a violation of athletic department policy.
"It's just been tough," Wesson said. "You always want to be out there with your guys, the guys you've been struggling with, grinding with from the beginning of the year. Just seeing them out there, it just hurt not to be out there with them."
It's been tough for Wesson, yet tougher for Ohio State.
Had the Buckeyes not pulled off the four-point win versus the Hoosiers, it wouldn't have been a stretch to say his suspension cost his team an at-large bid in the NCAA tournament.
Ohio State got smoked by Purdue, and Wesson playing would not have changed the outcome. But he could have possibly led the Buckeyes to victory against either or both Northwestern and Wisconsin. They had handled the Wildcats behind Wesson, who was the only player on his team in double figures with 22 points, just a couple weeks prior. The Badgers scored 38 of their 73 points against Ohio State in the paint, and Wesson could have altered them.
The sophomore center returned in time for the Big Ten tournament, though, and aided the Buckeyes in pulling off a win against the Hoosiers that might have clinched an at-large bid into the NCAA tournament.
Wesson scored the first points of the game with a pair of free throws, then hit his team's first 3-pointer four minutes later. As Ohio State's guard and wings played off the big man, their lead grew.
"It's a big difference. It draws so much attention," Keyshawn Woods said. "Kaleb down there and the things that he's capable of when it comes to making moves and passing out of the post and also the level that he screens to get us open, he's real, real important to our team."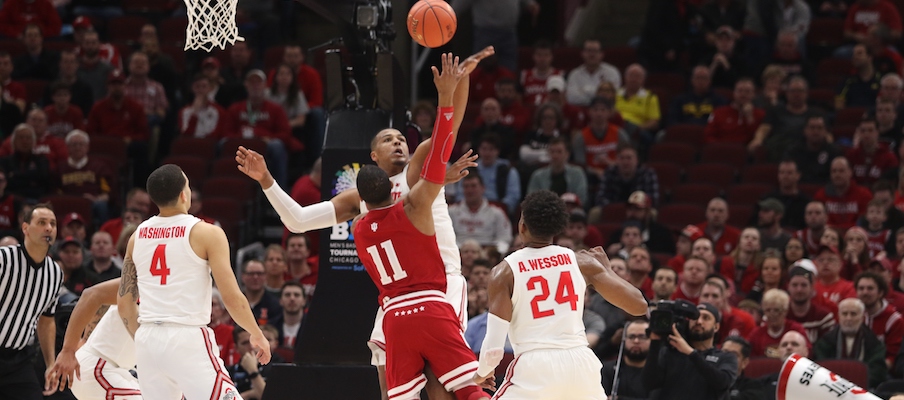 During his three-game absence, the team's overall lack of talent, shaky health situation and absence of post players were on display.
Jaedon LeDee, the only backup center, gets to the free-throw line and can score around the hoop, but his defense and shot selection need improvement as his career progresses. Kyle Young is battling both leg and ankle injuries, and C.J. Jackson has dealt with a shoulder injury. Holtmann said Andre Wesson has been fatigued recently, though he hasn't been afforded many chances to get rest. Luther Muhammad crashed into the freshman wall.
Problems arose, and without Wesson, the Buckeyes seemed fairly helpless.
Given how late in the season Ohio State suspended Wesson, Chris Holtmann couldn't afford to make any sweeping, drastic changes to the team's offense, which the coaches had spent months building around the big man. But the loss of the post presence also affected the defense.
"Think about how many shots around the rim that he affected today," Holtmann said. "It was a good matchup for us in that, but he affects our defense in a lot of ways more than our offense."
In order to stay in shape while suspended, Wesson worked out and conditioned significantly more than he did while active. So much work that he didn't even want to explain what he went through.
"I don't know if you have the time," Wesson said with a smile.
Wesson worked out with strength and conditioning coach Quadrian Banks as early as 5:30 a.m., practiced, then conditioned after practices.
"It's just a lot of just hard work, trying to keep my wind up for games like this where I'll have to play 30-plus minutes," Wesson said.
Wesson's conditioning paid off on Thursday when he played 34 minutes, and in order for Ohio State to have a chance to advance further in the Big Ten tournament, he'll need to play at least 30 minutes again.
Michigan State and Nick Ward await in the third round of the conference tournament. After losing to the Spartans in January, Wesson said he thought the Buckeyes were on Michigan State's level. He's back in time to get a third chance to prove that to be true.