CHICAGO – Ohio State couldn't be quite sure it beat Indiana until the clock finally hit all zeros on Thursday, but the team closed the game just enough to pull out a 79-75 win. Keyshawn Woods and C.J. Jackson ensured that result came to fruition.
Woods, in what Chris Holtmann said was his best game of the season, hit 9-of-13 shots for 18 points, adding seven rebounds and four assists. Jackson, still battling a shoulder injury, scored 17 points to go along with five rebounds and five assists. The two starting guards had only three turnovers in 66 minutes.
They had 11 of Ohio State's final 16 points as the team held off Indiana's trying push that eventually cut the deficit to two points with six seconds remaining. Jackson hit both free throws to make it a four-point game with three seconds remaining, clinching the victory.
"Our seniors played like seniors, and that's why we won," Holtmann said.
Holtmann, along with the rest of Ohio State's coaching staff, had waited a while for that to happen.
He wasn't patient, and he couldn't afford to be. With Kaleb Wesson suspended indefinitely two weeks ago after violating an athletic department policy, the Buckeyes needed its senior backcourt to step up.
But Jackson and Woods combined for just nine points (4-for-14 shooting) in a 35-point loss to Purdue, the first game without Wesson. They had 24 points in the following game but the Buckeyes suffered an 18-point loss to Northwestern. Holtmann and the coaches were again left hoping for the first half of Ohio State's game versus Wisconsin, combining for five points. But in the second half, they came alive.
Jackson had 12 points and Woods had seven points in a seven-minute end-of-regulation stretch during which the Buckeyes trimmed a 22-point deficit and tied the Badgers with less than a minute remaining. Ohio State couldn't close that game in overtime, losing its third game in a row.
"In light of obviously not having Kaleb, we have kind of been trying, we've wanted to see that more, kind of that look in their eye. And I thought they had it against Wisconsin," Holtmann said. "They had it, particularly the last 15 minutes. There's a look that you get, and it's like, 'Hey, I want to keep playing for a while.' Keyshawn has not played in a lot of NCAA tournaments, and neither has C.J. for that matter."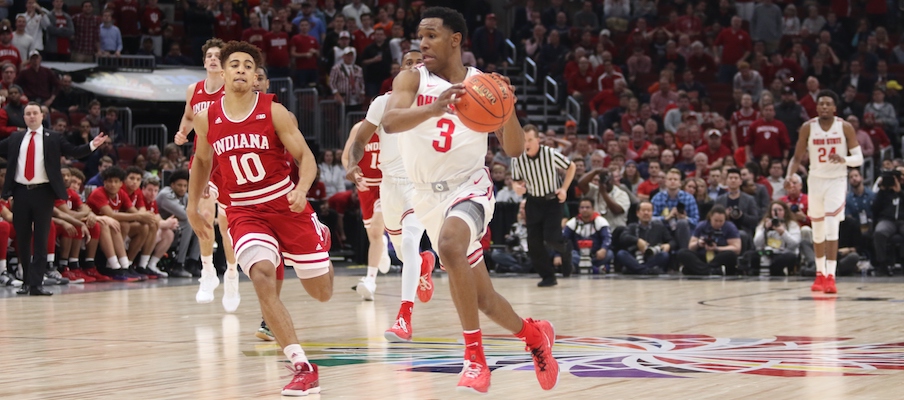 Both Jackson and Woods carried that momentum into Thursday's game, and they played a large role in holding off the Hoosiers just as the Badgers had held the Buckeyes off a few days prior.
In what many analysts viewed as a play-in game for an at-large bid into the NCAA tournament, Ohio State held onto a 20-point lead with seven minutes remaining, but that dwindled down to three points with 55 seconds remaining, then dropped to two points with six seconds left on the clock.
But the Buckeyes did just enough to maintain the edge. Woods played his part well, hitting a pair of jumpers and a layup in the final three minutes to keep pace with the red-hot Hoosiers. 
"I thought he's looked, since the 10-minute mark of the Wisconsin game, like a guy that wasn't ready to see his career over any time soon," Holtmann said. "That's what you hope in seniors. Like, that is what we've been kind of hoping to see, honestly. In light of being down Kaleb, we've been hoping to see that. He and C.J. were both terrific."
Woods, an always stoic fifth-year senior, has as he said, "been around the block a few times when it comes to college basketball." So he sees it as his job to keep the composure of the team steady, never getting too high or too low.
"Just his presence and his leadership and his maturity, it rubs off on everybody," Duane Washington Jr. said.
So with the game seemingly slipping away, he hit important shots down the final stretch and kept the Hoosiers just out of reach.
Playing in the final college basketball season of his career, Woods wasn't ready to end it with anything other than an NCAA tournament berth.
"Definitely one of my better games as a Buckeye, and I definitely wanted to play tomorrow," Woods said. "It was important to me, and it was important to us as a team."
Important to him because he wants to extend this season. Important to the team because he felt no one believed in the Buckeyes.
"I know we needed this win, but I should say nobody thought we were going to win this game," Woods said. "A lot of people thought we was going to lose to Indiana, is already talking about Michigan State. So I kind of took that personal, we took it personal as a team."
For the Buckeyes to have a chance of upsetting the Spartans on Friday afternoon, they'll need a similar performance from Jackson and Woods, and they know that.
And he's right, even fewer people will pick Ohio State to knock off top-seeded Michigan State.