The college basketball coaching circle can be a small world.
When Chris Holtmann worked as an assistant coach at Gardner-Webb in the early 2000s, he got to know Jon Coffman, who at the time was an assistant coach at Stetson. In the early 2010s, Holtmann put in a good word for Coffman at Purdue Fort Wayne, which had an assistant coach position open.
"In a small way, I helped Jon get hired at IPFW as an assistant," Holtmann said. "I called on his behalf to Tony Jasick, who is now the coach of Jacksonville, who was the head coach there and kind of introduced him, or recommended, Jon for that job."
| Who | Where | When | TV |
| --- | --- | --- | --- |
| Purdue Fort Wayne | Schottenstein Center | 4 p.m. | BTN |
On Sunday, more than a decade after Holtmann and Coffman sat on opposing benches as assistants, they'll face each other as head coaches when the Buckeyes take on the Mastodons at 4 p.m. at the Schottenstein Center. It will be Ohio State's home opener after the Buckeyes beat Cincinnati, 64-56, on the road.
Holtmann has been keeping tabs on Purdue Fort Wayne from afar. He hasn't been able to watch most games, but he's followed the program the past few years. Holtmann said he didn't schedule Purdue Fort Wayne because he knows the coach, but because "it's a quality opponent in the non-conference."
"They are a really, really good offensive team and really good defensively, as well. Their league numbers were really good last year," Holtmann said. "Explosive in how they can score the ball and spread you out, and have been a really good program for a couple years now."
Opponent preview

Did you hear the Purdue Fort Wayne beat Indiana by 20 points last season? Chances are, if you play for the Buckeyes, you've heard that before – like, every day.
"Pretty much every day it's been mentioned," Musa Jallow said. "We know they're capable of beating us just like we're capable of beating them. So, we're going to take them serious."
When Holtmann has referenced Ohio State's difficult beginning of the season, he has referred to the three-game stretch that opens the 2018-19 campaign. He's been careful not to specify the games against either Cincinnati or Creighton.
"Coach Holt has definitely let us know since before Cincinnati that we've got a big three-game stretch coming up with Cincinnati, IPFW and Creighton," Andre Wesson said. "IPFW obviously did beat Indiana by 20."
There it was again. That lingering upset of the Hoosiers.
Purdue Fort Wayne attacked Indiana with a similar tact it's expected to take against the Buckeyes. The Mastodons bombarded the Hoosiers from deep, making 17-of-30 3-point attempts. They averaged 28 shots from beyond the arc per game last year, and that has only increased this season.
In Purdue Fort Wayne's two games, 63 of 144 of its shot attempts came from beyond the arc. The team, which has a 61-point win against Earlham and a 25-point loss to UCLA, has hit 34.9 percent of its triples.
"You have to be really disciplined, and you have to challenge shots," Holtmann said. "They're great at driving the ball, too. They're not just one-dimensional in how they play. They're great at creating space and driving you, so we're going to have to be really disciplined in that."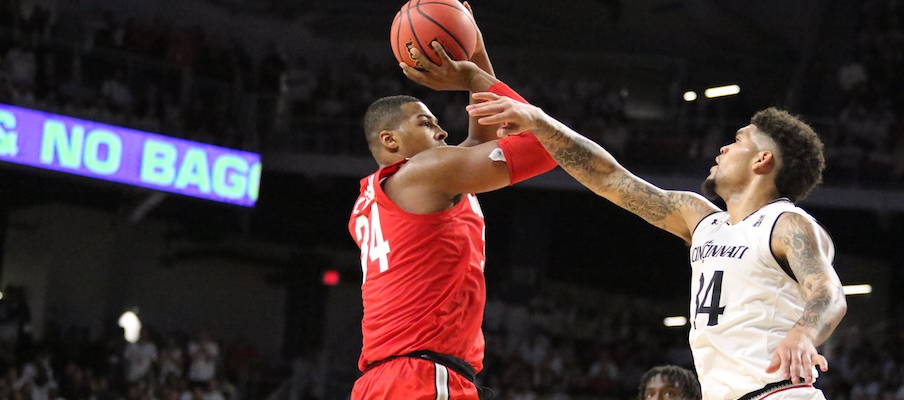 John Konchar, a 6-foot-5, 210-pound guard, leads the team with 21 points per game. He's also averaging a team-high 7.5 rebounds per game and a team-best six assists. He's been first-team All-Summit League for three years in a row.
Konchar's versatility impresses Holtmann, who call him the kind of player who would "play anywhere in the country."
"He's phenomenal," Holtmann said. "They play in the same league obviously with (Mike) Daum, who we played last year, South Dakota State. He's been one of the best players in the league. His numbers are incredible. Fifteen (points), eight (rebounds) and five (assists) last year. Phenomenal. He's versatile. I know many people have had him as one of the best players in the country, but they have good players around him, as well."
Ohio State preview

It wasn't pretty and they had to hold off a late comeback, but the Buckeyes escaped Cincinnati with a win. They held a 16-point lead in the second half, but that dwindled all the way down to four points with less than a minute to go before they clamped down.
Ohio State scored 64 points in its season-opening win, but both teams in the home opener will likely put up more than 64 points. Purdue Fort Wayne isn't the defensive team that Cincinnati is, but it possesses a high-scoring offense with shooters firing at will from deep. Andre Wesson said his team must fall back on what it's taught and focus on itself.
"I think if you want to be a good team, you have to be sound in a variety of areas," Holtmann said. "I think you have to try to eliminate holes to your team, whether it's half-court offensive execution or transition defense or transition offense or whatever. You just want to be sound as possible in as many areas so that when you do play teams that are stylistically very different that you can be ready to compete against those."
Purdue Fort Wayne isn't a strong rebounding team and had an even rebounding both last season and in its first two games of this season. The matchup offers Ohio State a chance to bounce back after Cincinnati out-rebounded the Buckeyes by six and grabbed 19 offensive rebounds, which accounted for nearly half of its rebounds.
Kyle Young had eight rebounds and Kaleb Wesson grabbed seven boards, but no one else grabbed more than four rebounds. It's an area of watch early this season, especially since Ohio State plans to play small lineups with three or four guards for significant stretches.
"I think we can be a good rebounding team," Holtmann said. "We're just not yet. Defensive rebounding team, maybe in general, we're just not there yet, and we did get exposed in that area. Give Cincinnati credit, too. It's what they do. We got exposed in the Xavier scrimmage to some degree on that end. We've got to get better at that."
How it plays out

Ohio State had a fair amount of positive takeaways from the season opener, but it's hard – and not smart – to make any bold proclamations after the first game. A matchup with such a different team than the Bearcats will offer more insight into whether the Buckeyes can win against teams with various styles of offense.
Purdue Fort Wayne is a 17 1/2-point underdog and ranks 171st in KenPom, while Ohio State is the 36th-ranked team. However, the stylistic difference will make this game look much different the opener for the Buckeyes and will challenge them in ways Cincinnati simply could not.
The Mastodons could give Ohio State trouble early if they get hot, but it would require a combination of the Buckeyes going cold from the field and Purdue Fort Wayne nailing shots from beyond the arc for an upset to come to fruition.
---
Prediction: Ohio State 79, Purdue Fort Wayne 65