CINCINNATI – Chris Holtmann knew a few things heading into Ohio State's season opener Wednesday night.
He knew Cincinnati could give the Buckeyes a rough, uncomfortable welcome to the 2018-19 season. He knew the Bearcats would make the game an ugly game that would force his team to hustle on every possession and play soundly on defense. He knew Cincinnati wouldn't allow Ohio State to get anything going on offense without a struggle.
He also knew very little about his own team.
Sure, the Buckeyes practiced for over a month leading up to the season, but over and over Holtmann said neither he nor the three assistant coaches would know too much without seeing his team in a regular-season game. They're such a young, inexperienced group.
"I think we found out kind of what type of guys we could have. Just guys that really care. You can't really go wrong."– C.J. Jackson
Ohio State lost the Big Ten Player of the Year, added four freshmen, landed a graduate transfer and returned just two players – Kaleb Wesson and C.J. Jackson – who averaged more than three points per game last season. Holtmann went with two first-time starters, including a freshman, in his opening five to begin the game.
"Nobody respects us like they did last year," Wesson said. "So, I tell everybody to just get real disrespectful in your preparation."
In Wednesday night's season opener, Holtmann learned something he couldn't possibly have known before the regular season began. In staving off the Bearcats' late comeback attempt for a hard-fought 64-56 win, he saw the team's resiliency appear down the stretch.
"I think we responded well. I want a bigger sample size before I make too many proclamations about how we'll handle that. But, I thought we handled it pretty well," Holtmann said after the game. "This was certainly a good test on that end, and I told them, at times we really responded well. I mentioned the play that Keyshawn (Woods) made to find Kaleb (Wesson) at the top of the key was a tremendous play. It showed great poise in the midst of a pretty incredible environment."
For a while, the game seemed out of reach for the Bearcats. They made just 4-of-29 shots from the field in the first half, and that didn't drastically improve in the second half. With 5:23 remaining in the game, Ohio State held a 16-point lead. With Cincinnati significantly struggling to score, the game seemed it might have been out of reach.
But Mick Cronin's team began to chip away. By the five-minute mark, Cincinnati had the cut the lead to 12 points. With four minutes to go, Ohio State held a 10-point edge, which dropped to eight points with three minutes to go. With two minutes remaining, the Buckeyes led by just seven points.
Then, with one minute remaining, Jarron Cumberland hit a 3-pointer to chop the Ohio State lead to four points. The already standing, screaming crowd reached a deafening pitch.
The Buckeyes were ready for that storming comeback, though.
"They made a tough run on us, and we knew they were going to," C.J. Jackson. "They're a really good team. We just wanted to respond the right way."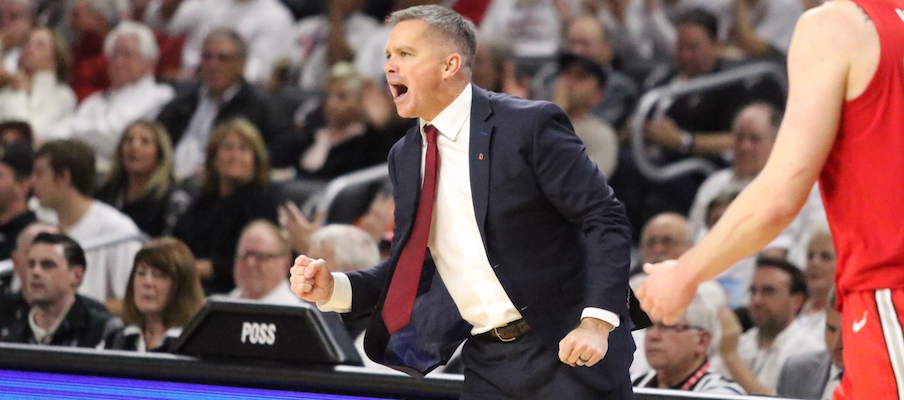 Cincinnati called a timeout, which allowed Ohio State to plan to get Jackson the ball and have a big man switch onto him. The strategy worked, and Jackson did the rest once he got the ball.
With the shot clock expiring, he iced the game with a layup from the right side of the hoop to extend the lead to six points with 29 seconds remaining.
"I've just got to kind of put it high on the glass," Jackson said. "He's already had the block over there in the corner, so I basically just put it high on the glass. You kind of live for moments like that when you come to schools like that and you get to play your (in-state) rival. Not a better way to go out."
Just hours before, no one knew whether Ohio State would be able to withstand a late-game rally like Cincinnati's in an raucous building like Fifth Third Arena.
Jackson had friends who couldn't even get tickets to the opener because they got bought so quickly. Holtmann said he expected a great crowd, but noted the environment was "beyond maybe even what I anticipated." It was especially valuable experience for freshmen Luther Muhammad and Duane Washington Jr., and for Kyle Young who started his first career game.
"I feel like having it early for the young guys, they see what college basketball's about, how tough it is and how the trenches are," Wesson said.
Ohio State allowed Cincinnati to get back into the game late, so not all takeaways from the performance were positives. Wesson recalled multiple open 3-pointers given up by the Buckeyes late in the second half. At this point in the season with an inexperienced team, that's not too unexpected, though.
Holtmann's staff can build on the team's resolve late in the game.
"I think we found out kind of what type of guys we could have," Jackson said. "Just guys that really care. You can't really go wrong. Everybody's going to make mistakes. It's a long game, and it's new. We're a new team. New faces. As long as they give it their all, you can't really ask for anything else."