At this point one year ago, a similar uncertainty was felt about Ohio State. Still, the Buckeyes returned a solid group of Jae'Sean Tate, C.J. Jackson and others, brought in a group of freshmen led by Kaleb Wesson and had optimism about the potential of Keita Bates-Diop.
This year, the Buckeyes don't have as many known commodities. Jackson and Wesson return as key contributors, and they know what they have in Andre Wesson. But a cadre of returners off the bench – Kyle Young, Musa Jallow and Micah Potter – combine with graduate transfer Keyshawn Woods and four freshmen. They combine to breed uncertainty.
Ohio State will have a chance to show what it has in its only public exhibition of the preseason on Thursday when it takes on UNC Pembroke at 7 p.m. at the Schottenstein Center.
"It seems like just yesterday we just got here to start the new year off," Jackson said on Wednesday. "I know we're real excited to play someone new other than ourselves. Kind of beat each other up in practice for the past month, so playing a new team will be fun."
After playing against Walsh in exhibitions for years, Ohio State will play host to Braves, a Division II team that won the Peach Belt Conference each of the past two seasons. Though they aren't a Division I team, they won't be a pushover.
"We wanted to play a good team. We just felt like that would be important for this group of guys," Holtmann said. "Looking at them on film, that's what they are. They're a good team. They're disciplined and athletic. Obviously when you win 27 games at the Division II level, you're a quality team. I'm sure they'll be a team that will be nationally ranked for a good part of the season. We'll need to be ready."
Since it's just an exhibition, Ohio State hasn't been scheming for UNC Pembroke like it does for its other opponents, but the game could be closer than past exhibitions. Still, the Buckeyes aren't solely focused on winning, even though that's a priority. Instead, they're trying to prepare for the beginning of the regular season while learning more about the team.
With all the unknowns, a lot can be gained from just a single game. Here are five things to watch during the Buckeyes' exhibition.
What will the rotation look like?
Ohio State's rotation in an exhibition game won't perfectly mimic what it will look like in next week's season opener against Cincinnati, but it will offer a significant hint.
"We'll play probably a larger rotation than we would in an actual game," Holtmann said. "But I don't know if it's going to be significantly larger in terms of extended minutes. But we will try to go maybe further in our bench than we might in a regular-season game."
Jackson and both Andre and Kaleb Wesson will play significant roles. So, too, will Woods. Beyond them, the amount of minutes for each player are relative unknowns. Thursday's exhibition might offer a peek at which players will be paired together on the court most often and how the backcourt minutes will be divided up. Holtmann will extend the bench, but since it's the final scrimmage before the regular season, expect Ohio State to play somewhat of a similar rotation to what it will play against the Bearcats.
Will secondary scorers emerge?
It's fairly likely that Jackson and Kaleb Wesson will lead Ohio State in scoring this season, though Woods could slip his way into top two on the team. Beyond them, it's a question that not even the coaches have the answer to, yet. No returning player, other than Jackson or Wesson, averaged more than 4.1 points per game last season.
A few players will need to step up, and it will more likely than not be a collective effort. But it would be a major benefit for the Buckeyes if a couple players become consistent offensive weapons as role players. Last year, that wasn't necessary. Bates-Diop, Tate, Williams, Jackson and Kaleb Wesson could score ample points without much aid. That won't be the case this season.
Thursday's exhibition will be the first chance to see if anyone looks like they can provide points either off the bench or in secondary roles alongside Jackson, Woods and Kaleb Wesson.
Duane Washington Jr. has an intriguing shooting touch and Luther Muhammad offers some ability off the bounce to drive to the hoop, but neither freshman have had the chance to show their ability in a game. Scoring expectations for Kyle Young, Musa Jallow and Andre Wesson aren't particularly high, but it would be extremely beneficial for Ohio State if they proved to be more consistent offensive weapons.
Will there be a significant uptick in 3-point attempts?
Seven different Ohio State players hit 3-pointers in Saturday's secret scrimmage against Xavier, Holtmann said. That might be a fairly common statistic this season.
Though Williams, a sharpshooter, and Bates-Diop are gone, the Buckeyes have a fair amount of quality long-range shooters. Some players, such as big men Kaleb Wesson and Micah Potter, are expected to launch from beyond the 3-point line more frequently than they did last year. Without the ability off the bounce that Tate and Bates-Diop possessed, Ohio State will spread its offense out more than it did last year. It's more out of necessity than anything else.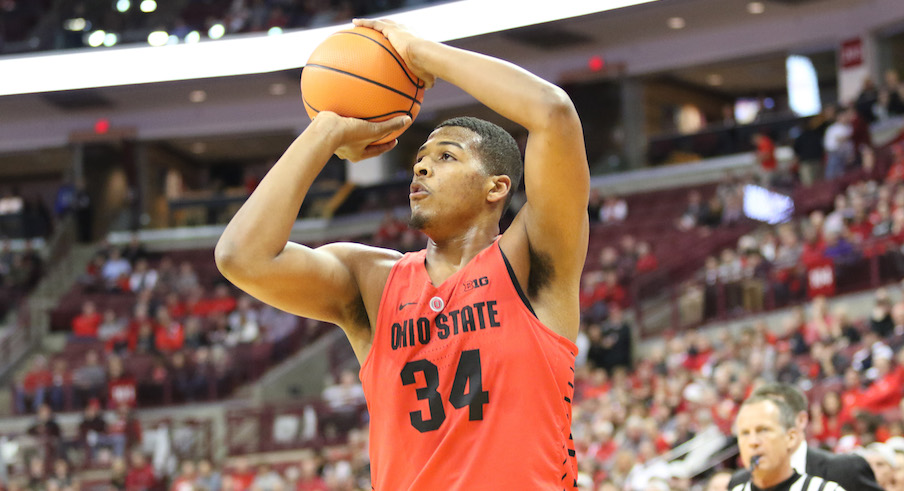 "Collectively, I think we could be a better 3-point shooting team," assistant coach Mike Schrage said last week. "We probably need to be, to be honest, to score enough points."
Beware of Thursday's exhibition being a small sample size, but don't be surprised if the offense looks notably different due to more triples attempted.
How seamlessly will Ohio State make in-game adjustments?
New seasons mean new leaders, which means a rebuilding of the chain of communication between fellow players and between players and coaches. The ability for teams with a large number of newcomers can worsen the ability to make mid-game changes. That's an area of the game that Holtmann will keep a watchful eye on.
"I think we're going to face some things, probably, tomorrow that we haven't seen, maybe even or practiced, because it's an unknown," Holtmann said. "It's a relatively unknown opponent. So, adjusting in game to some of that is what we hope to see as well."
How will the freshmen fit into the team?
Last week, Schrage said, given the makeup of the team, he expects the freshmen to contribute more this season than last season.
"Last year, we were fortunate," Schrage said. "We had Jae'Sean Tate, obviously Kam Williams. Keita was in his fourth year. We knew he was a special guy as long as he stayed healthy. Andrew Dakich gave us a lot more than we even expected. So, there's no doubt. We recruited these guys to come and potentially impact right away."
That could mean Muhammad and Washington will have significant roles on the team, and LeDee and Ahrens could also contribute.
It's hard to know too much about the inclusion of freshmen into the rotation yet, though, since a few returners expected to play key roles this season didn't play much a year ago. The uncertainty surrounding the team offers the freshmen a chance to jump into the rotation early in their careers if they take advantage of certain opportunities, like the one given to them Thursday night.
Other areas to monitor
Who is in the starting lineup? It's not a guarantee that the starting lineup against UNC Pembroke will be the same as the lineup in the season opener, but there's a good chance that'll be the case. The three locks to start are C.J. Jackson, Andre Wesson and Kaleb Wesson. My picks to fill the other two starting spots are Kyle Young at power forward and Luther Muhammad at shooting guard.
What role does Kyle Young fill? Multiple players have pointed to Young as having taken a significant step forward in the offseason, and all of them pointed to his increased confidence as a difference maker. He isn't expected to be a go-to scorer, but he should make an impact as a rebounder, defender and energizer.
Does Andre Wesson look more comfortable on offense? Holtmann said Wesson must have a bigger role in putting up points without Keita Bates-Diop and Jae'Sean Tate taking the brunt of the scoring load. Wesson said he worked on his playmaking ability in the offseason, so he'll have a chance to show off some improvements.
Who are the vocal on-court leaders? Holtmann listed leadership as one of his biggest questions entering the season, and Ryan Pedon said the team has been trying to turn more passive players into vocal on-court presences. With a relatively fresh group taking the court, it's a bit of an unknown as to who will take that role.
How do Keyshawn Woods and C.J. Jackson mesh together in the backcourt? They'll likely play substantial minutes together, so it's pertinent they're comfortable in their roles on offense.
Does loss of Keita Bates-Diop, Jae'Sean Tate, Kam Williams and Andrew Dakich affect the team defensively? Holtmann referenced the length of the lost defenders as having played a big role in Ohio State ranking high in the Big Ten in defense.
Did Musa Jallow take any noticeable steps in the offseason? Jallow was hindered for much of the summer with ankle injuries, but is finally fully healthy. However, the ankle issues might have prevented him from making too many offseason improvements.
Do Jaedon LeDee or Justin Ahrens look like they'll be able to contribute as freshmen? At Big Ten media day last month, Holtmann referenced a steeper learning curve for freshman big man than for guards. It wouldn't be a surprise if one or both plays sparingly.