It wasn't a secret where Ohio State would get its points last year.
Big Ten Player of the Year Keita Bates-Diop dropped 19.8 points per game and Jae'Sean Tate added 12.3 points per game. Kaleb Wesson did most of his work in the paint, averaging 10.2 points per game. C.J. Jackson put up 12.6 points per game and Kam Williams scored nine points per game. No one else averaged more than 4.1 points per game.
Bates-Diop, Tate, Williams and Andrew Dakich leaving the program eliminated 44.1 points of production from last year's team, which was 58 percent of the team's total points. 
What was no secret last season is a total unknown entering the 2018-19 season. Assistant coach Mike Schrage called scoring the team's biggest question mark. Terry Johnson, another assistant coach, said the staff has "no idea" who's going to score more – or less – than expected.
"I think the biggest change offensively is that we are set up much different than we were last year, just looking at our roster," assistant coach Ryan Pedon said. "If you break down what we perceive to be our strengths and weaknesses as a team, it looks completely different than it did a year ago."
Last season, Bates-Diop and Tate put up more than 30 combined points per game. The small forwards and power forwards on the 2018-19 Buckeyes don't have that kind of scoring ability.
In two years at Ohio State, Andre Wesson has one double-digit point game. Schrage said he needs to "step up more on the offensive end" and has shown "great glimpses," but he's not going to turn into a primary scorer. Kyle Young didn't have many opportunities to play last year, so he's a bit of an unknown. But at Big Ten media day, Chris Holtmann referenced his rebounding, defending and energy as benefits to the team and noted he has to improve his jump shot. Andre Wesson said Young isn't the type of player who needs – or wants – a lot of shots.
Justin Ahrens can shoot well, but Holtmann hinted that he and fellow freshman forward Jaedon LeDee might need more time to develop.
Though Ohio State lost Williams, a 44.7 percent 3-point shooter, more of its production will likely come from its guards. They'll be counted on to create on offense much more than last year's team, Schrage said, which had forwards with the ability to break down defenses.
The Buckeyes added 6-foot-3 graduate transfer Keyshawn Woods, who averaged double-digit points off the bench at Wake Forest last season. Freshmen guards Luther Muhammad and Duane Washington Jr. have also been added to the mix. Muhammad adds the ability to penetrate the lane, while Washington has the ability to shoot from deep.
If Ohio State wants to go small at times, second-year wing Musa Jallow and Woods could get minutes at small forward while Andre Wesson plays power forward.
"We're going to have to score in different ways," Pedon said. "We're going to have to manufacture baskets in different ways. That's part of the challenge. Some of that will evolve, too. I think there were guys that helped us in the months of January, February and March last year and helped us score, helped us win, that on this date a year ago, we didn't know they'd be in those roles.
"Organically, I think we evolved and we developed. We're going to need to do the same this year."
One of the most apparent differences will likely be the Buckeyes' propensity to fire up 3-pointers.
"Our 3-point attempt rate was very low in the conference," Pedon said. "We were a 2-point-heavy team, mainly because three of our top four scorers were two-point heavy guys. I don't know if I see that as much this year."
The Buckeyes had the fourth-best KenPom offensive rating in the Big Ten last year, behind only Purdue, Michigan State and Iowa, but a vast majority of their points came from inside the arc.
Last season, 55 percent of Ohio State's points came from inside the arc (44th most in the country), while just 27.7 percent of its points came from 3-point range (272nd most in the nation). Only two Big Ten teams – Indiana and Rutgers – had a lower percentage of its points come from beyond the arc.
With more guards needing to make up the points lost by Bates-Diop and Tate leaving, Pedon said he hopes the team can take advantage of improved spacing with more shooters on the floor.
Both Kaleb Wesson and Micah Potter are expected to shoot more 3-pointers, as well, after they combined for 34 3-point attempts last season. Johnson said Kaleb Wesson will "surprise some people" with his shooting range.
"Collectively, I think we could be a better 3-point shooting team," Schrage said. "We probably need to be, to be honest, to score enough points."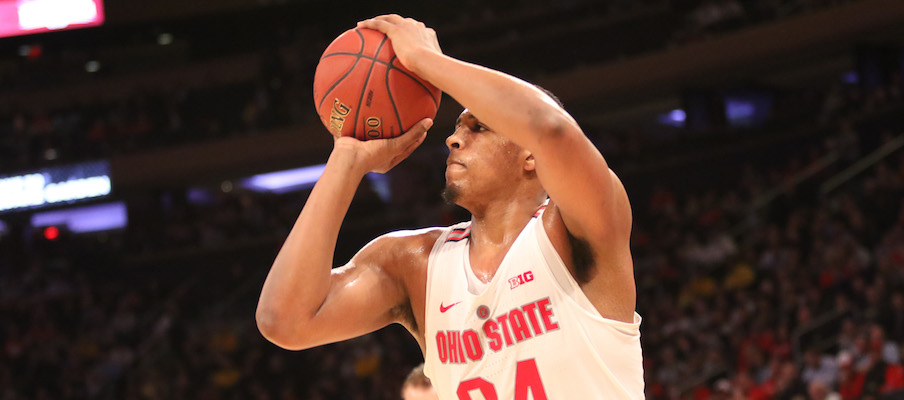 As the only two returning double-digit scorers, Jackson and Kaleb Wesson will see completely different defenses than last season, when they were key players, but not the focal points of the offense.
This year, they're both expected to take that next step. It's less of an expectation and more of a necessity. If they don't deal with that well, it's almost a certainty that Ohio State will struggle to score.
They'll be leading a completely different offense, one that was fundamentally altered to fit the personnel on this year's team.
"We always like to play inside-out, we like to share the ball, we like to play with pace and space, but in terms of how we get to our scoring, I think it'll look a lot different this year," Pedon said. "And that's OK, that's OK. Our identity will not change."