As we continue our look back at the best of Ohio State's abbreviated 2019-20 in sports, it's time to highlight the individual athletes who had the greatest seasons for the Buckeyes this year.
Per usual, Ohio State had some of the best athletes around the Big Ten and throughout the country across a multitude of sports this year, so we're taking a look at the top 20 Ohio State athletes of the past seven months in the latest installment of Eleven Warriors' Year in Review series.
The following selections are based on what each student-athlete accomplished for their Buckeye teams this season, taking into consideration both their individual production and their value to their teams' performance, while attempting to reflect the top performers across a wide variety of Ohio State sports. Consideration toward what athletes could have potentially accomplished if their seasons had not been shortened was also weighed in comparing winter and spring sports athletes with fall sport athletes.
20. Dillon Dingler, Baseball
He only had the opportunity to play in 13 games this season before the coronavirus outbreak brought baseball season to an end, but Dingler was Ohio State's top hitter and one of the best-hitting catchers in the country during that short time. With a .340 batting average, five home runs and 13 RBIs, Dingler's .760 slugging percentage ranked 23rd among all Division I hitters, sixth among all D-I catchers and second among all Big Ten players.
A second-team All-Big Ten selection in 2019, Dingler was named as the conference's preseason player of the year by Baseball America and was performing up to the hype until the season was cut short.
19. Tommy Nappier, Men's Hockey
The Big Ten Goaltender of the Year in 2018-19, Nappier is a finalist for the honor once again after finishing with the second-best winning percentage (.613), third-best save percentage (.932) and second-best goals against average (2.04) in the conference this season.
With a record of 17-10-4, Nappier was in goal for all but three of the Buckeyes' wins this season, and will go into his senior season with a chance to cement himself as one of Ohio State's all-time great goalies.
18. Tanner Laczynski, Men's Hockey
Laczynski led Ohio State and tied for third in the Big Ten this season with 34 points (11 goals, 23 assists) in 36 games. The senior forward leads the entire Big Ten with 17 power play points, and helped lead the Buckeyes to a 20-11-5 record and berth in the Big Ten tournament semifinals before the remainder of the season was canceled.
Laczynski was named as one of the Big Ten's three stars of the week three times this season, has been named a finalist for the Senior CLASS Award and will presumably be among the top candidates for All-Big Ten honors when the conference announces its end-of-season awards. Now, he is set to begin his professional career after signing an entry-level contract with the NHL's Philadelphia Flyers on Monday.
17. Katelyn Abeln, Pistol
This spot on the list really could have gone to any one of three members of Ohio State's pistol team – Abeln, Samuel Gens and Shrenik Jain – who all earned first-team All-American honors in the standard pistol and air pistol disciplines. Abeln gets the nod, though, as she (as just a true freshman) also picked up a third All-American recognition in the women's sport pistol discipline.
Abeln and her teammates didn't get the chance to compete for national titles this year, as the intercollegiate pistol championships scheduled for earlier this month were canceled, but Abeln did qualify as the first alternate for the U.S. Olympic sport pistol team – though she'll have to wait until 2021 to make the trip to Tokyo due to the postponement of the 32nd Summer Olympics.
16. Tre Leclaire, Men's Lacrosse
In just seven games for the Ohio State men's lacrosse team this year, Leclaire scored 26 goals – tied for the fourth-most in the country – which left him needing just 12 more goals to become the all-time leading goal scorer in school history. He scored at least one goal and two points in every Ohio State game this season, in which they went 5-2, to extend his streak to 25 straight games with at least one goal.
Leclaire earned Big Ten offensive player of the week honors after an eight-point, six-goal game against Cornell – one of two he had this season – and was certainly poised to be in the running for conference awards and potentially All-American honors if he continued to score at such a high rate all season.
15. Mackenzie Allessie, Field Hockey
Allessie emerged as an immediate star in her first season at Ohio State, scoring 16 goals – tied for the 10th-most in the country – and 37 points, both team-highs. She ranked second in the Big Ten in both points per game (2.06) and goals per game (0.88).
The Buckeyes' season ended with a Big Ten quarterfinals loss and a 9-9 record, but Allessie had an excellent freshman year individually, earning first-team All-Big Ten and third-team All-American honors.
14. Kaleb Wesson, Men's Basketball
After losing more than 30 pounds in the offseason, Wesson showed off a more complete game in 2019-20, leading the Buckeyes with 14 points per game and 9.3 rebounds per game while making a team-high 42.5 percent of his 3-point shots. He also had a team-high 31 blocks and ranked second on the team with 60 assists.
Wesson made the USBWA All-District team, earned second-team All-Big Ten honors and led the Buckeyes to a 21-10 regular-season record. Now, he has a decision to make on whether to return to Ohio State for his senior season or enter the 2020 NBA draft, for which he is projected as a potential second-round pick.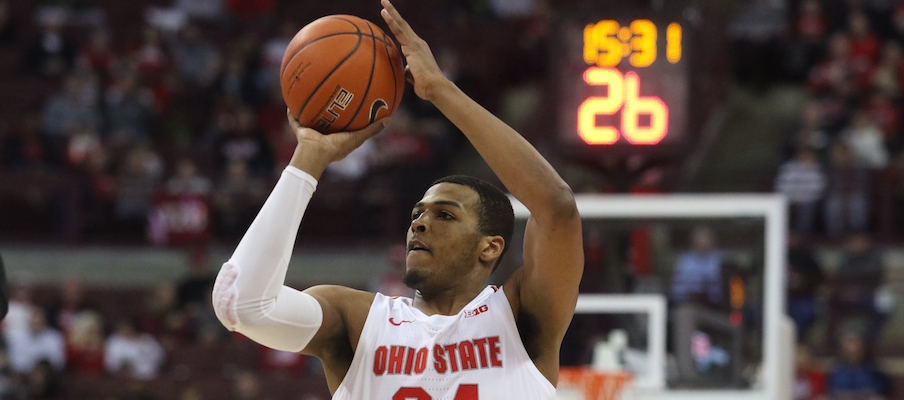 13. Dorka Juhasz, Women's Basketball
Like Wesson, Juhasz led her Buckeyes in scoring and rebounding for the second consecutive year, with 13.2 points and 9.4 rebounds per game. She also led the Buckeyes – who went 21-12 – with 38 blocks, and ranked second in the Big Ten in rebounding and sixth in field goal percentage (.476).
Juhasz earned first-team All-Big Ten, becoming the 18th player in program history to earn that recognition, and WBCA All-Region honors. Only a sophomore this year, Juhasz still has two more seasons at Ohio State to potentially take her game to even greater heights.
12. Wyatt Davis, Football
In his first full season as a starter for the Buckeyes, Davis was arguably the best guard in college football. He earned first-team All-American honors from several media outlets, including the Associated Press and Sporting News, and lived up to all the five-star hype that he arrived at Ohio State with as he emerged as a dominant force on the Buckeyes' interior offensive line.
As a whole, Ohio State's offensive line was one of the nation's best in 2019. The Buckeyes ranked third in the Football Bowl Subdivision in scoring offense, fourth in total offense and fifth in rushing offense, and the play of the front five – led by Davis' All-American individual efforts – was a big reason why.
11. Molly Kowal, Women's Swimming
Kowal played a primary role in leading the Ohio State women's swimming and diving team to its first Big Ten title since 1986. The senior swimmer set a Big Ten championships record in the 1,650-yard freestyle (15:43.17) while she also finished fifth in the 500-yard freestyle and ninth in the 400-yard individual medley.
She qualified for the NCAA Swimming and Diving Championships in all three of her events and was the No. 1 seed in the 1650, putting her in prime position to finish her Ohio State career with a national championship after she finished second at the event at the 2019 NCAA championships. Although she didn't get that opportunity, she finishes her Buckeye career with a school record in the 1650 and most importantly, helped lead Ohio State to a historic, drought-ending conference championship.
10. Andrew Loy, Men's Swimming
Loy tied for the most points among all individual swimmers at this year's Big Ten championships, winning gold in the 200-yard individual medley and 200-yard freestyle while he was also earned second-place finishes in the 100-yard freestyle, 400-yard freestyle relay, 400-yard medley relay and 800-yard freestyle relay and third place in the 200-yard freestyle relay.
Led by Loy's efforts, Ohio State's men's swimming and diving finished second in the race for this year's Big Ten team title. He was set to be a top-five seed in both the 200 freestyle and 200 IM at this weekend's NCAA Swimming and Diving Championships before they were canceled, but even without them, Loy's final season as a Buckeye secured his place among the program's greats.
9. Emma Maltais, Women's Hockey
Maltais set a new Ohio State record and ranked in the top 10 nationally by scoring 59 points this season, including 40 assists, which also set a new school record and ranked in the top five in the country. She helped lead the Buckeyes to their first WCHA title in school history.
An All-WCHA first-team selection for the third year in a row, Maltais also earned second-team All-American honors and was selected as one of 10 finalists for the Patty Kazmaier Memorial Award, which honors the best player in women's college hockey.
8. Anavia Battle, Women's Track and Field
Battle led Ohio State to its second consecutive Big Ten indoor track and field title this winter, earning track athlete of the championships honors for her individual efforts after she won conference gold in both the 60-meter dash (7.29 seconds) and 200-meter dash (22.79). 
She competed in the 200 in three meets this winter and won all of them, while she also picked up two wins in the 60. Had the NCAA Indoor Track and Field Championships continued as scheduled, Battle was a major contender to win again in the 200, with a 22.66-second seed time that ranked No. 2 nationally. She is a junior with another year of eligibility, so she'll have another opportunity to chase national titles in 2021.
7. Jeff Okudah, Football
In his third and final season at Ohio State, Okudah emerged as the best cornerback in all of college football, earning unanimous first-team All-American honors. Also a Jim Thorpe Award finalist, Okudah provided lockdown coverage all season long to lead an Ohio State defense that ranked No. 1 nationally in total yards allowed per game and passing yards allowed per game.
One of four marquee superstars on the 2019 Ohio State football team, Okudah is now set to be one of the top picks – potentially the No. 3 overall pick – in the 2020 NFL draft, while he'll soon have a tree in Buckeye Grove to immortalize his dominant junior year.
6. J.K. Dobbins, Football
Dobbins became the first Ohio State player ever to rush for 2,000 yards in a single season in 2019, establishing himself as one of the school's all-time great running backs in what was also his third and final season as a Buckeye. His 2,003 rushing yards and 21 rushing touchdowns both tied for third among all players nationally, which led the way for Ohio State to rank fifth nationally as a team in rushing yards per game.
A Doak Walker Award finalist, Dobbins earned first-team All-American honors from the Football Writers Association of America – securing his tree in Buckeye Grove – and finished sixth in Heisman Trophy voting. Now, after finishing his career as the second-leading rusher in Ohio State history behind only Archie Griffin, Dobbins is set to be either a first- or second-round pick in the 2020 NFL draft.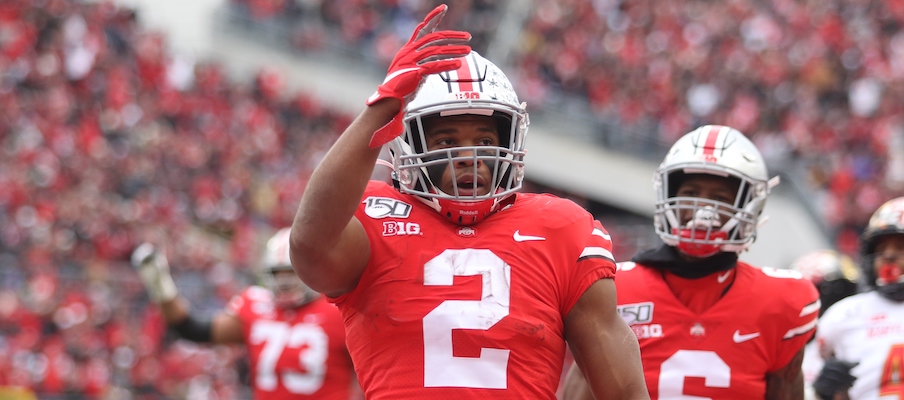 5. Jincy Dunne, Women's Hockey
The only repeat member of the top 10 from last year's list, Dunne earned first-team All-American honors and WCHA Defensive Player of the Year honors for the second season in a row, all the while leading the Buckeyes to their first-ever conference championship as a third-year captain.
An elite defenseman who also scored 31 points (seven goals, 24 assists) to help lead Ohio State to its best record (24-8-6) in program history and an NCAA Tournament berth, Dunne concludes her collegiate career as arguably Ohio State's best women's hockey player ever, having become the Buckeyes' first two-time first-team All-American since the team started play in 1999-2000.
4. Luke Pletcher, Wrestling
Pletcher won all but one of his 27 matches in his senior season at Ohio State. He took home the Big Ten title at 141 pounds, avenging his only regular-season loss by beating Penn State's Nick Lee in the finals, and was chosen to be the No. 1 seed in the weight class in the NCAA Tournament before it was ultimately canceled.
Pletcher's 26 wins for the season included 15 wins against ranked opponents and 11 wins by major decision, two tech falls and three pins. He helped lead the Buckeyes to a 10-4 dual meet record and a third-place team finish at the Big Ten championships, and was the clear frontrunner to win the 141-pound national title after fourth-place finishes in both 2018 and 2019.
3. Justin Fields, Football
We're now firmly in the territory of athletes who have a strong case for being Ohio State's best athlete of the year, as Fields had one of the best seasons ever for a Buckeye quarterback in 2019. In his first season as a Buckeye, Fields earned Big Ten Offensive Player of the Year honors and was a second-team All-American as he threw for 3,273 yards and 41 touchdowns, ran for another 484 yards and 10 touchdowns and threw just three interceptions as he led Ohio State to wins in each of its first 13 games.
Fields finished third in the Heisman Trophy race – matching the Heisman finish of his predecessor, Dwayne Haskins, who topped our list of Ohio State's best athletes of 2018-19 – and had the best touchdown-to-interception ratio in the entire country. As the only athlete in the top seven of this list who will be back at Ohio State for the 2020-21 academic year, Fields enters next year as Ohio State's most prominent athlete by far – and he was certainly already one of the Buckeyes' best in 2019.
2. Kollin Moore, Wrestling
Moore achieved perfection in his senior season at Ohio State, winning all 27 of the matches he wrestled this year. The 197-pounder dominated his competition from start to finish, as his 27 wins – including 13 wins against top-25 opponents – included 10 major decisions, six tech falls and four pins, earning bonus points for the Buckeyes in 74 percent of his matches.
After rolling through the conference competition to win his third Big Ten title, Moore appeared to be well on his way to a national title as the No. 1 NCAA Tournament seed in his weight class. The coronavirus outbreak robbed him of that opportunity, but he became just the fourth wrestler in Ohio State history to finish a season with an unblemished record, and just the third to do it with at least 27 wins for the season. He is also a finalist for the Hodge Trophy, college wrestling's equivalent to the Heisman Trophy.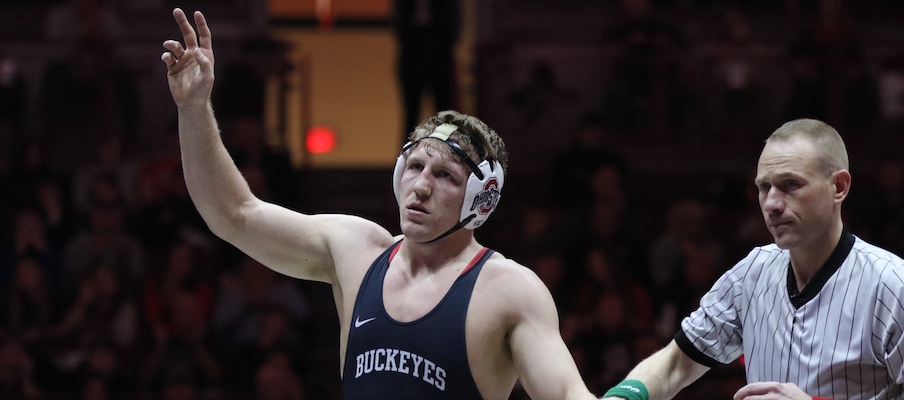 1. Chase Young, Football
Among all the great athletes who competed for Ohio State sports teams over the past year, the one who was most indisputably the nation's best at what they did was Young, who had one of the best individual seasons by a defensive player in Ohio State history, achieving a level of dominance that will be remembered by college football fans for years to come.
Young broke Ohio State's single-season school record with 16.5 sacks in 2019, reaching that mark in just his first nine games of the season. While his production declined in the final few games of the year, that was only because he started drawing constant double- and triple-team blocks, a necessary adjustment that opponents made after he wreaked havoc for the majority of the regular season.
The third-year defensive end became Ohio State's first defensive player ever to be invited to the Heisman Trophy ceremony, won both the Chuck Bednarik Award and Bronko Nagurski Trophy as college football's best defensive player and earned unanimous All-American honors. His 16.5 sacks were the most in the nation, while his six forced fumbles were the second-most, and he also received the Chicago Tribune Silver Football – which honors the Big Ten's most valuable player – and the Big Ten Defensive Player of the Year award.
After one of the greatest individual seasons by a defensive player in recent college football history – especially when considering he was forced to sit out two games – Young is now set to be one of the top picks, likely the No. 2 overall pick, in the 2020 NFL draft.