Ohio State's year in sports officially came to an end last weekend.
After a total of 15 Ohio State individual athletes and relay teams participated in last week's NCAA Outdoor Track and Field Championships, every one of Ohio State's 37 varsity sports teams have now concluded their 2018-19 seasons.
Many individual athletes on those teams had spectacular performances and were among the nation's best in their respective sports along the way, and now, it's time to take a look back at the best of the best.
In the following list, we count down Ohio State's top 11 individual athletes across all sports for the 2018-19 academic year, based upon their performances in collegiate competitions during their respective teams' seasons.
In the interest of recognizing athletes across a wide variety of sports, each Ohio State sports team was limited to a maximum of one athlete.
Honorable Mentions
Aneka Seumanutafa, Women's Golf
Seumanutafa earned Big Ten Freshman of the Year honors after leading Ohio State with a scoring average of 72.0 that ranked ninth in the nation this year. She was the individual medalist at the Westbrook Spring Invitational, helped lead the Buckeyes to a Big Ten championship and finished the year ranked 19th nationally by Golfstat and tied for 29th at the NCAA Women's Golf Championships.
Ryan Terefenko, Midfield, Men's Lacrosse
Terefenko earned first-team All-Big Ten and second-team All-America honors in his junior season, in which he was also a nominee for the Tewaarton Award, college lacrosse's equivalent to the Heisman Trophy.
Molly Kowal, Freestyle, Women's Swimming
Kowal finished second in the 1,650-yard freestyle at the NCAA Swimming and Diving Championships, breaking Ohio State's school record in the process with a time of 15:44.61. The senior swimmer also finished second in the 1650 at the Big Ten Championships, where she also earned fifth-place finishes in the 500-yard freestyle and the 400-yard individual medley.
Devon Kerr, Goalkeeper, Women's Soccer
Kerr earned Big Ten Goalkeeper of the Year and third-team All-American honors after starting all 19 of Ohio State's games and allowing just 15 total goals. She is now a goalkeeper for the Houston Dash in the National Women's Soccer League.
Dominic Canzone, Outfielder, Baseball
A third-team All-American and first-team All-Big Ten selection, Canzone was the top position player on an Ohio State baseball team that made an unexpected run to a Big Ten tournament championship. The outfielder led the Buckeyes with a .345 batting average and 66 runs scored while hitting 16 home runs and 43 runs batted in. He was selected in the eighth round of the MLB draft by the Arizona Diamondbacks.
11. Oliver Shindler, Epee, Fencing
Shindler capped off his Ohio State career by winning the national title in the men's epee at the NCAA Fencing Championships, leading the Buckeyes to a sixth-place team finish. He finished second in the same event at the Midwest Fencing Championships, where he helped lead Ohio State to its 14th conference title in program history.
10. Lilli Piper, Shortstop, Softball
One of the Ohio State softball team's all-time greats, Piper wrapped up her Ohio State career by earning second-team All-American honors – marking the third straight year she earned All-American recognition – and was a unanimous first-team All-Big Ten selection for the third year in a row.
Piper led the Buckeyes with a .430 batting average – including a .574 batting average in Big Ten – and scored a team-high 56 runs while hitting 10 home runs and 33 RBI in 53 games for her senior season. She now plays for the Cleveland Comets after being selected with the 15th pick in the National Pro Fastpitch draft.
9. Nikki Dzurko, Synchronized Swimming
It's hard to single out any one individual from the synchronized swimming team, because Ohio State literally won every single category at this year's U.S. Collegiate Nationals, but Dzurko's performance is worthy of her own recognition.
She won the solo national championship and was also part of Ohio State's title-winning teams in the duet and team categories, earning her the High Point Trophy as the individual leading scorer of the nationals – and she's only a freshman, giving her three more years to compete for more national titles.
8. Mason Jobst, Forward, Men's Hockey
The Ohio State men's hockey team won its first Big Ten title this season by finishing atop the regular-season standings, and Jobst was the star. He led the Buckeyes with 36 points (17 goals, 19 assists) in 36 games.
Jobst was a first-team All-Big Ten selection, a second-team All-American (for the second time in his career) and a finalist for the Hobey Baker Award, which honors the best player in college hockey. He was also named as Ohio State's male recipient of the Big Ten Medal of Honor, recognizing his excellent performance both on the ice and in the classroom.
Following the conclusion of his senior season, Jobst signed a two-way contract with the NHL's New York Islanders.
7. Nick Gray, Sprinter, Men's Track and Field
Gray rewrote Ohio State's record books and established himself as the fastest sprinter in school history in his senior season, breaking Ohio State's outdoor records in the 100-meter dash (10.16 seconds) – which Jesse Owens had held for the previous 80 years – and 200-meter dash (20.20) as well as the school's indoor record in the 60-meter dash (6.61).
He won conference titles in the 60 and the 200 at the Big Ten Indoor Championships, where he was named as the Track Athlete of the Championships, and repeated that honor at the Big Ten Outdoor Championships, where he also won the 200. He finished fourth in the 200 at indoor nationals.
Gray is now set to pursue a career as a dentist after deciding not to run track professionally.
6. Jincy Dunne, Defenseman, Women's Hockey
Dunne was one of the best defensemen in all of women's college hockey in 2018-19, earning WCHA Defensive Player of the Year and first-team All-American honors. While playing primarily on the defensive end, the redshirt junior co-captain was also one of the Buckeyes' top offensive players, ranking second on the Buckeyes with 28 points (four goals, 24 assists), leading WCHA defensemen in all three categories.
A second-team All-American in 2017-18, Dunne still has one more year of eligibility but also established herself as one of Ohio State's all-time hockey greats.
5. Myles Martin, 184 Pounds, Wrestling
I asked Eleven Warriors' resident wrestling expert, Andy Vance, to explain why Martin was one of Ohio State's best athletes in 2018-19:
Martin became just the seventh four-time All-American in Ohio State history with a third-place finish at the NCAA Wrestling Championships in Pittsburgh. He finished his career having never finished worse than fifth at the tournament, and went 25-1 in his senior season, winning the Big Ten Championship at 184 pounds along the way. He defeated 11 top-10 opponents on the season, logged a 68 percent bonus rate and represented Team USA at the 2018 U23 Freestyle World Championships.
That pretty much sums it up. Martin's only loss of the entire season came at the hands of Cornell's Max Dean in the NCAA Tournament, which cost him a shot at winning a championship, but he was otherwise dominant for the rest of the season, leading the Buckeyes to a 12-2 dual meet record and second-place finishes to Penn State at both the Big Ten and NCAA Championships, and solidifying his standing as one of Ohio State's all-time greats on the mat.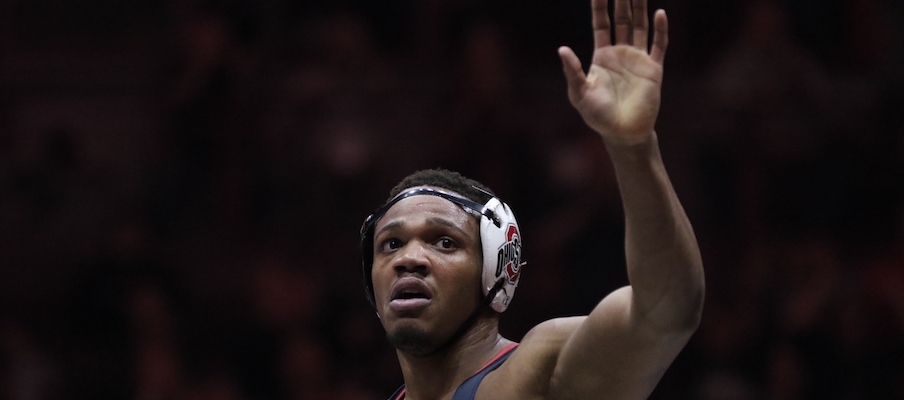 4. Alec Yoder, Pommel Horse, Gymnastics
Yoder finished his Ohio State career in spectacular fashion by winning the national title in the pommel horse at April's NCAA Men's Gymnastics Championships, scoring a 14.633 in the event to take the top spot on the podium. Yoder also finished sixth in the parallel bars with a score of 13.866 to earn All-American honors in that event, as well.
Like clockwork, @AlecYoder comes through with a blazing hot pommel routine to take the early lead! #GoBucks pic.twitter.com/drBXe03aKS

— Ohio State Men's Gym (@OhioStateMGYM) April 20, 2019
Yoder also was this year's Big Ten champion in the pommel horse, and finishes his career as an eight-time All-American, solidifying his standing as one of Ohio State's all-time great gymnasts as he now turns his attention toward attempting to earn a spot on the United States' team for the 2020 Summer Olympics.
3. Sade Olatoye, Thrower, Women's Track and Field
Ohio State's women's track and field team included three individual athletes this year who all have a case for being included in this top 11. Julia Rizk was victorious in the mile run at the NCAA Indoor Championships, becoming the first Buckeye of either gender to win a national title in the mile. Anavia Battle earned Big Ten Track Athlete of the Championships and Great Lakes Region Track Athlete of the Year honors after winning titles in the 100- and 200-meter dash at the Big Ten Outdoor Championships, having previously won the 200-meter title at Big Ten Indoor Championships.
That said, the most dominant athlete on Ohio State women's track and field team – which won both the Big Ten indoor and outdoor titles this year – was Olatoye, who won a national title in the weight throw at the NCAA Indoor Championships and set a conference record by winning five consecutive Big Ten Field Athlete of the Week awards. She set Ohio State records in the shot put (17.88 meters) and weight throw (24.46 meters) indoors and the shot put (17.88 meters) and hammer throw (69.37 meters) outdoors, and finished in the top five at nationals in all four events.
Olatoye has exhausted her eligibility indoors but will remain at Ohio State for one more outdoor season in 2020.
2. JJ Wolf, Men's Tennis
Wolf went 35-2 in singles play and 18-5 in doubles play to establish himself as one of the most dominant players in college tennis in his junior season. He started the season by winning the ITA All-American Singles Championship and finished the year as the No. 2 player in the ITA men's singles rankings.
As the Buckeyes' No. 1 singles player, Wolf led Ohio State to an ITA Indoor National Championship and an undefeated season in Big Ten play, leading to both regular-season and conference tournament titles.
He still has another year of eligibility at Ohio State, which he could use to chase the NCAA championships that evaded he and his team this year, but he could also opt to begin his professional career.
1. Dwayne Haskins, Quarterback, Football
Even though Ohio State had a multitude of All-Americans and national champions across its vast array of sports in 2018-19, a Buckeye who achieved neither of those feats still stands out as Ohio State's greatest and most defining athlete of the year.
In his lone season as the Buckeyes' starting quarterback, Dwayne Haskins had one of the greatest individual seasons in Ohio State football history, setting new Big Ten records in passing yards (4,831) and passing touchdowns (50) and the school record for completion percentage (70.0). He became the first player to ever win six Big Ten Offensive Player of the Week awards in one season, was invited to New York as one of three finalists for the Heisman Trophy and carried Ohio State – despite a shaky defense – to a 13-1 record, a Big Ten championship and a Rose Bowl win.
As with any list of this sort, these rankings are subjective, and there are plenty of Ohio State athletes who have a case for being ranked higher or at least being on the list if they aren't. What's undeniable, though, is that Haskins was the biggest star of Ohio State's most prominent team, and his year leading the Buckeyes' offense set a new standard for Ohio State quarterback play that should keep his name in Ohio State lore for decades to come.
Haskins will now look to continue building his legacy with the NFL's Washington Redskins after being selected with the No. 15 overall pick in this year's draft, becoming the first Ohio State quarterback to be a first-round pick since Art Schlichter in 1982.