Ohio State's men's and women's track and field teams had no shortage of top performers this past season, including multiple national champions and several others who also broke school records.
Three of the Buckeyes who had particularly memorable seasons were seniors Julia Rizk, Sade Olatoye and Nick Gray.
Rizk and Olatoye both won national titles at the NCAA Indoor Championships in March. Rizk became Ohio State's first-ever national champion in the mile run for either gender, winning the women's title with a time of 4:37.63, while Olatoye earned top honors in the weight throw with a toss of 24.46 meters (80 feet, 3 inches), a mark surpassed by only two collegiate female throwers in NCAA history.
Gray made history during Ohio State's outdoor track and field season by breaking the Buckeyes' records in both the 100-meter dash and 200-meter dash. The 100-meter record that he broke had been held by Jesse Owens for 80 years. He finished the season with top times of 10.15 seconds in the 100 and 20.14 seconds in the 200.
All three of them were recognized for their accomplishments this past season during the Greater Columbus Sports Commission's Morning Sports Report on Tuesday.
"This season has been kind of surreal for the entire team," Olatoye said in an interview with Eleven Warriors on Tuesday.
Led by Rizk and Olatoye, the Ohio State women finished fourth as a team at the NCAA Indoor Championship despite having only three competitors in attendance (Olatoye, Rizk and sophomore sprinter Anavia Battle). Rizk, who grew up in the Columbus suburb of Blacklick but spent her first two collegiate seasons at UCLA before transferring to Ohio State, described the ending to the indoor season as her favorite memory of her college career.
"Even after I won, it didn't feel real. I feel like I woke up in a dream the rest of that week," Rizk said. "I could live that day over and over again."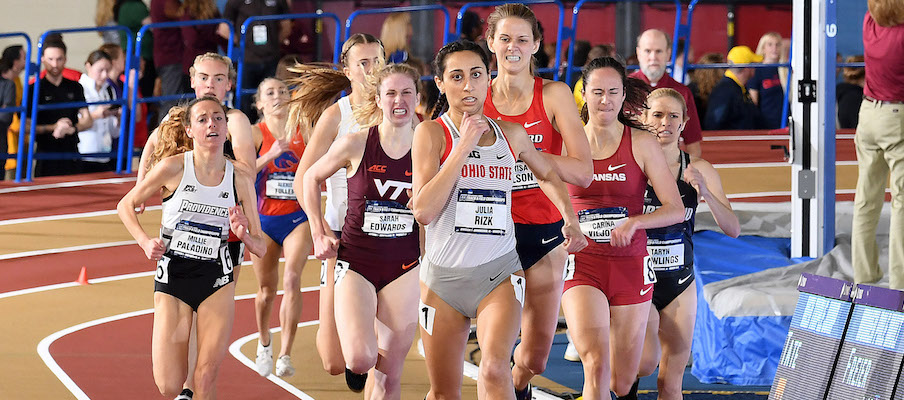 Rizk is also Ohio State's school record holder in the outdoor 1,500-meter run, finishing her career with a best time of 4:13.70, run in the prelims of the NCAA Outdoor Championships last week.
Olatoye was excellent throughout the 2018-19 season, becoming the first-ever athlete to win five consecutive Big Ten Field Athlete of the Week awards for her performance during the indoor season. She holds Ohio State's school records in the shot put both indoors and outdoors (17.88 meters), the weight throw indoors and the hammer throw outdoors (69.37 meters).
With four years of hard work and the guidance of Buckeyes throwing coach Ashley Kovacs, Olatoye has emerged as one of the best throwers in the country and Ohio State history, and she's full of gratitude to Ohio State for helping her make that happen.
"We've had just an amazing four years here at the university," said Olatoye, a native of Dublin, Ohio. "It's just amazing what you can do with so much support around you."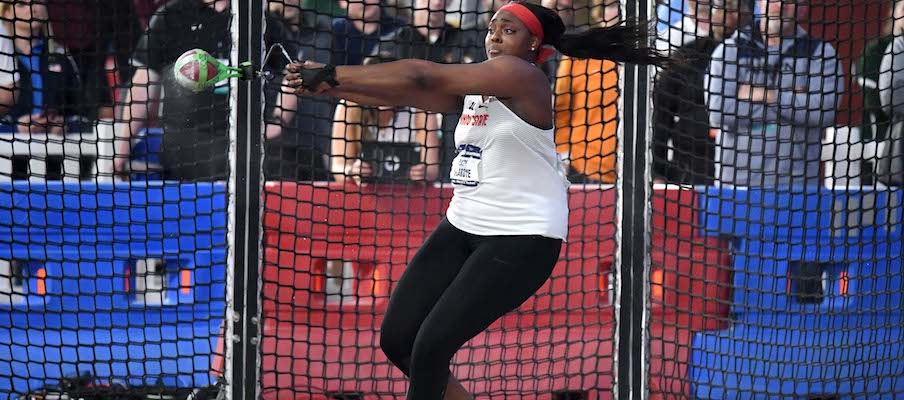 Gray was named as the top athlete of both the 2019 Big Ten Indoor and Outdoor Championships after winning the conference titles in the 200-meter dash both indoors and outdoors and the 60-meter dash indoors. He can also now call himself the fastest sprinter in Ohio State history and the man who broke a Jesse Owens record that stood for eight decades, a distinction he won't soon forget even if a future Buckeye runs even faster.
"To think of all the greats that have come through OSU, I was the one to get it, is surreal," said Gray, a native of Pickerington, Ohio. "I know that eventually somebody is going to break mine and all that but I'll be able to tell my kids, I was the first one to actually do it. So it's good to hold onto, but at the end of the day, records are made to be broken."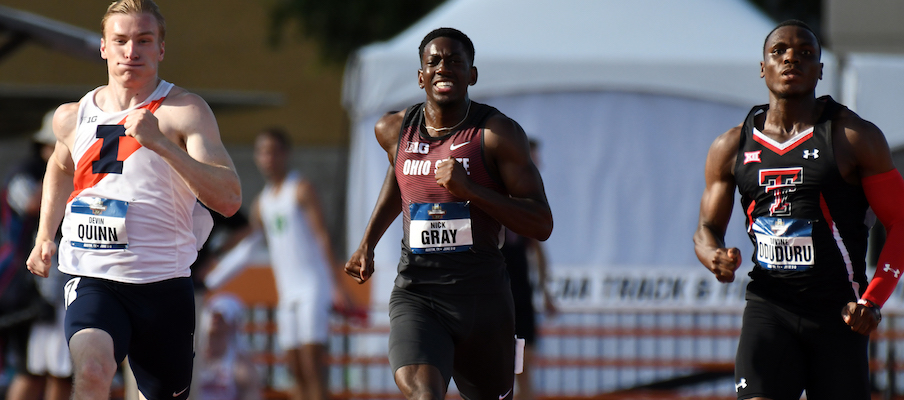 Gray, Olatoye and Rizk weren't the Buckeyes' only track and field stars this year. Battle, long jumper Taylor DeLoach and distance runner Abby Nichols were among the non-seniors who won individual events at Big Ten championships – with Battle and Nichols also breaking school records this year – to lead the Ohio State women to conference team titles in both the indoor and outdoor seasons, while Frank Hayes was the men's Big Ten indoor champion in the 600-meter run.
Long jumper DaJuan Seward, pole vaulter Cole Gorski, distance runner Luke Landis, high jumper Cody Stine and sprinter Karrington Winters were among the seniors who joined Gray, Olatoye and Rizk in participating in NCAA indoor and/or outdoor nationals.
Although Olatoye has exhausted her NCAA eligibility for indoor track and field, she still has one more year of eligibility for outdoor track and field, so she will be back at Ohio State for another year. She has visions of competing professionally after next year, but is also preparing to take the MCAT and apply to medical school.
Sade Olatoye found a passion to pursue a career in the healthcare field through service trips to developing countries.

The senior @OhioStateTFXC thrower minors in Spanish while preparing for med school. #ncaaTF pic.twitter.com/AWKspDiPG4

— NCAA Track & Field (@NCAATrackField) June 9, 2019
Rizk is set to graduate from December, and she also intends to pursue a professional track career.
Gray, however, decided to end his track career after this past season. After battling injuries throughout his Ohio State career, Gray is turning his focus to his longtime career goal of becoming a dentist.
"Dental school was always my biggest goal, so track was never like, 'I have to go pro,'" Gray said. "For me, I have to be a dentist. That's all I want to do. And then two, my body is just broken. I get hurt often. I think my last healthy full season was freshman year. So my body is just hurt, just broken. It's about that time to let it heal. Hang it up. I had a good career."