It's been just over six months since Ryan Day was named as Urban Meyer's successor and Ohio State's new head coach, and perhaps the biggest difference he's noticed in that time is the amount of attention he receives in public.
"A lot more photos," Day said. "There's a lot of photos. A lot more pressure."
Whether he's walking around the Columbus Arts Festival with his family or making a speaking appearance as he did on Tuesday morning, when he was one of the featured speakers at the annual Morning Sports Report presented by the Greater Columbus Sports Commission at the Greater Columbus Convention Center, Day is now one of the most recognizable and prominent figures in Columbus.
Day understands the expectations that surround that, but he also appreciates that he's been trusted with the opportunity to lead one of the most historically prestigious programs in college football, and he tries to take time to appreciate that when he walks into the Woody Hayes Athletic Center.
"When you walk into the Woody and you see the coaches now on the hallway there, and you see Woody Hayes and you see Earle Bruce and John Cooper, Jim Tressel, Urban Meyer … There's a picture of me there, with a whistle and my family, and every time I walk by there, it's like show some respect for those who come before," Day said Tuesday morning during a panel discussion moderated by former Ohio State linebacker James Laurinaitis.
Since officially taking over as Ohio State's head coach in January, Day has learned about all the various elements that come with being in that role. While he was previously able to focus specifically on coaching and recruiting football players as the Buckeyes' offensive coordinator and quarterbacks coach, Day now has to oversee all aspects of the football program, and he's come to appreciate the big picture.
"You have a wider scope when you walk into work every day," said Day, who is in his first year as a head coach at any level after 17 years as a collegiate and NFL assistant coach. "Sometimes when you're an assistant coach, you're just worried about your position, you're worried about creating your position and you're kind of in that little box. Whereas a head coach, clearly everything is your responsibility, so you just see things through a different lens. You notice things that you maybe didn't notice when you walked in the room before."
Over the course of his first half-year as a head coach, much of Day's focus has been on building relationships – with his players, with his coaches and with others in the community. Day's goal is to be someone who anyone in the football program can come to with any concerns they might have.
"Any time there's an issue going on, whether it's medically, physically, even mentally, you can have an impact on them," Day said. "And so they'll come in, and the good news is that they come to you. And I always want to be an approachable head coach. That's really what I believe strongly in. I think these kids nowadays, in our generation, need someone they feel comfortable coming into. I loved my coach, but I couldn't walk in his office and have some conversations that hopefully our guys can here, because there's a lot more expectations now."
Day believes that the relationships that he and his fellow coaches – who include five new assistant coaches that weren't on the staff last year – build with Ohio State's players during the offseason will ultimately be crucial to the Buckeyes' success on the football field this fall.
"Once September and October comes, we're going to go through tough times," Day said. "Whether it's injuries, hopefully it's not a loss, but when we go through times like that, we're going to stick together. Those relationships are being built now."
The opportunity to build those relationships is also one of the biggest differences Day has found in being a college football coach versus being an NFL coach.
Day was the quarterbacks coach for the Philadelphia Eagles in 2015 and the San Francisco 49ers in 2016, which has already led to speculation that Day could be a future NFL head coach if his tenure as Ohio State's head coach starts off successfully. Day said on Tuesday, however, that while he enjoyed his time in the NFL, he believes he can make a bigger impact as a college football coach.
"There's a lot of movement in the NFL," Day said. "Guys can be out the door. The difference in college, you can have an impact on their lives. You build relationships with the families, you build relationships with brothers or sisters and then you kind of build their future as they go. You're also bringing them into your homes, you're teaching them life lessons, and you're having that impact on these guys. At the end of the day, I think it's more stable in college."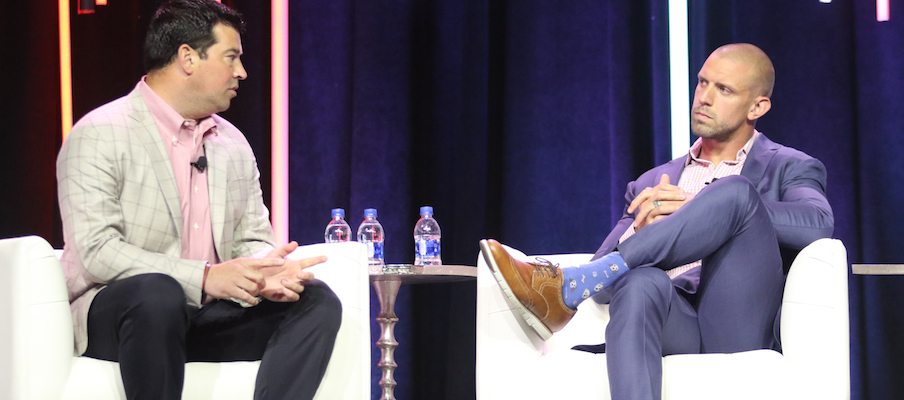 Becoming Ohio State's head coach hasn't just brought more attention to Day himself, but also to his family. The constant public spotlight is something that Day and his wife Christina – who are both from Manchester, New Hampshire – and their children are still adjusting to, and Day acknowledged that he worries a little bit about his family having to deal with the scrutiny that might come his way if the Buckeyes don't perform up to expectations on the field.
He said he has had conversations with his family about that so they can plan accordingly, though, and so far they've felt almost nothing but love from Buckeye Nation.
"The city of Columbus has been really good to us, but it is a change," Day said. "And Nina and the kids have felt that. We went to the Arts Festival downtown (this past weekend), walked around for an hour, and then had to go home, because a lot of people wanted to take pictures – a lot of pictures. But they're always very, very supportive, people are always super nice."