Ohio State's men's basketball team was heading into the postseason on a roll, and the football team's spring practices were just getting underway.
There were bound to be dozens of special moments, raucous celebrations, angry reactions and impressive plays that we could have caught on camera for both teams throughout March and April.
The coronavirus outbreak put an abrupt end to all of that.
There were still plenty of those same moments throughout 2019-20, though, and Eleven Warriors was there to snag them. While it's earlier than expected, we shuffled through thousands of photos we took over the last 15 months and whittled it down to 77 of our best.
There were a lot of great ones, but we eventually cut it down to a top-11 list and a handful of honorable mentions for a grand total of 21 pictures. Without any further rambling, here are our best photos from 2019-20.
Honorable Mentions
Meyer, Pantoni overseeing their product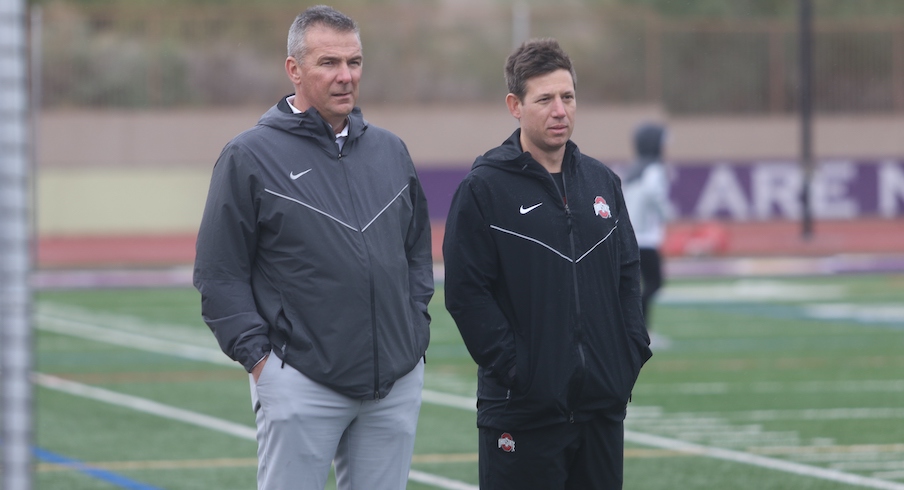 As you can tell, there's nothing extraordinary or noteworthy about this photo itself. Looks like a pair of guys checking out a football practice, and in essence that's what it is. But it's so neat because Ohio State had not been to the College Football Playoff since 2016, suffering a 31-0 beatdown to Clemson in Arizona. And here they were, back again in Arizona to take on Clemson in the CFP in 2019.
It was Urban Meyer and Mark Pantoni who were at the head of putting together both teams through their recruiting efforts. Just interesting to see the parallels between the two teams and two seasons and to see Meyer and Pantoni checking out the 2019 version of the team they had put together. We can almost picture them saying to each other, "Look at what we have created."
Fuller checks himself out on TV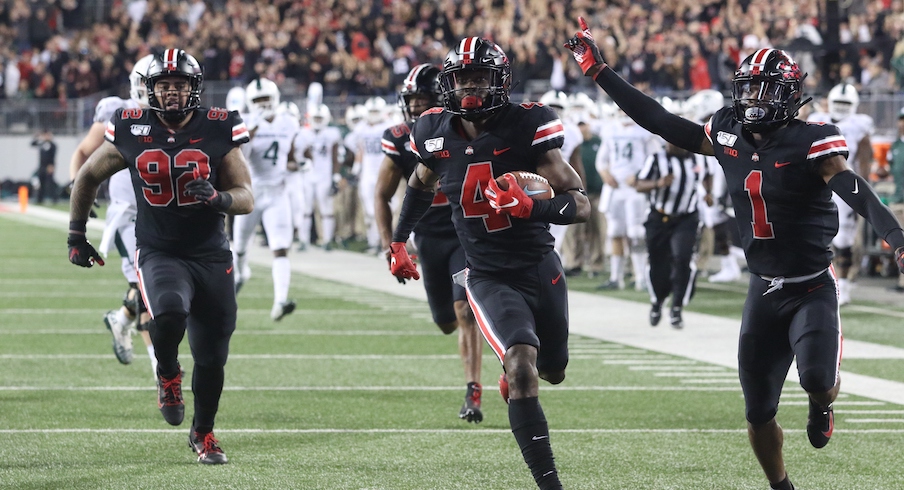 After a terrible 2018 season defensively, the Buckeyes' unit broke out the previous week in a 48-7 drubbing of Nebraska with College GameDay's spotlight upon it. Against Michigan State, the Buckeyes followed it up with a similar primetime performance in a 34-10 win, and the secondary's claim to the moniker "Best in America" began to have legitimate credence to it. 
Unfortunately for Fuller, who watched himself on the Shoe's giant screen for the last 30-plus yards of this run, and anyone who bet on Ohio State -27.5, this 80-yard interception return for a touchdown was called back on a penalty during the return. But highlights like this one still came by the droves throughout the rest of the year.
Wilson levitates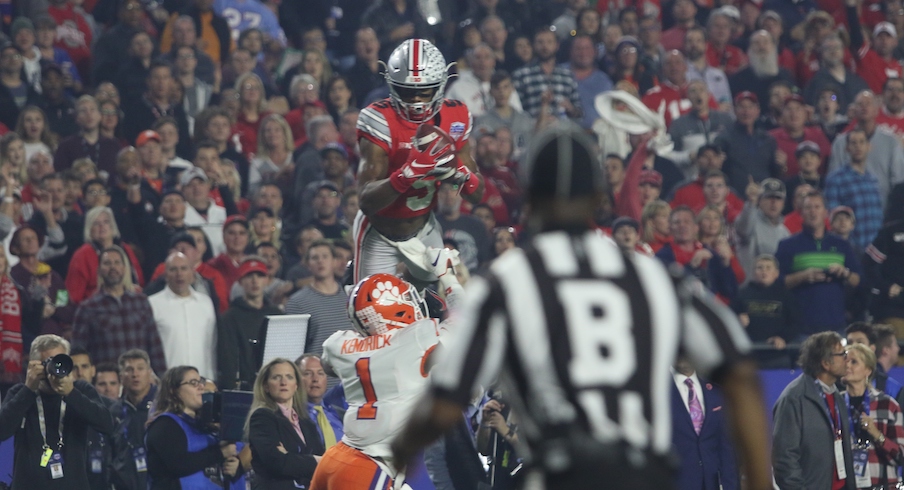 This photo of Garrett Wilson's incredible first-quarter catch against Clemson would have been even better if the official had been standing about eight inches to the right. But it still is a good illustration, albeit exaggerated, of Wilson's leaping ability. Because Clemson's Derion Kendrick still has his feet on the ground, it looks like Wilson's vertical is more like 60 inches than the 36-inch mark he came to Columbus with out of high school.
J.K. says "get off me"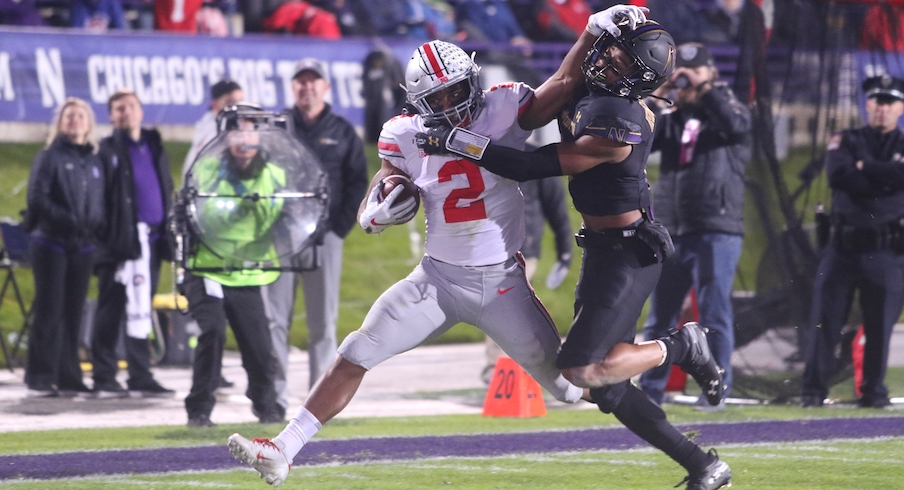 This wasn't even close to J.K. Dobbins' best game. In fact, his 121 yards rushing against Northwestern was his fifth-lowest total of the season, since he sat out the entire second half with a 31-3 lead. But this photo captures a lot of what made Dobbins so dangerous – his strength and physicality to push off arm tackles and his vision, as he keeps his eyes upfield even through the stiff arm.
11. (Insert fire emoji)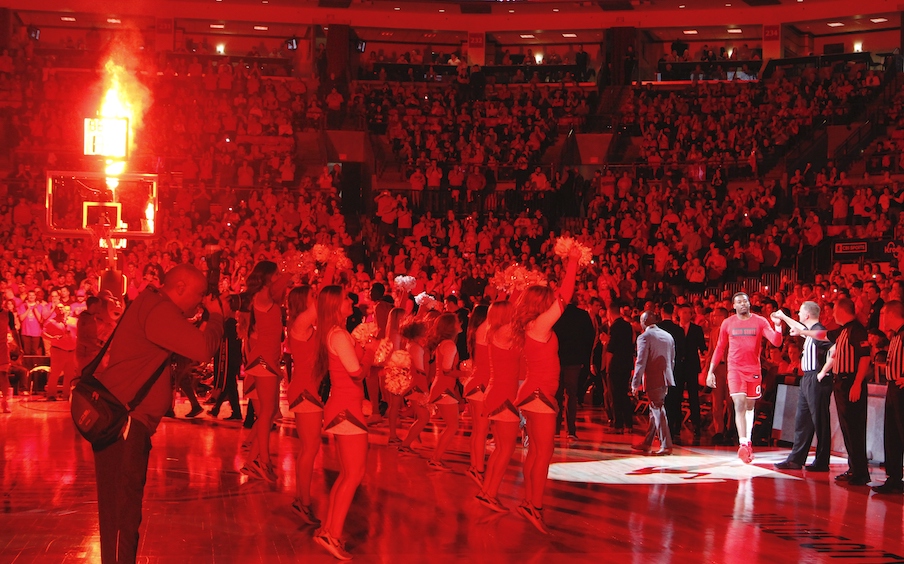 As one of two seniors on the 2019-20 team, Andre Wesson had a spotlight on him the entire season, and in this March 1 game against Michigan, the Buckeyes' top shooter was on fire with a 5-for-6 performance from the field as he finished with 14 points. That included the biggest shot of the game – a banked-in 3-pointer that extended a two-point lead to 59-54 with a little less than six minutes left in the game. That proved to be the crucial momentum swing, as the Buckeyes outscored Michigan 23-9 in the final 6:33 to cruise to a 77-63 win.
10. Selfie game strong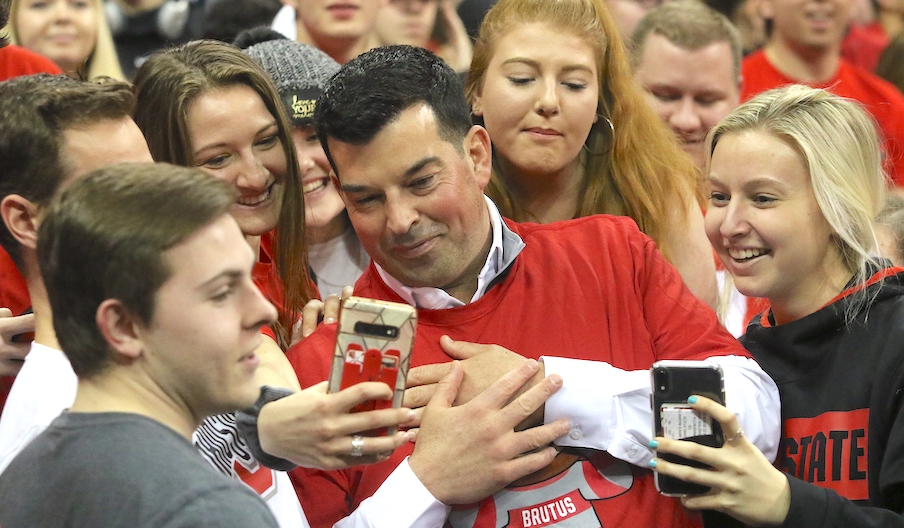 A lot of people believed, but nobody truly knew how Ohio State's program would transition under the leadership of Ryan Day when the rosy-cheeked leader officially took over the program on Jan. 2, 2019. Fast forward almost exactly a year later to Jan. 23, and this photo helps symbolize that Day has already become a beloved figure to Buckeye fans. There's a long way to go for Day, but he seems to be headed down a path to coaching stardom.
9. Who knew...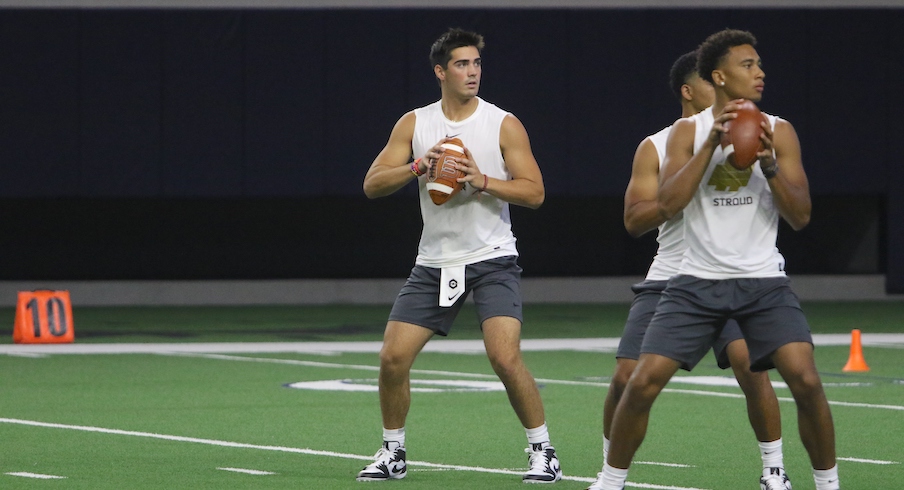 This photo was taken at the Elite 11 finals in Texas, as Jack Miller and C.J. Stroud competed against each other on the field. It was a perfect precursor to the quarterback battle in Columbus that is set to happen over the next year-plus.
What's so perfect about this photo is that Miller is in center of the frame – as he should be. He was the loyal, longtime Ohio State commit who was throwing at the Nike Elite 11 camp, and almost no one could have predicted what would happen over the next six months. Stroud stole the show, winning MVP at the quarterback camp, as Stroud's rise as a senior served as the dichotomy to Miller's slide down the rankings as he battled multiple injuries. 
The Buckeyes recruited Stroud more diligently than any other program, setting off endless scuttlebutt that Miller could decommit, but he stayed true to his commitment. Stroud eventually signed his NLI hours after Miller did on Dec. 18, and they are now find themselves in a battle to claim QB2 honors in 2020 (and eventually QB1 after Justin Fields' Ohio State career is over).
Who would have known that this was going to be the start of all that.
8. He's baaaaack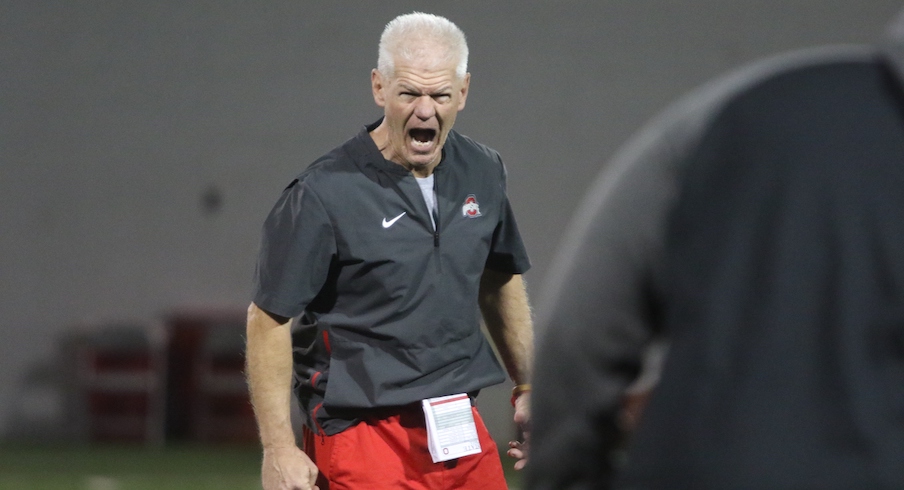 Feb. 5 was Kerry Coombs' reintroduction to Ohio State as he stood at the podium during a press conference, shouting to athletic director Gene Smith, who was just passing through the hallways at the Woody and dropped in for a brief second, "I'm back baby!"
But Coombs truly announced his re-arrival less than 10 minutes into the Buckeyes' first spring practice in March, back to his normal energetic, screaming self, which included bellowing at a referee's call during the team period.
7. Michigan Killer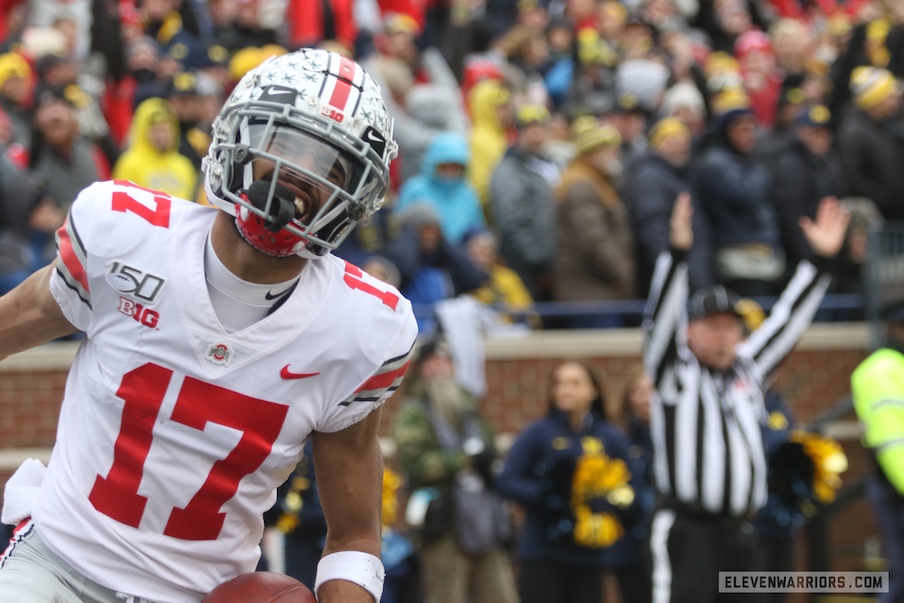 Chris Olave's stats against Michigan: Four catches. Three touchdowns. His reaction following this 57-yarder in November is one of our favorite shots of 2019.
6. Fields is head over heels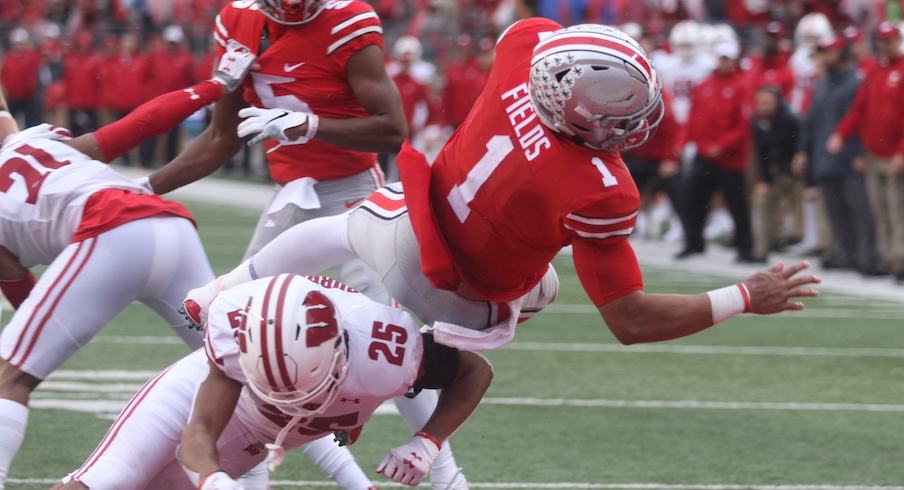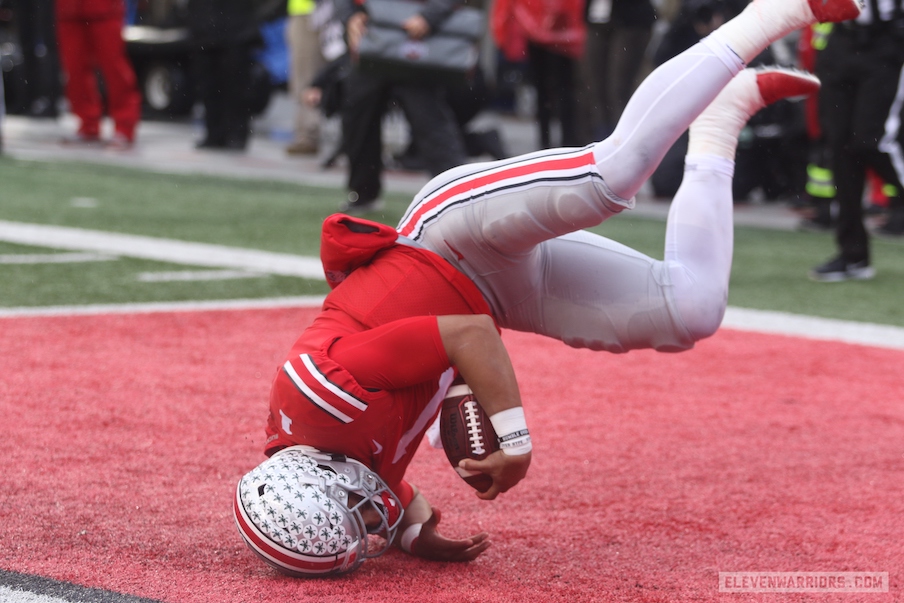 We cheated and made this a two-for-one to capture the essence of this touchdown run. This capped an eight-play, 75-yard drive and truly felt like the coming-out party for Justin Fields, who had already been putting on impressive displays in the first seven games of the season but had not really been hit with any on-field adversity.
Ohio State's got itself a tough, gritty QB in @justnfields

Captured this sequence of him sandwiching through Wisconsin defenders for a 3rd-quarter TD and a 17-7 lead. Big answer from Fields and the Buckeyes after Wisconsin had cut its deficit to 3 points a few minutes earlier. pic.twitter.com/WzbrRAoQfr

— Zack Carpenter (@Zack_Carp) October 27, 2019
That changed when Wisconsin cut its deficit to 10-7, and Fields responded with this bruising 10-yard touchdown run. He scrambled to his left, dove through the goal line and was helicoptered onto the top of his head right in front of us. As he got up, he was mobbed by his entire offense, and his face never cracked a smile or a frown. Just stayed completely stoic like that play was expected.
5. Day's first championship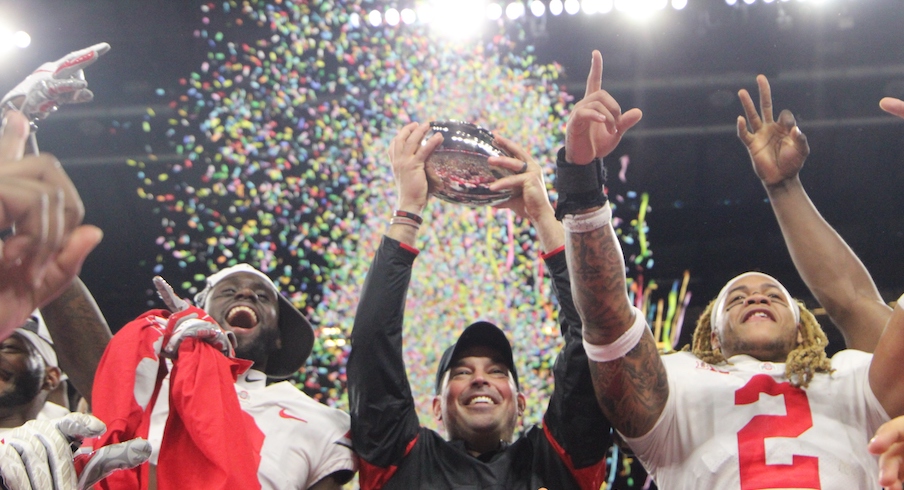 The Big Ten Championship Game has only existed since 2011, but prior to that, Ohio State had never won three consecutive outright conference championships. Day led the Buckeyes to their third straight win at Lucas Oil Stadium in December, and at the rate the Buckeyes are loading up on talent, it's hard to imagine they won't be in position to win a fourth nine months from now.
4. Not just a rivalry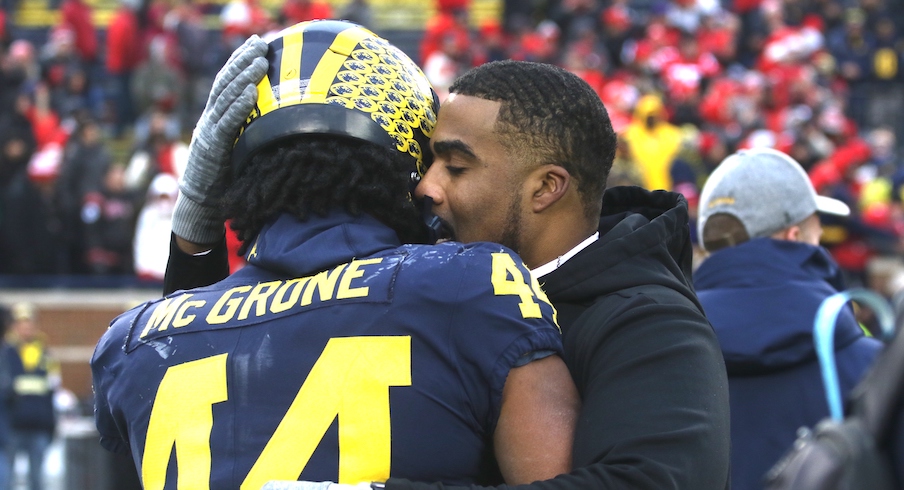 Al Washington spent just one season on Michigan's staff before bouncing down to his Columbus roots, where he went to school down the road at Bishop Watterson High School.
But in that short time in Ann Arbor, Washington became one of the Wolverines' best recruiters, and his players had some of the same admiration for him as they do at Ohio State. This was one of our favorite shots of the year because Washington, moments after being mobbed in celebration by his Buckeye players and assistants, combed the field to find his former linebacker Cameron McGrone. 
We don't know what Washington talked to McGrone about – perhaps he wanted to give another teaching moment about the unnecessary roughness penalty he had committed in the second half – but it looked like the two still have a relationship judging by this moment. McGrone was one of the linebackers who made a strong impression on Washington during his time there, and Washington has a reputation for continuing to keep up with his former players at his previous coaching stops, even at his one-year stint at Elon University in 2011.
"A lot of those kids I coached at the Division II level I still talk to every month," Washington told Eleven Warriors at Fiesta Bowl media day in December. "I still talk to their parents."
3. Football is family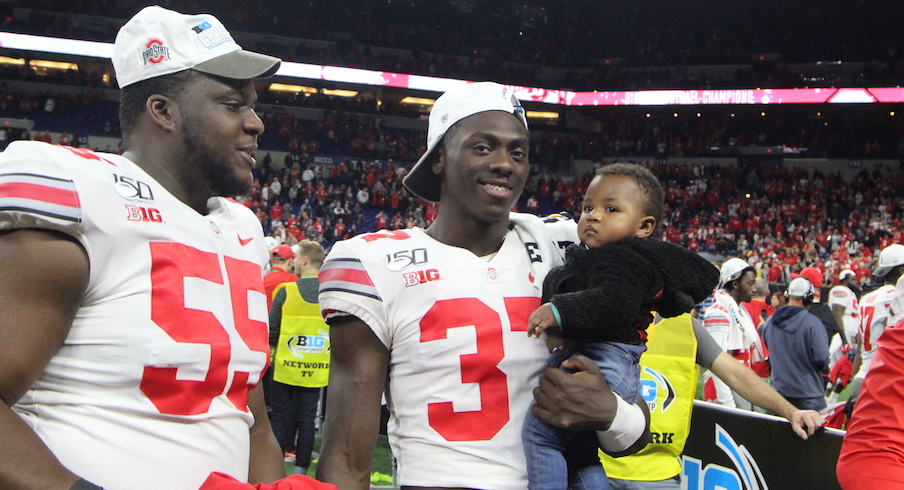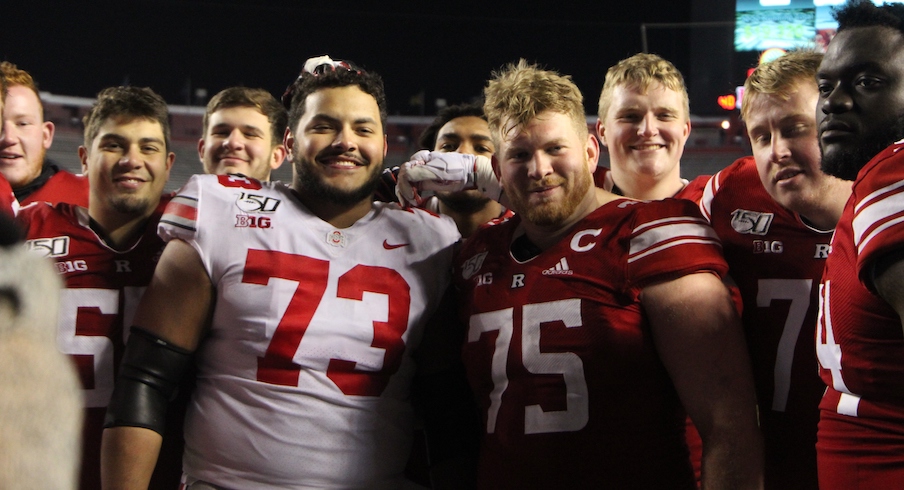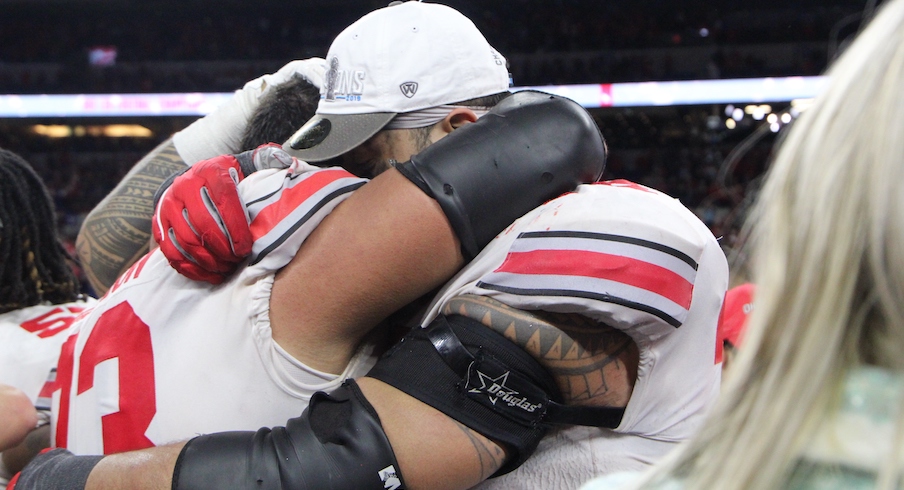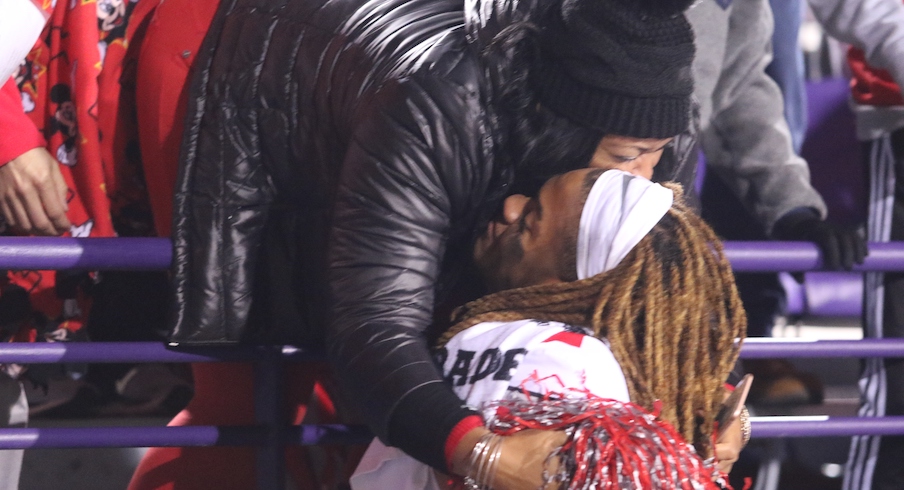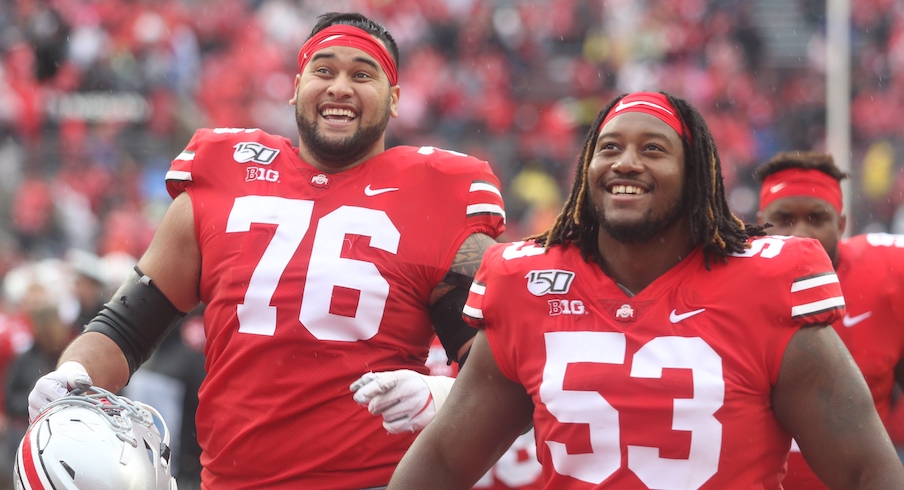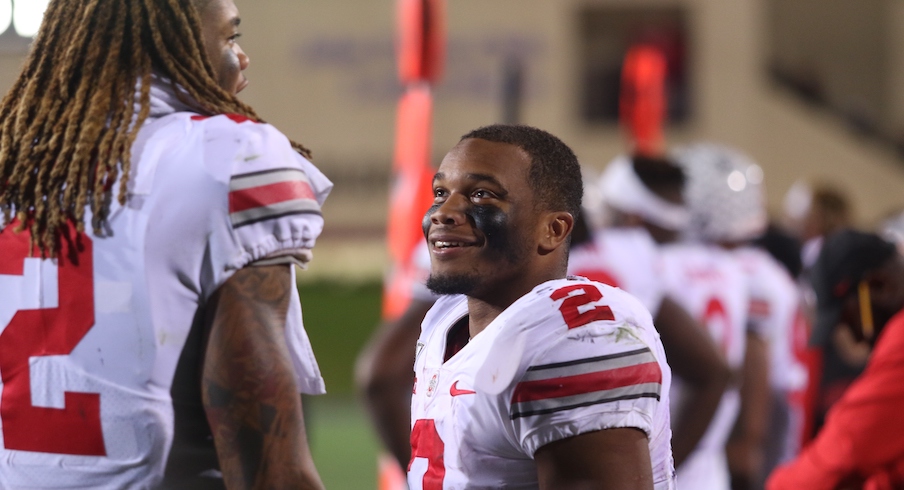 We don't have to say much about these photos. Whether it's Craig Young holding his son after the Big Ten Championship Game, Rutgers transfer Jonah Jackson reuniting with his former offensive line teammates, Branden Bowen hugging Jackson in Indianapolis, Chase Young embracing his mom, Bowen and his best friend DaVon Hamilton all smiles after the Wisconsin win, or J.K. Dobbins looking at Chase Young like Young just spoke some sort of sweet poetry, all the photos speak for themselves. This was a happy year for Ohio State players.
2. Defining moment of two seasons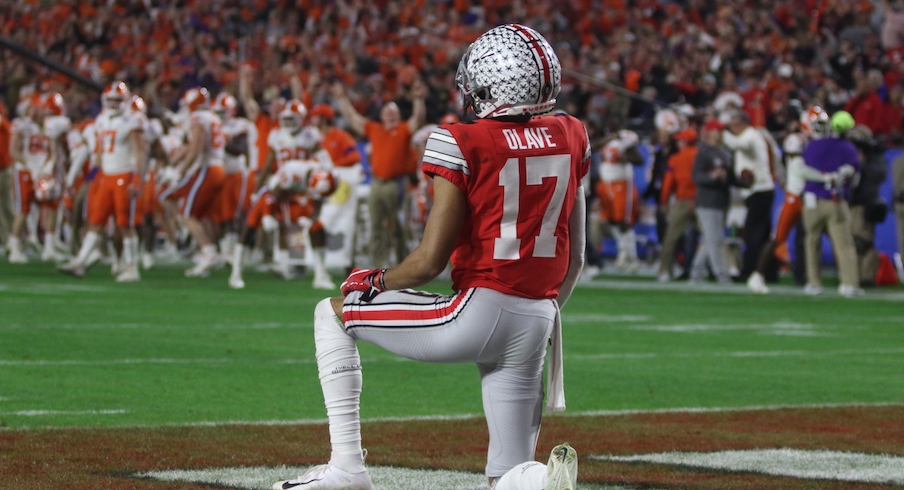 Olave was the Buckeyes' best receiver all year long, and he's not the reason Ohio State lost to Clemson. But ... if he breaks to the right on the Fields pass, it's easy to assume he catches that game-tying touchdown for his 13th score of the year and Ohio State probably beats Clemson. But he didn't, and in a lot of ways, this photo captures the defining moment of two seasons.
In 2019, Ohio State proved it belonged with Clemson in the upper echelon of the college football landscape and proved it belonged with Clemson on the field in this game. But in the end, it was just short.
For 2020, this moment of pain sets the stage for a redemption tour of sorts and motivational fuel for an entire year. The 29-23 score is posted on a sign in Ohio State's weight room to help push the Buckeyes. They will be reminded of it over and over throughout the next 9-10 months, and they'll certainly buy into it. It remains to be seen whether that approach has positive or adverse effects, but we will find out eventually.
1. Photo credit: Jeff Okudah/Ohio State Football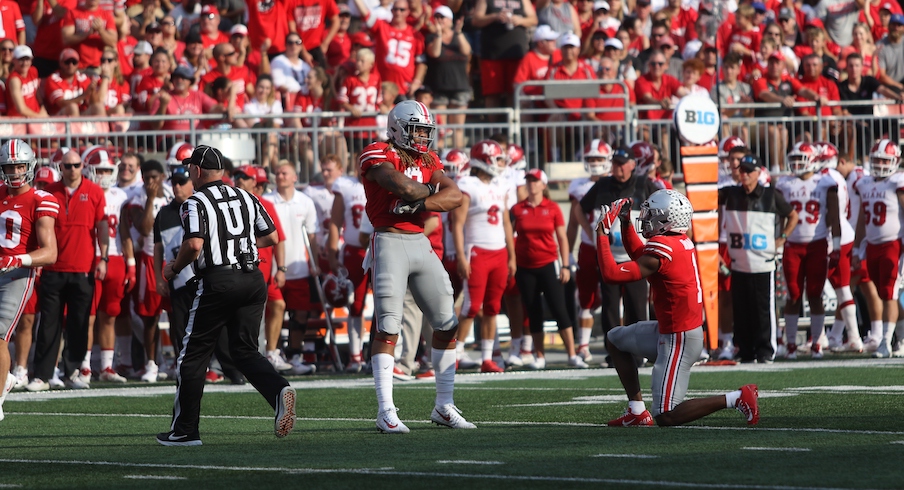 This celebration came following one of Young's two sacks against Miami (Ohio), and Jeff Okudah brought out his Kodak point-&-shoot to capture Young's pose. This was just Week 4 and was the beginning of breakout junior seasons for both stars, as they continued blowing up throughout 2019. Next month, the two will complete a college journey that began with being the top two recruits of the Buckeyes' 2017 class and will end with them being two of the top-five picks in the 2020 NFL Draft. Plenty of poses are in store for each of them.