Ohio State's year in sports came to an abrupt end, but there were still plenty of moments worth celebrating along the way.
So that's what we're going to do here at Eleven Warriors, beginning a few months earlier than expected, with our Year in Review series looking back at the best of the Buckeyes' 2019-20 academic year in sports, from football and Ohio State's other fall sports to the winter and spring sports that came to an abrupt end.
Unfortunately, there were many potentially great moments for Ohio State sports that could have happened in March, April, May or June that never had the chance to happen due to the coronavirus outbreak. We've tried to take that into consideration, though, for sports whose seasons were cut short as we take a look at some of the year's best moments for the Buckeyes across all sports.
From the biggest victories and spectacular individual performances of football season to special victories on the hardwood and teams that achieved conference glory – some of who achieved the highest goals they possibly could before their seasons were cut short – and made history, it's time to celebrate some of the great memories made by scarlet and gray teams this year that shouldn't soon be forgotten.
Honorable Mentions
Justin Fields scores five touchdowns in Ohio State debut
There was some uncertainty going into the 2019 football season of whether Justin Fields would be ready to lead Ohio State's offense, as he had never started a collegiate game and had been on campus for only eight months after transferring from Georgia, but Fields quickly put those doubts to rest in his first game.
In a 45-21 win over Florida Atlantic, Fields set a record for a player in his first Ohio State game by accounting for five total touchdowns – four passing and one rushing – setting the stage for what would ultimately be a special season for the Buckeyes' first-year signal-caller.
Women's track and field keeps Big Ten streak going
After sweeping the Big Ten indoor and outdoor titles last season, Ohio State's women's track and field won the only title it had a chance to compete for this season. Anavia Battle won individual titles in the 60- and 200-meter dash, Emma Nwofor won gold in the 60-meter hurdles and Adelaide Aquilla topped the conference in the shot put as Ohio State scored 104 points, five more than Minnesota, to win its second consecutive Big Ten indoor championship and third straight overall conference title.
Aquilla, Battle, Nwofor, 200-meter runner Devine Parker and 800-meter runner Aziza Ayoub were each also set to participate in the NCAA indoor track and field championships, but that event was canceled just one day before it was set to begin.
11. Women's basketball upsets No. 2 Louisville
After a down year for the Ohio State women's basketball team in which the Buckeyes missed the 2019 NCAA Tournament, this year's Buckeyes made an early statement on Dec. 5 when they upset Louisville – ranked as the No. 2 team in the country at the time – for its first win over a top-five-ranked team since they beat Maryland in 2017.
Much like the men's basketball team, it was an up-and-down year for the Ohio State women, but that big win demonstrated the potential of a Buckeyes team that is set to lose just one senior going into next season. The win over Louisville was the biggest highlight, but Ohio State also went on to make a run all the way to the Big Ten Tournament final, locking up what likely would have been a middle seed in the NCAA Tournament if it actually happened.
10. Men's basketball earns four top-10 wins
The 2019-20 Ohio State men's basketball season was full of peaks and valleys, but its peaks were high and plentiful, as the Buckeyes earned four separate wins over teams that were ranked in the top 10 at the time of the games, providing no shortage of moments for Ohio State fans to celebrate.
Ohio State's first marquee win of the year came on Nov. 13, when the Buckeyes rolled to a 76-51 victory over Villanova – who was ranked No. 10 at the time and finished there, too – at the Schottenstein Center.
The Buckeyes' Dec. 4 win over North Carolina lost its prestige over time, as the Tar Heels ended up finishing the season with a losing record, but at the time, Ohio State's 74-49 win over then-seventh-ranked UNC – the Tar Heels' worst home loss in Chapel Hill since 2002 – was a big deal.
Ohio State came up with another huge win on Dec. 21 against Kentucky – which did finish the season ranked in the top 10 – by a 71-65 score in the CBS Sports Classic in Las Vegas. On Feb. 23, on their home court, the Buckeyes added another top-10 win to their belt when they defeated Maryland – ranked seventh at the time – by a 79-72 margin at the Schott.
Those wins would have propelled Ohio State to a likely fifth seed, at worst, in the NCAA Tournament if it had not been canceled.
9. J.K. Dobbins becomes Ohio State's first 2,000-yard rusher
J.K. Dobbins didn't have the proper opportunity to celebrate this moment, as it came in a College Football Playoff loss to Clemson in which he also suffered a high ankle sprain, but the milestone itself is one that will ensure Dobbins' Ohio State legacy lives on for years to come.
Tasked with carrying the load for Ohio State's backfield all season long, Dobbins broke the Buckeyes' single-season school record for rushing yards, becoming OSU's first-ever 2,000-yard rusher in the process. As consistently great as he was, his season can't be summed up by just one game – though his 211-yard, four-touchdown performance against Michigan could certainly qualify for this list by itself – but cumulatively, Dobbins' spectacular final year as a Buckeye will certainly be one of the enduring memories of Ohio State's 2019-20 in sports.
Dobbins ran for more than 100 yards in 10 of Ohio State's 14 games and for at least one touchdown in all but one game, and was at his best in the biggest games of the year, rushing for at least 157 yards in at least eight games also including the Clemson, Penn State and both Wisconsin games.
8. Chase Young wrecks Wisconsin
Like Dobbins, Chase Young's record-breaking final season at Ohio State shouldn't simply be defined by one game – but in his case, his signature moment of the season was so spectacular that it deserves its own place on the list.
While Young was dominant all year – it took him just nine games to record 16.5 sacks, breaking Ohio State's single-season sack record – his performance in Ohio State's regular-season game against Wisconsin, the Buckeyes' biggest game of the season to date at that time, was one of the most dominant individual single-game defensive performances in school history. Young tied a school record with four sacks, forced two fumbles and had six total tackles with five tackles for loss to lead the Buckeyes to a 38-7 victory and cement his status as the best defensive player in the country.
Young's performance was so good, it led to an anonymous tip the next day that revealed an NCAA violation and forced him to sit out Ohio State's next two games – and still so good that it propelled him to winning multiple national defensive player of the year awards, unanimous All-American honors and a Heisman Trophy ceremony invitation.
7. Two Buckeyes earn invitations to Heisman ceremony
Young and Fields combined to make school history in December when both of them were named finalists for the Heisman, marking the first time Ohio State has ever had two Buckeyes at the ceremony in New York. Young also became the first defensive player from Ohio State to ever receive that honor, while Fields became the first Buckeye to earn a Heisman invite in his first season at Ohio State.
Fields finished third in the Heisman race, just as Dwayne Haskins did one year earlier, and Young finished fourth as former Ohio State quarterback Joe Burrow won the trophy in a landslide vote. It's fair to argue that Young or Fields should have finished second rather than Oklahoma quarterback Jalen Hurts, but nonetheless, it was a special weekend for two Buckeyes made even more special by being able to spend it together.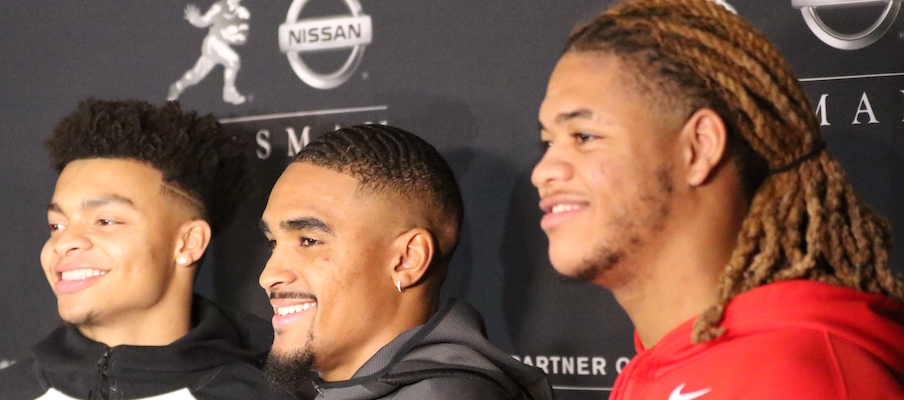 6. Basketball sweeps Michigan
While Ohio State had more prestigious wins on the basketball court this season, beating Michigan is always a paramount priority for the Buckeyes, and they were dominant against the school up north both at Value City Arena and in Ann Arbor this year.
Ohio State men's basketball earned a 61-58 win over Michigan at the Crisler Center and a 77-63 win over the Wolverines at home, marking the first time the Buckeyes have won multiple games against the Wolverines in the same season without a loss since 2010-11. The women's basketball team also earned two wins against Michigan – once at home and once in the Big Ten Tournament semifinals – for its first multi-game season sweep against the rivals since 2009-10.
The men's basketball team's second win against the Wolverines was particularly memorable, as the Buckeyes' postgame celebration included an appearance from Ryan Day, who embraced Chris Holtmann on the court and spent time with the team in the locker room after the game.
Holtmann's squad and Kevin McGuff's squad will never know how their seasons would have ended in the NCAA Tournament, but they can take solace in knowing they both achieved supremacy over their rivals.
5. Women's swimming and diving ends Big Ten drought
For the first time in 34 years, Ohio State's women's swimming and diving team celebrated a conference championship this year, as the Buckeyes outpaced the rest of the conference by a decisive margin of 197 points to win the team title at this year's Big Ten Women's Swimming and Diving championships.
Led by individual wins by Molly Kowal (who also set a Big Ten championships record) in the 1,650-yard freestyle, Kathrin Demler in the 500-yard freestyle, Mackenzie Crawford in the 1-meter dive and the 200 freestyle relay team, Ohio State ended one of the lengthiest conference-title droughts on campus.
THE WAIT IS OVER!! After 34 years the Big Ten Championship is coming back to Columbus!! The Ohio State Buckeyes are BIG TEN CHAMPIONS!!! #GoBucks pic.twitter.com/5ubrRRIWrT

— Ohio State Swim/Dive (@OhioStSwimDive) February 23, 2020
Ohio State was set to send 14 swimmers and as many as four divers to the NCAA championships, which were canceled, but the Big Ten title made this season an undeniable success despite its early end.
4. Women's hockey wins first WCHA championship
They didn't know it would be their final game of the season at the time, but the women's hockey Buckeyes achieved their biggest win in program history on March 8, when they defeated Wisconsin in the WCHA championship game – which they hadn't even played in since 2001 – to win their first conference title ever.
In a game that went scoreless in regulation, Andrea Braendli made 41 saves before Tatum Skaggs – who also had a game-winning overtime goal in the semifinals one day earlier – broke through to score the only goal of the game in overtime to deliver the Buckeyes the championship, which clinched their berth in an NCAA Tournament that sadly never happened.
Thank you, Buckeye Nation for your love and support. This is a special team and we couldn't have done it without you. The WCHA trophy is in Columbus!!! #GoBucks pic.twitter.com/g2uIJZ1BRo

— Ohio State Women's Hockey (@OhioStateWHKY) March 9, 2020
Ultimately, Ohio State achieved the highest feat it possibly could before the season came to an end and tied a program record with 24 wins, giving the Buckeyes plenty of reason to feel great about what they accomplished in 2019-20.
3. Moore, Pletcher cap dominant seasons with Big Ten titles
If it wasn't for the early end of the season, we probably would have written about Kollin Moore and Luke Pletcher winning NCAA titles. That certainly appeared to be in the cards for both Ohio State wrestlers in dominant seasons in which they combined to lose just one bout (Pletcher, against Penn State's Nick Lee).
Under ideal circumstances, Moore would have capped an undefeated season with a national title while Pletcher would have avenged his loss to Lee en route to doing the same. By circumstances out of their control, Moore and Pletcher had their final opportunity to make a run at national titles snatched away from them.
What they accomplished nonetheless, though, deserves to be celebrated just the same. Both men finished their collegiate careers by winning Big Ten championships, as Pletcher defeated Lee in the conference finals to win the 141-pound title while Moore dominated his competition en route to the 197-pound title, cementing their place as two of Ohio State's all-time greats.
2. Football wins third straight Big Ten championship
Ohio State was so dominant during the regular season that it arguably didn't even to win the Big Ten championship to earn a spot in the 2019 College Football Playoff, and in the playoff era, conference championships tend to get almost immediately overshadowed by the CFP selections that happen the next day. Winning the Big Ten remains one of Ohio State's biggest goals, though, and for the third year in a row, the Buckeyes achieved it in 2019.
After winning all 12 of their regular-season games with relative ease, the Buckeyes faced major adversity for the first time all year in the rematch with Wisconsin, as the Badgers took a 21-7 lead into halftime. But the Buckeyes stormed back with a 27-point second half to win 34-21, emphatically punching their ticket into the playoff while becoming the first team to ever win three straight Big Ten Championship Games.
This would ultimately be Ohio State's final victory of the season, but it was enough to ensure that Day's first season as the Buckeyes' coach would be remembered as a major success.
1. Ryan Day gets his first win over Michigan
The Game is always a defining moment of the year in Ohio State sports, and that was as true as ever this year, as Day entered the rivalry with enormous shoes to fill after Urban Meyer won all seven of his games as Ohio State's head coach against Michigan. And Day picked up right where Meyer left off.
Ohio State's defense struggled early in this year's game, but the Buckeyes' offense dominated Don Brown's unit for the second year in a row, as Dobbins rushed for 211 yards and four touchdowns and Fields threw for 302 yards and four touchdowns in a 56-27 rout in the Big House. Jonathon Cooper played his final game of the season before redshirting, demonstrating just how much the Michigan game means to the Buckeyes, and they returned home to Columbus knowing they had secured another pair of Gold Pants.
Fields delivered what Day described as a "magical moment," returning to the game after aggravating a knee injury to throw a touchdown pass to Garrett Wilson on his first play back in, and it was clear after the game just how much this moment – which we anticipate most Buckeyes will agree was the No. 1 moment of the year – meant to him as a first-year head coach.
"There's just so much that goes into this game," Day said. "We live it year-round. For our guys to play the way that they did, it means everything to our program, to my family, (my wife) Nina and the kids. You have no idea. It just feels good."