INDIANAPOLIS – Nearly two months removed from Ohio State's loss to Clemson in the College Football Playoff semifinals, J.K. Dobbins still hasn't fully recovered – physically or emotionally.
During his interview session at the NFL Scouting Combine on Wednesday, Dobbins said he suffered a "very high ankle sprain" in the Buckeyes' loss to the Tigers. He's only been able to train for the combine for a few weeks and still isn't quite fully recovered from the injury, so he's uncertain whether he will participate in on-field workouts with the other running backs on Friday.
"If I'm not 100 percent, then I don't want to go out there and not be 100 percent and not show my full potential," Dobbins said.
If Dobbins doesn't feel as though he can perform at his best on Friday, he'll wait until Ohio State's pro day on March 25 to run the 40-yard dash and go through a full on-field workout. He's hoping, though, that he'll make enough progress over the next couple days to be able to put his athleticism on display.
"If I'm at my full potential, I'll go. I'll definitely go. I love competing. That's what I love to do. That's why I'm here," Dobbins said. "Just being here is a blessing, and if I get to compete, I'm gonna try to put on a big show for you guys."
Dobbins suffered his ankle injury late in the first half of the Fiesta Bowl, when his body was turned away from his ankle on a tackle by Clemson defensive tackle Tyler Davis. Despite the injury, Dobbins returned to the game because he so badly wanted to be on the field to try to help the Buckeyes win.
"It was definitely tough just to even go back and battle through it, because it hurt a lot," Dobbins said. "But I just wanted to win the game for my team, to try to get to the national championship."
Dobbins finished that game with 221 yards from scrimmage, but 142 of those yards – including his 68-yard touchdown run – came in the first half before he suffered his injury. At the time he left the game, Ohio State held a 16-7 lead, but the Buckeyes ended up losing 29-23. 
Dobbins believes the outcome would have been different if he hadn't gotten hurt.
"We definitely win that game," Dobbins said. "I thought we were the better team. We just didn't execute like we should have."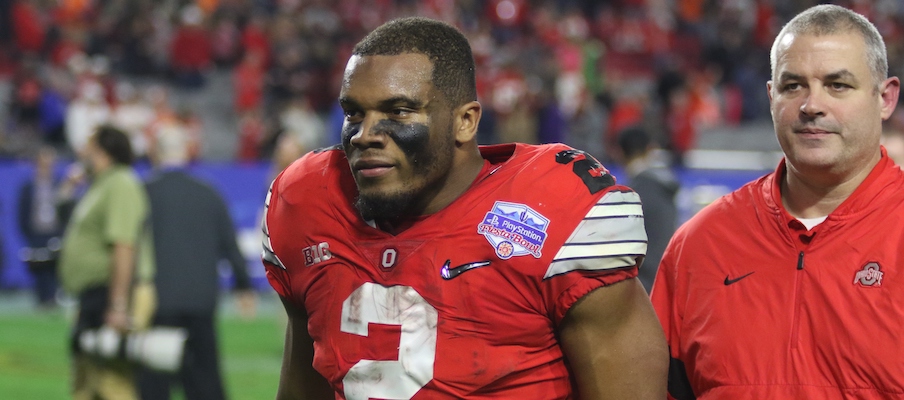 Even though he quickly turned his focus to the NFL after the loss to Clemson, declaring for this year's draft just two days after the season-ending defeat, he said he still thinks about that loss to this day.
"It still hurts a little bit," Dobbins said. "It's definitely tough. I love my teammates, I love that team, it was an amazing team. The chemistry on the team was amazing. It was just like a family. And it definitely hurt to lose that game."
Because of the bonds he built with his Ohio State teammates, Dobbins said it wasn't an easy decision to leave the Buckeyes with one remaining season of eligibility. But after a record-setting year in which he became the first player in Ohio State history to rush for 2,000 yards in a single season, he felt it was time to begin his NFL career.
"It was hard to leave my brothers at Ohio State. I love them a lot. So it was definitely a tough decision. And Columbus as a city is amazing to us," Dobbins said. "I just felt like it was time for me to try to take it to the next level."
"I thought we were the better team. We just didn't execute like we should have."– J.K. Dobbins on Ohio State's College Football Playoff loss to Clemson
Projected to be either a late first-round pick or second-round pick, Dobbins said he believes he is the best running back in the 2020 NFL draft class. He ran for 4,459 total yards (the second-most in Ohio State history) and 38 touchdowns and also caught 71 passes for 645 yards and five additional touchdowns in his three years as a Buckeye, and he believes he has all the skills needed to continue to excel in the professional ranks.
"I think I have tremendous vision," Dobbins said. "I can do it all. I can be explosive, I can bide it out and I'm also a leader. I think I make everyone around me play better, whenever they're playing with me.
"I'm a pretty athletic guy. I'm pretty fast as well. And a lot of people try to say that I can't catch because I accidentally took my eyes off the screen pass in the playoff game, but I had 70 catches – or more than 70 catches – so I think I can catch pretty good."
Dobbins will certainly have plenty of advocates for his ability among his coaches and teammates from Ohio State, including former Buckeye guard Jonah Jackson, who is rooming with Dobbins at the combine this week.
"They're getting a guy that's going to impact right away, make his presence felt," Jackson said of Dobbins. "Great leader, and just a ferocious competitor. He's going to be nonstop until that whistle blows."