INDIANAPOLIS – For the second year in a row, Ohio State has three wide receivers at the NFL Scouting Combine.
Last year's trio – Parris Campbell, Terry McLaurin and Johnnie Dixon – set a high bar for this year's trio – K.J. Hill, Austin Mack and Binjimen Victor – to reach. 
Campbell, McLaurin and Dixon all ran the 40-yard dash in 4.41 seconds or less at the 2019 NFL Scouting Combine, and continued to showcase their skills in on-field pass-catching drills. That helped Campbell ultimately become a second-round pick and McLaurin become a third-round pick in the 2019 NFL draft, while Dixon went undrafted but spent last season with the Arizona Cardinals' practice squad.
It's not going to be easy for Hill, Mack and Victor to run as fast as they did last year. But they're certainly going to try.
"Them boys fast man," Victor said Tuesday during his interview session at the NFL Scouting Combine. "But me, K.J. and Austin, we got to uphold that standard. It's a standard that we have in that room, and we just got to attack it."
Victor, Mack and Hill are all planning to go through a full on-field workout on Thursday, when the wide receivers – along with the quarterbacks and tight ends – will take the field for the first day of on-field drills at this year's combine. 
They're looking to deliver impressive performances in every drill they participate in, but the 40 – the combine drill that usually generates the most attention, particularly for skill positions like wide receiver – is naturally at the top of their minds.
Hill, Mack and Victor are all still in a group chat with each other and some of their other former teammates from Ohio State's receiver room – while Hill and Victor also trained for the combine together at Michael Johnson Performance in Dallas – and they've been making bets with each other on who will run the fastest on Thursday.
They're all betting on themselves.
"We definitely can't wait to see who runs the fastest. But I'm definitely betting on myself," said Mack, who said Dixon is also betting on him to run the fastest.
Mack said his goal is to run the 40 in 4.4 seconds. Victor and Hill didn't want to specify what time they think they'll run, but they're both expecting to run fast, too.
"I'm gonna be fast enough," Hill said. "I'll put it like that."
Because they're all still in regular communication with the former Ohio State receivers who went through the combine process last year, they said they have reached out to Campbell, McLaurin and Dixon for advice and are motivated to follow in their footsteps with strong performances of their own.
"It definitely motivates a lot," Hill said. "Not just from those guys last year, but the guys before them too. So it's just our turn to step in and put on for our school."
They've also continued to receive advice from Ohio State wide receivers coach Brian Hartline, who participated in the 2009 NFL Scouting Combine and went on to play in the league for seven seasons.
"It helps you a lot, because he's been through it," Victor said of learning from Hartline. "He's been through this process, he's been through everything. I talked to him a little bit about that, and coming in, you feel a lot of confidence because he's been through it. He helped prepare you for this moment."
In what is considered to be a deep draft class of wide receivers, none of the three Buckeyes have received a ton of pre-draft hype. Even after Hill and Mack participated in the Senior Bowl – where Hill was one of the stars of the week – and Victor participated in the East-West Shrine Bowl, where he had a 36-yard touchdown catch, Hill is widely projected as a middle-round draft choice while Victor and Mack aren't expected to be drafted before the late rounds.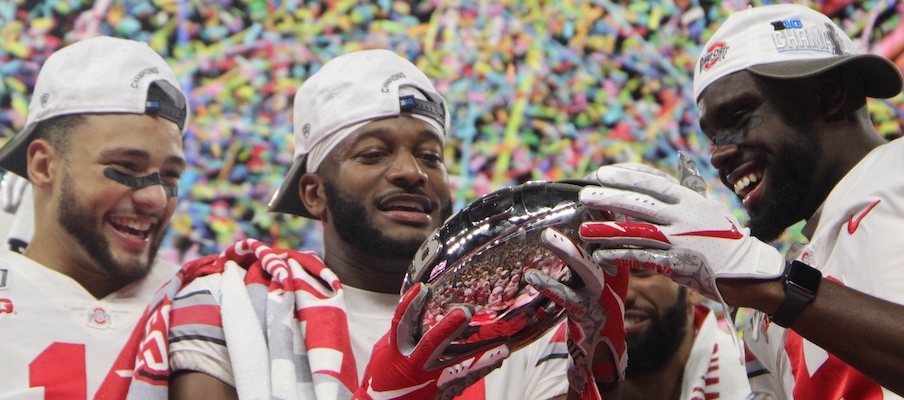 This week is a chance for all of them, though, to make another impression that could bolster their draft stock. 
Hill believes the most important part of this week for him are his interviews with NFL teams, where he wants to demonstrate his high character and knowledge of the game.
"I feel like I'm going to do great on the field. I feel like all that comes natural to me. I've been doing the combine since the Nike (Opening), so I feel like that part comes natural," Hill said. "I just want to impress them with my personality, me off the field, my character."
All three receivers want to be consistent in on-field drills and show that they can run crisp routes and catch the ball cleanly. That's especially important for Victor and Mack, who each finished their four-year Ohio State careers with fewer than 100 total catches (82 for Victor, 79 for Mack).
Both of them say their primary focus in preparing for this week, though, has been on running a fast 40-yard dash, knowing how much emphasis is placed on that measurable and how their 40 time could make a real difference in whether or not they hear their names called during this year's NFL draft, which is scheduled for April 23-25.
"They know I can play. They know I'm a great route runner. What's he going to run? That's why we're all here," Mack said. "So I'll run a really good time and it's going to be really good."
Victor believes that if he does well in the 40, succeeding in the rest of the drills won't be a problem.
"I've been really focusing on that 40 and being able to run fast on that, and then everything else, it's just going to come natural," Victor said. "This is where you show you're a ballplayer. You just got to come here because not too many people have the opportunity to be here. You just got to take advantage of it."
Televised coverage of the first day of NFL Scouting Combine workouts, which will include Hill, Mack and Victor running the 40, is scheduled to begin at 4 p.m. Thursday on NFL Network.