ANN ARBOR, Mich. – A wide-smiling Brian Hartline sprinted up the tunnel on the east side of Michigan Stadium, flailing his arms, leaping twice in the air and then jumping onto the back of an unsuspecting Chris Olave. Hartline tightly held the sophomore Ohio State wideout in a bear hug, shaking him in elation as they took their final steps before turning left into a victorious away locker room.
Thirty-five seconds later, defensive graduate assistant Sean Duggan snuck up on Malik Harrison near the top of the tunnel, wrapping his right arm around the senior linebacker's shoulder and pulling him in for a quick hug. Then came Damon Arnette, the brash, talkative fifth-year cornerback who at this point a year ago probably thought he'd be in the NFL by now. Weaving his way through his teammates and plenty of Michigan personnel wearing maize and blue, Arnette shouted to nobody in particular about "O State." An excitable defensive line graduate assistant Kenny Anunike followed, draping his left arm around Jordan Fuller.
"We ain't got to talk no more," Anunike yelled. "We did exactly what we needed, baby."
In the minds of the Buckeyes and all their supporters, that's what the postgame scene after an Ohio State-Michigan matchup should look like. That's what it felt like to them under Jim Tressel, that's what it was like with Urban Meyer and that's what it should be like under Ryan Day.
Pure elation.
"For our guys to play the way that they did, it means everything to our program, to my family, (my wife) Nina and the kids. You have no idea. It just feels good."– Ryan Day on beating Michigan
And that's what everybody draped in scarlet and gray clothing felt on Saturday afternoon following the team's 56-27 demolition of the Wolverines, marking the eighth rivalry game win in a row and the 15th in the past 16 years.
"To say that there's not stress coming into a game like this would be a lie," Day said after the victory. "There's so much riding on a game like this, and you understand and you feel the weight of everybody involved with it. To win like this right now, it's a relief. It is. And I'm just so happy for these guys, the guys on the team who have put so much into it. There's great chemistry. There's great leadership. There's great maturity. And to see them celebrating in the locker room like that after, that means the world to us as a coaching staff."
Like many Ohio State-Michigan games, the victory didn't come with particular ease – at least, not early.
A week after what Day termed an "emotional" win against Penn State, the Buckeyes fell behind less than four minutes into the game, trailing by a season-most six points. Michigan marched 75 yards down the field in seven plays with unanticipated ease. At the end of the first quarter, a three-play, 75-yard drive ended in seven points for Michigan, which pulled within a point of Ohio State. A combination of crushing, self-inflicted errors from the Wolverines, improved play from the Buckeyes' defense and a steady offense led to a 42-14 Ohio State run to end the game with a resounding victory.
"This was everybody," Day said. "In games like this, it comes down to players. Our big-time players played well."
It also, though, came as a result of the coaching staff putting arguably the most talented roster in the country in a position to thrive. And that begins with Day.
Like anybody else, he prefers not to think about what Ohio State's past head coaches accomplished as pressure on him. But Day knows that's not possible when it comes to the Ohio State-Michigan rivalry. Chase Young, speaking after the game, called beating the Wolverines a "great Ohio State tradition." And it's hard to disagree based on recent history.
Tressel went 9-1 against Michigan, and Meyer followed him by going 7-0. With that duo at the helm, beating Michigan has become more of an expectation than a goal. When Gene Smith laughed last December when asked whether Meyer retiring meant Day would have decreased expectations, he had to have been thinking about the game against Michigan.
"Ever since I took the job, it's been on my mind," Day said. "I know what this game means to the people of Ohio, to Buckeye Nation, and coming off the heels of one of the greatest coaches in the history of college football who went 7-0 here, those are big shoes to fill. And I tried not to worry about that, our staff tried not to worry about that. All you worry about is just right now. And any time I started to think about, 'What if? What if?' I just got right back into my work and just focused on trying to put a good game plan together."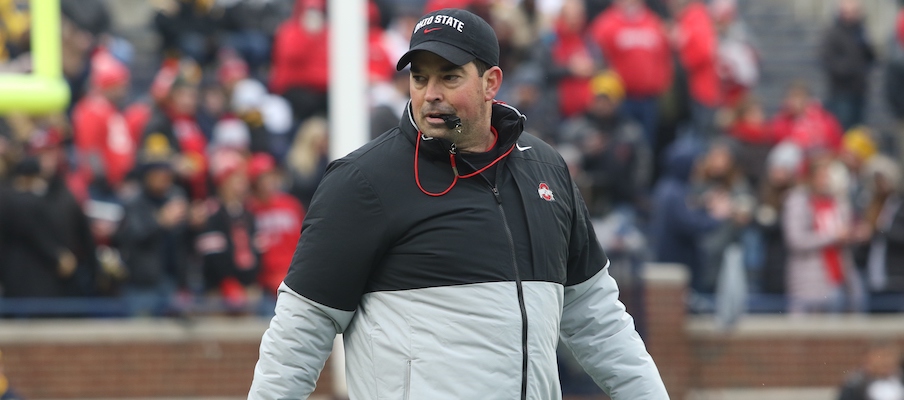 Day admitted after the game that on multiple occasions he asked offensive coordinator Kevin Wilson what had happened on the most recent drive, calling it a "blur." 
Part of that comes naturally as a head coach with a never-ending list of responsibilities. But the gravity of the Ohio State-Michigan game also naturally affects everybody, even the head coach of Ohio State. Speaking to the media after the game, the thoughts in his mind remained a jumbled mess.
"Just overcome with emotion right now," Day said. "There's just so much that goes into this game. We live it year-round. For our guys to play the way that they did, it means everything to our program, to my family, (my wife) Nina and the kids. You have no idea. It just feels good."
Meyer, who watched the game from Michigan Stadium as a broadcaster for Fox, knows the feeling. So too does Tressel. Both of them beat the Wolverines time and time again. The pressure for Day to beat Michigan again and extend the winning streak to nine will come soon enough. 
But until then, Day can bathe in joy after what happened on Saturday. He's 1-0.