Own the group chat with The Weekender, highlighting the biggest stories in college sports, standout writing from Eleven Warriors, and a glance at what's next.
MICHIGAN HEADLINES: CLICK-BAIT OR ACTUAL SCANDAL(S)?
You may be familiar with how Michigan co-captain Mazi Smith was cited with felony weapons charges in the middle of the season but continued playing as Washtenaw County prosecutor and Michigan alumnus Eli Savit took over a month to approve the request for charges, which just happened to coincide with the conclusion of the regular season schedule.
Chances are you've also heard Michigan is under NCAA investigation for several infractions including head coach Jim Harbaugh lying to the NCAA *Jim Tressel voice* and so forth.
And you must be familiar with how for the second offseason in a row Harbaugh threw himself at NFL coaching vacancies without success, which is what is keeping him in Ann Arbor. For now.
Interesting on Jim Harbaugh, from @TomPelissero (via @RichEisenShow).

Harbaugh wanted to keep interviewing w/Broncos, but Denver wanted to go through the process.

"Eventually Harbaugh got to a point where he said, 'Okay I'm just going to go back to Michigan instead of waiting"

— Zac Stevens (@ZacStevensDNVR) January 20, 2023
This week, more actual crimes hit the football program which - thus far - have resulted in co-OC Matt Weiss' termination from the university. While the Wolverines have been successful on the field, accountability off the field seems to be, at kindest, a bit messy.
As I reported on @michiganinsider with @SamWebb77 this morning on WTKA:
-Former UM Pres. Schlissel never conducted a review of AD Warde Manuel in his six years on the job.
-Manuel and Harbaugh have not spoken directly since May.
Guessing new UM pres. @SantaJOno changes both.

— John U. Bacon (@Johnubacon) January 20, 2023
This is all quite smelly and noisy, but as Ohio State fans with indelible memories of the 2011 offseason: Is this bad news about Michigan being manufactured and amplified for clicks or is it actual, newsworthy content worthy of publication, scrutiny and investigation?
Here's a partial list of what's found the U-M "scandal" marquee over the past couple of years:
VERDICT: None of this is clickbait. If Michigan wants to stay out of negative headlines, it should simply stop creating negative headlines. That said, the Wolverines must ensure their players avoid the temptation to sell their socks in exchange for discounted ink.
Then they'll see what clickbait looks like.
THE PRIDE OF OHIO STATE TENNIS CONTINUES TO SHINE AS A PRO
To put this into the right context: J.J. Wolf is now one of the 16 best tennis players in the world.
He'll wear that distinction for at least two weeks, after advancing to the 4th round of the Australian Open - and that is the floor here. His ranking and bank account can only go up.
Wolf has been one to watch going back to his high school days, but at Ohio State he was the B1G Freshman of the Year, an All-B1G first-teamer and the no.1-ranked college tennis player in America. This is the furthest he has advanced in a Grand Slam tournament since the US Open, where he reached the third round in both 2020 and 2022.
Earlier this week he beat Argentina's Diego Schwartzman (no.23; GIF above) in straight sets 6-1, 6-4, 6-5 to advance. Schwartzman has $13M in prize money and career wins over Raphael Nadal (no.2) and Dominic Thiem (no.3) to his credit. Wolf was in command the entire match.
If he can get past fellow American Ben Shelton tonight (10pm ET) he'll make the quarterfinals of a Grand Slam tournament for the first time in his career. Go JJ, Go Bucks.
BUYER BEWARE, OR SOMETHING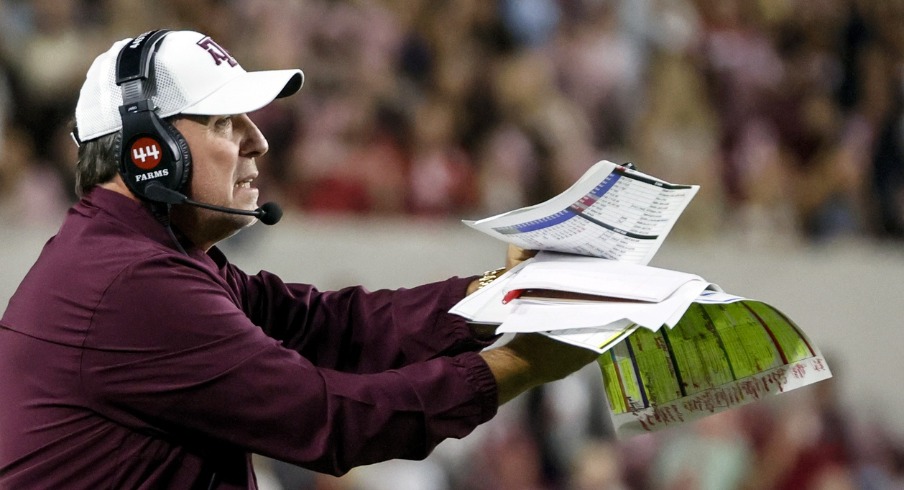 It has not even been a year since Nick Saban matter-of-factly stated into a live microphone with cameras rolling that Jimbo Fisher and the Texas A&M Aggies bought their top-rated recruiting class.
A lot can change in a year, and now buying recruiting classes isn't a whispered chore anymore. But Texas A&M's approach to pulling up recruiting rankings and then opening the oil money checkbook for the guys at the top of the list doesn't appear to be paying dividends.
"Texas A&M has lost 25 scholarship players in one offseason. Eighteen were blue-chip recruits. Eight were top-100 recruits, including five-stars Denver Harris and Chris Marshall. Seven were freshmen from their top-ranked 2022 recruiting class." Fascinating dynamic at A&M now. https://t.co/6hApSugX0B

— Bruce Feldman (@BruceFeldmanCFB) January 19, 2023
A reminder that Texas A&M went 5-7 this season with those guys on the payroll roster.
Ohio State and the rest of the B1G have been accused of waiting too long for leadership and guidance where NIL governance and execution are concerned, which is a fair criticism.
But it seems the programs who just go on shopping sprees have a higher probability of an overactive roster turnstile. Alabama just lost 13 players to the portal, including 10 from the offense. Ohio State's portal involvement this winter was frustratingly tepid from the shopper and roster needs standpoint, but there was no double-digit exodus out of Columbus either.
Everyone is still figuring it out. Programs can choose to churn and burn blue chip recruits (expensive, probably not great for culture) or sit back and try to pretend it's still 1998 (less expensive, probably not great for success) at the extremes.
A more thoughtful approach might be to the thread the needle with purposeful and competently-administered NIL deployment (resource-heavy and emotionally taxing, but as Woody was fond of saying - anything easy ain't worth a damn) along with program culture preservation, which acknowledges NFL aspirations for the highest-potential players while fostering the importance and privilege of being a Buckeye for Life™ for the entire roster.
ICYMI
Griffin Strom's deep dive into the competition between Kyle McCord and Devin Brown to succeed C.J. Stroud as Ohio State's next starting quarterback. McCord is one of three Buckeyes who already have Heisman odds.
Oregon State graduate transfer Tristan Gebbia brings experience, a coach-on-the-field attitude and a safety net to Ohio State's QB room. Louisiana-Monroe transfer Victor Cutler was a 2-star recruit in high school but had offers from Penn State, Ole Miss, Oklahoma State and Louisville before transferring to Columbus where he can play any position on the OL but will compete to replace Luke Wypler at C.
Dan Hope breaks down where each of Ohio State's draft-eligible players is expected to be taken in the 2023 NFL Draft - from C.J. Stroud to the Buckeyes' specialists. Good luck, gentlemen.
What's Next
Women's Basketball: vs. Iowa, 7 p.m. Monday (ESPN2)
Men's Basketball: at Illinois, 7 p.m. Tuesday (ESPN)
Women's Hockey: vs. Minnesota State, 6 p.m. Friday (B1G+)
Wrestling: at Michigan, 6 p.m. Friday (BTN)
Football: at Indiana in 223 days (TBD, TBD)