Today the NCAA added a one-year postseason ban, four additional scholarship reductions and an additional year of probation to Ohio State's self-punishment of Jim Tressel's resignation, two years of probation (bringing the total to three), five reduced scholarships (now nine), vacating the entire 2010 season and forfeited its Big Ten bowl payout share, or roughly $338,000.
The Columbus Dispatch broke the story over an hour prior to a previously-scheduled 3pm teleconference to share the details of the verdict.
Athletic Director Gene Smith had said he did not expect a bowl ban based on historical precedent, while Urban Meyer had allegedly implied to at least one recruit (Canton running back Bri'onte Dunn) that there would not be additional punishment that would impact him personally.
The penalties came from two different Notices of Allegations, the first of which was specific to Tatgate while the second was borne out of the subsequent investigation into former quarterback Terrelle Pryor, which resulted in the university disassociating long-time booster Bobby DiGeronimo.
The added punishment extends the closure for what had been a year-long scandal through next season.
The Tatgate scandal unofficially began to unfold last December 21 when Dave Biddle of Bucknuts reported that bad news was coming in the form of improper benefits.
Two days later that news was confirmed: Several Ohio State players were found to have sold their posessions to Fine Line, Inc, a Columbus tattoo parlor, in exchange for discounted tattoos and cash.
The initial punishment, which was universally scorned, was to commute the suspensions of the players involved to the start of the 2011 season, which allowed the guilty players to participate in the Sugar Bowl. Ohio State began its investigation against the backdrop of preparations for Arkansas.
Two months after the Buckeyes concluded their season, an anonymous source contacted Dan Wetzel and Charles Robinson of Yahoo! Sports and informed them that Jim Tressel had known about the improper benefits nearly eight months before they came to light, in effect allowing ineligible athletes to play the entire 2010 season.
Columbus attorney Christopher Cicero had emailed Tressel with the details of a pending Federal investigation into Fine Line Ink and warned him that evidence of the players' transactions with its proprietor, Ed Rife, would surface. Ohio State alleges Tressel told no one of this knowledge.
The entire Tatgate case summary could be rendered down to a single sentence: Tressel lied to the NCAA about his knowledge of infractions and played would-be ineligible players for an entire season.
What had started as a two-game suspension for withholding information on the violations grew into five games. By the time the media had turned Tressel's deliberate omission of Tatgate into a larger scheme equipped to render amateur athletics meaningless, Ohio State's Board of Trustees "encouraged" him to resign.
It not only shocked the program and the state, but it also cost Tressel about $21MM in guaranteed money from the cancelled years on his contract.
The national and local media that had added free or heavily-discounted cars to the Tatgate scandal also inserted free rounds of golf as well as endorsed personal checks for secret autograph signings.
The investigation into cars turned up no evidence of violations. DeVier Posey was later suspended for five additional games for being overpaid by DiGeronimo.
A secondary violation was alleged to have been also committed with Posey receiving free golf from Dennis Talbott in 2009 (Talbott denies the allegation) but the NCAA never contacted Talbott and neither the incident nor the violation were mentioned in the final report.
Ohio State did not earn a severe charge from the NCAA until it was handed a Failure to Monitor (FTM) charge for the DiGeronimo charges. A postseason ban, previously speculated (incorrectly) to be inevitable by the public in a lather was now considered to be in play, despite FTM not necessarily resulting in such historically.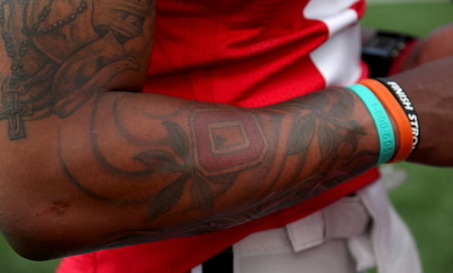 Collateral damage to the program was significant, especially in summer recruiting which was traditionally when Tressel was at his best.
Prized OSU verbal commitment Kyle Kalis was so spooked by the punitive speculation that he switched his commitment to Michigan right after his visit with Brady Hoke. Dunn was thought for months to be following him north but recently reaffirmed his commitment to Ohio State.
The extended offseason that refused to end roared to a crescendo with Ohio State's meeting with the NCAA Committee on Infractions.
In July, immediately after the NCAA concluded its own investigation that found no further violations, ESPN sued Ohio State for access to the information that the NCAA had been privy to in its own investigation but hadn't been released publicly through FOI request due to the university's interpretation of FERPA laws.
Many in the media allowed their dislike for Ohio State and Tressel to cloud their reporting: CBS Sports' Dennis Dodd referred to Tressel's $52,000 final paycheck a golden parachute. That final check amounted to just 1.5% of what would have been his guaranteed salary for 2011 and .033% (one third of one percent) of what Tressel would have made through his now-cancelled contract.
Only after the salacious and systemic Miami scandal and the Jerry Sandusky tragedy at Penn State unfolded did public opinion at large begin to gain perspective.
Tressel deliberately failed to report players selling their own belongings for cash. It was a far cry from the rampant academic fraud at North Carolina, the systemic LOIC at Boise State across multiple sports, the openly permissible attitude at the University of Miami toward having Nevin Shapiro as the athletic department's Caligula for several years and the wholesale administrative coverup of Sandusky's serial child rape at Penn State.
Regardless, the Ohio State scandal captured the media's attention and was a national story throughout the year.
Meyer's coaching staff, along with the rest of the OSU Athletic Department, inherits next season's bowl ban, nine fewer football scholarships over the next three years as well as three years of probation.
Barring any future violations, Ohio State won't technically be free of Tatgate until December 21, 2016 when the five-year window for repeat offender status expires. The real damage to the university - its perception - may take even longer to repair.
The NCAA's verdict marks the closing of the most difficult chapter in Buckeye football history. While 2011 has already felt like punishment, now the NCAA's punishment begins for Ohio State.