Ohio State has made a habit of being one of the most well-represented schools in the NFL draft each year, and the 2023 NFL draft will be no different.
At least 14 members of Ohio State's 2022 football team will be pursuing NFL careers this spring, and just about all of them have a real chance of being drafted or at least getting the opportunity to compete for a roster spot as an undrafted free agent.
Most notably, Ohio State's 2023 NFL draft class is headlined by a trio of offensive stars who are all projected first-round picks: C.J. Stroud, Paris Johnson Jr. and Jaxon Smith-Njigba. Three more Buckeyes – Zach Harrison, Dawand Jones and Luke Wypler – are likewise expected to be early-round selections. Ronnie Hickman, Cameron Brown and Taron Vincent are among the other Buckeyes who have a good chance of being selected by the end of the seven-round draft.
With the deadline for underclassmen to enter the NFL draft now passed and the pre-draft process underway for all of those Buckeyes, we take a look at all of Ohio State's confirmed 2023 NFL draft entrants – divided into four categories based on their draft stock – and their outlook as draft prospects.
(Note: Tyler Friday and Palaie Gaoteote IV are not included below because they have not stated publicly whether they will enter the 2023 NFL draft. While there has not been any indication they will return to Ohio State, seniors with an additional year of collegiate eligibility have until Feb. 3 to withdraw from the draft.)
First-Rounders
QB C.J. Stroud
After a 36-year drought in which Ohio State didn't have a single quarterback selected in the first round, Stroud is set to become the third Buckeye quarterback drafted in Round 1 in five years. It's a virtual certainty that Stroud will join 2019 first-round pick Dwayne Haskins and 2021 first-rounder Justin Fields in becoming a top-15 pick. It appears very likely Stroud will be the first Ohio State quarterback drafted in the top 10 picks since 1982 No. 4 overall pick Art Schlichter, and it's possible Stroud could become OSU's first-ever top-three pick at quarterback.
As gifted a passer as Ohio State has ever had, Stroud is in contention to be the first quarterback drafted this year, though Alabama's Bryce Young is the favorite to go No. 1 overall and Kentucky's Will Levis is also drawing buzz as a potential top pick. Nevertheless, the value of the quarterback position and a multitude of teams picking near the top of the draft that could be in the quarterback market should ensure Stroud won't have to wait long to hear his name called on April 27.
The biggest knock on Stroud as an NFL draft prospect that could hurt him in comparison to the draft's other top quarterbacks is the lack of plays he made at Ohio State as a runner, though he certainly bolstered his chances of being one of the draft's top choices with his spectacular performance against Georgia, in which he proved he could be a weapon with his legs against the top defense in college football.
OT Paris Johnson Jr.
Regarded as one of the top two or three offensive tackles in this year's NFL draft class, Johnson is a strong candidate to join Stroud as a top-15 overall pick. He's a sure bet to be the first Ohio State offensive tackle drafted in Round 1 since Taylor Decker went 16th overall in 2016.
Johnson was dominant in his lone season as Ohio State's starting left tackle, particularly in pass protection, where he allowed only two sacks and 14 pressures on 449 pass-blocking snaps in 2022, according to Pro Football Focus. At 6-foot-6 and 310 pounds with great athleticism and strength, Johnson fits the prototype to continue protecting a quarterback's blind side in the NFL.
Johnson already looked like an NFL-ready offensive tackle with his play this past season, for which he earned consensus All-American honors, and he might still just be scratching the surface of how good he can be. That, coupled with the fact that he plays a premium value position, ensures he'll hear his name called on night one.
WR Jaxon Smith-Njigba
Even though Smith-Njigba missed nearly all of his final season at Ohio State with a hamstring injury, he's still expected to be a first-round pick in this year's draft. And he still has a very real chance to be the first wide receiver off the board, though he faces competition from TCU's Quentin Johnston and USC's Jordan Addison for that standing.
Had Smith-Njigba followed up his record-breaking 2021 season with similar production in 2022, he could have already established himself as the top wide receiver in the draft. Now, it will be important for Smith-Njigba to show he's still the same player he was before his injury at the NFL Scouting Combine and/or Ohio State's pro day. Assuming he can do that, though, his spectacular film from 2021 should be all NFL scouts need to feel confident that JSN is an elite talent.
While he's not the biggest receiver by NFL standards, his spectacular quickness and route-running ability should enable him to emerge quickly as one of the league's best slot receivers. And while every prospect is evaluated individually, it certainly doesn't hurt his cause that Chris Olave and Garrett Wilson were the two best rookie receivers in the NFL this past season – especially considering Smith-Njigba outproduced both of them in 2021.
Projected Early-Round Picks
DE Zach Harrison
It's not out of the question that Harrison could give Ohio State four first-round picks for the first time since the Buckeyes had five first-rounders in 2016. A 6-foot-6, 272-pound defensive end who has been clocked running a 4.47-second 40-yard dash, Harrison should be one of the stars of the NFL Combine and could see his draft stock skyrocket if he performs up to expectations in pre-draft workouts.
While Harrison never quite lived up to the immense expectation of being Ohio State's next Chase Young or Nick/Joey Bosa, and he won't be a top-three overall draft pick like they were, he legitimized himself as an early-round NFL draft prospect with a solid senior season in which he was more consistently disruptive than he was in his first three years at Ohio State. 
Although he never had more than 3.5 sacks in a season as a Buckeye, he showed enough as both a pass-rusher and run-stopper for NFL scouts to believe he can be a difference-maker at the next level. He also offers versatility with size, athleticism, and experience playing inside that could enable him to line up at multiple spots in either a 4-3 or 3-4 scheme.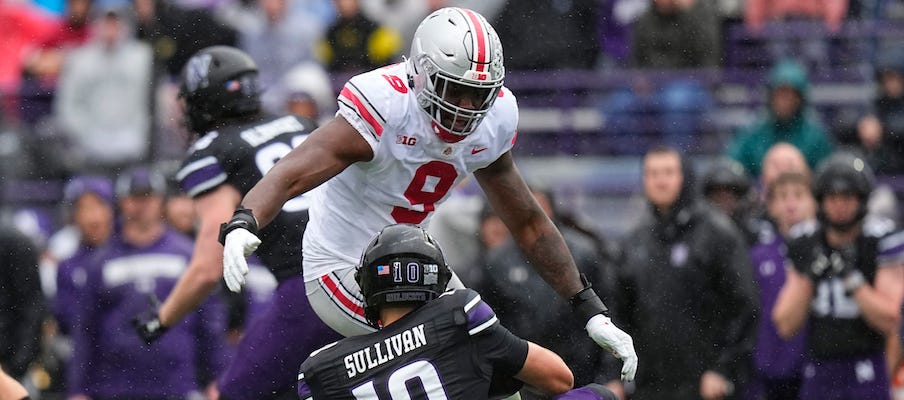 OT Dawand Jones
Like Harrison, Jones is a projected second-round pick with an outside chance of sneaking into the first round because of his rare physical gifts. Possessing rare athleticism for a 6-foot-8, 360-pound giant, Jones will immediately be one of the NFL's largest players and offers the potential to be an excellent right tackle at the next level.
PFF graded Jones as the most efficient pass blocker in the entire country last season, as he allowed zero sacks and only five total pressures on 419 pass-blocking snaps in his final year at Ohio State, while he also frequently overpowered opponents in the run game.
He won't have quite as pronounced a physical advantage over NFL opponents as he often did in college and will need to cut down on penalties after committing eight of them in each of his two seasons as an Oho State starter. Still, his combination of tools and on-field performance as a Buckeye is sure to intrigue talent evaluators.
C Luke Wypler
While Wypler's decision to leave Ohio State after three years came as a surprise to some, he is expected to be one of the first centers selected in this year's draft, likely making him a second or third-round pick.
With two seasons of high-quality play as the Buckeyes' starting center, Wypler projects as a player who can quickly compete for an NFL starting job even though he spent only three years in college. He is a bit smaller than the average NFL interior offensive lineman at 6-foot-3 and 300 pounds, but his technically sound game will appeal to teams looking for immediate help in the middle.
Strong as both a pass protector and run blocker for the Buckeyes, Wypler, like Stroud, bolstered his draft stock in his final game at Ohio State by performing well against Georgia – specifically Georgia defensive tackle Jalen Carter, who is a projected top-five overall draft pick but didn't make a huge impact against the Buckeyes.
Likely Later-Round Picks
S Ronnie Hickman
Throughout his final two seasons at Ohio State, Hickman displayed plenty of versatility for NFL scouts as he was the Buckeyes' starting strong safety in 2021 before moving to free safety in 2022. He performed well in both roles, leading Ohio State with 100 tackles in 2021 and receiving a top-10 grade in coverage among all FBS safeties from PFF in 2022.
That well-rounded skill set should make Hickman an appealing prospect in the middle to late rounds for teams looking to add safety depth. He didn't have the best finish to his Ohio State career as he struggled in his final two games as a Buckeye against Michigan and Georgia, which hurt his chances of vaulting in the draft's early rounds, but he'll have a chance to regain momentum and boost his draft stock when he participates in the Senior Bowl alongside Harrison and Jones in two weeks.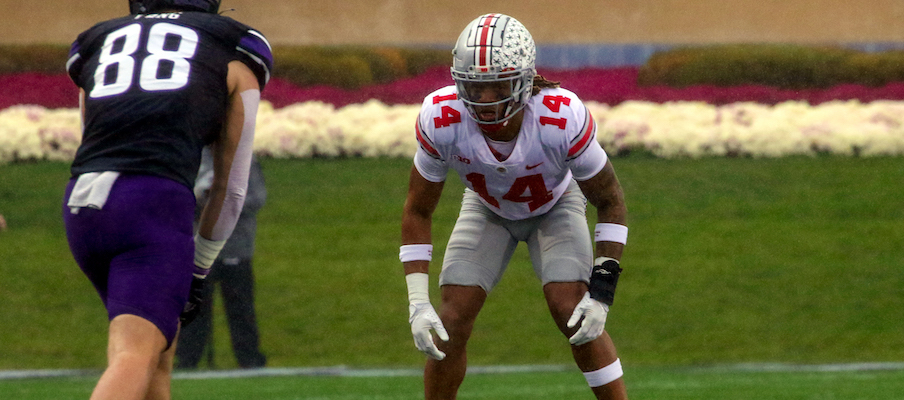 CB Cameron Brown
Brown showed plenty of NFL potential when he was at his best at Ohio State, showing skill, athleticism and physicality as an outside cornerback. He has claimed he can run the 40-yard dash in faster than 4.3 seconds, and he'll certainly elevate his draft stock if he can back that up at the combine.
That said, Brown was never at his best form consistently at Ohio State, in large part because he was plagued by injuries throughout his career. A clean medical evaluation at the combine may be the most important part of the pre-draft process for Brown, as his injury history will surely be a red flag on his scouting report. Nevertheless, he's likely to be selected in the later rounds of the draft based on his upside, and he'll have a chance to elevate his draft stock at the East-West Shrine Bowl in two weeks.
DT Taron Vincent
Vincent never became the game-wrecker he was projected to be when he arrived at Ohio State as a five-star recruit, but he still provided several years of solid play as one of the Buckeyes' top defensive tackles over the past few seasons. The son of longtime NFL cornerback and current NFL executive vice president of football operations Troy Vincent, Taron has the physical makeup of an NFL defensive tackle at 6-foot-2 and 300 pounds with good quickness and stoutness.
His lack of pass-rushing production will hurt his chances of going before the late rounds, as he never had more than one sack in his Ohio State career, but his run-stopping ability will give him a chance to earn a spot in an NFL defensive tackle rotation. Like Brown, he earned an invitation to the Shrine Bowl, where he could improve his odds of being picked with a productive week of practices.
Other Draft Hopefuls
S Tanner McCalister
No member of Ohio State's 2023 draft class will bring more collegiate experience to the league than McCalister, who played 2,359 snaps between his four seasons at Oklahoma State and his one year as a Buckeye. Regarded as a coach on the field at both schools, McCalister has three years of experience as a starting nickel safety and a high football IQ, both of which should help him in his quest to make an NFL roster.
He's played snaps in the slot, as a traditional safety and outside at cornerback over the course of his collegiate career, which should also bolster his chances of earning a job in an NFL secondary as a projected late-round pick or an undrafted free agent. While there might not be any specific element of McCalister's game that jumps off the page to make him a premier NFL prospect, the same qualities that made him a trusted player in both Stillwater and Columbus should impress pro coaches.
DT Jerron Cage
A backup for most of his Ohio State career, Cage is likely a longshot to get drafted. He gained some momentum with NFL scouts at last week's Hula Bowl, however, where he performed well enough in practices that he earned an invitation to the Shrine Bowl.
While Cage didn't play enough this past season to have the big year he needed to turn himself into a likely draft pick, another good week at the Shrine Bowl could give Cage a shot at being a late-round selection or at least position him to be picked quickly as an undrafted free agent. He has an NFL body type at 6-foot-2 and 305 pounds and enough athleticism to play at the next level, as evidenced by his famous fumble return touchdown against Penn State in 2021.
FB/TE Mitch Rossi
It's not too common for fullbacks who began their college football careers as walk-ons to be selected in the NFL draft, but Rossi shouldn't be counted out as a player with pro potential. Most NFL teams have at least one fullback on their roster, and Rossi's well-demonstrated blocking ability could make him a valuable role player.
Rossi played extensively on special teams at Ohio State, an important aspect of making a 53-man roster as a role player, while offering the versatility to line up both in the backfield and as a traditional tight end. He should at least get a look from NFL teams as an undrafted free agent and could be a sleeper to hear his name called in the late rounds, mainly if he can show more receiving ability at OSU's pro day than he got the chance to show in actual games for the Buckeyes.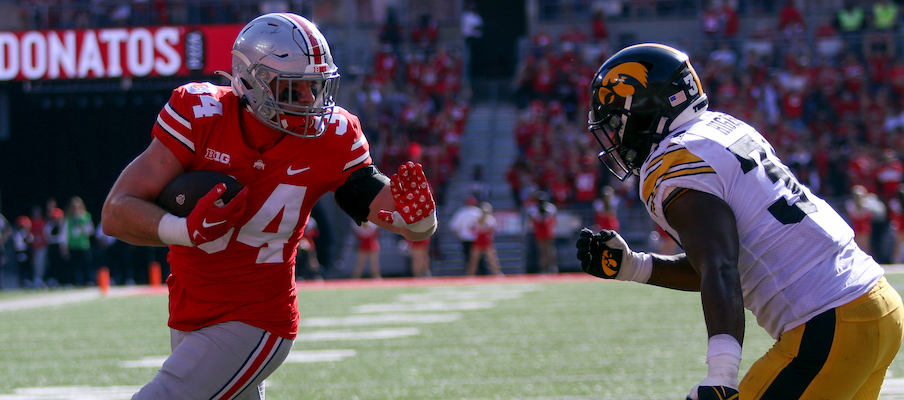 K Noah Ruggles
Ruggles was one of the most consistently accurate kickers in college football over the past two seasons, making 37 of his 41 field goal attempts to finish his Buckeye career with the best field goal percentage (90.4%) in school history. Teams looking for more reliability from their field goal kicker have reason to look at Ruggles, who missed only two field goal attempts inside of 50 yards over the past two years.
Given that most NFL teams carry only one kicker, however, Ruggles' limited leg strength hurts his chances of being drafted. Ruggles never made a field goal of 50-plus yards during his collegiate career, while he was also taken off of kickoffs by Ohio State in 2022. Ruggles should earn an invitation to a rookie minicamp because of his reliability on shorter field goals, but he'll have to show improvement on longer field goals and kickoffs to earn a roster spot.
LS Bradley Robinson
Robinson was considered one of college football's top long snappers before he tore his ACL in Ohio State's seventh game of last season against Iowa. His ongoing recovery from that injury makes it unlikely he'll be drafted at a position where it's rare for players to be drafted anyway, but his consistency during his two-and-a-half seasons as Ohio State's starting long snapper could earn him a chance to compete for an NFL roster spot once healthy.