Visitors List (Subject To Change)
May 24th
'15 RB L.J. Scott (Hubbard, OH)
'16 RB George Hill (Hubbard, OH)
May 31st - June 1st (Columbus NFTC & Elite 11)
'17 QB Danny Clark (Massillon, OH) - commit
'15 RB Natereace Strong (East Saint Louis, IL) (Mizzou Commit)
'15 WR Alex Ofodile (Columbia, MO)
'15 WR Abu Daramy (Westerville, OH)
'15 OL Matthew Burrell (Woodbridge, VA)
'15 DE Terry Beckner Jr. (East Saint Louis, IL)
'15 DT Sterling Johnson (Clayton, NC) (tentative - Clemson Commit)
'15 LB Justin Hilliard (Cincinnati, OH)
'15 DB Cameron Ordway (Pulaski, TN)
'15 DB Shaun Crawford (Lakewood, OH)
'15 ATH Nyheim Hines (Garner, NC)
'15 ATH Jerome Baker (Cleveland, OH)
'16 QB Dwayne Haskins (Potomac, MD) - tentative
'16 WR Jalen Martin (Harper Woods, MI)
'16 DE Kyree Campbell (Woodbridge, VA)
'16 LB Brendan Ferns (Saint Clairsville, OH)
'17 WR Jeff Thomas (East Saint Louis, IL)
'18 RB Ricky Slade Jr. (Woodbridge, VA)
June 8th (One Day Camp)
'15 QB Travis Waller (Anaheim, CA) - tentative
'15 TE Josh Moore (Olathe, KS) - tentative
'15 OL Grant Schmidt (Sioux Falls, SD)
'15 LB CJ Stalker (West Chester, OH)
'15 DB Ronnie Harrison (Tallahassee, FL) (UNC Commit)
'16 RB Demario McCall (North Ridgeville, OH)
'16 DE Jonathon Cooper (Columbus, OH)
June 9th - 11th (Kicking & Long Snapping Camp)
June 12th - 14th (Three Day Camp)
June 17th - 18th (Skill & Big Man Camp)
'17 QB Danny Clark (Massillon, OH) - commit
'16 OG Tyler Gerald (Portsmouth, OH)
June 19th (One Day Camp)
'15 WR Abu Daramy (Westerville, OH)
June 21st (One Day Camp)
'15 TE/DE Jake Pickard (Millburn, NJ)
'16 RB Matt Falcon (Southfield, MI)
'16 LB Ethan Tucky (Delaware, OH)
July 25th (Friday Night Lights)
'17 QB Danny Clark (Massillon, OH) - commit
'15 WR Tristan Payton (Jacksonville, FL) (Florida Commit)
'15 OT Drew Richmond (Memphis, TN)
'15 DE Darius Fullwood (Olney, MD)
'15 DB Will Sunderland (Midwest City, OK)
'16 WR Justin Layne (Cleveland, OH)
'16 DE Jonathon Cooper (Columbus, OH)
'16 LB Shaq Quarterman (Orange Park, FL) - tentative
BN $ - Country's No. 1 LB Visits Ohio State Again '15 OH LB Justin Hilliard
Visited with his parents...spent time with Coaches Meyer, Fickell and Coombs...hung out with Raekwon McMillan and plans to go back for an overnight stay in two weeks.
Rivals $ - OSU first to offer Onwenu '16 MI DT Michael Onwenu
Says Coach Coombs told him OSU wanted to be the first to offer him...also hearing from Illinois, Wisconsin, Tennessee and Michigan State.
Rivals $ - Buckeyes offer big-time 2016 linebacker '16 MI LB Daelin Hayes
Coach told him about the offer on Saturday and is looking forward to talking to Coach Coombs...also has offers from Michigan, Michigan State, Minnesota, Tennessee and Wisconsin.
Rivals $ - Washington fits the Ohio State offense '16 NC RB Robert Washington
Talks about the balance in his game compared to Carlos Hyde...likes how he was used in the OSU offense...enjoyed meeting Coach Meyer.
Newly Offered: '15 ON DT Neville Gallimore
Newly Offered: '15 TX ATH DeAndre McNeal
Newly Offered: '15 TX OT Connor Williams
Newly Offered: '15 FL DB Carlton Davis
Newly Offered: '15 FL S DaVante Davis
Newly Offered: '16 MI LB/RB Daelin Hayes
Newly Offered: '16 TX DB Brandon Jones
Recruiting Notebook: Herman Visits Kirk, Buckeyes Offer Middle School DB (11W)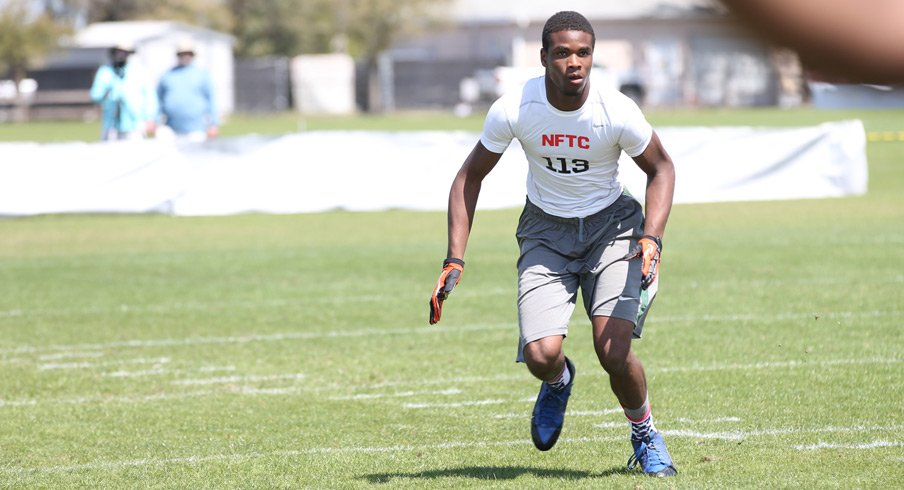 It's May and it's a weekend, so Ohio State coaches were busy on the recruiting trail. Tom Herman stopped in on one of the country's top wide receivers, Urban Meyer welcomed a pair of prospects – including one of Ohio's best – to Columbus and, oh yeah, Ohio State offered a safety, which is no big deal, but this safety is in middle school.
cont...
Buckeyes Extend Four Offers in Michigan, One in Canada (11W)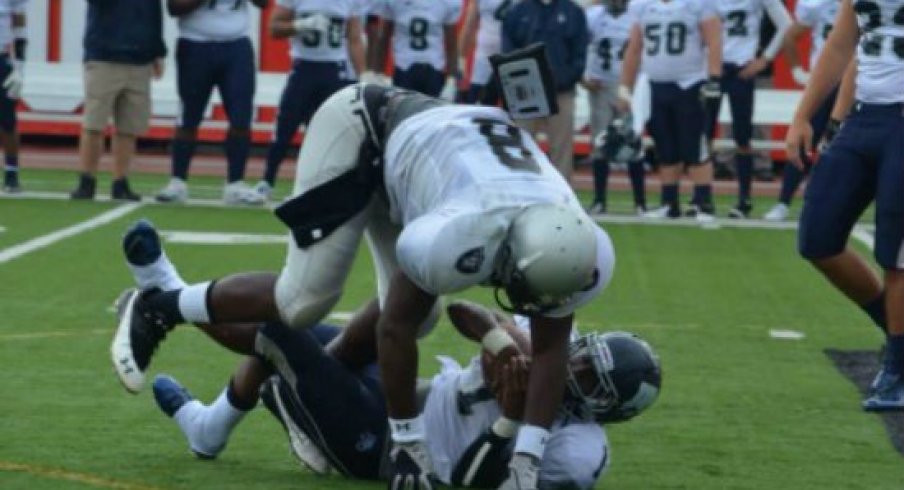 Ohio State continues to extend offers to new underclassmen recruiting targets. Kerry Coombs spent his Friday planting flags in Michigan, while Tom Herman spent his in Arizona. The Buckeyes are still searching for a class leader as they sit with only two pledges to the class of 2015.
cont...
Ohio State recruiting: State Secrets, 5/19: Tyler Gerald, Donovan Peoples-Jones offered (LGHL)
The Ohio State coaching staff took the recruiting trail by storm over the weekend, throwing out a slew of offers to a ton of athletes across the country.
cont...
Ohio State recruiting: Sheriron Jones latest (LGHL)
Ohio State offensive coordinator/quarterbacks coach Tom Herman was in California last Thursday in order to evaluate a couple of quarterbacks including four-star Moreno Valley, CA product Sheriron Jones.
cont...
Can Ohio State keep Justin Hilliard, an elite Cincinnati LB who visited over the weekend, in Ohio? Buckeyes recruiting (Plain Dealer)
COLUMBUS, Ohio – In the 2014 recruiting class, Ohio State had to work diligently to pull five-star linebacker Raekwon McMillan of Hinesville (Ga.) Liberty County out of the South and bring him to Columbus.
cont...