Visitors List (Subject To Change)
Tomorrow
'15 OL Gabe Megginson (Jacksonville, IL)
April 4th
'15 TE Hale Hentges (Jefferson City, MO)
April 5th
'15 OL Austin Clark (Lexington, VA)
'17 OL Emani Mason (Detroit, MI)
April 10th
'16 OL Michal Menet (Reading, PA)
Weekend of Spring Game (April 12th)
'15 OL Larry Wells (Kenton, OH)
'15 OL Sterling Jenkins (Pittsburgh, PA)
'15 DE Dre'Mont Jones (Cleveland, OH)
'15 DE Jonathon Cooper (Gahanna, OH)
'15 LB Nick Conner (Dublin, OH)
'15 LB Sh'mar Kilby-Lane (Hallandale, FL) tentative
'16 OL Tommy Kraemer (Cincinnati, OH)
'17 ATH Richard LeCounte (Hinesville, GA)
HOOPS - C Trevor Thompson (VaTech Transfer)
April 18th
'15 TE Chris Clark (Avon, CT)
'15 LB Ricky DeBerry (Richmond, VA)
May 24th
Core 6 Day
May 31st
'15 DB Cameron Ordway (Pulaski, TN)
June 1st
'15 RB Natereace Strong (East Saint Louis, IL)
'15 WR Alex Ofodile (Columbia, MO)
'15 DE Terry Beckner Jr. (East Saint Louis, IL)
'17 WR Jeff Thomas (East Saint Louis, IL)
Rivals $ - R100 LB Hilliard down to 10 '15 OH LB Justin Hilliard
Alabama, Florida, Florida State, Iowa, Kentucky, Michigan, Notre Dame, Ohio State, Oklahoma and USC. No real surprises. Expects to visit Iowa soon.
Scout $ - Megginson Talks Badgers '15 IL OL Gabe Megginson
Says his Wisconsin went exactly how he wanted and will visit Ohio State, Penn State, and North Carolina State this week.
Rivals $ - Nation's top safety wants to visit Ohio State '15 GA DB Rashad Roundtree
Duke and UGA will most likely make his top five...will visit Alabama, Georgia Tech, and Clemson soon and wants to see OSU and MSU...talks to Coach Ash and Mark Pantoni frequently and spoke to Coach Meyer last week.
Rivals $ - Jones picks up U-M offer on visit '15 OH DE Dre'Mont Jones
Picked up an offer from Hoke and Mattison this past Saturday during his visit...talks about his strengths and what he wants to work on...focused on Ohio State, Iowa, and Michigan but wants to visit ND and Indiana before hopefully making a decision this summer.
Rivals $ - Ordway back on Rocky Top '15 TN DB Cameron Ordway
Recaps his Tennessee visit and meeting Coach Jones and sitting in on a film session...says he wants to schedule visits to FSU and ND...also will see Ole Miss this weekend and OSU in May.
Rivals $ - Four-star tight end starts visit gauntlet '15 MO TE Hale Hentges
Started with a visit to Alabama today followed by Ohio State (4/3), Michigan State (4/4) and Michigan (4/5)...also plans to see Auburn, Florida State, LSU and possibly a handful of others before naming a top five.
Rivals $ - Rivals100 quarterback hits the road for spring break '15 FL QB Torrance Gibson
Wrapped up six unofficial visits in Gainesville on Friday...says the visits to Tennessee, Auburn, and Clemson (in order) were the best...says he has likely seen enough to narrow his list down on 5/5 and still plans to commit early.
Scout (video) $ - Gibson recaps roadtrip, names favorite
Well spoken young man...recaps Oklahoma (they were on spring break), LSU (spent time with Coach Cam Cameron), Auburn (likes the offensive staff and met with Cam Newton), Clemson (sat in on meetings and spent time with Coach Swinney), Tennessee (great fanbase, great coaching staff, team on the rise), Florida (talked to their new offensive coordinator and met with GA Chris Leak)...hoping to visit OSU to see the campus and meet with the staff this summer or spring.
2015 DE Jashon Cornell tells us he's down to 9. Michigan, Iowa, Notre Dame, Penn State, Florida State, UCLA, USC, Stanford, and Ohio State
— PrepForce (@PrepForce1) March 31, 2014
2016 OL Tyler Gerald Enjoys Buckeye Visit (11W)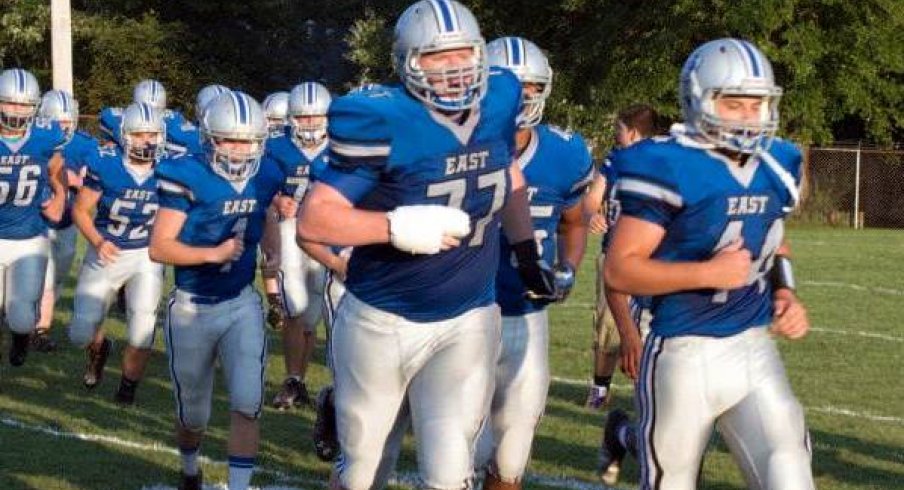 Ohio State's football team hosted a number of prospects from the around the region on Saturday and Portsmouth lineman Tyler Gerald was one of them on campus. With a Kent State offer to his credit, Gerald is starting to see an uptick in his recruiting and today's Buckeye visit will serve as a bit of a barometer for him moving forward.
"I liked the facilities, from the practice fields to the meeting rooms," Gerald told 11W of the visit to Columbus. "It was good experience for how the college atmosphere is."
Gerald is being recruited by Ohio State's Tom Herman, and he enjoyed the chance to talk with the Buckeyes' offensive mastermind this past weekend.
cont...
Good Counsel DL Darius Fullwood opens up about college football recruiting process (Washington Post)
Darius Fullwood gets it — people want to know where he's going to attend college.
But with the highly touted Good Counsel defensive end more than two months away from the end of his junior year and even further away from making his college choice, Fullwood is stuck in the recruiting carousel, doing his due diligence by making unofficial visits while politely answering the same variation of questions from recruiting analysts day after day.
So rather than ask Fullwood about his latest college visit (which he, of course, appreciated) or rehash his long list of offers (he's up to 18 from the likes of Alabama, Ohio State, Florida State and Virginia Tech), I decided to give both him and readers a break from the monotony and ask what people really wanted to know about the 6-foot-4, 230-pounder. Enjoy.
cont...
Faster than Dontre Wilson? Cornerback Denzel Ward, one of the fastest players in Ohio, visits Ohio State: Buckeyes recruiting (Plain Dealer)
COLUMBUS, Ohio – Macedonia (Ohio) Nordonia cornerback Denzel Ward has heard recruiting experts refer to him as the fastest player in the state of Ohio. But not even Ward knew the extent of his speed.
Asked what his fastest recorded 40-yard dash time, Ward responded with 4.31 seconds.
Ohio State sophomore receiver Dontre Wilson, regarded as the fastest player on the Buckeyes' roster, runs a 4.33.
"Dontre Wilson runs a 4.33?" Ward asked. "Really? Now way."
cont...
Ohio State recruiting: State Secrets, 3/31 - Tyler Gerald talks visit, Trevor Thompson to visit (LGHL)
See what class of 2016 offensive lineman Tyler Gerald had to say about his visit and much more Ohio State recruiting news from over the weekend.
Ohio State had quite a few prospects on campus Saturday, including class of 2015 studs, David Robbins, Chris Green, Jabari Greenwood and Darius Fullwood, who named the Buckeyes his leader over Penn State, Kentucky, Miami and others, after ending his weekend trip to Columbus.
Fullwood, a 6'4 240-pound, three-star defensive end out of Good Counsel High School in Olney, Maryland, has OSU in the driver's seat, mostly due to the outstanding relationship he has built with newly hired defensive line coach Larry Johnson during the recruiting process.
Land-Grant Holy Land had the opportunity to catch up with Darius and had him tackle a few questions on subjects from his bond with Johnson to what caught his eye during the Buckeyes spring practice.
cont...